JT$ writes about Marvin Musquin & keeping this thing going
JT$ writes about Marvin Musquin & keeping this thing going
Photos by Simon Cudby
Marvin Musquin is in a dangerous situation entering this Saturday's Spring Creek round of the Lucas Oil Pro Motocross Championship. He has led much of the way thus far but a wrist injury has impeded his progress in recent weeks. He even lost the points lead at the previous round in Michigan on Independence Day. Going back even earlier than that, there had been opportunities for Jeremy Martin to make up some ground but each rider seemed to be trading inconsistencies, nullifying any chance of a shakeup. This weekend, though, may be the most important round of the series.
Entering Saturday, Musquin trails Martin by seven points. While that may not sound like much, keep in mind that he gave up a whopping seventeen points at the previous round. That was a serious swing and one that Musquin had avoided for the most part. Musquin's wrist has been bothering him and it showed on the treacherous Red Bud circuit. He didn't have the blazing speed nor ability to slice through the pack that he has had all season. Furthermore, we saw an out-of-character crash that really took the wind out of his sails. It was exactly the opposite of what he needed to accomplish at a track that Martin typically excels at.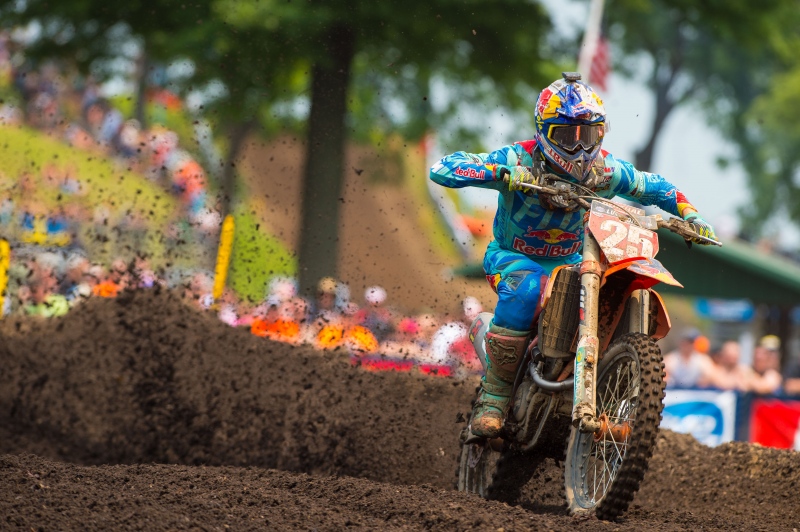 Musquin, battling a hand injury, had a poor RedBud and lost the red plate.
Spring Creek is the ultimate in disadvantages for Musquin. Think of it this way: have you ever raced someone often and both of you seem to be the same speed every week? Then, one day you go practice with them at their backyard track and they proceed to absolutely blow your doors off? I have gone through that scenario many, many times and I am betting all of you have, too. Well, that is precisely what Marvin Musquin is facing this weekend. Only for Musquin it is double trouble. Not only does he face his closest rival in literally his backyard, but another podium contender in Alex Martin has the home track advantage and could cause more separation in the points. Compounding all of this is the return of teammate Cooper Webb, who actually won a moto here last season. It really is the worst possible scenario for Musquin. He comes in at less than 100%, faces two brothers on their home soil and their teammate on a track he excels at. Tough road ahead for the 25.
Looking at the overall picture, Marvin just has to minimize the damage. Can he go out and win this weekend? I suppose that's possible, but I wouldn't bet on that happening. The more likely scenario is another loss of points… but how many? He has to put all of his energy into keeping the damage low. If he could find a way to come out close to even or miraculously even ahead, things start to look much more encouraging. After Spring Creek, he goes to his best track on the circuit, Washougal. He is absolutely great at the Northwest's most picturesque motocross facility and will be a favorite to win both motos there. Following Washougal is another weekend off, bringing more rest to his ailing wrist. We then head to Unadilla, which is an interesting race for both of the title contenders. It is the site of Musquin's first American motocross victory but Jeremy Martin has also won there. I tend to lean more towards Musquin at the Euro-ish Unadilla track but it will be a dogfight. That leaves two rounds left but I believe these next three rounds are going to be the deciding factors. Jeremy has momentum on his side and all of the advantages this weekend but then the pendulum swings back to Musquin a week later. They both need to capitalize on their strong weekends but then fight valiantly when in enemy territory.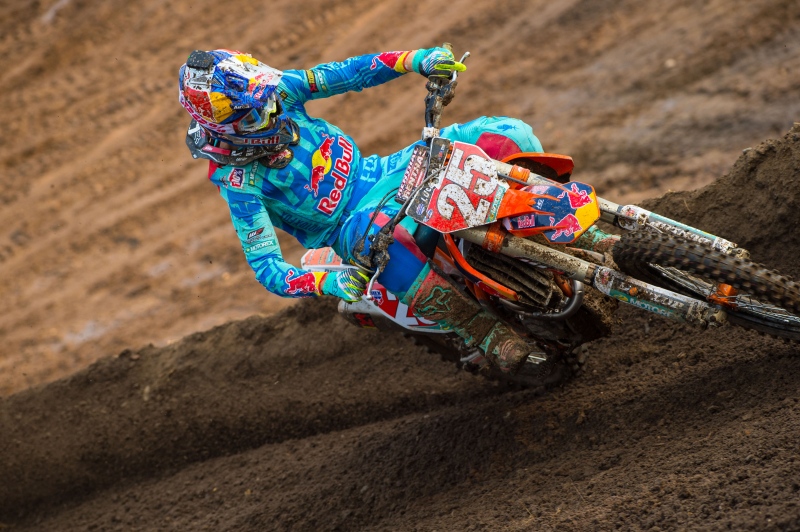 Musquin has got to limit the damage to Martin this weekend so next weekend at his best track (Washougal) he can strike back.
Ricky Carmichael used to always say that championships are won on your bad days. I never really understood how he could say that because honestly, the guy never had bad days! For Musquin and Martin, though, this absolutely rings true. If they can somehow scratch out good results on the tracks that don't favor them, they could turn the tide down the stretch. Momentum is a fickle creature and there is no better way to capture momentum than winning when the odds are against you.