A finale that can not disappoint!
A finale that can not disappoint!
Photos By: Simon Cudby
This 250 title has been more like an olympic game of beach volleyball than the standard battle for a title in motocross. Marvin Musquin has finally made it to the end of a 250 outdoor series with his health at full strength and the returning champ, Jeremy Martin has shown incredible focus multiple times this series, fighting through the pack with veteran-like composure. As we embark on year two at the Ironman MX in Indiana, well honestly year-one considering the biblical conditions last year, we are assured one thing; this 250 title is going to absolutely deliver the goods.
Honestly, Jeremy Martin should be running away with this title much like he did last year but he has had some absolutely atrocious gate drops and dogfights working his way forward. Marvin has had a few crashes and rebounds but his adversity pales when compared to Jeremy's. That's much less a slight to Marvin than it is an incredible compliment to Jeremy. We've seen examples of this multiple times this series, far more than he'd like to have notched into his belt but he does it again and again. A great example was this weekend in Utah. In moto-one when Jeremy found himself halted by downed riders exiting the first turn, he showed just how much ice runs through his veins by waiting, calmly as the carnage cleared and he then began his charge forward. Quite possibly the best description of Jeremy Martin in this situation is he is the 100% antithesis of Mike Alessi. It sounds like a cheap shot but it's accurate.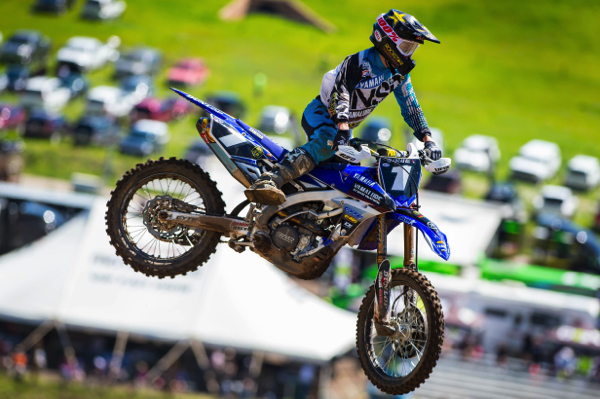 Jeremy passes dudes in bunches– no, oodles.
Marvin on the other hand has done a great job of not being in any disastrous jumps off the gate through the series and leaving him a manageable race, needing make possibly a fourth of the passes Jeremy has over the course of 11 rounds and 22 moto's.
…You know what, I actually just took a few minutes to formulate a pretty incredible stat. Now, math is my worst subject but lets give me about 10 digits of wiggle room here as far as precision but the point is as crazy regardless. From moto-one at Hangtown through moto-two at Utah, Jeremy has passed a total of 71 riders from his lap-one starting position to the checkered flag. Marvin Musquin on the other hand has lost a total of 4 positions when counting all his changes of position thus far in the series.
This can be looked at two ways; Marvin is a far better starter (this is true) and Jeremy buckles down and just charges forward through dudes for 30+2 (also true). The other thing it does is completely underline my point that Jeremy is a freak at keeping calm and thinking like a veteran as he charges past dudes. It's this reason that I think you'd be silly to not be betting on Jeremy Martin to go back to back when the checkered flag waves in Indiana.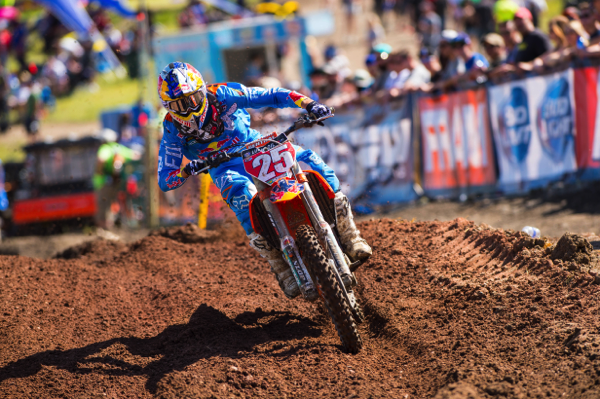 Marvin relies on great starts, not massive pass numbers.
There is of course the X-Factor, or the "Webb-Factor" more accurately. For all the talk over the last two seasons of Cooper and Jeremy not liking one another, that talk has doubled with Jeremy being replaced with Marvin. Taunting Marvin on the gate and putting him in the crosshairs on nearly every podium interview since Washougal, Cooper is not scared when it comes to honesty and emotion. We saw Cooper help out Jeremy in Utah and if it wasn't obvious before, it is now; Cooper is all in on Jeremy clinching this title… probably even moreso if it means a little contact with the friendly Frenchman on "the wide bike".
Bring on the Ironman!