Luke Renzland gives the details about coming through the ranks and putting together a solid rookie campaign.
Luke Renzland gives the details about coming through the ranks and putting together a solid rookie campaign.
Photos: Simon Cudby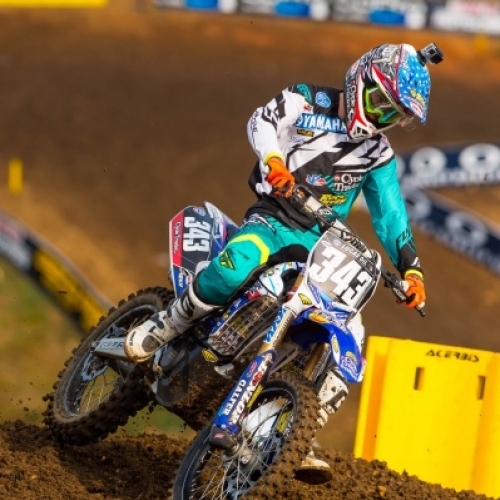 A strong consistent first season was the goal for Renzland in 2015.
New Jersey's own Luke Renzland burst onto the scene in 2010 at Loretta Lynn's by winning the Schoolboy 1 (12-16) B/C championship. He had some local backing and he was also getting a gear deal through O'Neal at the time, but that was the extent of things.
That title quickly sped things up for Renzland as far as sponsors and help went. See, not only was that title his first Loretta Lynn's title, but it was also the first amateur title he had ever won.
"After Loretta's that year I went to Mini'O's and ended up winning some titles in the B classes and Schoolboy. That's when I started up opening some people's eyes."
Renzland had just won a title and finished third in the 250 B class at 15 years of age at Loretta Lynn's. He was bumped up to the A classes for the 2011 and 2012 seasons, but the majority of those years were spent injured. Renzland would not return to the ranch until 2013.
However, the return to the ranch showed the same result as the 2010 version. Renzland won a title, but this time it was in one of the pro classes. Luke had become the 450 A champion, without a factory supported ride. By the time he left the ranch he figured that he would have an offer to ride for a team, but the phone did not ring.
Renzland was in a dilemma: either turn pro and do it on his own, or stay amateur one more season and see if something came along.
"I was hoping to go to the final three nationals that year and race supercross in 2014, but nothing came around. I kind of had to swallow my pride. I didn't want to stay amateur another year."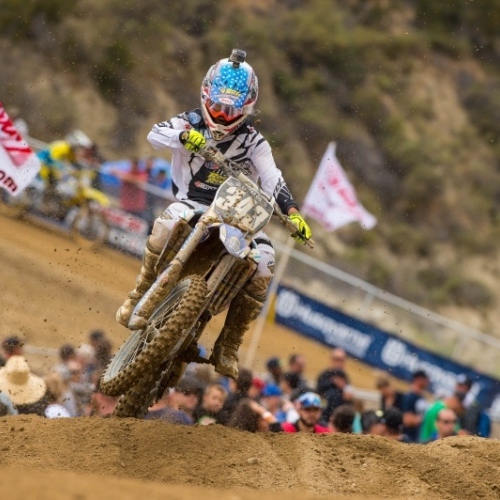 Renzland at Glen Helen where he finished 16th overall.
Support was on its way for Renzland and Horton Racing stepped up to help him get to his final amateur races. He would return to successfully defend his 450 A title and get a shot at the final three nationals with the CycleTrader.com/Rock River Yamaha squad.
"I realized the importance of staying back before you are truly ready to turn pro. Once you move past that step you can never step back. You really need to be as ready as possible."
Armed with a brand new CycleTrader.com/Rock River Yamaha, Renzland realized his dream and finished seventeenth overall fresh out of Loretta Lynn's at Unadilla.
"It was really cool. I grew up right on the New York line and Unadilla was always the race that I went to. I think I was six years old when I first went there to watch a national. It's just legendary in my mind. It was so surreal for me and it was so nerve wrecking. All day I had butterflies, but it was definitely a fun experience and I'll remember it forever."
At this point the budgets for 2016 were still being worked out, so Renzland really had to prove that he was worthy of a full-time gig on the team. He would struggle in the muddy slop of the Ironman National one week later, then go onto back up his seventeenth overall at Unadilla with an eighteenth overall at Utah.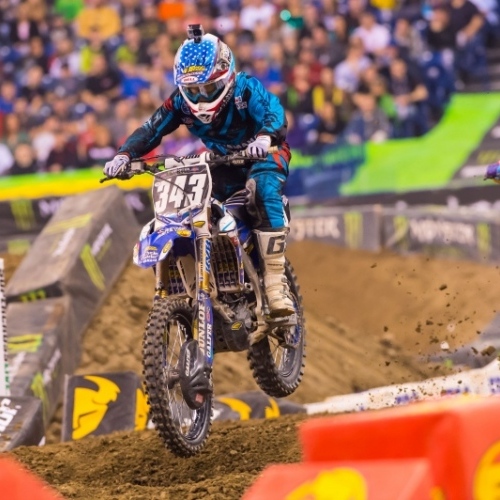 Renzland's top finish in supercross was a seventh in St. Louis.
The move to supercross in 2015 wasn't as bumpy as it could have been, but motocrossers always want more. In the eight rounds of the Monster Energy Supercross East Region, Renzland had made all but two main events. He had three top tens and his highest finish was a seventh in St. Louis.
"I was practicing supercross at my house for six months, but when you get there and go out for track walk there is nothing more nerve wrecking. I was honestly more shell-shocked in supercross this year. Knowing that you have to go out there and compete with some of the most talented guys in the world was definitely an eye opening experience. It gave me a lot to work on for the 2016 season."
Renzland's outdoor showing was consistent and he only finished outside of the points in one moto, where he crashed in the first turn at Budds Creek. His best finish of the season was also his last race of the season, once again at Unadilla. That day he finished 13-12 for fourteenth overall.
"Coming into outdoors I had high expectations. I felt comfortable and more in my element. Once again I showed up to the track and there was a lot to learn. There were a couple races where I was happy with the way I rode, and others where I feel I rode poorly. When you're racing twenty other factory bikes you have to be willing to push the edge or the field will drop you.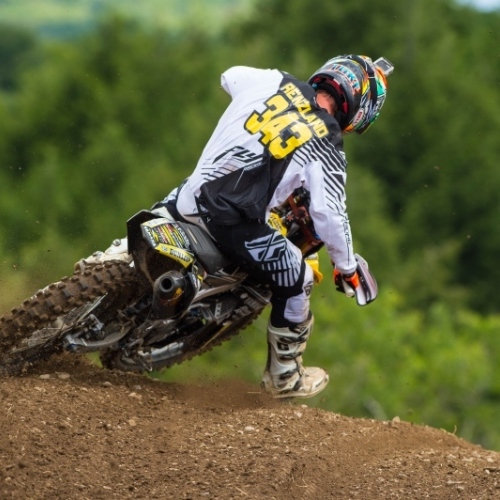 Unadilla 2015 is where Renzland finished fourteenth overall. It was his best showing of the summer.
The next round at Utah he crashed on the first lap of the first moto and dislocated his shoulder. He sat out the final motos of the season.
"We did make it through the majority of the season. At this point in my career I don't think there is anything more important than being there every weekend. You're basically in a classroom teaching yourself every weekend. I was expecting consistency and now I just need to work on my raw speed. I think next year I will be a top ten threat for sure for outdoors and I want to be a top five guy in supercross."
Renzland expects to return to the CycleTrader.com/Rock River Yamaha team for next season. With the departure of Alex Martin to the Yamalube Star Racing Yamaha squad, Renzland should step in as the team leader in only his second year on the team.
Thanks for taking the time to read my stories every week. I really enjoy putting them together. If you want to chat about anything you can reach me at Troy@pulpmx.com or on Twitter/Instagram: @troybendgen