Ever wanted to ride all the bikes all in one day?
Ever wanted to ride all the bikes all in one day?
Yesterday I got to take part in my first ever bike shootout. Kris Keefer and the Dirt Rider crew invited me out to Glen Helen for their 2016 450 shootout and I have to say, I was excited for it. There aren't many days that I get to do nothing other than ride a motorcycle anymore. Between my full time gig with Fly, my Racer X duties, travel and helping Matthes with the inevitable PulpMX world takeover, there isn't much time left for uninterrupted moto. It was a cool day of being back in the SoCal testing scene, turning laps right alongside some of the factory guys prepping for next weekend's MXGP at Glen Helen.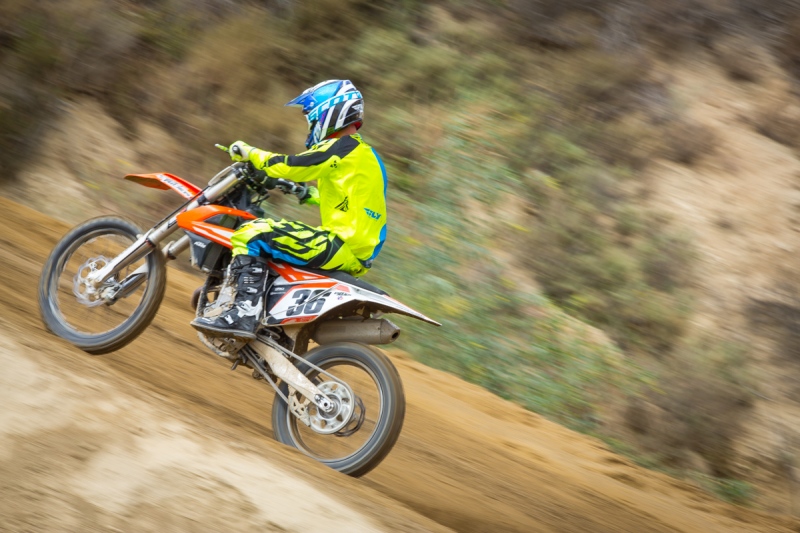 Thomas was back at The Helen for his 450 shoot-out day. Antonovich photo
The whole process is pretty casual, really. All of the manufacturers are present, bringing out their media teams and production 450's. They have a tent setup and are more than happy to help make changes to their bike to suit each rider. WIth 10 riders taking part in the shootout, that meant a lot of adjusting for each rider throughout the day. Add in 104 degree temperatures and the notorious Glen Helen dust and each OEM's representative dedication becomes apparent. Even though they had to be miserable in the late summer heat, they never showed anything other than genuine enthusiasm to custom tailor the bike for everyone. Having been through endless days of testing myself, I know how cumbersome and time consuming the process can be. Patience tends to wane as the day goes on but I never saw that from anyone involved. It really did make the whole day more enjoyable.
Kris Keefer was organizing the day and had a tidy plan in place. Each participant would ride through the cycle of bikes, consisting of the KTM 350 and 450's from Husqvarna/Honda/Suzuki/Yamaha/Kawasaki. We would all do a decent ride on each, feeling them out and getting a good idea of what we liked and didn't like. After that first round (taking approximately 4 hours), we would then narrow it down to the bikes we really wanted to revisit and adjust. We would take those out for a second round of riding, albeit on a much rougher track and different conditions. I chose to do this second round on my favorite three bikes (can't say which until the shootout prints). I wanted to see how they all stacked up as the track had deteriorated and worsened. It was interesting to see how much differently the bikes responded as the track grew nastier and nastier. For those of you who have never been to Glen Helen on a summer's Thursday, the track begins as a beautifully prepped freeway of loam and ends more like a dirt road in the outskirts of Baghdad. Seeing how the bikes handled that transition was very interesting to me and showed their versatility or lack thereof. I have to say, attempting to go fast on the track was downright scary at the end of the day. All of the factory riders had come and gone, leaving ruts and holes deep enough to hide an Ewok. My pace went from respectable and Pro level in the morning to cautionary and "parade lap-esque" by the end. It was not a track I would have wanted to race at that point but for putting a machine under a microscope, it was helpful.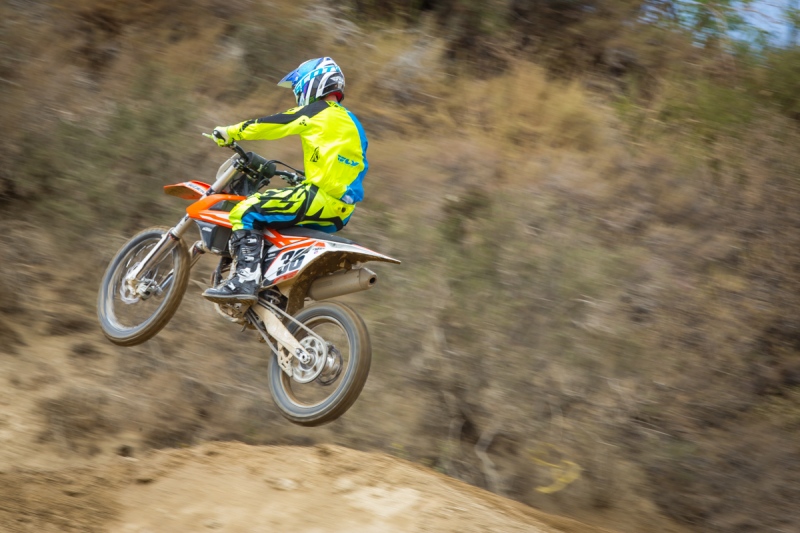 You'll have to wait to read the Dirt Rider mag to see which bike JT liked best. Antonovich photo
One aspect I was very surprised by was the different approaches by individual OEM's. It was very apparent that different bikes are built to suit different levels of riders. Everything from the frame geometry to the stock suspension setting to the engine mapping pointed to who and what the bike was aiming towards. Some models were built to turn extremely well and give a very good traction feel but on a Pro level, they didn't offer anywhere near enough stability. The engine on that bike was very smooth and controllable but in deep conditions or at a Pro level event, would be tough to compete aboard. Other bikes were on the opposite end of that spectrum. They offered a very stable chassis and great handling when pushed harder and harder. They gave up a bit of that front end traction to accomplish that but would be much more suited to high levels of riding. The engines mirrored that aim, offering lots of power and aggressively delivered. Completely different approaches and ideas for how to offer the bike to the consumer. Who's to say which is correct? The differences were stark, however, and undeniable.
My biggest takeaway from the day was just how good the modern bike is today. I know that sounds cliche but this wasn't always the case with the four stroke. A decade ago, if you weren't on a Honda CRF450, you were putting yourself at a huge disadvantage. The Honda was simply ahead of the game. The same could be said for a Yamaha 250F in 2002 but to be fair, they were the only four stroke in the field. Still, though, the playing field was not as even as it is today. After riding all of the models, I truly felt that any of them could be taken and won upon. Little tweaks here and there could be made, sure, but they are all such capable machines in 2016. The main point of emphasis for choosing which to buy comes down to your own personal preference. The bikes really do have their own tendencies. One bike does a certain thing very, very well and was engineered with that in mind. Another went for a different angle and absolutely nails that perspective. It's all about which direction suits you and your discipline. I really could feel massive differences in ergonomics and handling between the brands. Which feeling are you looking for? What style of bike setup puts the biggest smile on your face? That's the beauty of these shootouts and resulting info. Reading the info that will be provided can steer you exactly into the bike you should buy in 2016.