It's been a while but we've done it, we've reached the conclusion
It's been a while but we've done it, we've reached the conclusion
Photos by LeBig USA
For Project 88 Rebuild column # 1, GO HERE for # 2, go HERE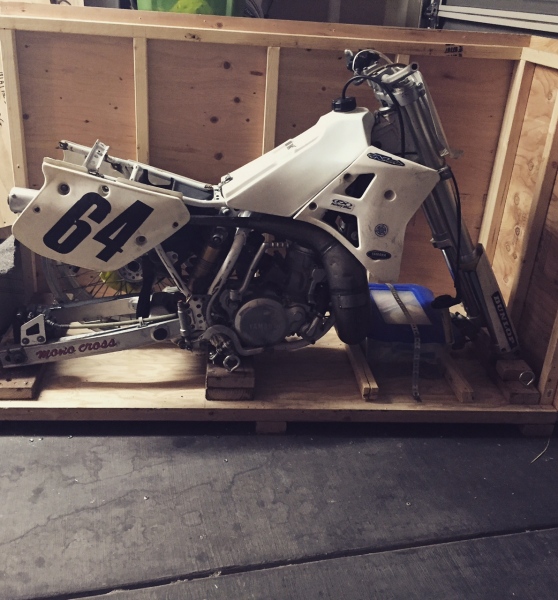 A guy named Oliver in Alaska was so kind to donate an old bike he had in his garage to us and this is what I uncrated. It was an '88 YZ 250 with '89 shrouds/forks on it.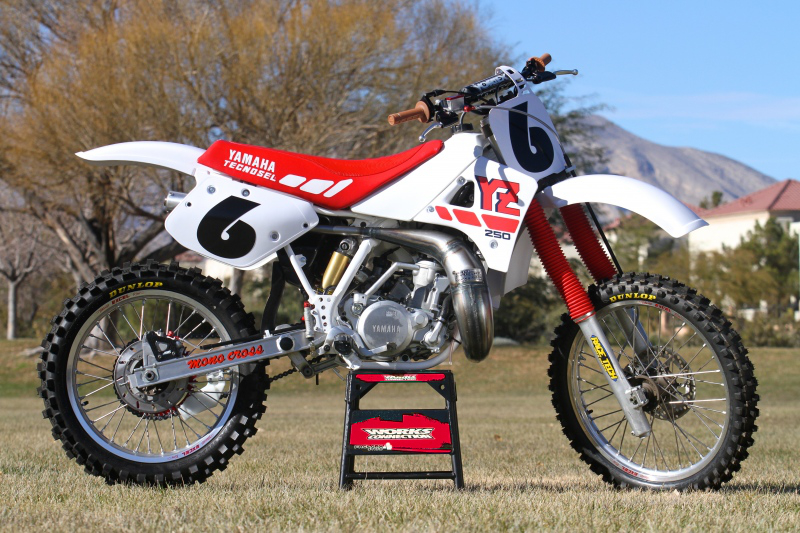 And here's the finished product! I wanted to make it back to an '88 so I got an '88 front end on eBay and ditched the '89's USD. Besides they were sort of rigged up in there and didn't look good anyways.
We're going to have Micky Dymond ride it here soon for Racer X so I went with his number and one call to his mechanic in '88 (Ron Heben) and it turns out that Ron had the template he used in '88 to make the original and way-cool #6's in his garage. He traced it and ROOST Graphics made the numbers for us and they did a great job. Yeah, Dymond and Yamaha didn't use the Technosel cover in '88 but I always thought it looked awesome so I went with that as explained in column #2.
The folks at Vortex provided the sprockets and bars for us and I thought the red would be a nice touch on the back. Babbitt's Kawasaki is known for their arenacross teams and winning but they carry all the brands and Jordan down there worked with me endlessly to give me a great deal and service on OEM parts for this bike. Check out babbittsonline.com for all the parts you need for all the brands.
There's all these people that want to argue online (imagine that?) about whether you should restore a bike to the stock condition or put aftermarket parts on it and I say, who cares–do what you want to do. And in this case, and with #project90 build, I did just that. Whatever makes you happy bro.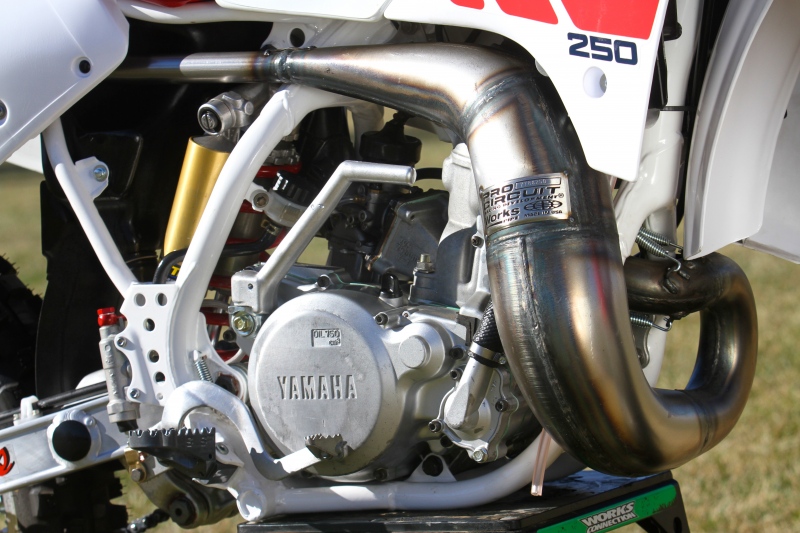 I couldn't find a pipe and silencer for this bike anywhere. No one had them in stock or on eBay at all. I asked a few different people I know if they had any interest in building one for me and I got some "Uhhh, that's a lot of work…" but the folks at Pro Circuit stepped up for me. The bike had an old-school PC pipe and silencer on it and although it took a while. Pro Circuit hooked me up. Yeah, the clutch cover is a bit beat up but it's not removable and I didn't want to take the time to sand-blast it and all that. I think it looks ok with some scotchbrite yes?
I really wanted to get a cone-pipe done for this bike but there definitely didn't seem to be much interest in that as it's a ton of work.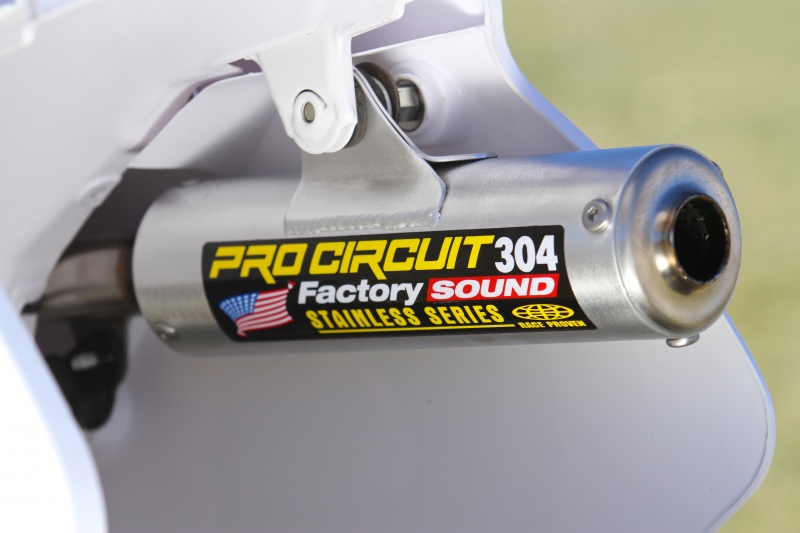 PC took the existing silencer on there that was hammered and somehow made that into this. Nice job by those guys.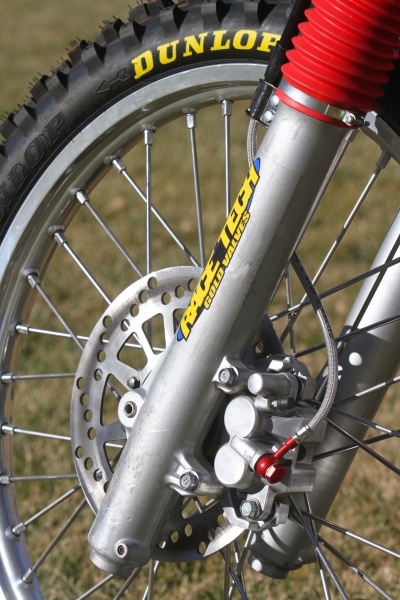 The guys at Race Tech are the place to go for vintage suspension needs and they went through the fork and shock for me and made them like new with an install of their Gold Valve System. Galfer made me a custom front brake line and I used the one they stock on the rear. The front and rear calipers were painted black stock and hammered so I got them sandblasted and then scotchbrited the shit out of them to make them look cool. I've seen some dudes rebuilding this era of YZ's and repainting them black but that's not a good look in my opinion. I had a hell of a time with the front disc as the one that was on it (remember it had '89 USD forks on it) didn't fit despite the aftermarket companies telling me it would. I had to figure out if it was a disc, front wheel or caliper issue and luckily it was just a new '88 disc that was needed. But that wasn't without some hours put into the garage and on the computer measuring everything and trying to look at photos.
Like they did with #project90, Dunlop hooked me up with some MX32's front and rear. It's nice do-it-all tire that covers a lot of different terrain.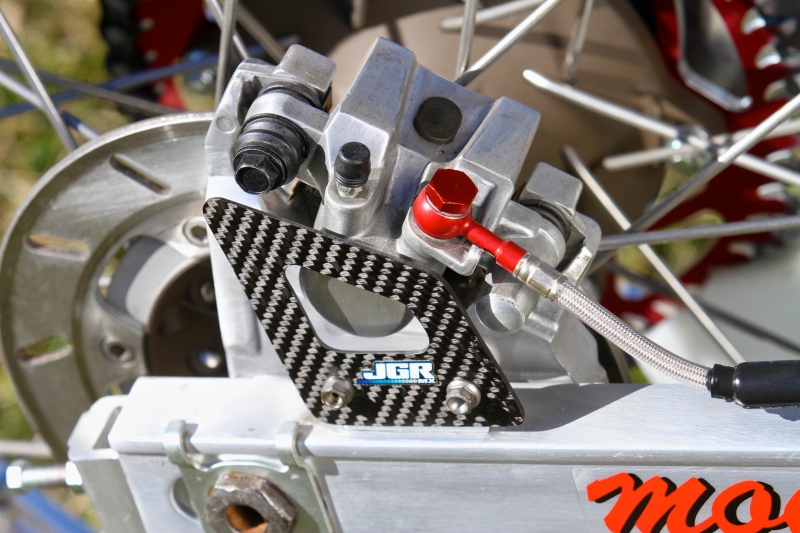 The stock aluminum shark-fin rear caliper guard just wasn't doing it for me so I got my buddies at JGR to make me a carbon guard for it. Again, not stock and some people might not like it but I think it's trick. The stock disc/caliper/axle weighs the same as a four-year old by the way.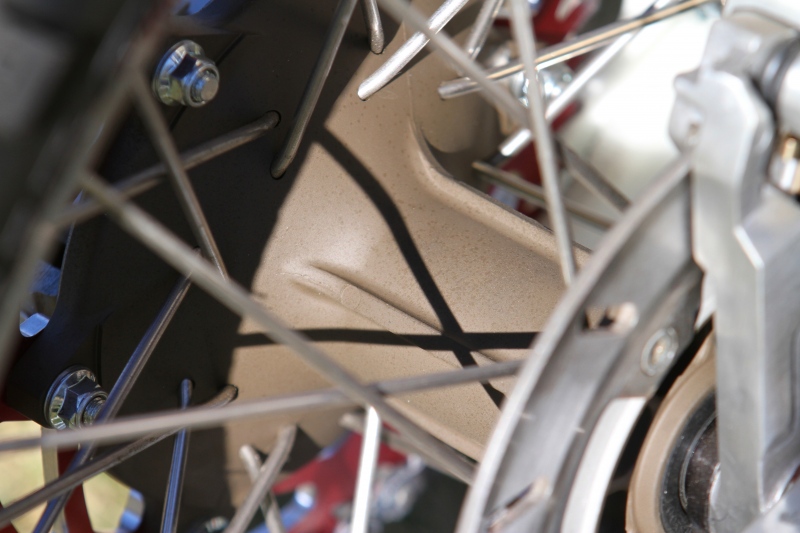 I think if I had to do #project90 over again I might not have gone with black rims and I think if I had to do this bike over, I might have gone with gold rims. Oh well, either way DUBYA USA hooked it up with the wheel set. They took the stock hubs and coated them/baked them with this cool mag color. Rock River had this done this past year and I liked it. It's cheaper than going the Talon route but still pretty cool y'know?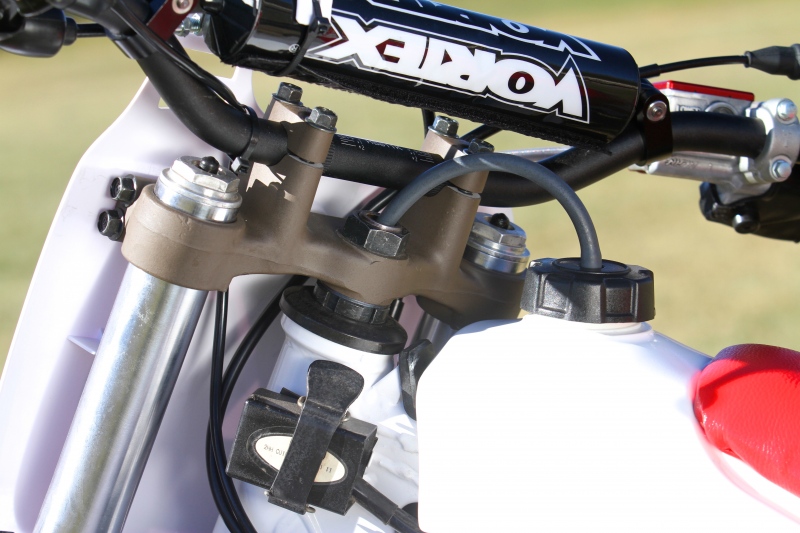 Really hard to find aftermarket clamps for this bike so I got DUBYA to do the same thing with the stock clamps to give them a "works-ish" look to them. For some amazing reason, the folks at Yamaha decided to paint the upper clamp black and leave the lower one aluminum. Uh yeah, really good look boys. Between the calipers and the upper clamp, Yamaha must have had a bunch of leftover black paint and decided to go nuts. The tank was yellow (as Yamaha's get) so I went with a Clarke aftermarket one. Much cheaper than stock.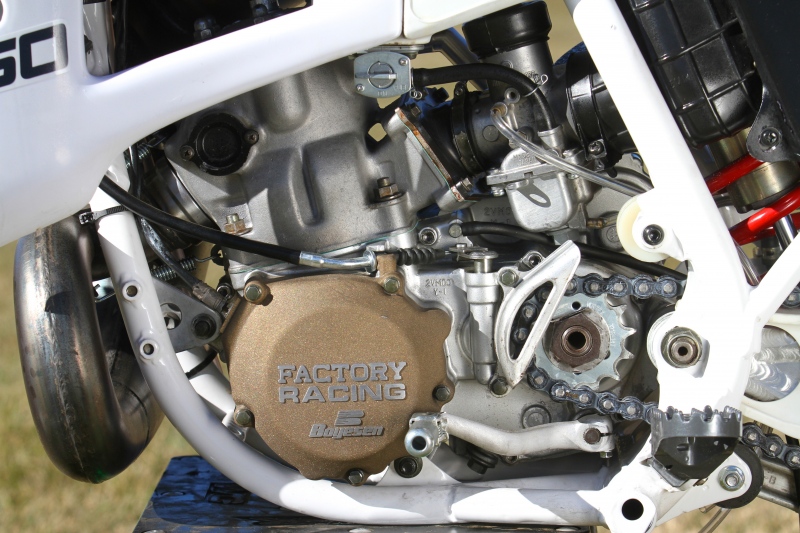 Motor was gone through, new connecting rod and piston kit from our friends at Vertex and Hot Rods, main bearings as well. The clutch was still good as was the basket. Sudco got me a Mikuni round-slide carb to replace the stock one but I just couldn't get it to work. I had to use the existing slide, carb top to get any play in the throttle and I think that didn't match with the new carb. After float check/modification i was still having issues with it running right so slapped on the old carb and bingo/bango- it ran great.
I think I would sand blast that ignition cover if I had another crack at it. I thought the color would go good with the hubs/clamps but it really doesn't match all that much. Maybe I'll still do that down the road.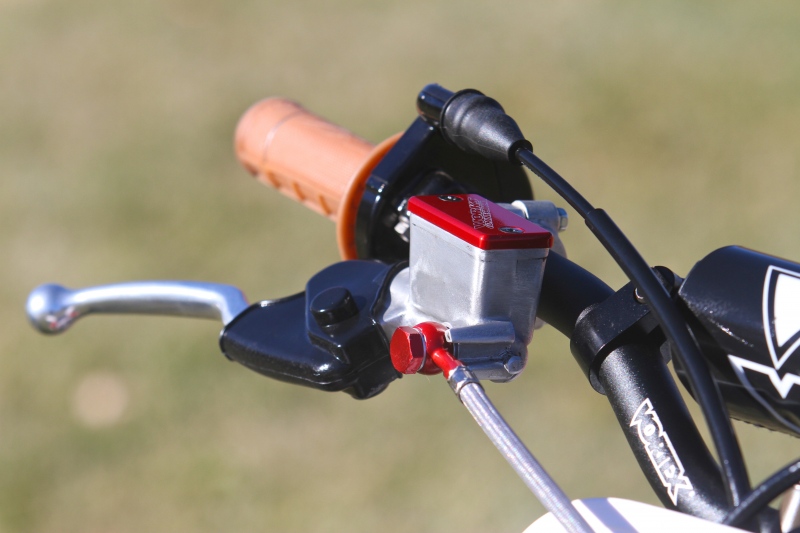 If you don't have EKS Brand grips, you won't win! I like the color of these. Works Connection supplied the nice red master cylinder cover and Galfer with the banjo bolts. Some nice red touches here and there.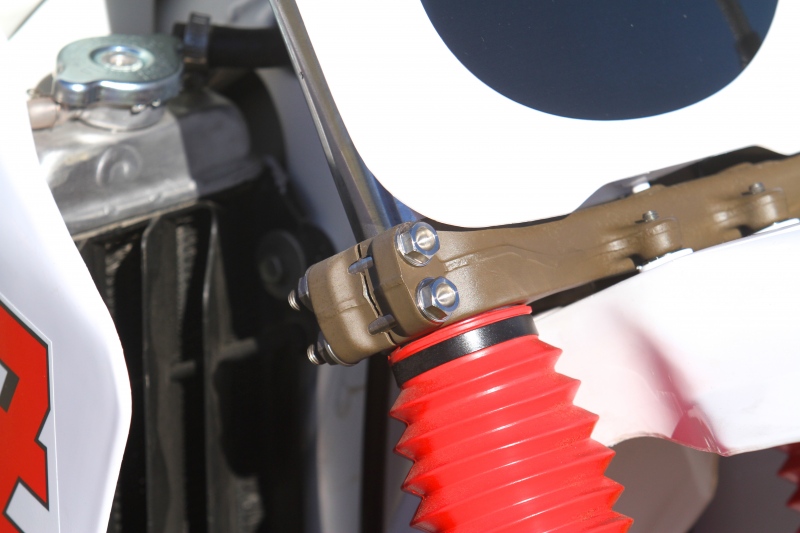 The only ti bolts I have on the bike (besides the two small ones on the carbon guard) are the lower fork bolts and courtesy of my friends in the pits! While I was getting the other stuff sandblasted, I went and also got the upper and lower radiator tanks down as well for the factory look. I used those cheap rads on eBay for #project90 and ordered them for this bike also but then I found a really nice set on eBay and went with those instead as those Chinese ones on eBay don't really fit all that well with the louvers and stuff.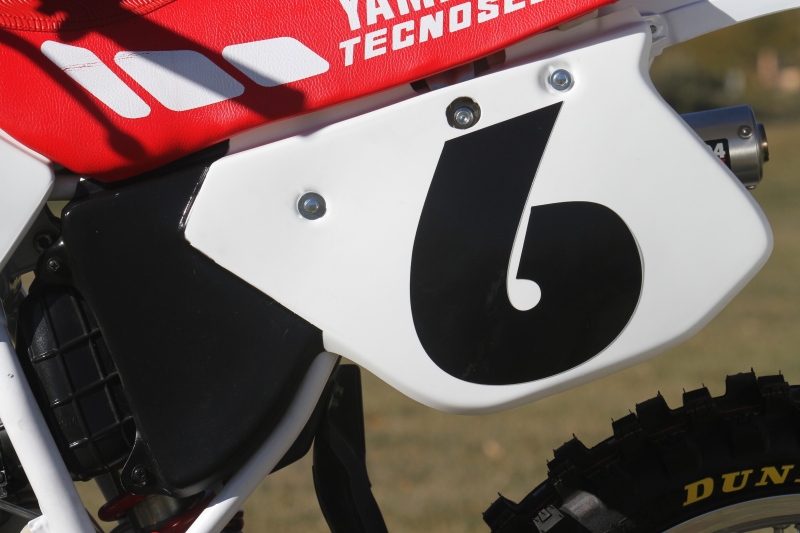 This might have been the biggest pain in the ass on the bike. The left side cover is one piece with the airbox cover built in. Yamaha only did this one year and in '89 they made it all part of the airbox with a top loading airbox. So when you order '88 side panels they come with an '89 left hand side one. And yes, the stock one is discontinued. So there is a company that sells them on eBay but they come white where the airbox is. And that's not how '88's were. So I had to paint it and then use an old air filter and some glue to make the lip around the airbox. And oh yeah, the quality of the plastic is kind of shitty and the holes didn't line up. The screws on the airbox were off, the seat bolt hole was off and it sucked. The right hand number plate bolted on like money thanks to UFO. Anyone need a left hand side '89 and up YZ 250 number plate or a whatever-this-company-is '89 and up right hand side number plate? Because I have both as I was forced to buy them as sets.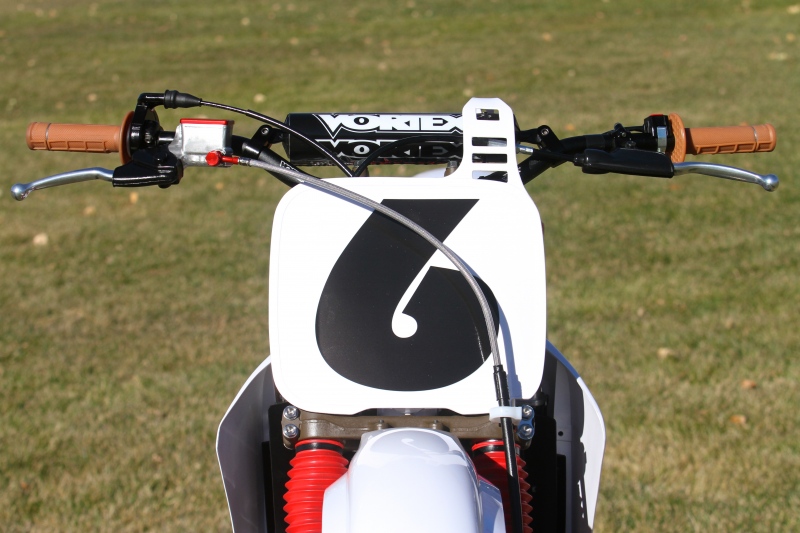 The #6 1988 YZ 250 of Micky Dymond coming to a track near you soon!