DV's putting his technique and expertise to work with BUD Racing guys
DV's putting his technique and expertise to work with BUD Racing guys
You're a guy that doesn't need to put in the work that you're doing now, so what attracted you to working with BUD Racing for the 250SX west series?
The Bud Racing guys, the Dassé brothers, are friends of mine. I raced for them in my last professional race in Europe in '09. Stéphane called me out of the blue asking me if I was interested helping his riders for the West Coast series. As you know, I'm happy being retired and I enjoy being a fan of our sport, talking about it on a weekly basis in the PulpMX columns or on the radio shows. But, I thought about it for a bit and decided it could be a great experience and also, it was a way to give back and help a French company who is spending money to have a race team in the US.
The length of the "deal" is 3 months-until Dallas SX-was appealing to me to with not too much travel. The Dassés are cool people, they've always treating me well and I assumed the atmosphere of the team would be laid back and I could do whatever I wanted in the training/coaching department. I had to speak to Erica, my ex wife, since we share custody of our kids to see if it was ok. We agreed on a schedule that would work for the both of us for the 3 months and I decided to do it. It's good for me to stay in touch with the sport and stay sharp with my outside eye. I'm not sure what I want to do in the sport if anything but it's important not to stay away for too long especially for what I do now. We never know what the future will bring, I might want to get back into it 100% or I might get an offer for an awesome job I can't refuse… For the last part, most likely not though!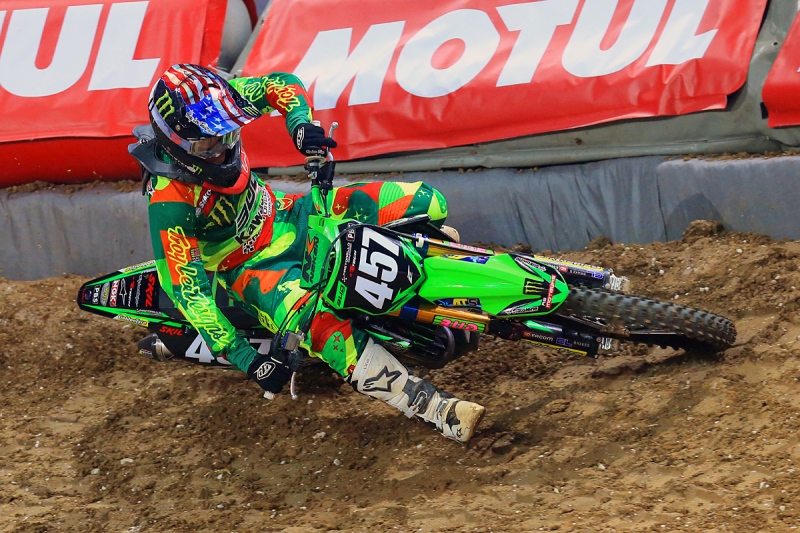 Darian Sanayei is hoping to use DV's help to get inside the top ten in 250SX once he's back from injury. Hovi Photo
Do you think your rants on training and on the sport in general on the Pulpmx Show helped or hurt you in this process?
That's a good question. I don't think it helped me though. I believe I could help any rider in the field today but I don't fit the mold of this industry. I speak my mind too much and tell it like it is without being scared of what people think. In this industry, you have to be politically correct and say what people want to hear to have a good job or work with a high profile rider. As a coach, you are "judged" or "rated" by the results of your rider. If your rider doesn't win, you're not a good coach. If you're "not" a good coach, you don't get to work with a high profile rider. Today, high profile riders put a lot of importance on the training side of it by hiring trainers that can make you go longer but in my eyes, before you have to go longer, you have to go faster. A trainer, as amazing as he can be, will not be able do make you gain a few tenths in a turn by working on your riding technique… But, it doesn't matter if my outspokenness hurts me or not, I am not planning to coach riders for a living until I get to the legal retirement age… I'm already retired.
How's it going with the riders so far?
Darian Sanayei was doing great. We started working on fitness and on riding on Nov. 23rd. He was improving tremendously but crashed a couple weeks ago on a triple out of a turn in a rhythm section. He hurt his back and will be out for a few rounds I'm guessing. We are trying another French kid to see if he will be ready enough to race A1. As far as Maxime Desprey goes, he got here on December 7th, which is kind of late for someone that never raced a single US Supercross and has to learn a lot. But, we are working hard and he's doing good. The fitness is coming along pretty good. He had a good base and we're trying to adjust it to be able to be SX race ready. Might not be in A1 but should get there after a few rounds. I'm happy with the kids. They don't complain and believe my process. They're improving on and off the bike so it motivates them also. It's challenging to train/coach rookies because they have everything to learn in US SX. Sometimes they do and hear stuff from me they've never did before but I'm able to prove to them that I kinda know what I'm talking about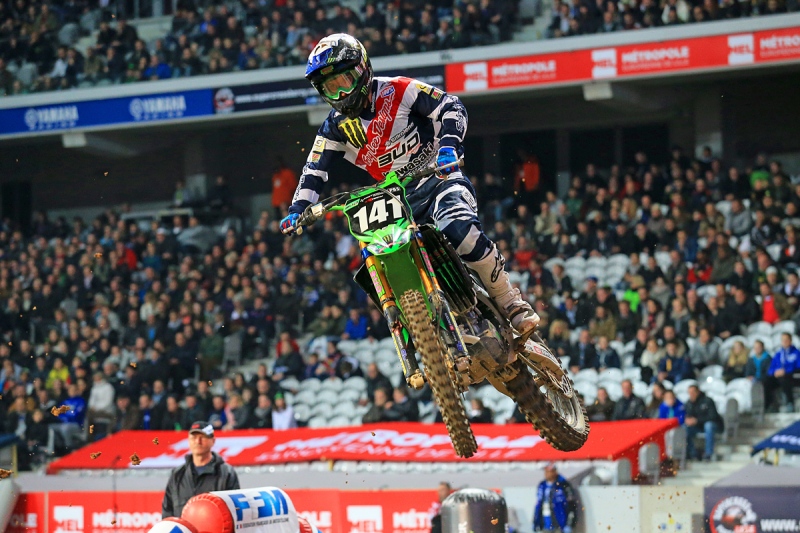 Maxime Desprey is one of those talented French riders that can really ride the indoor stuff well. Hovi photo
It's tough to tell right now but what do you think these two guys can do? Top ten?
That's a big question mark. I'm not really sure today. I don't know how nervous they gonna be riding in huge stadiums for the first time with riders with big names on their jerseys. The goal is to get the best out of their potential of Saturdays. That's what we are working on. They're rookies and we only have 1 month to get ready. It's a big challenge and we'll try to make the best of it. To tell you the truth, the team, the riders and myself will be very happy with some top 10s. But, we don't have goals in term of finishes. My goal is to see them ride at their best of their riding abilities, fitness abilities, to have some fun and to be safe.
Have you been enjoying this process or has it been more work than you thought?
I've enjoyed it. I've been with them at least 6 days a week. It's Monday as I type this and I've been with them 8 days straight doing something everyday and it's gonna be like that until my next day off Sunday. It's fun to see them improve on and off the bike and showing them they can do stuff they never thought they could. Plus, it keeps off the couch and away from the poker tables which is great. Now, we just have to have fun at the races and get decent results that make all the people involved in Bud Racing happy.
You're at the test tracks, what else are you seeing in regards to other riders?
I don't see a lot of top guys but a few impressed me. Obviously Cooper Webb is riding very well and with confidence. That's not news to anyone. As for the surprises, I was amazed by Christian Craig. He was literally flying but very smooth and I think he could give Webb a run for his money if they both ride West. In 450, the best I've seen is Cole Seely. Kind of in Craig's fashion, very smooth, very efficient, very fast and strong physically. I also thought his CRf450 was working very well. He's my sleeper pick if we can call a factory honda rider a sleeper