Cudby's image described in a thousand words.
Cudby's image described in a thousand words.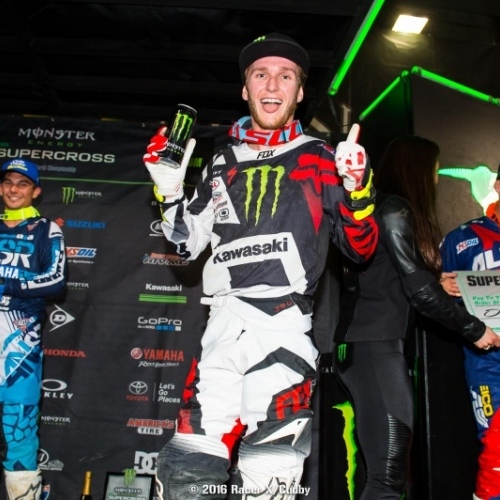 Savatgy is finally happy with the top spot of the podium.
Photo: Simon Cudby
They say a picture is worth a thousand words, right? As I was scrolling through Simon Cudby's photos that he sends out Saturday night after the race I found one of the best I've seen in a while. All of Cudby's shots are killer because he is the best in the business, but this one really spoke to me on different levels.
Here we have three riders from three different life paths who somehow ended up on the same podium together at the Oakland SX. It isn't often that you'll find three riders absolutely ecstatic on the podium. Usually the rider that finishes second is bummed out because they really wanted that win and third is trying to figure out what they can do to beat the other two. In Oakland it was different. Joey Savatgy, Colt Nichols, and Christian Craig were all pleased with how their night went and this picture displays their happiness.
Savatgy has been oh-so-close to breaking through for his first supercross win since he jumped on a Monster Energy Pro Circuit Kawasaki last year. If you follow him on social media you'll know that he wasn't happy with anything other than a win. He believes in his program and himself very much. He did end up getting the overall win at Unadilla last summer via 2-2 moto scores, but never received that elusive win. Now with a win in the bag and the points lead we could possibly see an even better Savatgy show up in Arizona this weekend. He has the monkey off of his back and judging by the picture it's going to be tough to keep him out of the winners circle from now on. He was enjoying the best feeling in the world.
Behind him you see a very happy Colt Nichols as well. Nichols came into the season under the radar after sitting out the majority of his rookie season injured last year. He received the call from CycleTrader/Rock River Yamaha later in the off-season and now he has completely shown his worth. In the first four rounds of the 2016 season he has finished 7-5-8-2. Yeah, he has been consistent. It's cool to see the CycleTrader Yamaha team continue to take riders with potential to have breakthrough rides. Last season the team did it with Alex Martin and now they are carrying that into this year with Colt. Did anybody expect a podium out of this Oklahoman in 2016, or even this soon in the season? I sure didn't expect it, but it's awesome to see. I personally love when the podium is mixed up as it keeps the season fresh and interesting. It's why we drop the gate! Nichols is best friends with Justin Bogle and he also has the legend Robbie Reynard in his corner, so you know his possibilities are endless. Nichols stock will only continue to go up.
Finally we will take a look at big daddy Christian Craig. In this photo he looks happy and content, even though he noticed that they misspelled his name on the check. I'm going to interject really quickly here. I know the guy retired for a little while, but you've got to be kidding me on the unforgivable spelling mistake here. It's rare that someone spells Christian without an "H". Even if you weren't sure how to spell it wouldn't you just go with the common spelling? This is not cool bro. I'll forgive a lot of people for misspelling my last name of Bendgen a million times, however I won't forgive the misspelling of Christian.
Okay, the rant is over and we'll talk more about CHRISTIAN now. It's very obvious that Craig is in the best position of his young life at the moment. He's married, living his dream as a professional motocross racer, and he loves being a dad. His son Jagger even has his own Instagram page, which is a bit weird, but whatever the child already has over 20,000 likes. I'm just jealous that a baby has way more followers than I. Give me a shout out or something lil' dude my Twitter/Instagram handle is @troybendgen.
I've been to some races and I've seen Craig and how he acts. He no longer looks like he has pressure on him to perform. Whenever I see him he's cruising through the pits or in the truck and the guy is always smiling! It just goes to show you that family truly means everything. Craig is content in his life and it's showing in the results. Minus a fluke at Anaheim 1, Craig has finished 4-3-3 in the last three rounds and has battled for the win. His whoop speed is incredible as well.
Out of these three riders that ended up on the Oakland podium I say that Craig ends up getting the next win. It may not come this weekend, but it will happen in 2016. All of these guys have the potential to be superstars in the 450 class when it's time to move up and I say that they will all make it there in the next few years.
Entering Glendale, AZ this weekend Savatgy is the point's leader, Nichols sits fourth, and Craig is right behind him in fifth. The season is already half over for them, so they have really proven their worth in the first four rounds.
It's funny how just one photo can generate a thought that turns into a story to bench race about. After all, it's just three dudes smiling, right? To me it's more than that. These guys are putting in the work they need to every week and it's paying off for them in results. I'm excited to see what Glendale will bring us this weekend.
Like I said, a picture is worth a thousand words and that's very true. I took this amazing Simon Cudby photo and ended up writing about three dudes smiling on a podium. This is word one thousand.
Thanks for taking the time to read my column. I tried to do something different this week, so let me know whether you liked it or not. You can email me at troy@pulpmx.com to chat about anything.