For this edition of MX Captured, we're going to take a look at some of Paul Buckley's iconic photographs from the 1983 125 National MX season.
For this edition of MX Captured, we're going to take a look at some of Paul Buckley's iconic photographs from the 1983 125 National MX season.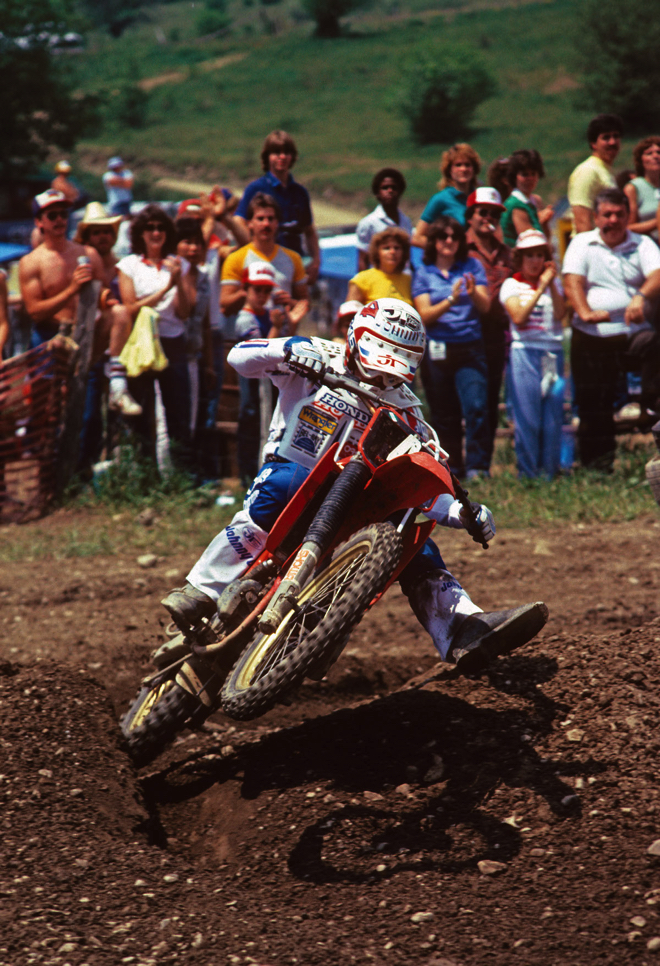 We asked Johnny O'Mara what he thought of this photo of himself back in '83- "First off – Total Perfection & The O'Show style that I'm famous for! Secondly – The biggest wars I've ever been in with Barnett and Wardy on the 125! We hated each other so bad that we would literally kill ourselves week in and week out to get that #1 plate! Lastly – I'm glad I'm alive today to talk about it."
This shot of Johnny O'Mara was taken on June 5th, 1983 at Broome-Tioga, smack in the middle of one of the most intense 125 title fights in history. The 1983 season was a great time in motocross. Works bikes still ruled the roost and you had insanely trick machines gracing the track that bared absolutely no resemblance to anything you were going to find on the showroom floor. Style was king, and guys like Glover, O'Mara and Bailey showed the youth of America how to look cool on two wheels. Perhaps most importantly, the racing was great, with amazing battles at the front and a real sense that any one of several competitors could take the win on any given weekend.
Perhaps in no class was this more apparent than the 125 class, where an interesting mix of grizzled veterans, established stars and rookie phenoms lined up to do battle in 1983. Mark Barnett was the reigning 125 champ, and had dominated the class since stealing the title away from Broc Glover in 1980. Challenging him would be a couple of class veterans and an insanely talented 16-year-old rookie from El Cajon, California.
Going into the season, Factory Honda's Johnny O'Mara and Factory Kawasaki's Jeff Ward looked to be Barnett's steepest competition for the title. O'Mara had finished second in the title chase in '81 and '82 and there was no doubt that his Factory Honda would be up to the task. Ward figured to be only slightly less of a favorite after finishing the '82 season with two wins and a fourth overall. The wild card in all of this promised to be Factory Yamaha's rookie Ron Lechien, who would be piloting Yamaha's ultra-trick rotary-valved OW125.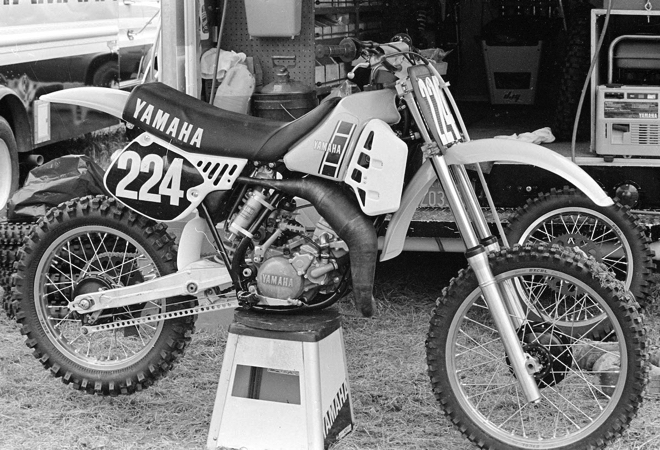 The early 80's were not a great time for Yamaha works bikes, but Ron Lechien's 1983 OW125 was certainly one of the few that could steal a little of the limelight away from Honda's trick RC racers. Using a Can-Am-like rotary-valve intake and nicknamed the "boloney slicer", the OW was fast, but temperamental. Early season DNF's and teething problems kept Lechien out of the title fight, but once the team got the bike sorted, the Dogger was a threat for the win at every venue. Photo credit: Paul Buckley
In 1983, Broome-Tioga marked the halfway point in the 125 season and coming into the event, a mere sixteen points separated the top three riders in the series. At the front, was Jeff Ward, leading Johnny O'Mara by a single point. In third, fifteen points further back was Barnett, the victim of a broken chain and DNF at round four in St. Louis. In fourth was Lechien, who had suffered a DNF at Gatorback and had spent the first five rounds sorting out his new works Yamaha. Through the first half of the season, Barnett had proven the fastest rider in the series, tallying three wins in the first five events. Both Ward and O'Mara had scored one victory each, and used consistency to open up a gap on the champ.
At Broome-Tioga, it appeared to be Johnny 'O who wanted to take command of the second half of the series with a resounding holeshot in the first moto. With clear track ahead, O'Mara put the spurs to his Jim Felt tuned RC125 and quickly pulled out to a nine second lead. Behind O'Mara, it was Honda Support rider Brian Meyerscough in second, followed by Jeff Ward in third and Mark Barnett in fourth.
By lap three, Barnett had powered his Factory Suzuki past Ward into third and set his sights on "Flyin" Brian Meyerscough in second. It would only take the '82 champ two laps to run down the Honda support rider and with five laps down, Barnett was into second. From there, however, he was unable to make up any ground on O'Mara and actually nearly lost second place to a hard charging Jeff Ward with two laps to go. At the finish, it was O'Mara by ten seconds, followed by Barnett, Ward, Meyerscough and Ron Lechien.
In the second moto, the roles would be reversed, with Barnett grabbing the holeshot and O'Mara stuck in fourth. This time, however, the man making passes would be Lechien, who would put his works Yamaha into the lead by the end of lap one. Behind him, Ward moved past Barnett and gave chase, with O'Mara trailing in fourth. The race order would stay the same for seven laps, until Ward would tip over on one of Binghamton's many hills, handing second to Barnett.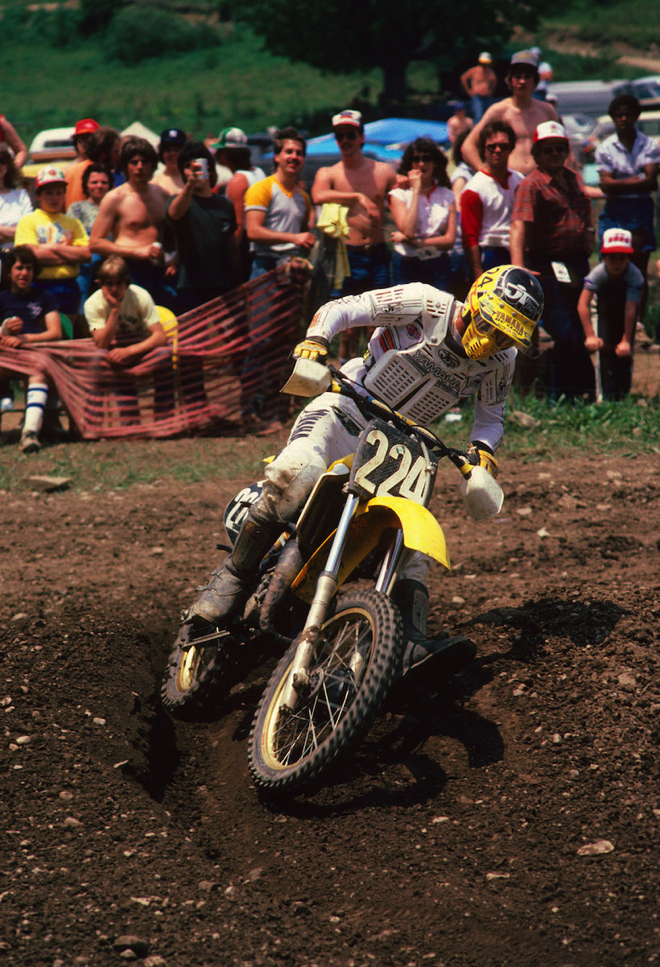 In the Broome-Tioga second moto, Ron Lechien looked to be on his way to the first moto win of his career on his Keith McCarty tuned OW125. That is until a run in with a lapper left both in a heap, handing the win to Mark Barnett. For Lechien, the breakthrough would have to wait until the seventh round of the series at Lake Whitney, where The Machine would power his Yamaha to the first 125 National win of his career. Photo credit Paul Buckley
A lap later, Lechien would show his inexperience by tangling with a back marker and going down. The crash would open the door for Barnett and a remounted Ward, who would blast past into first and second. Still in fourth, O'Mara was too far behind to take advantage of Lechien's misstep. At the front, Barnett realized his opportunity and put the hammer down on his Factory Suzuki, pulling out a quick six-second gap on Ward. A few laps later, Ward would fall again, handing second to Lechien and allowing O'Mara to race by into third. At the finish, it would Barnett by twelve seconds, ahead of Lechien, O'Mara, Ward and Team Tamm's Chris Heisser in fifth.
Barnett's 2-1 would be good enough for the overall victory, his fourth in six rounds. While O'Mara's 1-3 fell short of the overall, it was enough to pull him into the series points lead for the first time of the season. As it would turn out, it would be a lead he would never surrender. Barnett would score one more victory at Washougal, bringing his season total to five, but once again be undone by his Factory Suzuki. A blown crank at Red Bud would effectively end his title chances.
Round seven at Lake Whitney would see Lechien finally put it all together and claim the top step for the first time. He would do the deed again at Lakewood and Spring Creek, but his early season problems left him outside of the final points chase. In the end, it would come down to the old rivals of O'Mara and Ward, who would take the title to the final moto of the season. At the season finale, it would be O'Mara, who would claim the title with a conservative 4-5 for fifth overall, outlasting Ward by nine points in the final standings. While both Lechien and Barnett bested his season win total of two, his consistency and ability to avoid the a major mistake gave him the championship.
For your daily dose of old school moto goodness, make sure to follow me on Instagram and Twitter @tonyblazier