He's been there, done that. And now Vuillemin tells you what he thinks.
He's been there, done that. And now Vuillemin tells you what he thinks.
Photos by Jani Hovi
New venue and a nice track although it ended up being the same old Phoenix dirt. Did you like the track and do you prefer the "football" stadium-type tracks over the Baseball ones?
I've been saying for a while that football stadiums fit Supercross racing better. I think the track builders can express themselves better with a big rectangle floor plan. It's good to see some speed a little bit after four rounds of pretty tight and slow tracks. Football stadium tracks will always have a better flow to it as it's easier to make long lanes and 180-degree turn. That makes for better racing with more choices in lines. As far as the dirt goes, we race MX/SX and the dirt is the same for everyone. It would be boring to have St Louis dirt at every round. People complaining about the dirt either didn't win, weren't able to set up their bikes for it or didn't pick the right tires. In the days of 4 stroke EFI bikes, engineers with shiny team shirts and riders that should ride daily in any conditions, the Phoenix dirt should not be a problem.
Ryan Dungey didn't get the start but yet still ripped through the pack to take second…should Roczen be really worried about this or can he start clicking off wins?
Obviously, when the second best rider so far this season in my opinion, Ken, ends the first lap leading the pack while the best guy so far sits in 8th, it will be challenging for Dungey to win the race. I'm actually confident that Dungey could've given Ken more of a run for his money by riding a little better at the beginning. His best two laps came on lap 7 and 9. It took that long for him to find his groove in the whoops. It's also difficult to find your rhythm when you have to pass a bunch of guys. I thought Ryan rode very well when he got to 3rd behind Tomac. I thought he would ride to finish third and still score big points but I gotta give it to him, he charged all the way to the finish.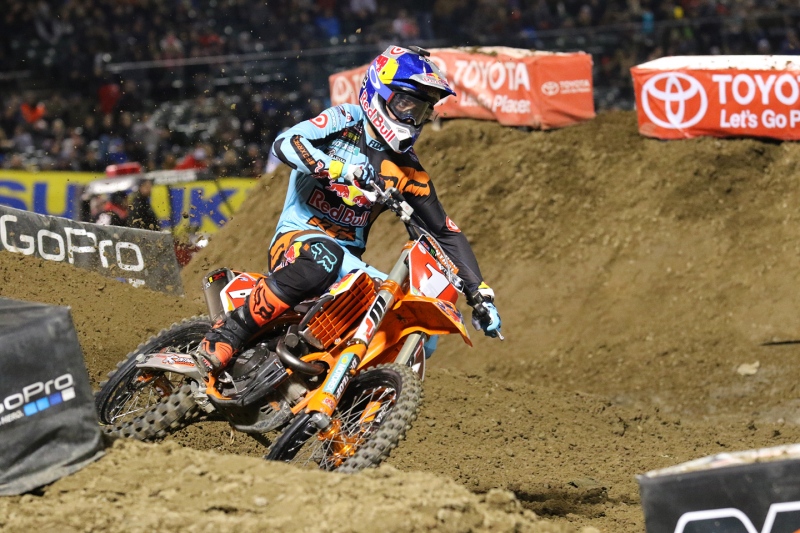 Dungey charged hard from a poor start to finish second.
As for Ken, I was very impressed in his first lap and his outside line in turn three after the start where he took the lead. That ride will boost his confidence. I liked what I saw from Ken in the main. He was charging thru the turns and kept his momentum thru them. That turn after the finish was a great example. He was getting into it early and followed the bowl all the way around. I really think that's the key to going fast in SX these days. He also showed that his fitness was good. Dungey only gained 1.3 second in the last 5 laps on Ken. By trailing Dungey by 21 points in the championship, Ken will have to have a few more rides like that to make the it interesting. We know Ryan won't be off the podium much, if at all. Didn't he finish first or second in the last 16 SX races or something?
Was Eli Tomac's race good or not? On one hand he got his first podium and was closing on Kenny Roczen for the first half of the main. The other side is Dungey came from way back to catch and drop him. Your thoughts?
Its only Eli's 5th race back since that big crash in Colorado last year and having surgery on both shoulders. Adding to that a new bike, new team and people to work with. We have to let him get back to racing speed and fitness. He was actually catching Ken a couple tenths a lap all the way to the 11th lap when he hit the wall a little bit. The speed is coming back. The fitness will also come back naturally. I still think his riding, even if he was doing great in the first half of the race, isn't where it needs to be. He still makes some mistakes and has some errors in his riding techniques. That hurts his speed and also takes up his energy. He needs to find a racing flow and be smoother. Also, he will have to find a way to go thru the whoops like he had with the Honda. I don't think they have found the ideal bike set up for him just yet. When he fixes a bit of riding technique (and lines) and gets a more comfortable set up, he'll need less energy to race and will be able to race for a W.
Christian Craig won his first race and we all know how talented he is. Should other young racers quit the sport and go get a real job to find out how good they have it?
It's always been an issue with talented riders coming from the amateurs to a factory supported team. We've seen a lot of them disappear over the years. Seems like most of them think they've made it when they get onto a famous 250 team, with nice bikes and a cool team shirt. What they don't realize is that when you get there, you have to work two times more to perform in professional racing. Some riders are to blame but also the teams are as well for spending so much money on teenagers. It's easy to fall asleep when you're 18-19 and have a 2-year contract with a few hundred thousand bucks a year or even more… I'm happy for Christian. I've been a fan of the kid a while. I remember him riding well in Freestone National in 2011 and leading the first moto for a while… I've seen him ride a lot this off-season on the local tracks, he impressed me a lot with his technique and speed. I told the BUD Racing guys he would be up there in the West. I also like that he doesn't care about Webb and races him like he's anyone else. Not all of them do that. The key of the race for Craig was fighting to keep the lead while Cooper got inpatient and made a mistake. It was a good strategy because Webb was clearly the fastest 250 guy in Arizona but you have to stay on your wheels. It's not how fast you go it's who cross the finish line first.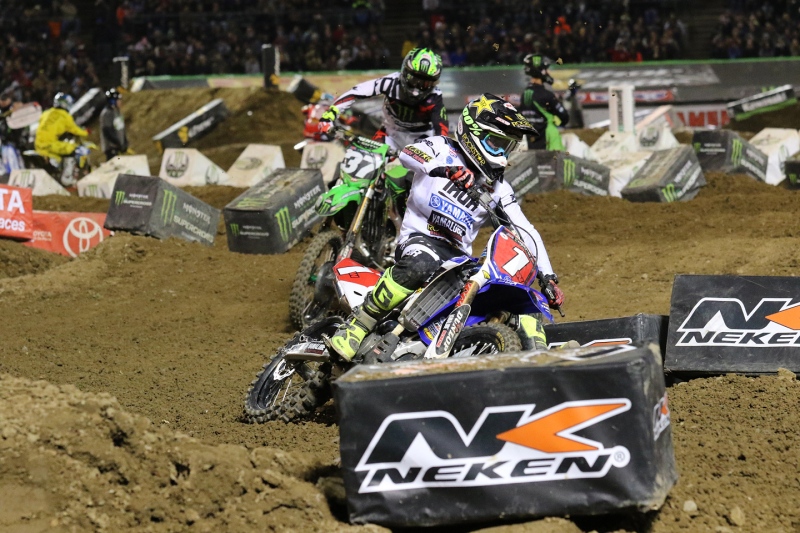 Webb had an eventful day in Glendale both in practice and in the main.
Cooper Webb showed Chris Alldredge that he was upset with him in practice. How much did guys messing with you (either on purpose or not) affect you out there in terms of laying down a hot lap? Do you think he went over the line with Alldredge?
I've seen the footage online that I'm sure everyone saw. On the footage, I don't think Chris was messing with Webb. He was just slower than Cooper resulting in Webb having to slow down in a hot lap. These things happens all the time and it looks to me like Webb acted like a spoiled kid. It's not acceptable to act like that but I don't know the whole story or even if there is one. I don't know if there is bad blood between them from before. But even if there is, you don't deliberately take out another rider in practice. It's only practice and if it was soccer, I'll give him a yellow card. #AreWeTalkingAboutPractice?
Is Christophe Pourcel really going to turn it on at the seventh race like he says he is?
Doubt it. What's to say that hasn't being said about CP yet? He's an awesome rider. He's fast. He has great technique. He can be the fastest rider in any practice. BUT, he will never have the fitness to beat the top 450 guys in SX. I don't understand riders that weren't hurt in the off season, that have factory bikes, that had plenty of time to get ready for A1 but show up unprepared asking for 6 races before starting to perform. Maybe it's just me but I don't get it? Add to the fact he doesn't like/want to take risk and get hurt. If you're not fully fit to race supercross, if you don't want to take chances and if you don't want to get hurt, maybe supercross isn't the best sport to be in.
Marvin Musquin didn't back up his podium but he was on the move until as he admitted, Reed passed him back and he lost his mojo. What did you think of his race?
11th on the first lap to 6th on lap 11. I thought it was good. I liked the way he raced with Reedy. He was pretty aggressive which we rarely see that from him. He started making mistakes after halfway. He got passed by Reed and Brayton in the same lap and it hurt him. He later got passed by Seely. He struggled in the whoops at the end. He's been struggling in the whoops since the beginning of the season. We even saw him jump them at A2. Last week, the whoops weren't a factor since they were nonexistent. There is some positive even if 9th wasn't as good as he could've done. He needs to work on whoops but also find a bike setup that gives him more confidence in them.