Travis Sewel had to overcome a lot in Omaha. He did pretty well.
Travis Sewel had to overcome a lot in Omaha. He did pretty well.
Photos By: AMSOIL Arenacross/ShiftOne Photography
Denny Stephenson- I think most people know you had a pretty rough week. Had bikes stolen, a truck stolen, trailer stolen, and then spent the last couple days trying to track them down. How's your week been?
Travis Sewell- The last 24-48 hours have been pretty rough. We woke up Friday morning to come do press and our whole rig was gone. Pretty much heart sunk. So much work and time has been put into what we've been doing this year. For all that to disappear is just unbelievable. You feel almost helpless in that situation to where you don't even know what to do. You don't know what the next step is. Friday morning I thought for sure I wouldn't be racing. Thanks to everybody's support, it's been unbelievable for our whole team to be able to come out and race. Our shop for helping us with bikes, Tom Zont for helping us with doing so much work. He didn't get here until 3:au am, 4:00 am last night with all the stuff. He was basically running on no sleep and was still here all day helping us out.
How did you end up putting together a race bike? I know I've been talking to you guys through the week trying to help a little bit. Your race bike was stolen, but I heard a practice bike was left over. When I walked in tonight I saw a truck and trailer had driven out. Is that what you're referring to? A guy brought you some parts and a new bike?
Yeah, the guys from our dealership were able to come up with some brand new bikes, thankfully. Tom Zont was able to do the suspension and get the suspension done at least. Scott Znt and I raced completely stock motors, stock pipes, everything tonight. The bike was literally brand new going out into the first practice. Went into the day just hoping to go out and gather some points. After practice we realized that we were going to be able to compete for racing, just could be a little bit more difficult, down on power. But just can't thank everybody for the support, yourself for helping us to try and track these guys down, everybody on social media, the local guys that gave us the call, gave us the lead on the box van and the trailer. It's just been unreal.
I've been following arenacross a little bit more closely this year because in the past it's kind of been Babbitt's runaway a little bit. Regal obviously stepped up last year. This year you've really turned around your program in Arenacross. What have you done differently this year than last year?
First off, KTM came out with a really good bike this year. I feel like it's a huge step over what they had in the past. This is our third year as an arenacross team. I feel like we've been growing and learning year to year. Last year I felt better but my overall result wasn't what I was hoping for. At the end of last year in Vegas I was sitting there just absolutely disgusted. Never once got on the podium all last year. I told myself I was either going to quit racing on the spot or I was going to figure out how to succeed at another level. I worked my butt off all summer and then this past fall Tom, Scott, everybody just put in so much work into these bikes that were competitive. I feel like our race bikes that are now gone were the best on the track. We're going to get these new ones going and hopefully (get them dialed, fast).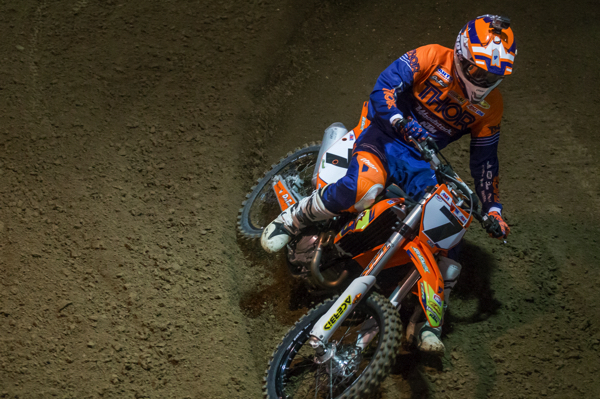 Travis was looking great heading into the Mains.
Back to tonight, you said that bike was brand new in practice yet you went out and turned the fastest time in your practice session. How'd you manage to do that?
Honestly the first lap I was just like, man, I'm going to be able to race this thing. It's not going to be too big of a deal. The motor compared to my race bike was not even close, but KTM has a really awesome stock motor. Tom was able to remap it and put some good suspension on it. Ran stock tires and just went for it.
Then you had a hell of a heat race win, battle with Faith. You guys were battling back and forth.
Yeah, that was a lot of fun. Gavin and I were able to get really aggressive with each other and not get upset or throw fits, so it's really cool being able to race with people like that.
Then you came back in the head and head and did the same thing. There was always a repeat.
We bumped pretty hard in head to head a couple times. Talked after the race. We were both cool with it and both understand we're both here for the same thing. We want to win to the fullest extent and we both try way too hard to let somebody else beat you.
I know that feeling. Back when I raced with Budman when we were at the top, feeling our best that year. It was like, let's not kill each other. Let's kill everybody else, and then when we get out front let's try to kill each other.
Yeah, definitely. I feel like there's a mutual respect between all of us that are up front racing. But at the same time in arenacross you have to understand that you just have to be aggressive and you're going to get hit, you're going to get bumped. There might be a time or two that you hit the ground because of it, but in my mind if I'm in front of you and you're faster than me, move me out of the way and I'm not going to be mad about it because I'm going to do the same thing to you if the tables have turned.
Back to the mains, it just looked like you didn't get the starts. The guys got out front. It was hard to make up some time. The track was tough, but in the mains it looked like the starts were the biggest problem.
Yeah, starts. I ripped a holeshot in my heat race so the excuse of blaming the bike off the start is not necessarily there. I do feel like it was hard to setup passes, being so down on power. So once I was kind of behind someone I felt like I was almost stuck in a rut. I don't know if it was just me not totally being comfortable not having the power that I'm used to, or just not fully committing because of comfortability. But I gave it my all. I was tied for second but ended up fourth just because of the second main not being as good. So, not the best night but honestly from yesterday morning to now it's definitely awesome just to be top five, be out here racing, and put up a fight with those guys. (Those are full) race bikes, they spend a lot of money. To have Pro Circuit and all those guys put a lot of effort into their whole program. So it's really cool to be able to get up and race with them on just a stock bike.
My hats off to you. I'm sorry this had to happen to you in my hometown, Omaha. That really bummed me out. I was trying to help you guys out as much as possible. Where do you guys head after this weekend?
We're heading home after this weekend. Going to try and figure things out. Don't even really have a game plan right now; we're just going to have to kind of get together and put a game plan together and move on. Hopefully by the reset have our bikes all set up and ready to go. We'll be there next weekend and we'll get through it just like we did today, but it might be a lot of stress and a lot of work this week. I might not be able to ride. We might just have to dedicate ourselves to preparing everything to move forward and be ready when the points reset.