Davalos is out and the odds of a new winner this weekend has increased.
Davalos is out and the odds of a new winner this weekend has increased.
Photos: Simon Cudby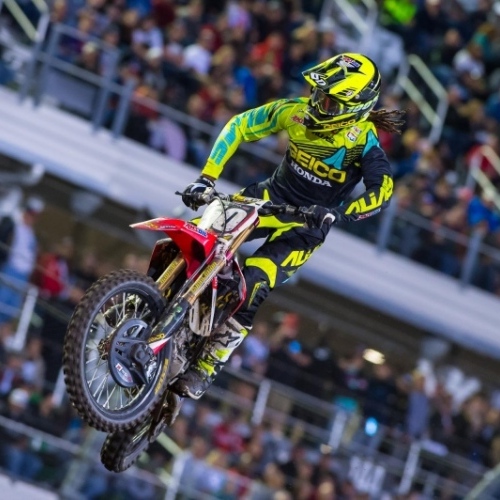 Mookie fever in Toronto? I think so!
With two rounds down in the 250SX East Region no rider has proven to me that they are the one to beat for the title. I previewed the East a few weeks ago and for the most part I've been right. In two rounds we've had two winners and they are winners we expected.
In the opening round in Atlanta I really didn't think that Martin Davalos would have put it together like that at the first round. Of course I thought that he would win a main event or two this season, but not right away. He did and he was a heavy favorite to win at Daytona because of the success of the opener.
We all could foresee that the two-time Lucas Oil Pro Motocross champion Jeremy Martin was the favorite to win Daytona. However, the Daytona that the riders showed up to last weekend wasn't the same as years past. The track was one-lined, hard to pass, and yada, yada, yada.
So my point for my column this week is to look at who will be the next rider to claim victory in the class. Toronto is this weekend and I'm not sure how to guess at this. With Davalos out, Martin could win and become a two-time winner before anyone gets on the board. However, that's the easy way out, I'll go with a first time winner.
Who should I go with? I've been impressed by most of the frontrunners so far. Malcolm Stewart has a win under his belt from last season and could break out a win in Toronto, or any given weekend for that matter. His time could come this weekend.
Last weekend in Daytona I was really impressed with Justin Hill's runner-up finish. Hill has been off of the radar due to injury recently, so to see him bounce back like that was strong. He is like Stewart in the fact that he could break out and win at any moment.
At this point in the series I don't believe that we've seen the best of Shane McElrath. The TLD KTM rider hasn't shown that speed that he had in the West Coast last season. A 22nd and a 10th to start the year probably wasn't what he had in mind, but the good news is that he could break out and win on any given weekend.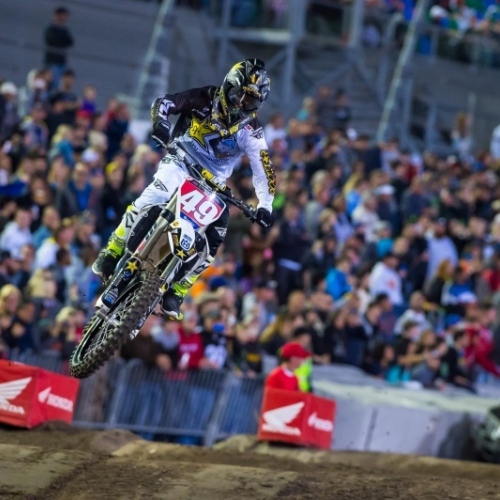 Unfortunately Davalos will have to sit this one out.
Hmmm…I'm starting to see a trend here.
My preseason pick for the title (and current) Aaron Plessinger has started the season with a third and a fifth at the first two rounds. He currently sits fifth in points and only nine off of Davalos, who holds the red plate. This East Region is keeping supercross interesting for the fans, which is great because the 450 race is a yawner.
It's time to make my decision. I'll go with…Mookie. Yes, that's right, you heard it here first. I caught Mookie fever this weekend in Toronto and I think other people will as well. I think that Stewart will win this weekend if he gets along well with the track and feels comfortable. He's been very consistent and has finished 2-4 in the first two rounds. Keep in mind that this could also be a more mature Stewart this season that stays consistent without crashing. It's too early to tell if he's gone that route yet, but we'll have to wait and see.
Just because I picked Malcolm to win this weekend in Toronto does not mean that he's my pick for the title. I still say Plessinger gets the job done. If this East Region can have five winners in its short series then that will be great for the fans and riders alike. You never want to go to a race knowing full well who is going to win. For instance, in the 450 class this year Ryan Dungey's odds to win are 50%. These are my odds of course not Las Vegas odds, but seriously you know he's either going to win or get second. That's not very fun knowing that going in.
Back to Davalos being out, can this guy catch a break? Here is once again the point's leader and now he'll have to take a huge hit in the standings. It's unfortunate for the team and Davalos, but man it's a weird story to follow. This East swing is everything we've asked for so far and I can't wait to see who wins in Toronto. It most probably will be the third winner in three rounds!
Thanks for reading my column I really appreciate it. I'm curious to see what you think of the East Region so far. Email me at Troy@pulpmx.com to let me know, or hit me up on Twitter and Instagram @troybendgen.