This man knows arenacross
This man knows arenacross
Photos courtesy of AMSOIL Arenacross
By Denny Stephenson
Omaha Arenacross. Two words I would've killed to read back when I was racing. Who doesn't dream about racing in their hometown in front of family and friends? But when you live in middle America, that dream is usually a distant one at best. We arent all from Anaheim kids.
The closest place they ever got in the 90s was Lincoln, which was close enough for me. So I tried racing a friday night AX in lincoln with a flight out to San Diego Saturday morning for the Supercross. I was gonna attempt the double. After telling the crowd I was there for one night to kick ass and head to sunny southern California the next morning, I proceeded to hit the wall and smash up a couple fingers in the first heat race of the night. It all looked good on paper.
Last year the AMSOIL Arenacross series arrived just across the river in Council Bluffs, Iowa at the smaller Mid America Center. To my own surprise, they sold out both Friday and Saturday nights of racing. So back the bullring chaos came last weekend for the 2016 series. Only this time it was a single Saturday night of racing inside the bigger and badder Century Link Center in downtown Omaha.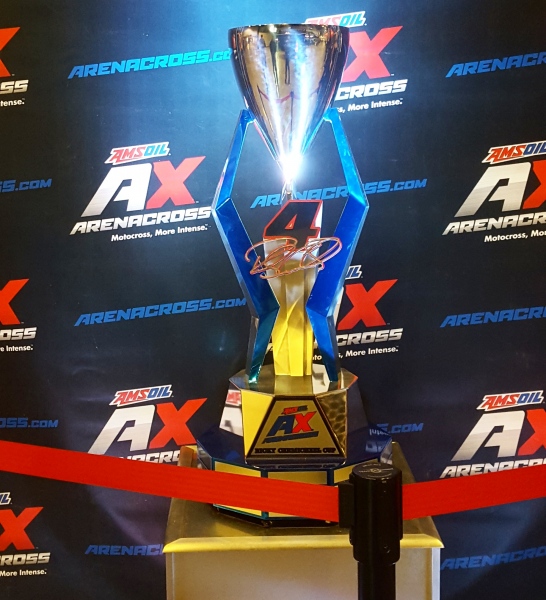 One the RC Cup, caption… The RC Cup? Don't get me started
I have to admit, hearing the advertisements all month long on the radio while working was pretty cool and I was pumped to see some old friends and catch the show. Unfortunately last week as teams started to arrive, word hit on social media that one of the teams had their truck, trailer and bikes stolen out of one of the parking lots. You never want to see or hear that, especially in your own city.
To get the full story on what all went down, check out my interview with Woodstock KTM rider Travis Sewell. Needless to say, my hats off to the entire team for persevering thru the weekend. The never say die attitude of everyone involved to get the riders back racing, was a quick reminder of the bad ass people who make up our sport and industry.
Walking into the arena Saturday night, I was promptly made aware of how much the series has evolved over the years since Budman, Swap, Jonesy and I did battle. It is clearly a much more professional show and atmosphere. Don't get me wrong. Mike Kidd and Lance Bryson threw one helluva an event and series back in the day. It is just an entirely different vibe these days.
Beyond the obvious opening ceremonies, Monster girls and DJ stand emblazoned in lights and sound, the track itself was something I really noticed and was impressed with. One simple thing. They use a lot more dirt. Everything was big, round and bowled. Hell I think the amount of dirt used on the landing of the catapult alone was half of what was originally used for the entire track. And the dirt for Omaha looked perfect for racing.
It was moist and loose. Some ruts developed on the faces thru the rhythm section while the whoops help up thru the night without getting trenched out into a single line. And back was the infamous "wall". I don't ever remember racing with a wall on the track when I raced and I'm not really a fan of one being in the middle of the whoops. I'd rather see 60 yards of whoops than 30, a wall and 30 more. When you only have four lanes of racing, a long section of whoops is a huge place for passing, crashing and overall mayhem.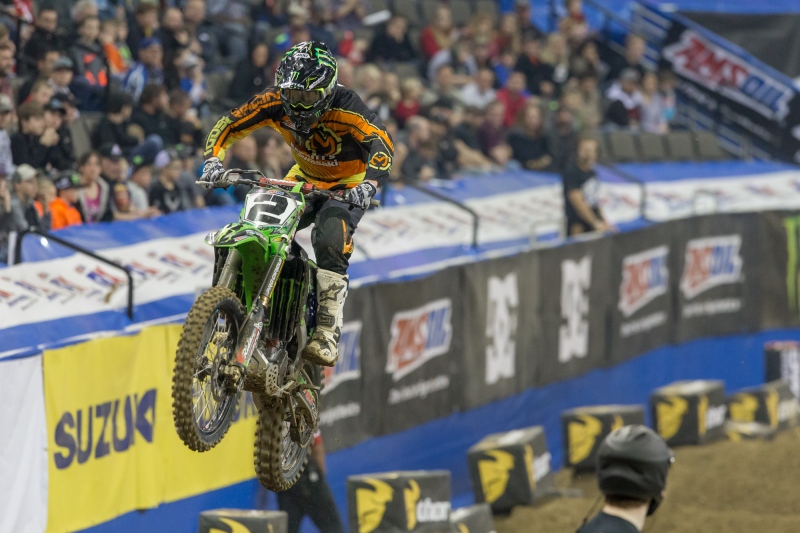 Jacob Hayes has the most wins in the series as the chase looms.
Hats off to TUF / Honda's Jace Owen, who was the first to figure out it was much faster to jump thru the first set, air out the wall into the middle of the second set and hop out. Yes Jason Thomas, I suggested it was faster to jump than blitz the whoops. I know. Its a mystery to me too little buddy.
Jace nailed the whoops section coming out of the first turn with the holeshot on the opening lap of the first main. Only to cross-rut the triple into the rhythm section and subsequently land back into the whoops. How quickly your night can change. Like my night in Lincoln. But sadly I regress.
Overall the night had some good tight racing. Gone is the Dash for Cash and replaced with the Head 2 Head. I poured out a little Monster for my dead homie. Oh how I miss my sock drawer stuffed with zip lock bags full of singles, fives, tens and twenties. Now I know how Crystal on center stage felt when she had to get a real job. Maybe this summer's Best of the Midwest MX series will have a plus 40 DFC.
I didn't see as much over the top aggressive racing I'd witnessed in the past. Sewell and Faith banged some bars in their heat race and then followed it up in their head to head race. And I believe it was TUFs Ben Lamay and Ohio's Steve Mages that tangled pretty good in the corner before the catapult and ended up in the other lane on the start straight. Other than that everyone raced awfully nice. Then again, the Chase hasn't begun. And we all know how that ended up. Epic. Loved it.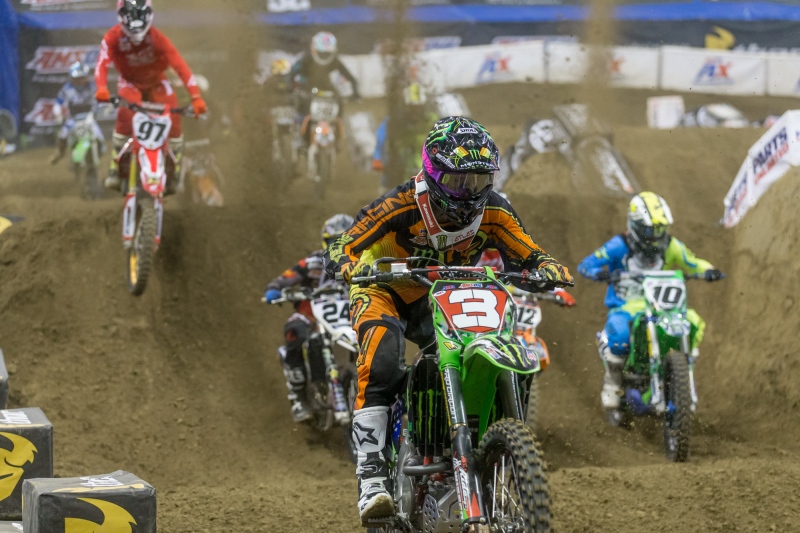 Gavin Faith was the class of the field in Omaha.
Let's take a look at the results.
1st Gavin Faith, Kaw 1-1 : The local boy pretty much dominated the night. He won the Head 2 Head and both mains pretty easily. Even pulled the holeshot from the far outside gate in the second main. With Des Moines no longer on the schedule, they were claiming Omaha as his hometown race. We've already stolen Cody Gilmore from Iowa. Don't force us to steal another one.
2nd Jacob Hayes, Kaw 5-2 : Making his return from injury, Hayes looked a little off the pace until the second main where he nearly chased down his teammate until he settled into 2nd. I'm thinking he's gotta be the slight favorite heading into the Chase in a couple weeks.
3rd Chris Blose, Kaw 4-3 : The former Supercross rider and PulpMX's #1 fan, started out the season on fire, but hasn't won a main in last five weeks. Then again, none of this really matters once they reset. With his 3rd in Omaha, this was the 567th time Babbitt's Kawasaki has swept the podium.
4th Travis Sewell, KTM 3-4 : Despite his team dealing with the burglary over the weekend, I was already planning on interviewing Travis on the weekend. As he said when I spoke with him, he's gone from not landing on the podium at all last season, to being a championship contender in 16. I'm pulling for this guy to continue to shake up the usual AX dominance.
5th Ben Lamay, Hon 2-5 : Another former Supercross regular and Alaska native had a relatively quiet night. Ben pretty much finished where he started with a strong 2nd and a distant 5th. He's also currently 5th in points and will have to find some more raw consistent speed if he hopes to come close to the title when the points reset.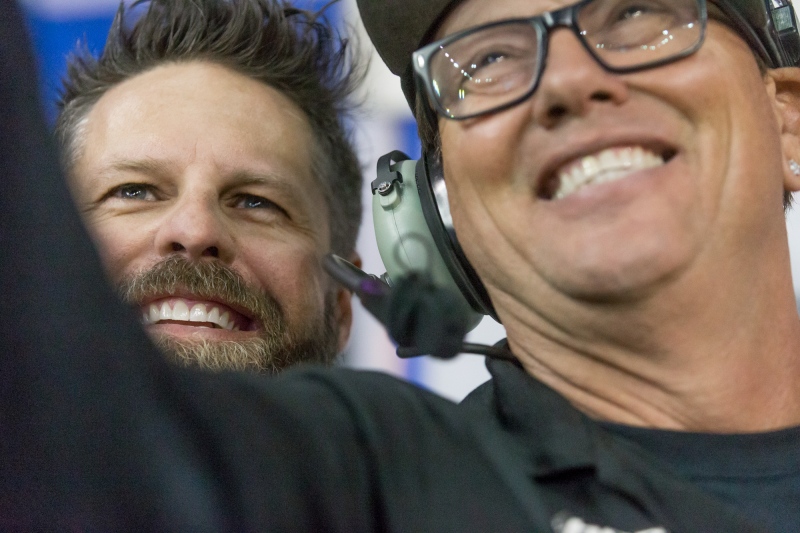 Announcer Wes Kain and I get in tight for a selfie.
Other notes…
– Lamay's TUF teammate Jace Owens, as I mentioned had a rough night. He showed some real speed at times and I think had a legitimate shot at the win in the opening main event until he yard sale'd into the tuf blocks. It was the first lap mind you but there wasn't a lot of passing with the top 5 guys. So he'll head home wondering, what if.
-The former Champ, Kyle Regal rode practice but was in his street clothes for opening ceremonies. Still not feeling even close to 100%, he chose to wait til next weekend in the Cajundome to make his return. And it's a must return if he has any intention of qualifying for the top 10 Chase. He's only one point ahead of Vanbuskirk who's in 11th. Although I don't really see Regal being a title threat after missing so many rounds being hurt.
-Omaha local boy Dillon Cloyd had a week to remember. He was the go to rider for all the local media from morming shows to radio. Dillon also qualified for both the Lites and AX classes Saturday night. I've known Dillon and his dad since he was on 50s and it was great to see him having a great night in front of family and friends. And to see his dad, Doug beaming with pride afterwards was awesome.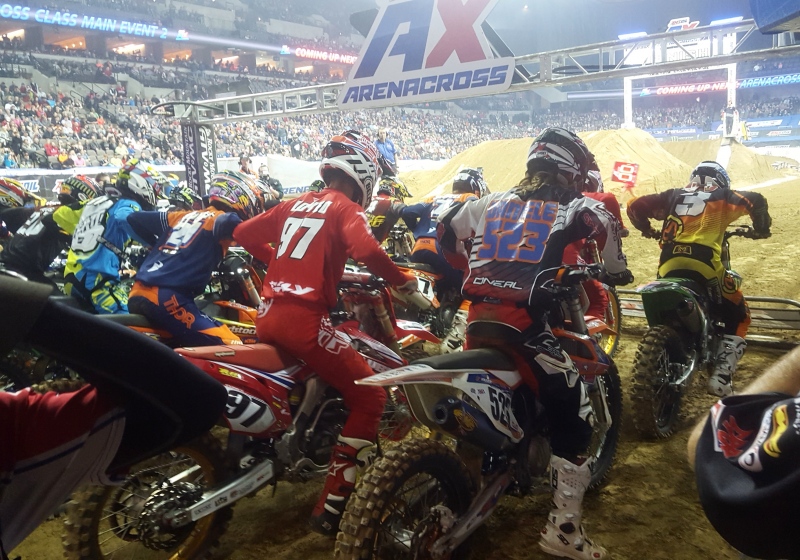 Things get awfully tight when it's two rows deep!
-Random note. Of the 15 West Lites riders, 11 of them were on KTMs. Is the orange brigade the only brand paying out contingency in this class or are they giving the bikes away with every ticket purchase? Either way there was a boatload of orange inside the CLink Arena.
-Lastly thank you to Denny Bartz of Babbitt's for handling all my ticket requests. Always great seeing everyone, especially ol Wes Kain on the mic. And thanks to Bret and Cindy from The Session Room for keeping the kitchen open late and for letting us takeover the place after the races to catch the Daytona SX mains.
And thanks for reading. You can following me on Twitter and Instagram, dbo360.