Wentland and Audette create a friendly rivalry.
Wentland and Audette create a friendly rivalry.
Photos: Simon Cudby
Here's the deal, this year Jesse Wentland and Gannon Audette are on track to having the best season of each of their careers. Both of them are having success on privateer programs that they have helped build themselves with help form loyal personal sponsors. Both of them call Minnesota their original home state and they often traveled to amateur races together as kids. So yeah, these guys go way back as good buddies. It's kind of funny that they have all of this in common AND they are tied for eighth in the 250SX East Region points with 41 all.
As you'll find out both of them are very humble, so getting them to really speak their mind was tough. Somehow I managed to get them to feel comfortable by feeling uncomfortable, especially with Audette. I'm sorry Gannon; I did it for the viewers of Pulpmx!
For this piece I went through and asked them the same questions to truly see how alike these two really were. Enjoy.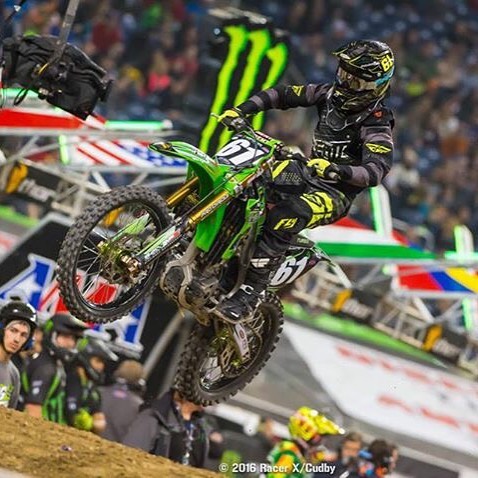 Audette tied his career best in Detroit with a sixth place finish.
What is the difference between 2016 you vs. you in previous years?
Audette: I would say maturity. I'm a little more knowledgeable and I feel more confident in everything. I put in a lot of work in the offseason, so I was confident heading into this year. That's a good question. I'm in better shape. In 2011 it was Jason Anderson and I battling a lot. We were doing a lot of dumb stuff on the track that we wouldn't do anymore. It's a lot of things. I know that doesn't give you a good answer (laughs).
Wentland: That's kind of tough. My level of experience has grown this year. Coming in I had no idea because I was hurt all last year in supercross. I had never worked with a trainer on a supercross track before this year. I felt way more prepared than I ever have.
Who would win in a fight between you two?
Audette: Honestly, I think he could take me. He's a beefy man. I don't want to see it happen so I think I'll just let him win.
Wentland: Oh man, I don't know. I feel like I'm a bit bigger than him so I feel like I can take him (laughs). If you look at the weight ratio I think I can take him.
(I told Wentland here that Audette said that he would probably lose in said fight.)
Wentland: Man, he's got to have some confidence in himself (laughs). Now I know I can win if I know his answer.
I do remember one time we were going to a race together and I think we actually got into it. I ended up punching him in the stomach. We were in a grocery store and he was picking on me because I was a little younger and I just rocked him in the stomach. I don't' know what the end result was. We were on the way to a race so I don't know what the heck we were doing. This was like 2002 or 2003. I doubt he remembers. Tell him the fight was already won back in 2003.
Audette: Oh really, I don't remember that! Maybe he just made it up that's why he said I wouldn't remember. I'm just kidding. I don't want to mess with him.
What has been the most satisfying thing for you in this 250SX East Region?
Audette: Tying the best finish of my supercross career with a sixth.
Wentland: Being able to qualify and run up front consistently is very satisfying to me. It makes me feel like I'm a part of that top group and that I can finish there every single race. It makes me more confident in myself.
Are you in for all twelve rounds of the outdoors?
Audette: It's to be determined right now. You'll have to wait and see.
Wentland: Yes, that's the plan right now in the 450 class.
Who would win in a race at Spring Creek between the two of you? You can each pick your bike of choice and just go for it.
Audette: Oh, man you're putting both of us on the spot right now (laughs). I honestly couldn't tell you. We'll call it a tie. It depends on who gets the holeshot because we're both really close in speed. I would hope that I would win!
Wentland: Oh, come on! He hasn't ridden there in forever. I have that track dialed! You've got to give that to me because I've been there longer than him. I think he moved in 2005 down to Georgia. I've been in Minnesota up until last year. I think I've done more laps on the track than him. I think it'd be pretty close though!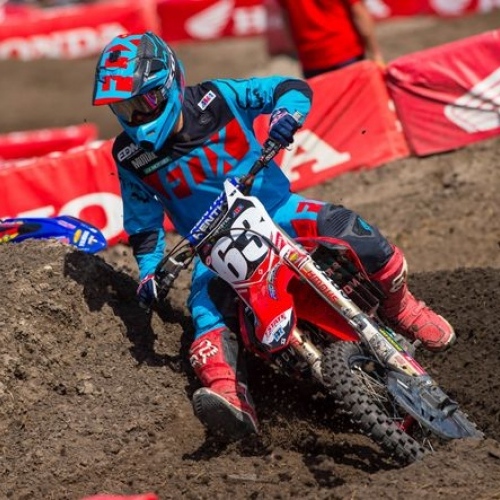 Wentland posted a career best fifth at the Toronto SX.
What has been the biggest surprise of the 2016 season so far? This can be about you or the series. What have you learned about yourself this season?
Audette: I learned that I could be up there again. My confidence has gone up quite a bit. I've been a tenth through twentieth place guy the past couple of years. Just knowing that I can get up there and mix it up with the guys in the front of the pack.
Wentland: I've learned to control my frustration during the week if I'm not seeing improvement in my practicing. I learned when to calm down and not get worked up when I have a bad day. I like to stay positive and focus on all of the goals my trainer and I have set. I need to let it be and not stress about it as much.
I noticed something about the tracks. I remember back in 2014 just being terrified of how nasty and rutted they got. Now the track crew has done a better job of fixing up the tracks so it's safer. I was a head case in 2014. I was scared sh**less (laughs). At some rounds I remember endowing off of jump faces because it was so rutted. It really spooked me. This year with the amount of laps I've put in I've built my confidence up that it hasn't affected me.
What's in the water in Minnesota that creates so many fast motocross riders?
Audette: There are definitely a lot of guys, but I don't know what's in the water. We all grew up racing in different age groups for the most part. It's kind of cool you know? Wentland and I were just at the track together today and his trainer Dylon mentioned how cool it was that we grew up together riding. Jesse lives only about 30 minutes away from one another and we ride each other's tracks. We traveled a lot together too. It's cool so many years later that we can be in another state riding and training together.
What's a good travel story from back in the day with you guys?
Wentland: Gannon and I used to travel to the races together. We'd all go in a camper and travel to Branson and Mini O's together. We'd eat a bunch of fried foods and drink pop. We'd go through three or four bottles of ketchup and have bags of chips too. It was the good old days.
Audette: Yeah, we pretty much ate anything when we traveled together.
Who ate more ketchup?
Audette: I don't know my family does go through a lot of ketchup. The Audette family is known for liking ketchup. I don't like too much of it though.
Why are Minnesotans so nice?
Audette: Maybe it's because Minnesota is a nice, calm, relaxed state. I'm not sure. I have the worst answers ever. A lot of people say it's the Minnesota Nice. I went to Florida and I actually thought that people were nicer there than in Minnesota. I wave at everyone when I'm driving down the road. Everyone wonders why I wave so much.
You should wave during the race.
Audette: Yeah, every person that I pass or passes me I should just wave at them. That's good stuff.
Wentland: That's just our thing. Haven't you heard of the Minnesota Nice? That's what we're known for. It can be either a really good thing or a bad thing. You can be really nice and then talk behind people's backs, or you're super nice. I've heard both sides of it. I'm going to stick with the nice version.
Do you think Dungey is like the fake Minnesota Nice where he is really nice to everyone's face, then behind close doors he cusses everyone out?
(Laughs) No, I think he's genuinely a really nice person. I can't see him being like that!
Who is your best bro out of the Minnesota riders on the circuit?
Audette: Jeremy Martin, for sure. When Jeremy moved to Florida we would ride together and hang out while doing bike rides. We weren't super close when we lived in Minnesota, but we were friends. We became a lot better friends later on. Now he lives in California, but we still keep in touch and I still see him at the races.
Wentland: I'm closer with Zack Williams. The Martin brothers keep to themselves even through amateur days. I never really grew up talking to them, but I always saw them when I went to Millville and the amateur races.
Have you seen an increase in your bandwagon?
Audette: I guess so, a little bit. Hopefully they stay on it.
Wentland: The more the merrier, the more fans I have the better. I want to get my name out there the best I can.
You could put out a rap album. It would be a Minnesota rap album with the whole crew. We'd get Dungey, the Martins, Oldenburg, Williams, and you two.
Wentland: We would be pretty terrible. No one would want to hear us.
It would just be a bunch of nice sayings.
Wentland: Yeah, exactly.
Thanks for reading my column this week folks! I appreciate all of you. If you'd like to chat about Minnesota Nice or who would win in the Octagon between Wentland and Audette email me at Troy@pulpmx.com.