Coming off the first off-weekend of the year, you woulda thought Santa Clara would have been amazing!
Coming off the first off-weekend of the year, you woulda thought Santa Clara would have been amazing!
Photos: James Lissimore
Well, you woulda been wrong. I know I was.
It's crazy to think we just had the first off weekend since the 2016 racing calendar began. That's right, nonstop action from January till the end of March. We are have been spoiled with great tracks(and a couple turds), multiple winners, amazing crashes, some Bradshaw/Matiasevich-esque grudge matches, a first-time ever victory-robbing and so much more. Shoot, we have seen every race live (with the exception of one 3hr broadcast delay).
It's an incredible time to be a fan of Supercross… and still, there are so many ways it could be improved still.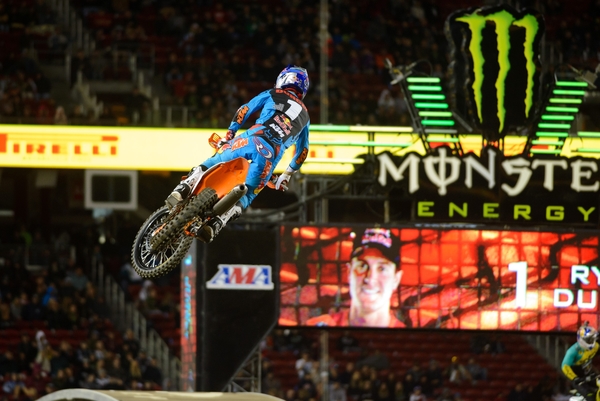 Ryan Dungey looking more fluid than ever and just as dominant. Will a points-reset change that?
Pretty much since the opening round, there has been a slight buzz of talks surrounding a Chase-style points reset for Supercross in the coming years. Maybe not to stay but as an experiment at a minimum. The purists (lets just say the curmudgeon's because honestly, there's no such thing as "purity" where fans of racing are concerned) can't scream loud enough about how blasphemous this conjectured points Chase system is. "We'll stop watching Supercross all together if they do it!!" Yeah yeah yeah, just like you stopped going to the National Motocross races because they moved from Sunday to Saturday right? I assume you'll also be moving to Canada when "INSERT TERRIBLE PRESIDENTIAL CANDIDATE HERE" is elected as the next President too, right?
Its all smoke and mirrors folks and dipping a toe into the realm of "Chase-Points" is not nearly the personal tragedy you all like to pretend it to be. I'm sure you'll start a Facebook group and let everyone know what a travesty it is every Sunday morning in 2017 though.
A Chase-Points system isn't a bad thing. It's a new thing, yes; but much like Weege says, a night of Supercross is essentially formulated around a climax building to the gate drop of the main event, not the racing action. Anything exciting that happens in the race after the holeshot, is a bonus and hardly the norm. A Chase-Points reset is essentially a series-based guarantee of action after the gate drop. How could that be a bad thing for us as fans?!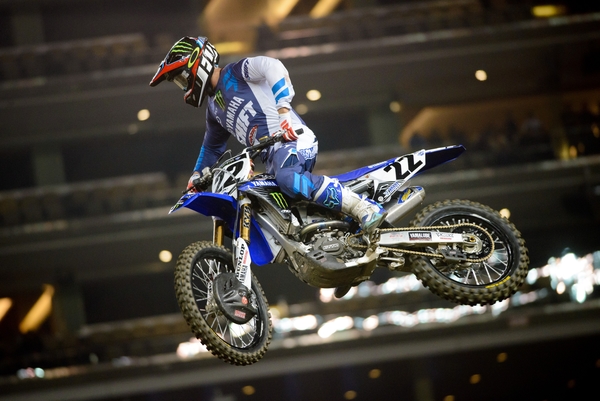 The whoops in Santa Clara were turned into a parking lot and Chad Reed may he lost more edge due to that than anyone.
This 2016 version of Ryan Dungey is clearly not the same RD5 we have witnessed previously. He's faster than ever, more aggressive, comfortable and dominant. The result is pretty much the same though, marching away with the title with an almost 2- race lead with 5 races left on the schedule.
Do you REALLY think this series wouldn't benefit from a points-reset for us as fans? You know what I did precisely 2 minutes before the 450 gate drop in Santa Clara? I FELL ASLEEP! There isn't a chance in hell I would have allowed that if the points were starting over fresh with that gate drop and that's all the evidence I need to show me that the Chase-Points reset is something worth trying out.
It's a changing world out there people but turning a blind eye to the sport you love isn't going to change a damn thing. It's not like this is a rule change that will forever affect the face of racing like displacement!!
Now that's scary!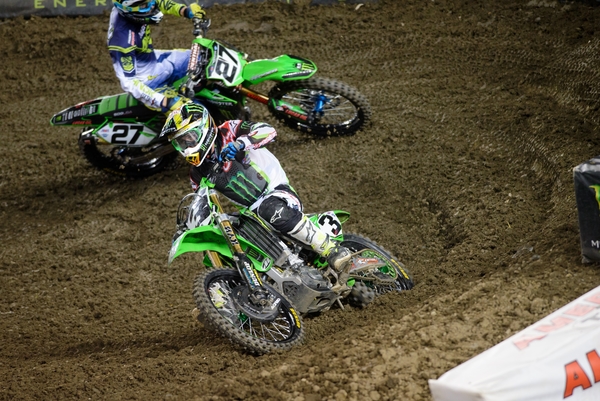 How would Eli be thinking about his maiden Kawasaki voyage if the points were reset this year? A little more motivation?