Just when you think another Dungey holeshot equals a snooze-fest.
Just when you think another Dungey holeshot equals a snooze-fest.
Lead by: James Lissimore
It's no wonder the West coast has so many rounds of Supercross, I mean the industry is based out there but it's also no surprise to me that those left coast races have been playing musical chairs.
The Pacific standard timezone has some crappy dirt. It's a lot like all those sunny days in my opinion. Without changing seasons and a glimpse of Mother Nature's fury, you never really appreciate the beautiful days. California has one kind of dirt, dry and baked. Add all the water you want but it's still going to end up having the same characteristics as it's climate dictates.
All the west coast races turn out to be a revolving cast of the same surface, reshaped and in front of different and dwindling audiences. They move around the races, add another San Diego here, take away another Anaheim there but in the end, the fans know what they are gonna get. The dirt dictates it, so why plunk down a minimum of $85 more than once just because the Supercross ferris wheel has circulated again within the same month?
Now when the racing starts to head east, shit gets real. There is actual seasonal variance here and much more dynamic soil with which to build a track from. It's the unpredictability of the east coast dirt from year to year which makes the east coast rounds so exciting. You never know if it's going to retain the moisture and stay tacky, or if it's going to dry out and mimic those west coast flavors or if we as fans get really lucky, the track gets nasty ruts and the field is leveled for even the tip of the spear, elite riders.
Oddly, Detroit's weather has been very much the same as Indianapolis this winter, yet the differences in the tracks make-up were immense. Detroit saw a very dry dirt which never seemed to breakdown much with exception to that brutal split whoop section. Then we see Indy and the dirt has a much higher moisture content and it shows as the laps click off and the ruts appear.
You know how there's that deal where nothing ever looks as good on camera as it does with the human eye? And you also know that a Supercross obstacle never looks as daunting on tv as it does when you are there. Knowing this and seeing the ruts ups the faces of the jumps in Indy, even on television looking sketchy as hell, you just knew this track was going to demand all the riders attention and then some.
Trey Canard even noted after the race that the ruts got deep enough that the time came when he was just making sure he survived and didn't force the issue. Even more evidence to the impressive skill set of the leaders, Dungey and Roczen was that they lapped up to 7th(!) and held a 30 second lead over Jason Anderson. Lets not also forget that Jason Anderson has been the barometer for ability to make passes when others cannot in 2016. He definitely put on another clinic in Indy but he couldn't even sniff the exhaust gasses of the 1 and 94 by the time the checkers flew.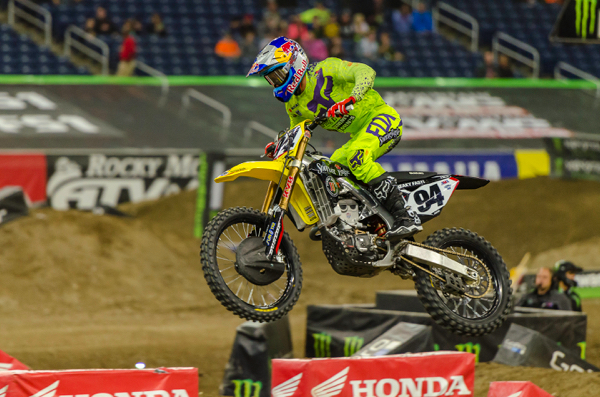 I expect Roczen to push the issue in STL. Photo:Roogs
There are a couple things which gave me pause as I came away from Indy. First of all is Ken Roczen garnered more confidence from that ride than I think he ever has. He reeled in Dungey four times and was clearly faster, just not as error-free. I will be very interested to see how Roczen attacks Dungey moving forward, I think he will press the issue more and may even put a contact pass on Ryan if the opportunity presents itself, cleanly.
The second thing that befuddled me was Eli Tomac. He is typically the guy when it comes to ruts and a beat up track, yet he had nothing for the top guys in Indy. He looked frisky and made some moves but just as quickly he began to falter and his lines just weren't working until he went down and then it was over. This season was supposed to be one where he battled for wins and was a persistent title threat and it is looking more like a "working out the bugs" season than anything.
Lastly, Dungey's intensity has never been higher. For him to throw caution to the wind and step up his pace, despite the track breaking down and ruts getting ever deeper, was a statement. As much as I see Ken Roczen's confidence growing, I see Ryan Dungey feeling more impenetrable than ever. I mean, he is the one who won, who survived Roczen's pressure and pass attempts, who tempted fate by increasing his attack on a track surface that usually chews up and spits guys out when they do so.
He's 5 points from having a full 2 race lead over Roczen with 3 races left in the series. It does't look good for Roczen but with his new confidence and racing being what it is, this title is far from over.
NOTHING IS OVER!