250 titles up for grabs…here are some scenarios.
250 titles up for grabs…here are some scenarios.
Photos: Simon Cudby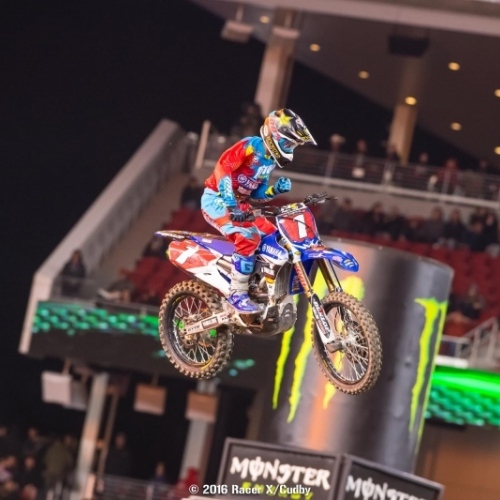 It's Webb's title to lose…
When the news first broke that the 250SX East/West Shootout would be counted toward each class standing I was overjoyed. Not only would the 250 guys have to try in the race, but also the added pressure to perform with two titles on the line, in one race was an absolute brilliant idea. In no way, shape, or form would I want to be racing, but you better believe I'm Dungey super-pumped to watch.
As far as the Eastern and Western Regions go, there really isn't a CRAZY battle for the championship heading into Las Vegas. It's still exciting to know that anything can happen and I'm going to create some scenarios as to what needs to happen in order for each rider to win the championship. Both classes coming together will make points harder to come by as the cream of the crop will feed off one another.
Some of these are really far fetched, but in our sport anything can happen. As we saw in last season's 250 championship at the final round at Ironman, Marvin Musquin did not finish a moto. Musquin had a shot at the title too!
Let's take a look at the 250SX West Region first. We'll consider all riders who still have a mathematical shot at winning each of the titles.
West Region:
The Points:
1) Cooper Webb: 170
2) Joey Savatgy: 154
3) Christian Craig: 147
Here's a quick glance at what needs to happen:
Webb = DNF- Savatgy 4th or better
Savatgy 1st – Webb 12th
Savatgy 2nd – Webb 15th
Savatgy 3rd – Webb 17th
Savatgy 5th – Webb wins
(As long as Craig does not gain 8 points on Savatgy)
– For Craig to win: He needs to win the main event and hope Webb finishes 20th or worse. In this scenario Savatgy needs to finish no worse than 4th. It's a long shot, but crazier things have happened and this could be a very real possibility.
If Webb finishes 19th he will still win the title if Savatgy finishes 4th or worse. In this scenario Webb and Craig will have tied in the standings, but Webb wins the tiebreaker for winning the most main events.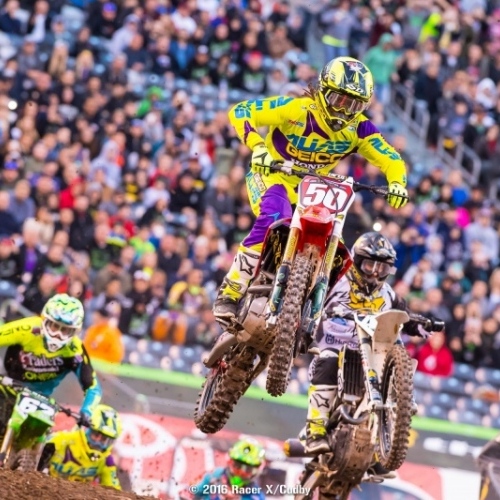 …same goes for Mookie.
East Region:
The Points:
1) Malcolm Stewart: 160
2) Aaron Plessinger: 146
3) Jeremy Martin: 141
Here's a quick glance at what needs to happen:
Stewart= DNF – Plessinger 5th or better
Plessinger 1st – Stewart 10th
Plessinger 2nd – Stewart 13th
Plessinger 3rd – Stewart 15th
Plessinger 5th – Stewart 19th
(As long as Martin does not gain five points on Plessinger)
– For Martin to win: He needs to win the main event and hope Plessinger finishes fourth or worse. In this scenario Stewart has to finish 20th or worse. This is the longest shot of them all. Martin is going to come into Las Vegas with added motivation. He wants to win the main event and win the most races in the series.
This math gets a little time consuming and tricky from time to time. There are a few other scenarios that could happen, but these are the most realistic ones to watch out for.
Since it's Las Vegas, let's talk about who you want to put your money on this weekend. If I was a betting man, and I'm not, I wouldn't go crazy. I'd make it rain on Stewart and Webb because they are going to take the championships home with them. Webb and Stewart have really shown the field that they are the most consistent riders of each field. It's obvious because both riders have double-digit leads heading into the final round.
At one point I thought that this East Region would come down to a four rider battle for the title in Vegas, but some of the contenders have had their troubles. It was a painful season for Martin Davalos because despite missing Toronto he still only sits 30 points behind Stewart. If Davalos would have made that round he would be in a position to win the title.
Another thing to pay attention to in both regions is the fact that both champions (if Webb and Stewart hold on) will be moving up to the 450 class for 2017. This will add to an already deep field, but won't cover up the pain left behind from a retired Andrew Short.
With both riders having to move up that means we need two more champions to step up for next season. I'm already excited and yet we still have outdoors on the horizon. Let's crown some champions!
Thank you for reading my column. If you'd like to talk about dirt bike math, privateers, or digital marketing I'm your guy. Email me at troy@pulpmx.com or find me on Twitter/Instagram: @troybendgen.