Cairoli bounces back!
Cairoli bounces back!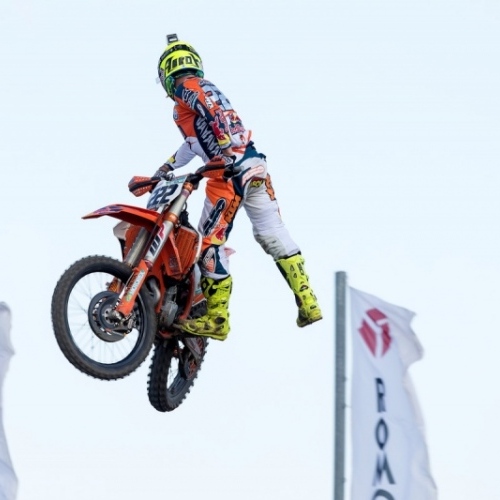 Cairoli has a lot of ground to make up, but a lot of rounds to do so.
Article: Jonathan McCready
Pic: Honda, KTM, Youthstream
It was the weekend the old dog returned to teach the new dogs some old tricks!
Antonio Cairoli won his first GP in almost a year to vault himself back into championship contention and hault Tim Gajser's impressive win streak.
A heat race win after successfully fending of the two 2015 world champions on an arduous and rutted circuit gave Cairoli the self-belief he needed and the his rivals feared.
Race one on Sunday was Cairoli at his fighting best. Cairoli took the holeshot, but Gajser caught the Italian and put all kinds of pressure on Cairoli for 20 minutes, inside, outside, Gajser was relentless and any ground he lost he made up instantly, he was faster and both riders new it – but Cairoli didn't care!
When Gajser eventually made the move Cairoli fought back instantly, forcing Gajser wide and re-taking the lead. That move would take the wind out of the Slovenian's sails slightly and Gajser eventually settled for second. Cairoli had fought off the in-form rider in MXGP and taken his first and hugely significant win of the season!
In race two Cairoli got into the lead early again and controlled the race as Gajser crashed and Febvre could only muster third place from a bad start. The mental strength of Cairoli is simply incredible, the Italian you could argue hasn't been at his best since that 2014 MXDN crash and subsequent knee injury in Latvia, but he is working hard and always believes in himself. Last weekend was the result of a constant battle against injuries and young hungry riders keen on taking his crown, but Cairoli has proved the skeptics wrong and showed he still has what it takes to win races and titles.
Cairoli gained ten crucial points in the championship and a bucket-load of confidence but says the best is still to come! "I feel good for sure although I still miss something. The skills I have on this very difficult and technical track helped me to win today with a perfect score. Winning the qualification on Saturday and the two races today, it hasn't happened often but I gained some strength this week in my arm and I very happy about that. I feel better and when you feel better you can respond and go on the attack."
Despite a crash in race two Tim Gajser went 2-4 for second overall and took over the championship lead. Gajser got caught out by a wayward back wheel of teammate Bobryshev while running third and went down but the new king of the scrub made the best of a bad situation to take the red plate and lead the championship by eight points over Romain Febvre.
Gajser, who hasn't been off the podium all year and is quickly becoming a global superstar with his performances this season, said: "It's amazing to have the red plate back on the red bike! Seven GPs into the season we're feeling great. The last two GPs I made some stupid mistakes I would say, but anyway we're really happy with the weekend. We're again on the podium, which means from all the races so far this season which is pretty good!"
Meanwhile it was another difficult weekend for Romain Febvre who lost the lead in the championship, and had a row with his teammate Jeremy Van Horebeek! Tensions are high in the Yamaha pits and after Van Horebeek and Febvre came together in moto one, leaving the world champ on the ground, tensions got even higher! Maybe the team will have to follow the Lorenzo and Rossi scenario and put a wall between them in the pits!
Evgeny Bobryshev was dealing with a painful shoulder following his crash in Latvia but somehow the tough Russian put the Honda on the podium despite the pain hampering his ability to hold onto the bike in the deep ruts. Bobby is backing up his successful season last year with another impressive season in 2016.
A special mention also to Christophe Charlier who finally showed his potential on the 450 with a sterling fourth place behind his teammate Max Nagl in race one. Charlier then went down on the first turn but pulled through the field to 13th to underline his new-found form after battling back from a pre-season injury.
Meanwhile in MX2 with as all about Jeffrey Herlings, but this time he had to fight for it after feeling ill and having raced a 450 on Thursday, the Dutchman was not on his usual level. But he still gutted out a win in both motos, before having a bit of rant at race two rival Jeremy Seewer in his post match interview!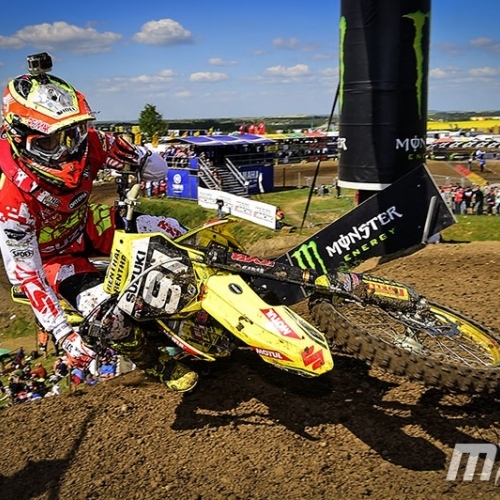 Seewer and Herlings…stay tuned.
Herlings was unhappy Seewer cutting him off over jumps to maintain the lead (remember Webb was similarly angry at Musquin last year) but the extra twist is Herlings blames Stefan Everts for Seewer's tactics. Everts who is now Suzuki team manager and coaches Seewer was of course, formerly Herlings' team manager at KTM before it all came to an undignified end and big falling out between Everts and Herlings.
Herlings now says he is motivated to break Everts' records because: "I don't like him."
When asked about his ankle injury Herlings admitted: "A rider (Seewer) cut me off and I sort of lost my balance and landed on my ankle. That was not so nice, but I guess that's racing. My ankle hurts pretty bad but we have to make the best of it and now I have 5-6 day to recover. It has been a bad weekend also because I was sick but I managed to keep my winning streak going and that's really positive."
Jeremy Seewer rode fantastic, always smooth and technical, the Swiss rider showed all of his new found aggression and confidence in both motos. Seewer went down early in race one but came from mid-pack to fourth and then battled Herlings every inch of the way in moto two for the win, and put an aggressive pass on Ferrandis to initially take the lead. This is a new Seewer with a whole new self-belief, and whatever way you look at it, Everts has made a big difference to the 21 year-old who finally seems to realise the magnitude of his own talent and isn't happy to be top five anymore.
It was also a good day for Dylan Ferrandis who made the podium with second overall and led both motos. The Frenchman will race for Star racing Yamaha next season but will want to win at least one GP against Herlings before he leaves to fulfil his dream of racing supercross.
What can US fans expect of Dylan? A lot of speed, possibly a few crashes and an aggressive attitude that means he will be intimidated by no-one – he might just be the French version of Cooper Webb!
Max Anstie was on for winning the GP with a 3-1 score until he crashed on the landing of a jump and high-sided himself out of contention. Anstie was injury free and went on to finish fifth, but it was a case of so close yet so far for the Englishman. But this was definitely Anstie back on his old form of 2015 and he is now ready to take advantage of any hope Herlings gives the other riders.
Results:
MXGP Overall Top Ten: 1. Antonio Cairoli (ITA, KTM), 50 points; 2. Tim Gajser (SLO, HON), 40 p.; 3. Evgeny Bobryshev (RUS, HON), 35 p.; 4. Maximilian Nagl (GER, HUS), 35 p.; 5. Romain Febvre (FRA, YAM), 31 p.; 6. Ben Townley (NZL, SUZ), 28 p.; 7. Kevin Strijbos (BEL, SUZ), 27 p.; 8. Christophe Charlier (FRA, HUS), 26 p.; 9. Shaun Simpson (GBR, KTM), 25 p.; 10. Valentin Guillod (SUI, YAM), 23 p.
MXGP Championship Top Ten: 1. Tim Gajser (SLO, HON), 299 points; 2. Romain Febvre (FRA, YAM), 291 p.; 3. Antonio Cairoli (ITA, KTM), 263 p.; 4. Maximilian Nagl (GER, HUS), 238 p.; 5. Evgeny Bobryshev (RUS, HON), 232 p.; 6. Jeremy Van Horebeek (BEL, YAM), 215 p.; 7. Kevin Strijbos (BEL, SUZ), 169 p.; 8. Shaun Simpson (GBR, KTM), 168 p.; 9. Valentin Guillod (SUI, YAM), 139 p.; 10. Glenn Coldenhoff (NED, KTM), 136 p.
MX2 Overall Top Ten: 1. Jeffrey Herlings (NED, KTM), 50 points; 2. Dylan Ferrandis (FRA, KAW), 42 p.; 3. Jeremy Seewer (SUI, SUZ), 40 p.; 4. Max Anstie (GBR, HUS), 36 p.; 5. Benoit Paturel (FRA, YAM), 32 p.; 6. Brent Van doninck (BEL, YAM), 27 p.; 7. Vsevolod Brylyakov (RUS, KAW), 25 p.; 8. Pauls Jonass (LAT, KTM), 25 p.; 9. Brian Bogers (NED, KTM), 23 p.; 10. Aleksandr Tonkov (RUS, YAM), 23 p.
MX2 Championship Top Ten: 1. Jeffrey Herlings (NED, KTM), 350 points; 2. Jeremy Seewer (SUI, SUZ), 270 p.; 3. Pauls Jonass (LAT, KTM), 218 p.; 4. Aleksandr Tonkov (RUS, YAM), 186 p.; 5. Benoit Paturel (FRA, YAM), 186 p.; 6. Petar Petrov (BUL, KAW), 183 p.; 7. Max Anstie (GBR, HUS), 162 p.; 8. Vsevolod Brylyakov (RUS, KAW), 157; 9. Samuele Bernardini (ITA, TM), 149 p.; 10. Brent Van doninck (BEL, YAM), 129 p.