Alix has come a long way in a short period of time.
Alix has come a long way in a short period of time.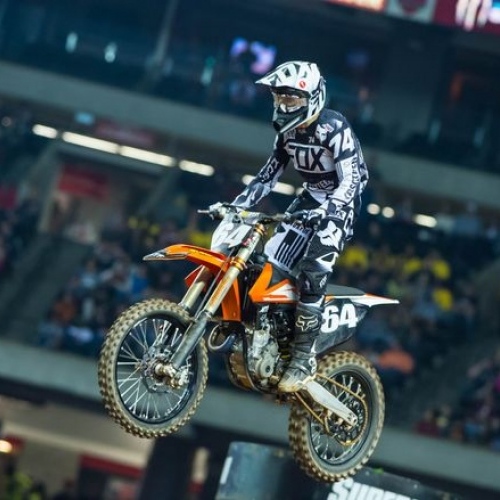 Alix likes the clean look of his bike Matthes…
Photos: Simon Cudby and Courtesy of Alix
In the sport of motocross it's a rare occurrence for a rider to progress in a very short period of time. The sport takes a strong dedication and it takes many years of dueling it out on the amateur national side of things before a rider can get noticed.
For Vermont's own Dakota Alix just riding the amateur nationals was a dream come true. He started riding at the age of 7 on a JR50, raced locally in his home state, before branching out to the New England area.
In 2007 Alix tried to qualify for Loretta Lynn's on his 85cc Suzuki and he didn't make it. The next amateur national he attended was the Thor Mini Olympics during Thanksgiving week of 2007. That one didn't necessarily go according to his plan either.
"I remember I was really slow," Dakota said. I didn't make a main event that year at Mini O's. I think there were four kids in the LCQ and I got last."
However, Alix kept riding and made little improvements here and there. On a riding trip to Florida Dakota and his father attended a camp at Millsaps Training Facility.
"Colleen Millsaps taught me a lot that week," Alix remembers. "I think I dropped my lap time by like thirty seconds."
By the time the 2008 edition of Loretta's had come around Alix tried to qualify again. This time he would make it to the ranch and despite finishing 36th he had accomplished a goal. He had gotten a taste and now he wanted more.
The problem was that Dakota was star struck.
"It's crazy because the guys I'm racing now I idolized those kids when I raced locally in Vermont," Alix admitted. "Within three years I went from getting lapped to competing with them. It was Adam Cianciarulo and Cooper Webb, I would see them in magazines, they were the top guys."
Millsaps then told Dakota's dad that she felt Dakota had some potential and the two parties continued to work together full-time in 2008.
The 2008 and 2009 seasons were building years for the now Georgia resident. Alix put in some great showings at the amateur nationals, which set him up for a Supermini year to remember in 2010. Although he didn't win the title, he battled with the two guys he had looked up to just a few years earlier in Webb and Cianciarulo.
The dedication that Alix put towards his riding at MTF really paid off. In three years Alix went from not qualifying at Loretta Lynn's to top ten finishes, and eventually winning motos and battling for championships on amateur motocross' biggest stage.
Following his performance at the ranch, Alix had offers from every bike brand except Yamaha for the 2011 season. Alix was still had a smaller build, so he decided to race a YZ 125 that season anyway. He felt comfortable and at home on the Yamaha as he moved up to the Schoolboy classes. Alix was also picked up by Red Bull to be one of their amateur athletes for the following season and beyond.
Unfortunately he would have a bad get off that would cause him to miss out on qualifying for the ranch that season.
"I didn't get to race at Loretta's that year because I had a huge crash at my regional," Alix recalled.
Despite sitting out of Loretta's in 2011, Alix was approached by KTM to be one of there amateur riders. It was a deal that would take him into the professional ranks.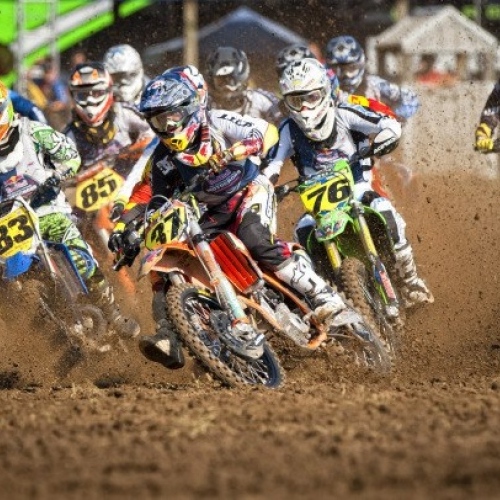 Alix at Loretta Lynn's in 2012.
"I was one of the first riders to be signed to their revamped amateur racing program, which is the Orange Brigade now," Alix said.
Alix would go on to have an impressive amateur career. He won races and was always a threat to the podium. Unfortunately he was only able to do three races as an A rider because of a knee and wrist injury. Those injuries cost him the majority of 2013 and the beginning of 2014.
He eventually made his professional debut at Glen Helen in 2014 under the Orange Brigade KTM awning. He raced eight nationals with a top finish of 16th overall at High Point. His points earned him national number 88 for the 2015 season, in which he made his supercross debut.
Last season in Monster Energy Supercross, Alix had some decent showings. His best finish was an eleventh at St. Louis and he carried momentum into the outdoors where he was consistently around the top 20.
In 2016 Alix has been phenomenal off of the gate and has been in the front of a lot of heat races and main events in the 250SX East Region.
A few weeks ago Alix grabbed another great start in the main event and held tough to finish eighth on his own privateer effort. His Orange Brigade KTM deal disappeared due to the merging of the TLD KTM squad.
"It was cool to get a good start, but the downfall of that is when you're not one hundred percent, and you're in pain, you have to keep those guys behind you," Alix said of his accomplishment.
Alix is referencing to his broken collarbone that he received in Daytona. Seven weeks later he raced to his career high in New Jersey. This is just another fast turnaround in the career of Dakota Alix. Are you starting to see a trend? He's a fast learner.
Right now Alix is unsure of his summer plans. He would like to race in America but would be open to other options if the opportunity arose. If you're a team that is looking for a rider this summer, Alix is available and ready to race.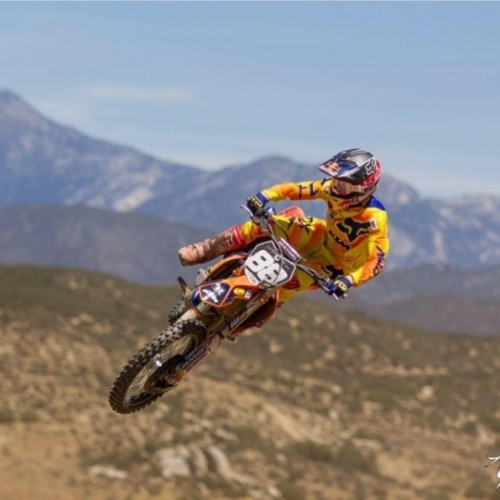 Alix last summer on the Orange Brigade KTM squad.
Thank you for reading my column. If you'd like to chat about this column, outdoors, or anything else, you can email me at troy@pulpmx.com.