JT and I ponder a Dungey-less series.

JT and I ponder a Dungey-less series.Photos By: James Lissimore
Swiss:
The news of Ryan Dungey's injury and subsequent absence for the remainder of the MX Nationals was a massive surprise to anyone who has any clue of what is going on in the sport and Ken Roczen is no exception. The Dunge just does not get hurt or miss races.
He's in a precarious situation that has honestly been a real downfall for more than one racer who took time off (either by choice or force). Do you remember Damon Bradshaw? How about James Stewart's current situation with failing at gaining any type of momentum or staying power after his suspension? I don't think we'll see Dungey's priorities, effort or drive change from this injury and resulting down time, but you know what I think will change, JT? Ken Roczen's approach to how he attacks this series.
Through the first 3 rounds, he has been essentially perfect; $2 fork add-ons notwithstanding. I'd bet dollars to doughnuts that RCH paid him a 1st place bonus for that little team-blamed faux pas. Roczen was out to prove a point in the opening rounds of this series. He wanted to prove to Dungey and more importantly (IMO) Aldon Baker, that he could dominate on a program of his creation, away from the Baker system of seedless grapes and veganism (I kid). Ken's focus and attention was peaked and he was hitting on all points. I can't help but think without the persistent pressure of Dungey's unbreakable desire, Ken is going to lose that yardstick which has acted like a flame at his rear, pushing him forward relentlessly. And it's when the accelerator is let up upon, that error happens. When you least expect it. It's also just the way irony and Murphy's Law works. With Ken looking as incredible as he did through 6 moto's, you can't help but be swept up in his glory and think without Dungey, he will just walk away with this title… and that is when the irony strikes and that thing which seemed so obvious and unavoidable, is proven faulty and takes a tangent point.
Ken's dominance is such a guarantee, I'm betting house money that exactly the opposite happens and he doesn't clinch this title!!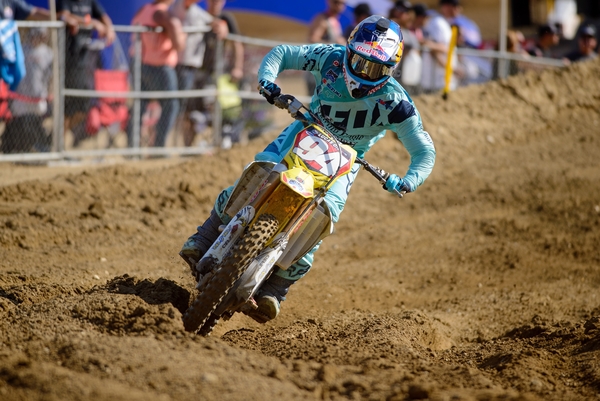 Will we see Roczen letting off the accelerator at all with Dungey out?
JT:
Ryan Dungey's injury was certainly a big surprise. Ryan is one of the most durable champions in the sport's history. It's not that he is tougher than anyone else per se, it's more that he doesn't make many mistakes that lead to crashes. Crashing, of course, is the fastest way to find yourself on the couch while the races are running. He has become extremely proficient at pushing the limits while minimizing his risk factor. That's a very rare skill to possess and very valuable.
As for how Kenny responds, I don't think it will change much. I think Kenny is "in the zone" so to speak. He is having fun, training in his own way, and the results are coming up roses. He has been supremely confident this outdoor season and Dungey's exit will only drive that level even further. While I feel he wasn't worried about Dungey, I also feel that he respected his abilities and knew he would be a factor as he summer moved on. Kenny has to know that he hasn't had the strongest record during the middle of each series in years' past. Dungey also knows this as well as Aldon Baker. I would guarantee they were counting on that as an opportunity to regain big points and possibly even retake that red plate. Both sides had a plan and it's a shame that we won't get to see those plans collide.
So, for Kenny, it really comes down to managing Eli Tomac over the next two months. Eli has the ability to be the absolute fastest rider in this series. But, he hasn't been able to put the whole package together this season. His starts and early lap pace is killing any chance at dueling Ken Roczen later in the race. By the time Eli finds his pace, Kenny is 30 seconds in front of him and cruising. That's a huge problem to overcome for Eli when Kenny is firing on all cylinders and leaving no room for error.
The only recourse Eli has are these: figure out the starts and early laps so that he has Kenny in sight by half-way, or find the form he had last year and simply be better than Kenny. Those are tall orders from what I have seen of the first three races but those are ultimately his only options for making this a championship battle. Well, that is unless he is hoping that Kenny befalls the same fate as Dungey.