Story and photos by James Lissimore
Story and photos by James Lissimore
The 2016 Rockstar Energy Drink Canadian Motocross series was off to a new(ish) venue this past weekend as the series made its way all the way to the East Coast for round seven, at Brookfield, Nova Scotia's Pleasant Valley Raceway. The track held a round of the series once, way back in 2002, so for pretty much everyone, it was an all new race.
The Pleasant Valley track looks nice when you pull in. Lush green grass, white fences, chocolate dirt – a great looking facility. Riders opinions of the track though were certainly not as complimentary. It may have been the most universally hated track I've seen in 10 years of covering the Canadian series, and that includes Nanaimo. Narrow, weird obstacles, extremely slick dirt, lack of multiple lines and a start that seemed impossible to get through clean, left many riders fuming after taking to the track. Still the weather held out, plenty of passionate East Coast fans came out and there's lots of potential to make this a great stop on the series. No doubt the Cooke family will take what they learned from the race this year and make things better for 2017. In the end, it was an all-KTM day as it was a Orange bike 1-2-3 sweep in MX2 and Davi Millsaps bounced back after a couple off weekends to obiterate the field in MX1. Here's a look at the day and the many American riders who have made their way up to race in the Great White North…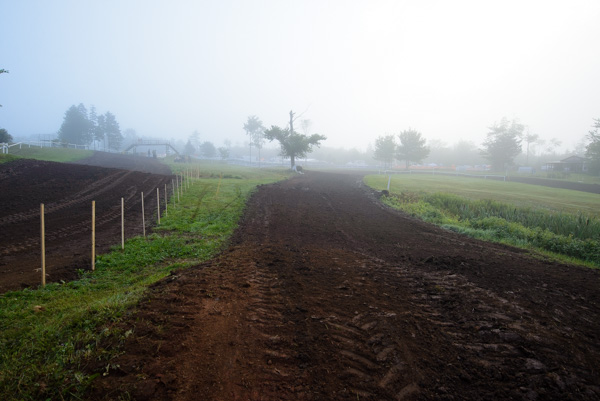 The Pleasant Valley track looks nice. Green grass, dark dirt, nice white fences. The riders opinion of it, though, is not so complimentary.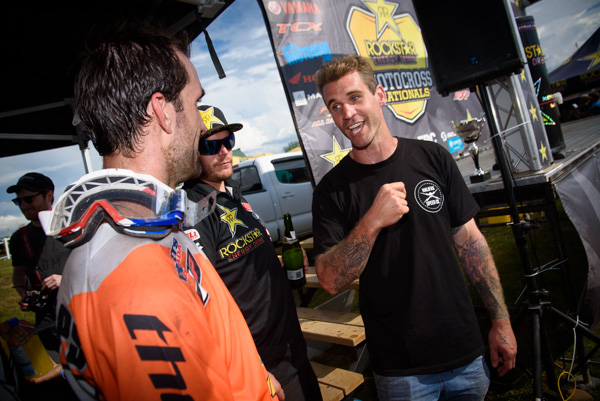 Former National winner and Blackfoot Honda rider, Mitch Cooke(r) was the promoter of the Pleasant Valley National, held at his family's track. He tried to race as well but crashed in qualifying and injured his shoulder.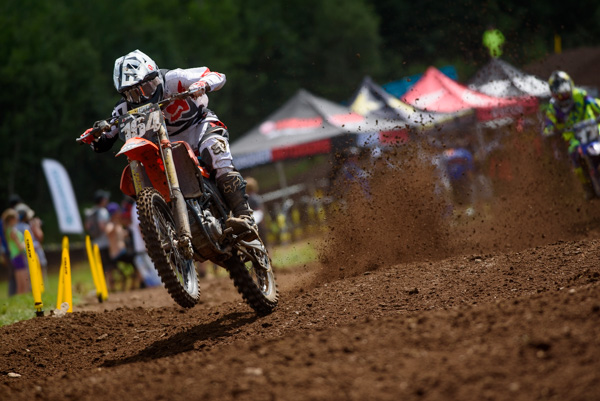 Dakota Alix had his best race of his Canadian adventure. The Vermont native finished second overall in MX2.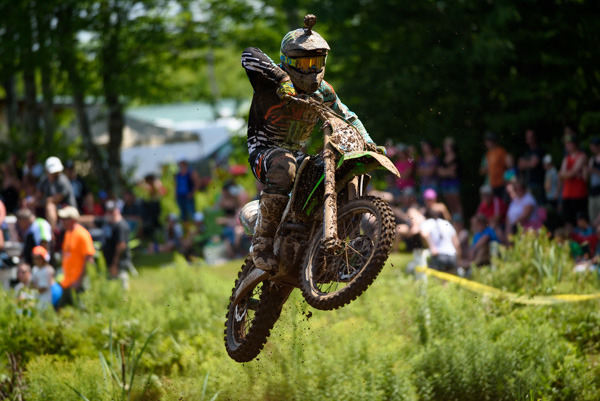 Mark Worth's day did not go as well. Down in the first turn of moto one, he was forced to work his way back to 8th. A fifth in moto two gave him sixth overall.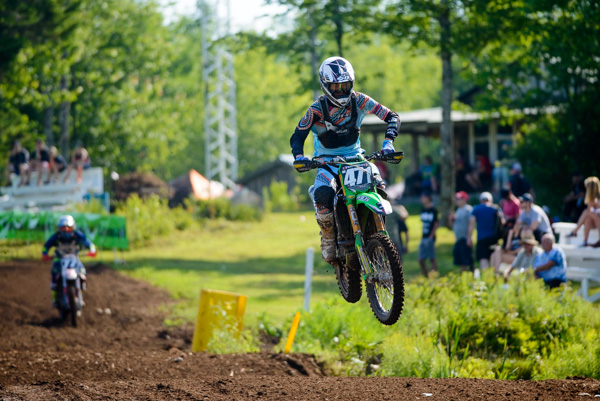 Ohio's Logan Karnow finished 18th overall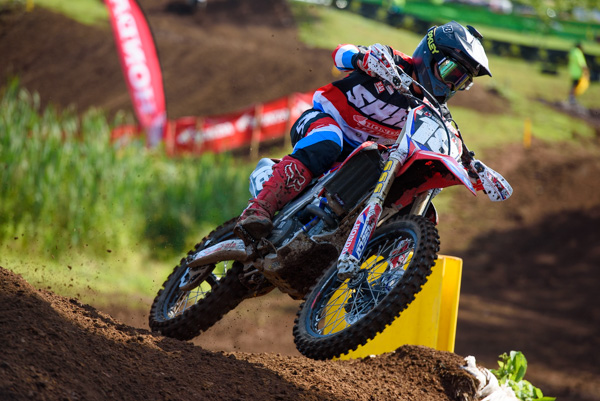 A collison off the start left Brad Nauditt having to work his way up from outside the top 20 to 7th by the end of moto one. He was in 7th again in moto two when he landed on a lapper on the last lap and went down hard.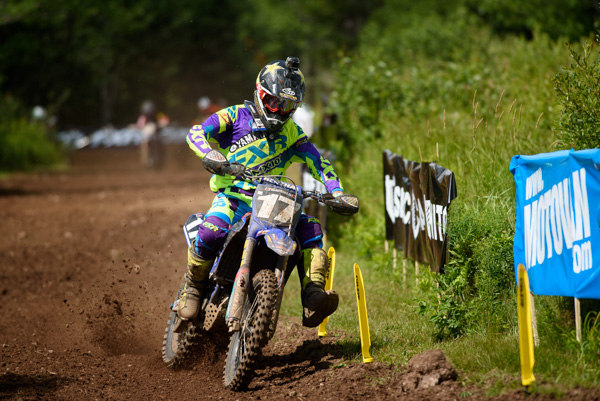 Dylan Wright finished just off the podium with 5-2 finishes for 4th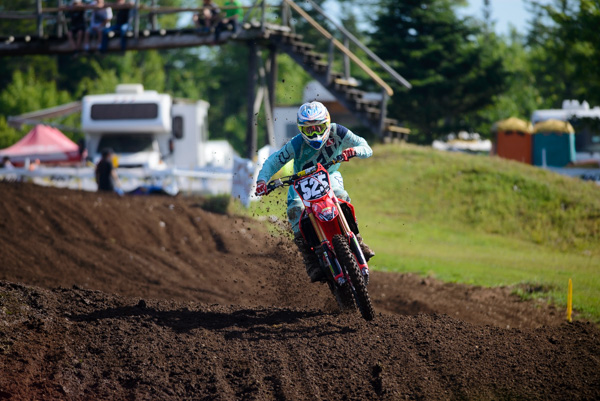 California's Daniel Mills finished 15th overall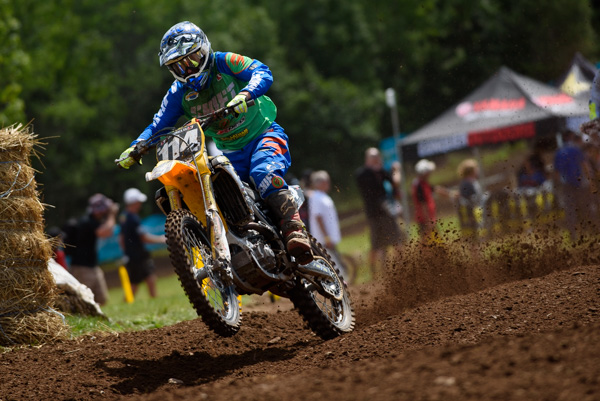 New England's Josh Clark made his first Canadian appearance of the 2016 season and grabbed the holeshot in moto two. Unfortunately, he got a flat tire and DNF'd. Throw in a first turn crash in moto one and an 11th place finish and it wasn't the best day for the Connecticut rider.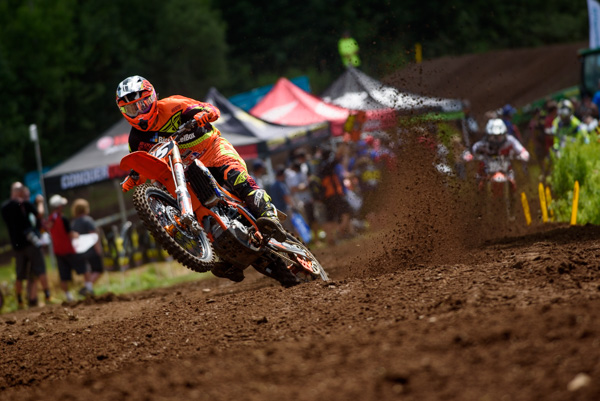 Shawn Maffenbeier led moto two but fell on the slippery track. 2-4 finishes gave him third overall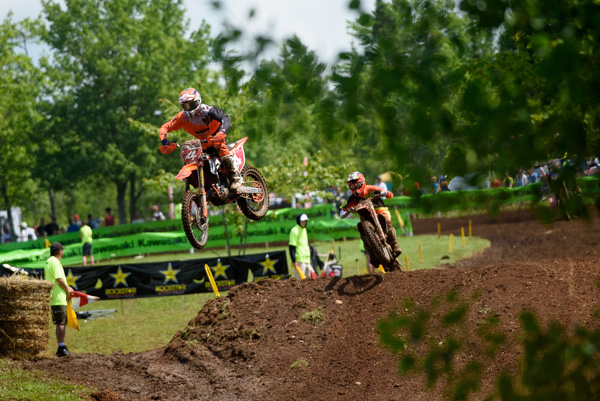 Cole Thompson is on such another level than the rest of the MX2 class right now. Throw out the docking last weekend at Ulverton and the KTM rider has only lost two motos all season. It was another 1-1 day for the points leader.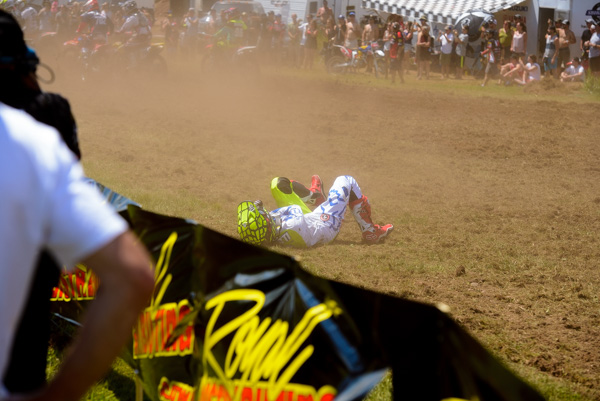 This pretty much summed up Colton Facciotti's day. Down before even getting to the first turn in moto one, he grabbed a good start in moto two and then proceeded to land in a pile of fluff on the landing of the first jump and got plowed into. Not a good day and now it will be determined if he can line up next weekend in Moncton.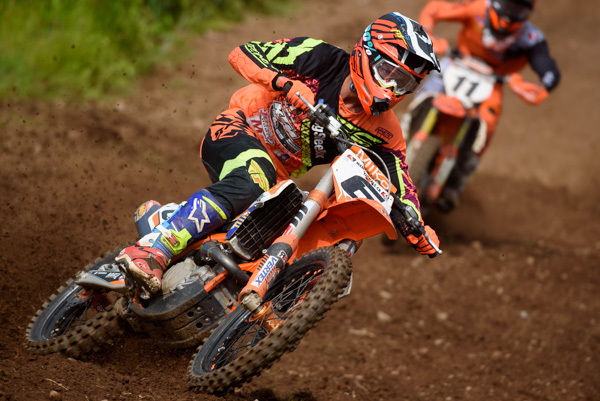 Cade Clason had a consistent day, grabbing 6-6 finishes for, you guessed it, 6th overall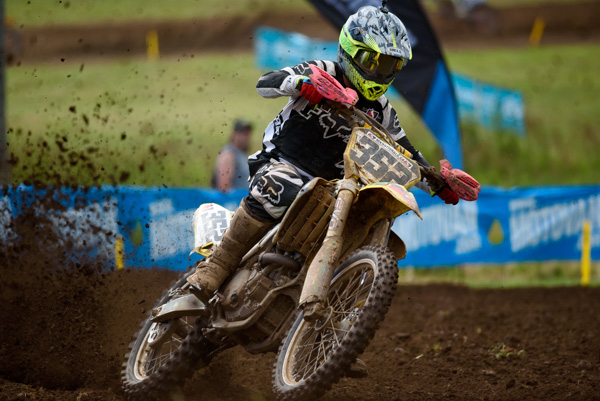 Washington state's Alex Harvill has been racing the whole series and had his best finish at Pleasant Valley. He grabbed 12th overall in MX1.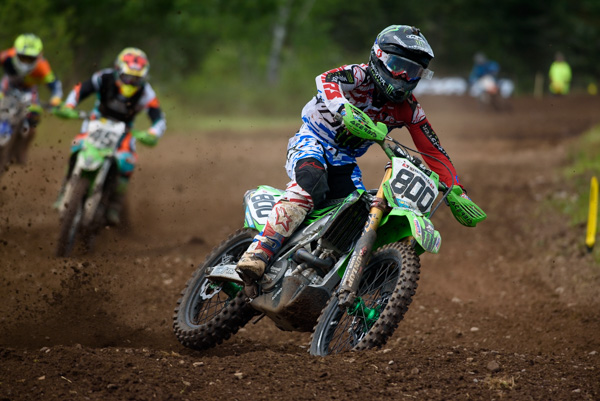 Another rider who didn't have a great day was Mike Alessi. The terrible first turn design meant good riders were down in every moto and Mike got caught up in moto one. In moto two, he collided with Facciotti and went down, then stopped to make sure Facciotti was ok. He still managed to charge back to 7th. His 8-7 finishes gave him 7th overall.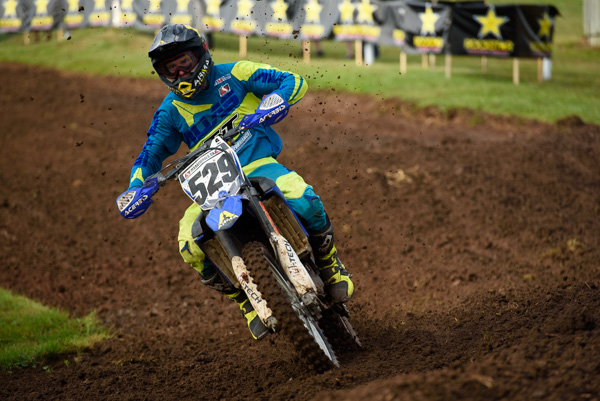 Oregon's Broc Loftus finished 19th.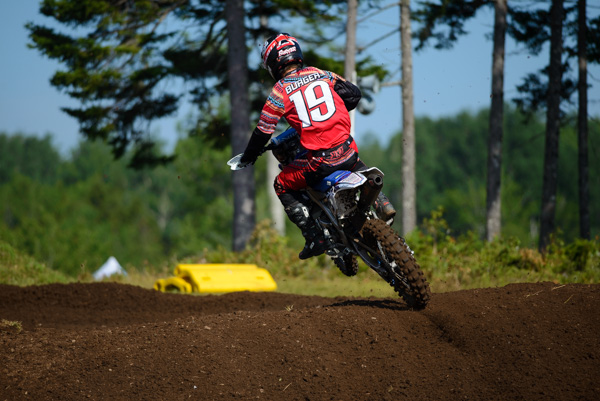 Idaho's Morgan Burger turned 11-11 finishes into a Top 10 result, with 9th overall.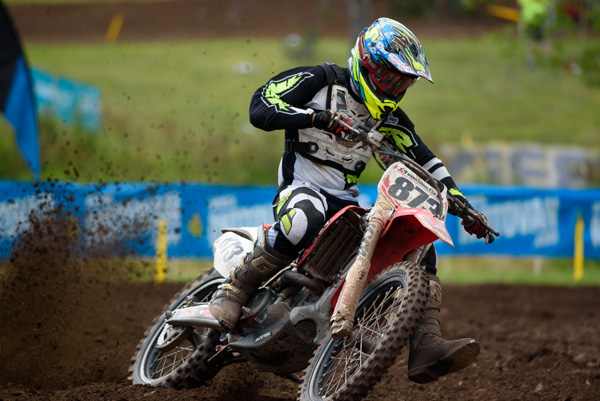 Utah's Dusty Humphries finished 13th overall.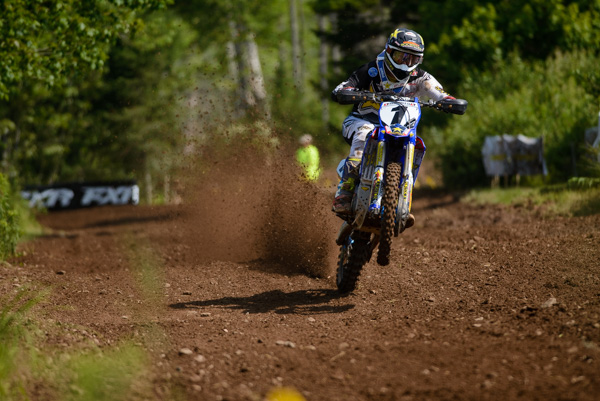 Coming off of two straight wins, Matt Goerke couldn't quite find the same magic on the harder packed Pleasant Valley track. 3-4 finishes gave him 4th overall.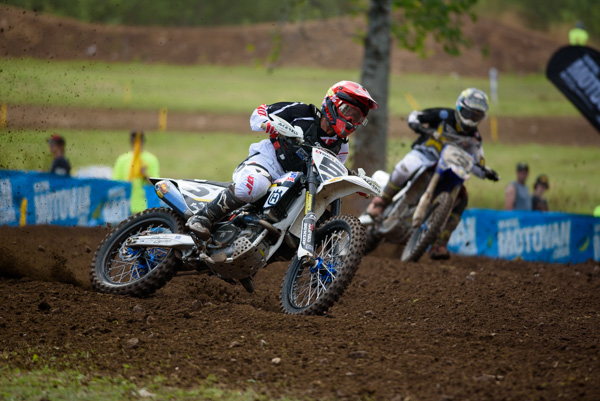 It's been a bit of a tough season for 2-time MX2 champ, Tyler Medaglia. Without a podium finish yet, Medaglia put his local knowledge to work to grab third overall with 4-3 finishes. Medaglia's wife's family owns the Pleasant Valley track and he lives down the street now so he certainly knows the fast line around the track.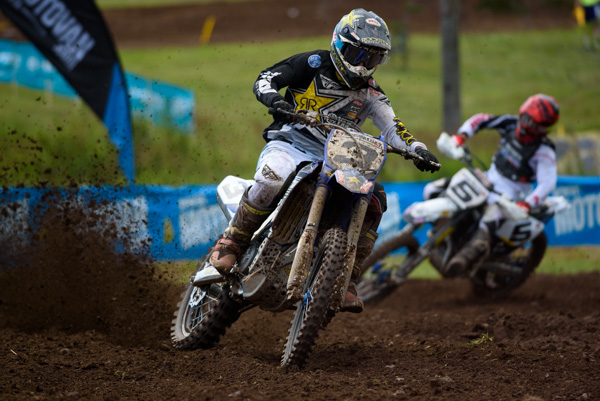 Brett Metcalfe has quietly established himself as the number two guy. 2-2 finishes and a third straight second overall for the Australian.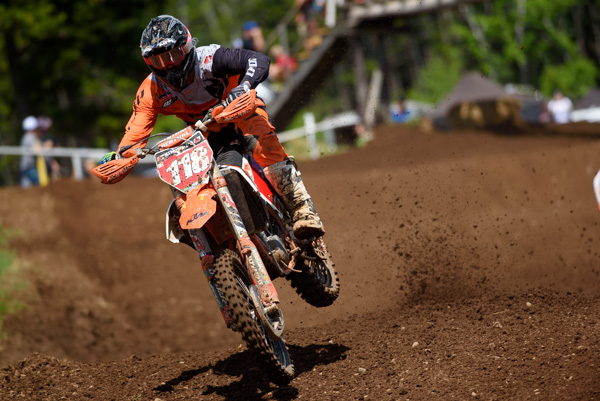 After a couple off weekends, Davi Millsaps erased any doubts that his Championship lead might be slipping away from him with his most dominant race of the season. Leading every lap, he left no doubt who the quickest rider is in this MX1 title fight.