Story and photos by James Lissimore
Story and photos by James Lissimore
With the new round at Pleasant Valley last week, it meant we were out on the east coast for a second straight weekend as the 2016 Rockstar Energy Drink Canadian Nationals made their way to one of the longest serving and most popular stops on the National tour – the River Glade round, near Moncton, New Brunswick. Always a rider favourite, and one of the largest crowds of the season, River Glade is always packed with fans and they were excited to get a look at all the talent that is ripping up the MX1 field this year. It would be another Davi Millsaps riding clinic as the KTM Thor Racing team rider led every lap on his way to a second straight 1-1 weekend.
In MX2, Cole Thompson made a rare mistake in moto one, which allowed Vermont native and fellow KTM pilot, Dakota Alix to take his first Canadian moto win. He backed it up with a fourth in moto two which was good enough to give him his first overall victory as well.
As always, here's a look at the many American riders who are racing up in the Great White North this summer…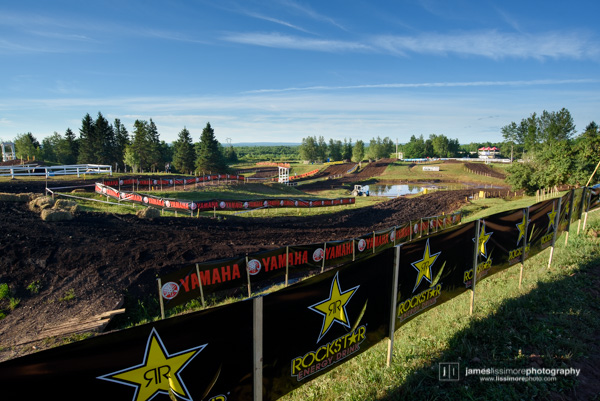 Coming off a track that many riders criticized, last weekend, this week we were off to one of the favourite stops on the National circuit, the River Glade track.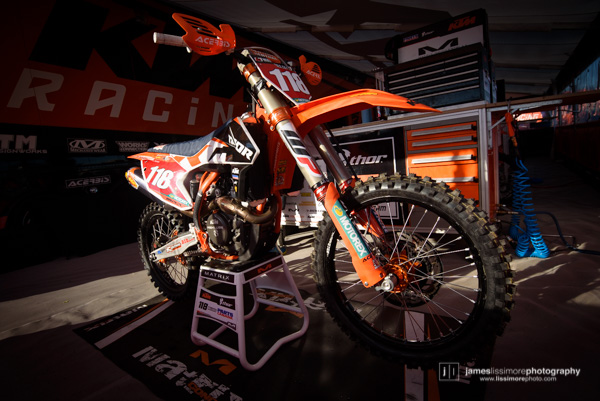 The machine that's been dominating much of the Canadian Nationals this summer.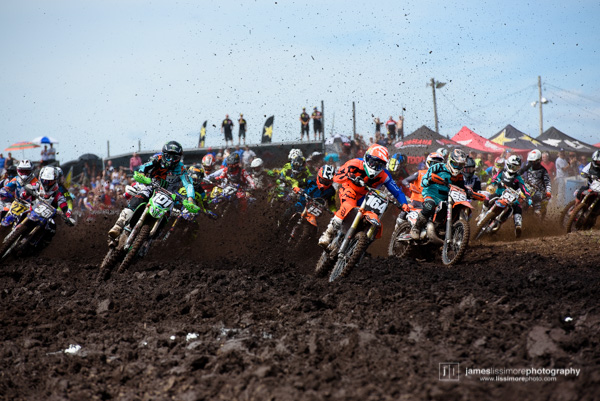 Dakota Alix(164) grabs the first MX2 moto holeshot.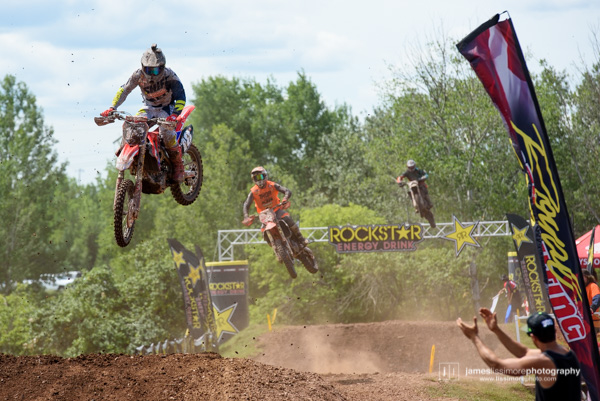 Brad Nauditt was hurting after last week's crash with a lapper but with the rest of the GDR Honda team out with injuries, the Washington native gutted it out to finish sixth overall with 5-5 moto finishes.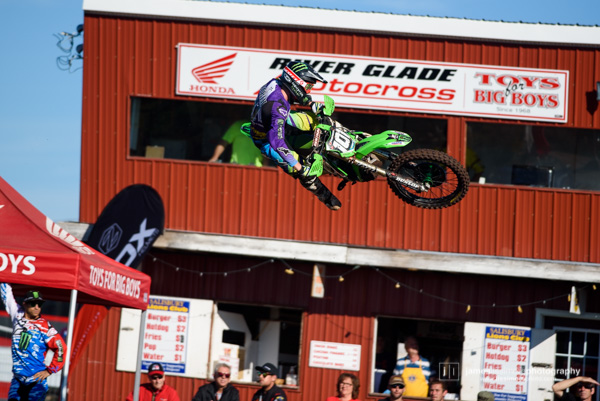 Arizona's Mark Worth continues to show good speed but the rookie's still working on the fitness part. He ran near the front in both motos before finishing fourth overall with 4-3 finishes.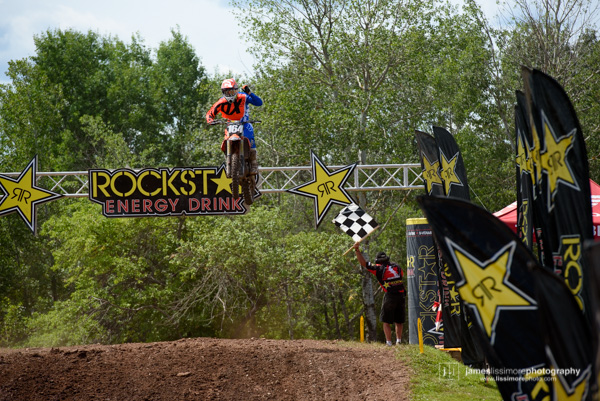 Cole Thompson went down in moto one and was way back, setting up a good battle for the lead between Dakota Alix and Shawn Maffenbeier. With Maff breathing down his back, Alix, didn't buckle under the pressure and the Vermont native took his first moto win. A fourth in moto two was good enough to give him his first ever Canadian win.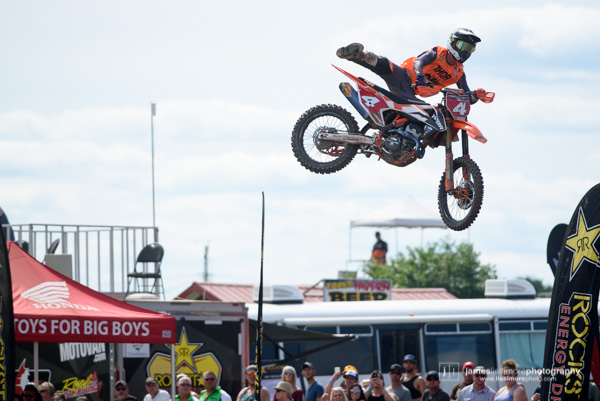 Cole Thompson went down at the beginning of the first moto and came from way back to finish sixth. He was back to his winning ways in moto two, to finish third overall.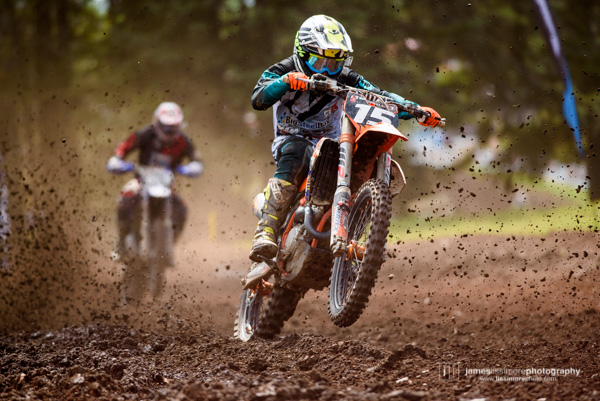 With Thompson down, Shawn Maffenbeier was positioned to claw back a few points in the chase for the MX2 title but couldn't make his way around Alix, finishing second. Bike problems in moto two left him in eighth place.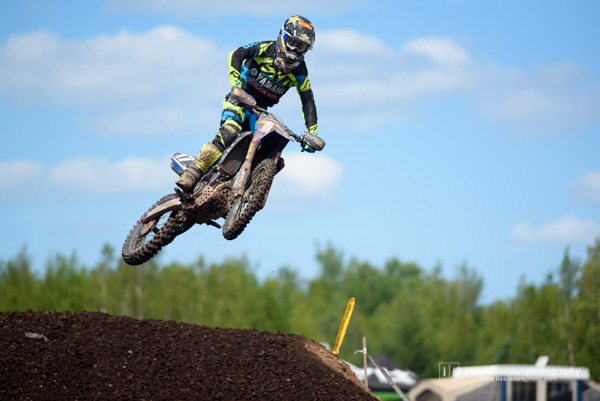 Another consistent, podium day for Dylan Wright. 3-2 finishes gave him second overall.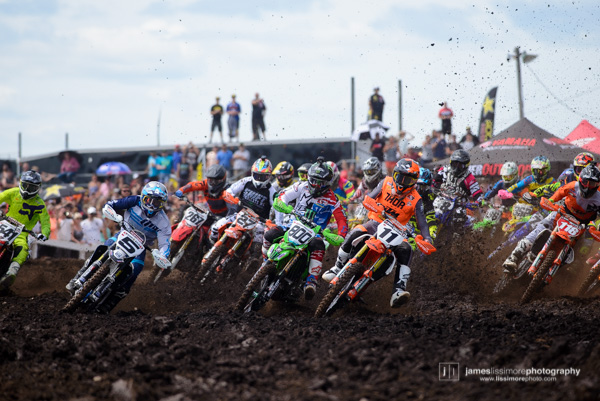 Kaven Benoit(11) grabs the first MX1 moto holeshot.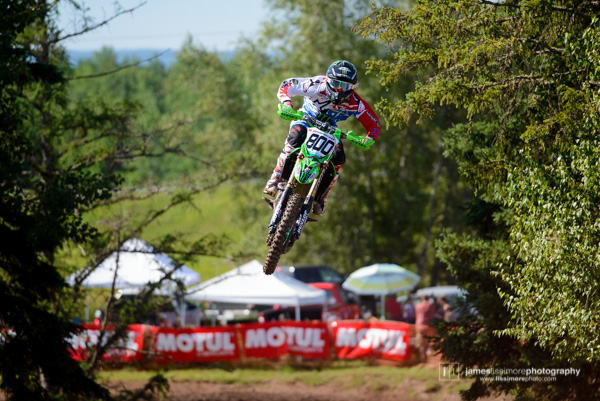 After a few off weeks, Mike Alessi was back on the podium in moto one with a third place finish. Unfortunately, brake troubles in moto two left him in fifth, for fourth overall.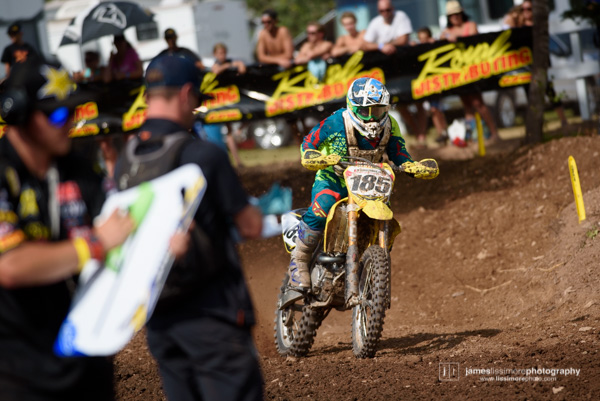 Max Tannenbaum ran in the top 10 in both motos. He crashed back to 29th in moto one but came back to finish 9th in moto two.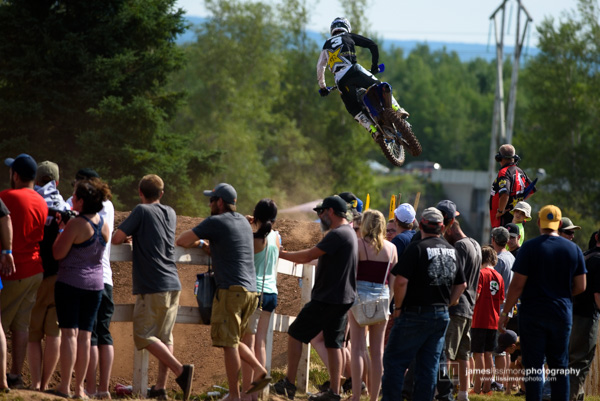 Brett Metcalfe had a bit of an off day at River Glade. He finished fourth in moto one and sixth in moto two for sixth overall.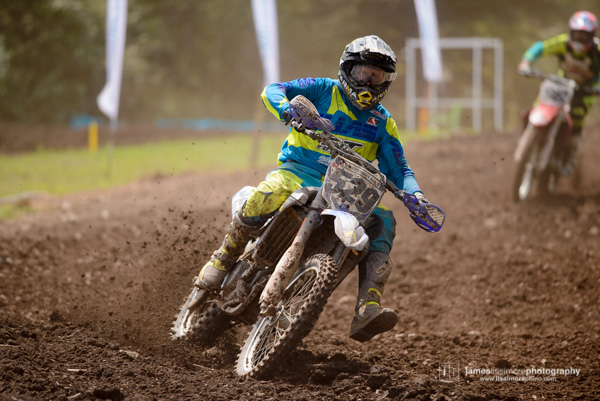 Oregon's Broc Loftus finsished 18th overall in MX1.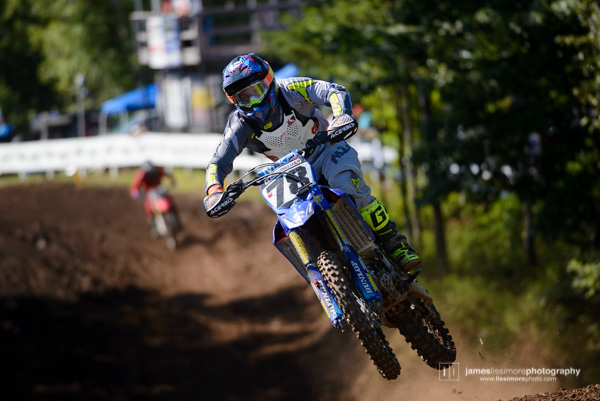 Pennsylvania's Michael Fowler finished 12th overall.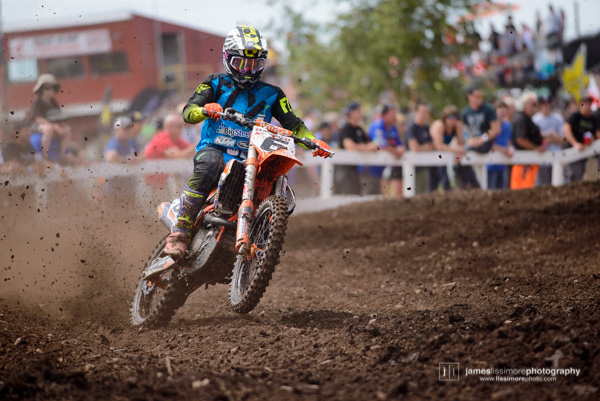 Cade Clason had some good battles on his way to 7th overall.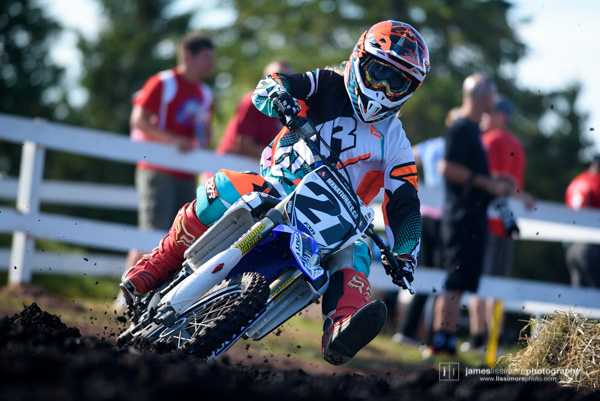 Texas' Kyle Swanson finished 11th overall.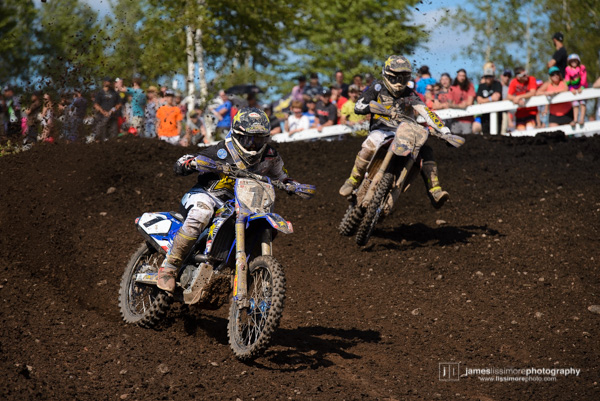 Matt Goerke went down off the start of moto one and was forced to work his way back from last to seventh by the end of the moto. In moto two, he had a great battle with his teammate, Metcalfe, before distancing him and getting by Benoit on the last lap to claim second place, good enough for third overall.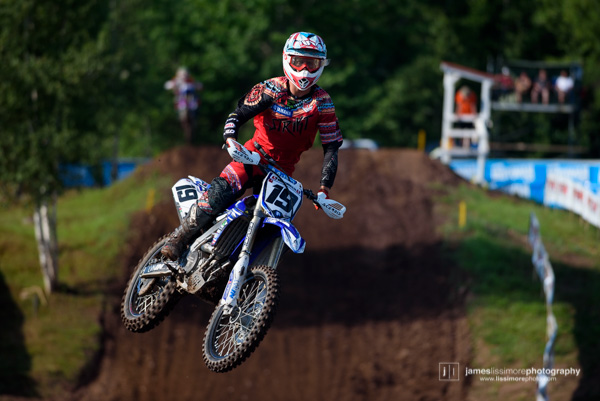 Idaho's Morgan Burger was inside the top 10 with ninth overall.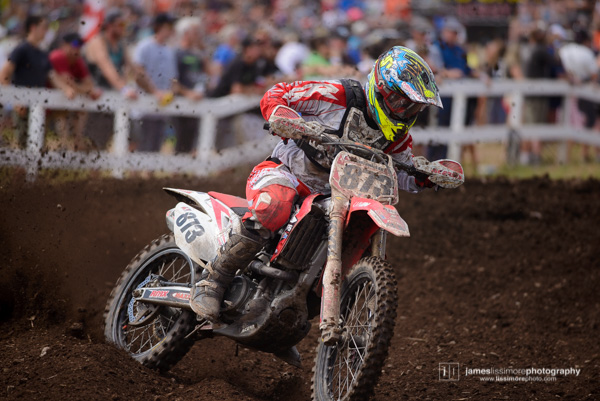 Utah's Dusty Humphries finished 14th overall.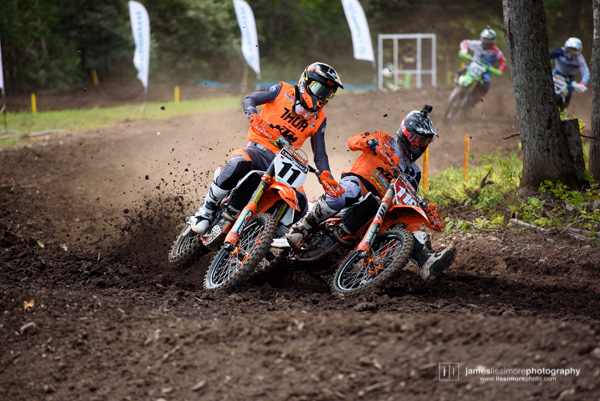 Kaven Benoit was on it all day at River Glade. He battled with his teammate, Millsaps, briefly during the start of moto one before finishing second. In moto two he ran second again for the entire race until Goerke got him on the last lap. Still second place on the day for the MX1 rookie and heading into one of his local tracks next week as we go to Deschambault.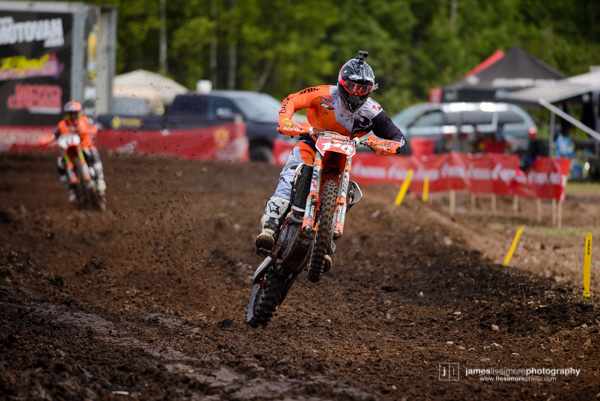 There's no doubt that Davi Millsaps is back to his dominant ways after a couple off races to start the East. He led every lap enroute to another 1-1 victory. With a 51 point lead, he's ready to clinch this thing next weekend at Deschambault.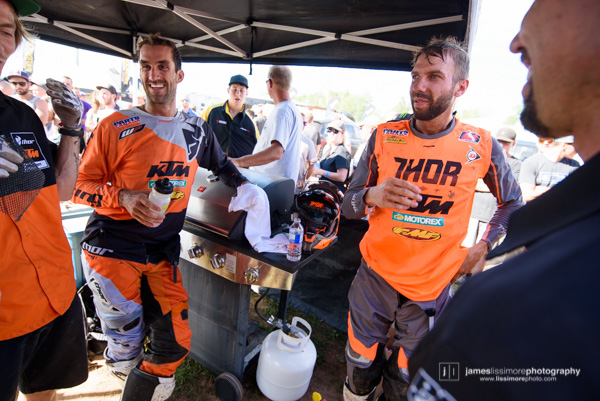 It was a great day for the KTM crew at River Glade.