Who is next in line for factory support?
Who is next in line for factory support?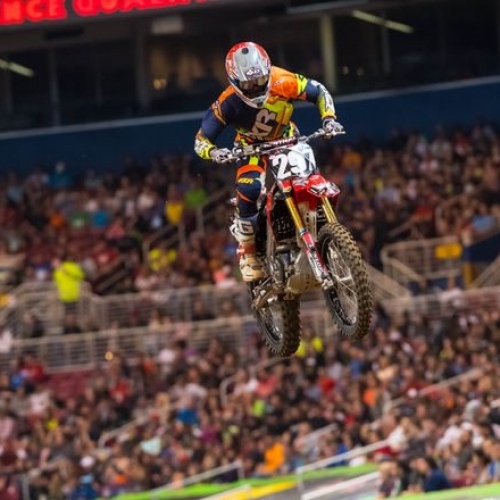 Henry Miller could be next?
Photos: Simon Cudby
Believe it or not the 2016 Lucas Oil Pro Motocross Championship is rapidly coming to a close. The series only has six motos left to run, and for each class, the championships are pretty much decided. I'll eat six pounds of birthday if I'm wrong in the fact that Ken Roczen and Cooper Webb will be the champions this summer. Roczen has a 55-point lead over Tomac and Webb has a 51-point lead over Jeremy Martin. These cats are making it boring.
Do you know what six motos mean for the rest of the field? It means finishing strong and giving it everything they've got to make sure these last six motos are the best finishes they've ever gotten. Whether your year has been a crappy one so far, or you've been strong, it's now or never to impress sponsors for next season.
If you weren't aware, a lot of rides are up for grabs in 2017. For guys trying to get off of Privateer Island this is the most important time to catch a break. The 250 class is full of factory-supported riders, so that's going to be tough for other riders to get up in that mix. We don't see our first true privateer (rider doing everything on his own) until 24th in points and that rider is Marshal Weltin. Behind him is Jackson Richardson, who has qualified for every moto this summer. Also on the come up and worth mentioning in the 250 class are Tevin Tapia and Henry Miller. These guys have stood out from time to time in a very stacked 250 class. This isn't an easy thing to do.
The 450 class is a little more wide open for the privateers due to the amount of injuries we've had. We have had an emergence of Noah McConahy, who was strong in supercross as well. McConahy sits 21st overall in the standings and had a career best finish at Washougal with 11-13 moto scores for 12th overall on his home turf. Other standout privateers on a 450 have been Jesse Wentland, Heath Harrison, and Jason Brooks. These guys have consistently been fighting for points in each moto. These guys have also been very good for the duration of their young careers. They've just never been given the time of day with factory-supported equipment.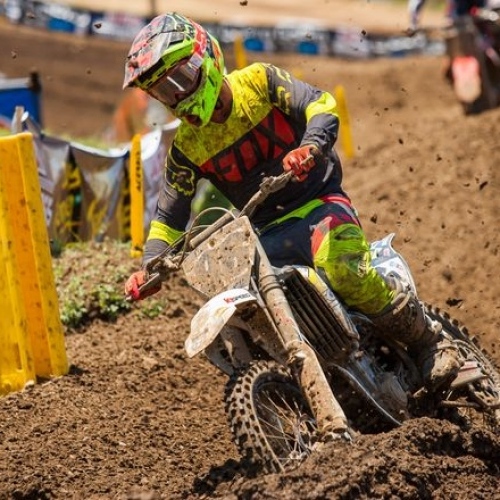 McConahy should be getting calls from team managers at this point.
The real question is have their performances been good enough to warrant a chance from a factory-supported squad? I have a feeling that McConahy will be getting a good deal for next season. I just have a hunch because if I asked he wouldn't even tell me if he had something in the works.
It's so hard to stand out in this sport, which is not a secret. If you're a privateer, scraping by on your own, you know the struggle. Some of these guys can throw in a good moto and score a handful of points, but that isn't grabbing a team's attention. Unless you are in the mix every week you aren't going to make an impression on an established team. You have to be within the top fifteen at every race to show that you are even worthy of a glance. The media notices these guys when that happens and then at that point they start showing up on team's radars.
Even for a guy like McConahy who is having the best season of his career it's going to be a 50-50 shot of whether or not he gets some factory equipment next season. A lot of this also depends on whom you know and talk to in the industry. The sources that are in the ears of these team managers really help and hurt at the same time during contract season. Each of these guys that I have mentioned above I have spoken to over the phone. All of them have had great personalities even though I've never met them before. So that makes me think that they are outgoing with team managers and others who matter in the industry. However, I could be very wrong.
Christophe Pourcel is now out for the remainder of the outdoor season, Why not give McConahy a shot in the final six races aboard a Rockstar Husqvarna? This could be the break he needs to crack the top ten, which he is already close to doing by himself.
If I'm a team manager I would take a for sure rider, who year in and year out, has put in good results (example: Justin Brayton). Then I would gamble on one of these riders. All seven of these guys are worthy of a chance and I believe can be productive on a team ride. If it works then I would look like a genius, but if it doesn't then we could split ways. All I'm saying is WHY NOT JUST TRY IT OUT?
With the success of Alex Martin, Weston Peick, and Fredrik Noren you would think that we would start seeing a new trend in the sport. The teams should start grabbing from Privateer Island to find a hidden gem. Maybe we will see more of this and maybe we won't in the future, but I think we should. Let's give some of these guys on the bubble a shot.
Thanks for giving my column a read. If you'd like to email me your opinion you can at troy@pulpmx.com.
Instagram/Twitter: @troybendgen