Bring it home gentlemen.
Bring it home gentlemen.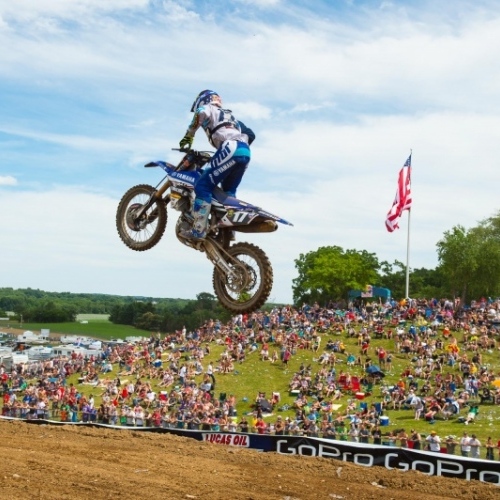 Webb is leading the charge for us in the MX1 class…the same way Dungey did it in 2009.
Photos: SImon Cudby
It's finally here! The Motocross DES Nations weekend is upon us! I have to admit that I have never thought that Team USA would be experiencing a winless drought in the event since 2011. I seriously thought that after the shocking loss in 2012 that we would bounce back in 2013 for the win. Of course that wasn't the case, but I have never given up hope.
I love the MXdN. Yes, the Motocross DES Nations is the way it was and that's the way it still should be. I'm keeping the tradition alive. If you're a follower of my work in the motocross industry you'll know that this is my favorite event of the season. I know that I'm not supposed to be biased, but this race is for America and I want our team to win for the old red, white, and blue.
I just want to give a huge shootout to Cooper Webb, Jason Anderson, and Alex Martin for stepping up to the plate for USA this year. They realize how important this event is as well as how much an honor it is to represent for us. If you look at all three of these riders they've come from quite a bit of adversity in their careers and fought through it. Now they are stronger than ever and that's what The United States is all about.
Webb
In his last year in the Super Mini division in 2010, Webb was primed to be the next rider in line for the GEICO Honda amateur ride into the pro ranks. He had been riding Hondas his entire 80cc career and the signing would just make sense. The deal never happened and Webb was left without a team ride to the pro ranks. What made things even worse for him was the fact that his amateur nemesis Adam Cianciarulo signed a 5-year deal with Team Green that would take him to Monster Energy/Pro Circuit Kawasaki when it came time to turn pro. Webb eventually signed the deal with Star Racing Yamaha and the rest we know as history. However, for a short period of time, teams weren't all jumping on the Webb bandwagon. I believe this is a huge reason why Webb is so loyal to Yamaha today.
Anderson
It was rough for Anderson early on his pro career coming out of the amateur ranks. He signed a deal with the same team that he is with today, but then they were just known as the Rockstar Suzuki team. The team just transitioned into the professional ranks and switched from Kawasaki's after being known as Xtreme Team Green for many years. At one point it looked like Anderson wasn't going to work out with the team in his first year. The team saw him struggling and ultimately benched him during the season. I had heard that the team felt he wasn't training like he should have been, which may or may not be true. It's kind of crazy to look back on that now because of the great rider that Anderson has turned into today. He's with Aldon Baker, one of the best trainers in the game today, and he's one of the most fit riders in the sport. The benching may have been one of the best things to happen to him.
Martin
As we all know A. Mart has had it the roughest out of everybody on this team. If you aren't aware of what he had to go through then you need to read Matthes' oral history story on Racer X about the Eleven10 Mods team. Martin was as privateer as you could get just trying to make a name for himself in this sport. He's had to claw his way to the top. If you were to tell me five years ago that Martin would be winning motos and overalls I would have called you crazy. I would have been excited because new winners are awesome, but I would have never guessed he would be where he is at today. It's the ultimate underdog story.
It's pretty remarkable how all three of these riders ended up on the same team representing our country. I also wanted to touch on the fact that we are seeing almost a mirror image from the 2009 MXdN this year. Webb just won the 250MX championship, which is exactly what Ryan Dungey did seven years ago. Both Webb and Dungey stepped up to race the MX1 class and lead Team USA into battle despite not racing a 450 that much.
With Webb's move up to the MX1 class that means that we need our second best American 250 rider to go across the pond. In this case Martin is stepping up, but in 2009 we had to dig back to fourth place behind Christophe Pourcel and Brett Metcalfe to find Jake Weimer. Still, the similarities are here and it's going to be eerie if we somehow pull this off this weekend.
Anderson is going to be a key component to this team. I really thought that it was awesome for him to race the final round of the Lucas Oil Pro Motocross Championship after he sat out half of the outdoor season due to injury. The fact that he came out to the middle of a giant cornfield to race sixty minutes and four laps to gain some race practice proved to me that he takes his role on the team very seriously. We only benefit from having him on our squad.
If you want my honest opinion (obviously you do since you clicked on my column) I think that this Team USA will get the job done. If we even get a few bad starts I'm not as worried as I was in years past. These three will continue to charge until the checkered flag and they won't hold anything back. I'll even go as far to say that Webb will win a moto. I think Anderson is capable of winning a moto too, but I would bet money on Webb. The streak ends this year I promise you that. Good luck Team USA and thank you for representing us at the biggest race of the year. Your country will be watching and no matter what we are proud to call you Americans.
Thanks for reading! If you have any questions or concerns you can hit me up on Twitter/Instagram @troybendgen or you can email me at troy@pulpmx.com.
Oh yeah, hey A-Mart, if we win please wear your jeans on the podium. Matthes thinks it's a great look!