We fill you in on what's new for the Red Bull KTM squad.
We fill you in on what's new for the Red Bull KTM squad.
Welcome to the offseason and our new ongoing "Team Previews" column. Every week from now until the Monster Energy Supercross season starts in January we will be profiling a big team in the sport. We'll go through the changes that have been made, analyze results, and give each team a grade on all of their offseason moves. This week we have Red Bull KTM and you will find the full schedule below.
Photos: Simon Cudby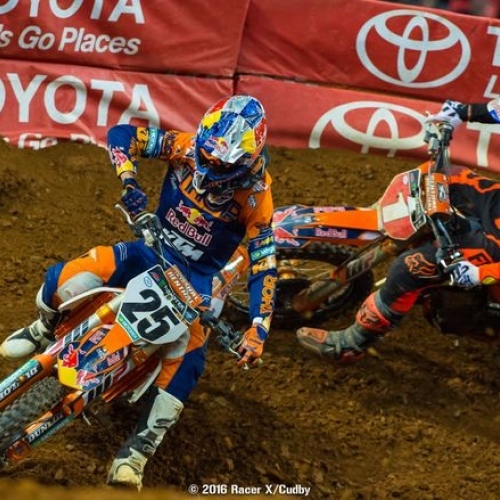 Musquin will be on the podium A LOT in 2017.
Who's In:
#5 Ryan Dungey
#25 Marvin Musquin
#41 Trey Canard
Who's Out:
#15 Dean Wilson
Last season's Supercross Results:
Dungey – 1st 450SX
Musquin – 7th 450SX
Wilson- 26th 450SX
Last Season's Motocross Results:
Dungey- 17th 450MX
Musquin- 3rd 450MX
Wilson – 19th 450MX
Offseason Grade: A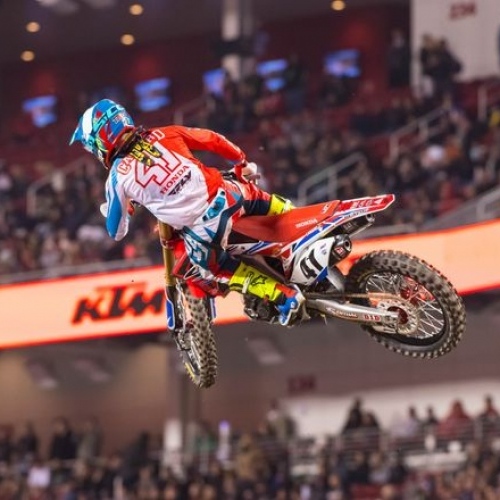 For the first time in Canard's pro career he won't be riding a Honda.
The Rundown:
Thankfully Red Bull KTM is a team that sees the big picture. It is the only factory team that houses three premier athletes. If the other teams had the budget for one more rider then the sport would be better off. Unfortunately these teams have to just stick to two and that's the end of the conversation.
Red Bull KTM decided to go in a different direction with it's third rider this year. Dean Wilson's two-year deal was up at the end of 2016 and instead of the team signing the often-injured rider they signed another often-injured rider in Trey Canard. Unfortunately knee injuries could not leave Wilson alone for his duration with the team and we were never able to truly realize his 450 potential. He's put in top ten rides with the team, and even shown top five speed, but I believe the team wanted another proven 450 winner.
Canard needs no introduction here as we've all seen that he can win at anytime indoors and out. He was a loyal man to the Honda brand at the two parties took their relationship to the peak and then parted on great terms. Canard is the best success from GEICO Honda's amateur support team. He was the first athlete down the team's feeder system and he took his talents to the Factory Honda team for six years. That's ten years pro total on one brand! That's a feat that only Jeff Ward, Kevin Windham, and Ryan Villopoto were able to accomplish. It's a rare club to be a member of.
With Canard on board that means that KTM has potential to have all three-team members sweep the 450 podium this season. You can also bet on all three riders finding the top step of the podium at one point or another.
I think that this team will be a great fit for Trey. He no longer has the pressure to be the number one rider on the team. Since he started on the Factory Honda squad in 2011 he's had to be their main guy and that is a lot of pressure for an athlete. Now no one is better at handling the pressure than Trey is, but now he can just quietly put in the results we all know he's capable of. The only downside of this deal for Canard is that he can't wear his signature helmet from Fly Racing since he is a Red Bull athlete now.
Musquin wasn't a surprise in his rookie 450 season. We've seen what he is capable of on a 250, so you just knew that he would translate that into 450 success. The only thing that escaped Marvin in 2016 was a victory. He did have too many podiums to count and ended up 3rd overall in the outdoor standings. Musquin is coming off of a big win at the Red Bull Straight Rhythm where he beat his teammate Dungey in the finals. With one year under his belt in the new class Musquin should have no problem finishing on the podium in the final standings indoor and out. He's consistent and can run the speed of Dungey, Tomac, and Roczen. Once we add Cooper Webb in the mix that will give us potentially five riders who can win races this season. Oops! Don't forget to add Chad Reed to that mix! Never, ever count out the Thunder from Down Under.
As sad as it is to say, Ryan Dungey is winding down his career. I have no idea if this is true or not, I'm just speculating, but I don't think he will be around much longer. This past outdoor season was the first time in Ryan's career that he's had to sit out a series. He's been married for a while now and I think that he'll want to start a family soon. If 2017 isn't his last go-around then 2018 definitely will. Dungey has nothing left to prove and has won every championship the sport has to offer. He will be a force as always to win both championships this year, but with Roczen on a new level I can't see him winning either title. With that being said, it's going to come down to consistency and we all know Dungey has oodles of that. We'll just have to see how it goes down when injuries come into play.
Monster Energy/Yamalube/Chaparral/Yamaha Financial Services/Factory Yamaha is next. That is the official team name and you can't say it five times fast.
Preview Schedule
10/14 – Rocky Mountain ATV/MC KTM
10/21 – Troy Lee Designs/Red Bull KTM
10/28 – Red Bull KTM
11/4 – Monster Energy/Yamalube/Chaparral/Yamaha Financial Services/Factory Yamaha
11/11 – Yamalube Star Racing Yamaha
11/18 – GEICO Honda
11/25 – HRC Honda
12/2 – Rockstar Husqvarna
12/9 – Factory Monster Energy Kawasaki
12/16 – Monster Energy Pro Circuit Kawasaki
12/23 – RCH Yoshimura Suzuki
12/30 – JGR/Toyota/Suzuki
Thanks for reading my series of team previews for the coming season. If you'd like to talk about these or any of the other stories that I've written you can email me at troy@pulpmx.com. You can also reach me on Twitter/Instagram: @troybendgen