Close racing, big names and innovations- but what's missing?
Close racing, big names and innovations- but what's missing?
Anyone who's listened to any of my shows knows that I'm an advocate for change in the sport. We've done virtually nothing in our sport in the last thirty years other than ditch the semi races for a couple of years and then bring them back. A move I might add that I think was a good one.
Knowing this, I want to follow and love Arenacross, I really do. They embrace change! Moving the riders back down to 250F's was a good idea considering the size of the arenas they're racing in. They have a "Chase" format, they have two main events…hell they even have a rider drawing a number out to determine starting order for the second main event…well, not ALL the ideas are good but you get the idea. The inversion start idea for the second main has been scrapped for '17 though. As an aside, where is this flexibility when it comes to the supercross series?
Arenacross is interesting, exciting and I love that they have made some moves to see what works and what doesn't. I thought we'd see some of these innovations in supercross but hey, Rome wasn't built in a day. I know some VIP's at Feld want changes that I speak of and are pushing hard but you've got to respect the opinions of the people that dump millions into your sport.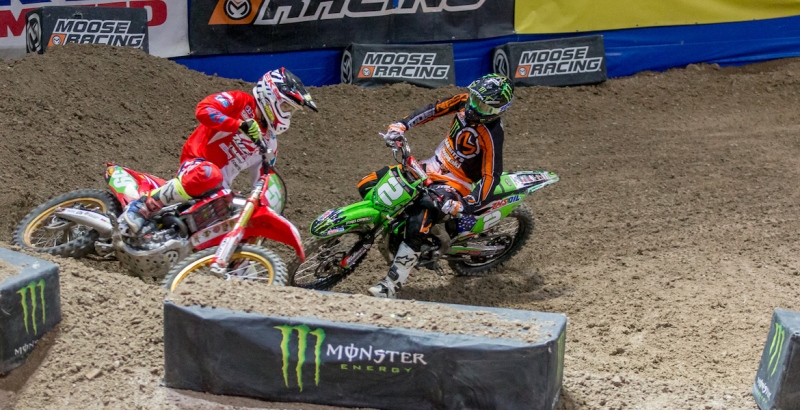 Arenacross provides a lot of what is missing in SX each weekend but does anyone notice? Photo courtesy of AMSOIL AX
But the folks at Feld Entertainment have made curious moves with that series the last few years that, in my opinion, have hurt the interest and desire to race it. I feel the series has really good potential that isn't being hit on.
There's no doubt that riders are having a hard time finding paid rides in Supercross. We're in a weird spot where the sport is pulling down decent TV numbers are some rounds, Fox is actually paying to have the races on TV, we have more off-season races than before but teams are struggling, riders are struggling more than ever before.
This is where Arenacross can come in and be a real feeder series. A place to go to make a living, get some exposure and maybe get back into supercross. I'm not talking about the marketing gimmick known as the "Road to Supercross" as I think we all know riders like Chase Sexton, Austin Forkner are "ready" for supercross but I mean making Arenacross something where riders can go when they can't make a living in supercross.
First though, is this payout. Here's the payout in AX:
Friday / Saturday Events 1st $2000 2nd $1250 3rd $850 4th $550 5th $500 6th $440 7th $390 8th $340 9th $280 10th $230 11th $200 12th $190 13th $180 14th $170 15th $160 16th $150
Saturday Only Events
1st $3000 2nd $2000 3rd $1250 4th $590 5th $540 6th $490 7th $440 8th $390 9th $340 10th $290 11th $230 12th $220 13th $210 14th $200 15th $190 16th $18
And now here's the payout for the 250SX LCQ:
5th through 22nd $576
Can anyone explain why you get more money to get last in a 250LCQ than 4th in an arenacross main event (double header weekends_? That makes no sense at all. At some supercrosses there are only ten or less riders that don't make the night show so basically signing up and being halfway decent gets you more than a fifth in Arenacross?
I have no clue if Arenacross is as profitable as supercross but it's got to be somewhat profitable otherwise a bottom like company like Feld Entertainment wouldn't keep owning it. In my opinion, Feld's got to increase the purse for this series, that will attract better riders and improve attendance. There's no way the pay should be so out of wack compared to a 250SX LCQ. Outside of finishing in the top three, I can't see how someone can make a real living racing professionally in Arenacross.
Look no further than baseball for proof that investing money into your product improves the bottom line. My Toronto Blue Jays languished near the bottom in attendance in the American League with a uninspired .500 ball club until management went big two years ago with player signings and some great trades. The result? They led the American League in attendance last year and have become one of the hottest tickets to get in Toronto. Racing doesn't work exactly like motorsports but you want to pack those arenas? Bump up the purse, get some of these unemployed supercross riders in your series and you'll see greater numbers of people flock to the race.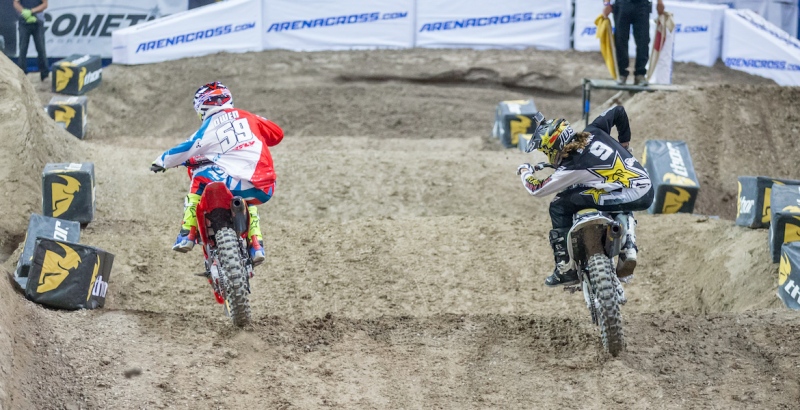 Arenacross has Stank Dog (right)!
The next thing I would immediately do is put the series back to its roots and start it in November. There's nothing going on (outside of some European SX's), you would have the attention of all the moto media, you would have more media at the races and everyone would be buzzing about who's on what team, how they did and what's next in your series. AX has provided us with some real exciting events the last few years-even some controversies- but it's totally lost in the Anaheim 1 SX hype machine. Why Feld ever moved the series to coincide with SX is beyond me and others that have raced or covered this series.
To me, Arenacross is like Josh Hansen. As in, there's so much potential here that's gone wasted. You look at the innovations, the format changes, the willingness to be flexible, some of the names involved and you wonder why it's not bigger. To me, it's an easy fix but it'll take some money and a massive schedule overhaul but it can happen. Let's make Arenacross great again!