The 22 is always good for a few interesting thoughts
The 22 is always good for a few interesting thoughts
Josh Hill at the Straight Rhythm on the electric bike – thoughts on that? Did you see any of it? Did you see the bike?
Yeah, it seemed good. In my opinion, I was really surprised how good it was in the whoops, but then it's like, is it the bike or the fact that Josh is old school and actually knows how to go through whoops where kids these days don't? So I don't know which one of those. But coming off those wall jump things, whatever you call them, I was impressed. It looked like it, but then just talking to Josh, it sounds like it's the equivalent of a stock 250F. Obviously once he started going up the food chain, he started running into some Factory KTMs. He couldn't quad in off the start there, and it seemed like he gave up a lot of time right there. But talk about a rollout. That's really impressive.
It's crazy that it's that good. I've ridden a KTM one a little bit, and there's those Zero ones from a few years ago, but you can't even compare them.
I probably shouldn't say it either but I have rode one of those KTM ones too. I rode one of Cairoli's when I was at his house. That's just more like a fun bike to ride as a recreational thing. This thing's obviously aimed at the 250 four-stroke market. It's pretty impressive.
We didn't get you on after the Monster Cup. What'd you think? How'd you do there? You had potentially a nice finish coming in that third moto until you landed on a tuff block, but what'd you think of the race?
Yeah. It was good. I came in feeling pretty good. I had a good week and a half out in California. We had made some really good progress. On paper I don't feel like we kind of showed that we were as good as at least what I felt. Second race I made a couple of mistakes and threw away a podium. The final race I felt that I was pretty fired up and ready to go after it. Unfortunately Mike just kind of held me on the bale, and when he came down he kind of lost the rear and got a little squirrelly. Then I had nowhere to go – either to land on him or get left and land on the bale. So the bale was like a 50/50, so I tried to land on the bale and tried to save it, but I went down. It is what it is. But honestly on paper it looked terrible but the feelings, everything that I needed, were good.
People don't remember that you started late last year. You had the supercross season to kind of test and develop that bike, but you don't have the off-season last year that you have this year to work on that thing a little bit and figure things out.
No. My off-season this year, obviously I've been signed with Yamaha and kind of knew my season, knew I was racing this race in Australia and Monster Cup and things like that. I have a good plan. I'm typically not in shape right now, normally in November right after Monster Cup I start training. But I'm in shape, training, riding, and kind of got a few off-season races. So yeah, a little bit different for me, but I'm excited about it. I think that as I get older getting in shape seems to take a little longer, so I think that starting early and doing those, and kind of saying no to the GP's allowed me to kind of just focus on supercross. So I'm in a good place, to be honest. Everything feels good and motivated. Bike's come a long way, so I'm excited.
You're working on things like your clutch? I guess that's a big thing for you off-season-wise and making sure that that thing can withstand some of the abuse that you put it through?
I just struggled with starts this year in 2016. Any time we had traction I really struggled. I think it was a pretty global issue that boys on blue kind of had. I always had a pretty good feeling with the clutch. Once we went to hydraulic and figured out what Yamalube were able to run and things like that, we were good. I never really had any issues. My starts didn't improve. But now we've tweaked on some other areas. I always believed that it was something else, but you've got to go through the list of things that people line out for you. Riding the bike I didn't agree with necessarily all those things, but at the end of the day you've got to go through them. I think I've got to my happy place at this point. Monster Cup obviously I got good starts, but maybe not something to hang my hat on at this point because it was downhill start for one. We started on metal, for two. So kind of two very different things, so I don't want to jump up and down and think that my issues are fixed. But I do think that we've made huge gains in that area.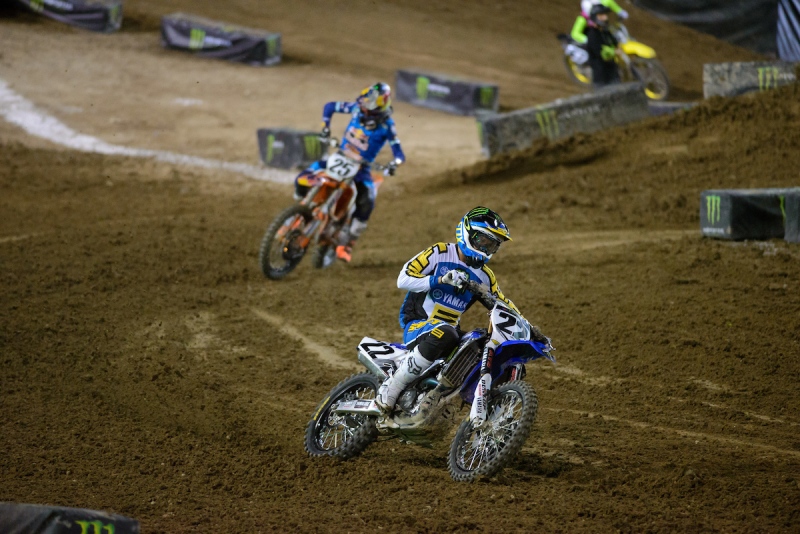 Reed had a decent MEC with a crash ruining a good start in moto 3. Lissimore photo
Did you hear that they might look into using the grate behind the gate full-time?
What I know, that is going ahead. I have it at the house and ready to work on it.
Do you like that? Is that a good thing?
I think it's a good thing. In the press conference I was asked that. I just think that it's so difficult for Dirt Wurx to consistently make fair gates from gate one through gate 22. I just think that on all the different dirts and all the different stadiums and the mud and the rain and the open stadiums, I just think it's really fair. I think it's something that you take out of human error and they lay it down. I think it's the same for us, week in and week out. It doesn't beat up on our tire or anything like that. I think it gives you enough traction, enough slip to make it feel like it's a normal start, but it's just really, really consistent. So I'm all for it. From what I understand they're going to go that route. I hope that that holds true.
For the Monster Cup, you don't like a chase, you don't like a joker lane, you don't like different main events. You're not buying into any of that stuff that I love, do you?
I like the joker lane at Monster Cup, I do.
But not in regular series?
Not in a regular season. I think the chase has a place, but it needs to be minimum… anything under 10 races I have no interest in supporting. I think that joker lane in a normal race series has no place. I'm old school. I think that racing should be racing. I don't think that we should build sport for the average. Good people should be able to win. When they win they get their chance, and that's how it should be always. I don't think that we should manipulate racing to allow average people to have a chance. That's just my opinion. I've had my chance where I was good and I won, and had my chances where I'm the average or been average and could have done with maybe a chase format or something like that. But it is what it is. I just don't like it. I'm a huge NASCAR fan and I just think that their current series totally blows. I have no interest to watch it. It's totally lame in my opinion. But their old system I was good with, ten races. From a racing point of view, taking myself out of the racer, but just as a team owner, there's so many millions of dollars that you put in and you invest in, and for something so small that can happen and that can just completely ruin it for you, I just don't agree with it. That's kind of my reasoning for it.
To go back to the start for supercross, are they talking about putting the grate behind the gate and ten feet out, or just behind the gate? If you did it where it's just behind the gate, you know how sometimes on the other side of the gate you can get kind of a nasty rut? So does it talk about just behind the gate or both sides?
I don't know that. I would assume, just assuming the fact that you've been around a while, but the fact that we don't have much room and sometimes the fact that we come back along start straightaways and things like that, I don't think that we have the room to do it ten feet out. I would be really surprised to see it any more than I would assume three feet at most, on the other side of the gate. But at some point you're going to have a bit drop off. Even if it's right away or three feet or ten feet… Ten feet maybe, your speed is going so it would be a little different. But I think that there's going to be something outside the gate that you're going to have to still worry about.
I follow you on Instagram. Months ago you would always have a picture of you in the garage and say, "which bike will I ride today?" Will it be factory this and that? Now I see maybe electric start isn't on your bike. Is that going to go ahead or is the electric start out? I come from a team on the off-road side where we're using a stock Yamaha model that comes with an electric start. I know it was kind of in the plans a little bit for the 250F program. Will we see that electric start this year on your 450s and Coop's 450s? Or is that going to be kind of pushed to the back burner?
I speak for myself – it won't be on my bike. I loved it. It was refreshing. It was cool. But it's unfortunately not up to par for me on supercross.
Your teammate, Coop, how's he looking? Is Coop going to win races next year?
I don't know. Truthfully I haven't rode with him. I went to California before Monster Cup and early in the week – I want to say I started on a Wednesday. It was like Monday, Tuesday he tested and did photoshoots and rode. Then the plan was I ride Wednesday, Thursday, Friday, and then I was going to go home, but we had that hurricane so then I stayed. So then I kind of assumed that Wednesday he obviously wouldn't be at the track, and then Thursday came, he still wasn't at the track. Friday he wasn't at the track again and I'm kind of like, where's Cooper? That's when I kind of found out that he had gone back East. For me I wasn't told that he wasn't racing Monster Cup at that point, but obviously reading between the lines there it was obvious. He didn't have a bike back east, so I didn't think that he was just back there hanging out and then going to show up and race Monster Cup. We haven't rode together, actually.
Other than doing autographs in Vegas and shooting a commercial in Vegas, I haven't been around Cooper. I would assume he's going to be good. I think his credentials coming into the class are obviously high enough to take him as a serious threat, but the last year and a half he's played around with some off-season 450 stuff and always done well. I raced him last year in Australia. I think he's going to be good. I think he'll massively benefit from… Thinking of where we are as a team from this time last year to this time this year, I think he walks in at a good time. So I think he's going to be competitive.
So you think the actual first time you'll ride with him will probably be in Australia this year, right?
For sure. I'm not going to California, and he's not coming to Florida. The first time I ride with Cooper on a 450 in 2016 will be in race conditions.
We were at that race last year in Australia with you and Cooper. Y'all definitely flipped that stadium upside-down. That was pretty amazing. Both of y'all looked really fast. Your next time with him will probably be at Australia again.
I talked to RV last week and I'm like, how's it going? He's like, I never lost it. I still got it. I'm like, you're not going to win. Don't get hurt. He's like, no, I'm good.
The guy's what, 27 now? Let's put it into perspective here. He hasn't been racing for two years, but two years to a talented dude like that, he's only 27. I'm not counting him out. There's no way in the world that I would show up thinking that he's just going to be… I just think RV is a legit dude and you've always got to take him serious. He's cocky enough and everything like that, that you just never know what RV is going to show up. You never know what kind of training. He's a new dad, he's got twins. He's got a lot going on in his life, so you've been there, you know how that works, so you're kind of like, I kind of know. So then you think one thing, but I wouldn't put all my energy into thinking that.
Last year at Australia when they said Ricky's racing, but when we got there it was a heads-up kind of show between you and Ricky. Villopoto is actually racing in the main event with the feature. It's not going to be like you and him.
Yeah, exactly. It's not going to be a heads-up race. He's legit going down and racing, and he has to qualify and do the superpole and all those things. He has to go through all the motions. From what I understand and from people that tell me, it sounds like he's as fast, if not faster, than Eli. At no point am I counting him out, for damn sure. I think he'll be good. I'll be interested to see what he has for a bike, whether they ship the bike.
No, they ship it full factory.
I'm excited actually to race him. He'll be good. There's a lot of guys down there. Brayton's badass. He's really fast in off-season races in general, but he's really good in tight races. He has an arenacross background. He has a full head of steam. He's run three races in a row down there. I really think that for all of us to go down there and think that it's just me, Cooper and RV, I really think the Reardons and Wilbur, but for sure Brayton is going to be gnarly I think.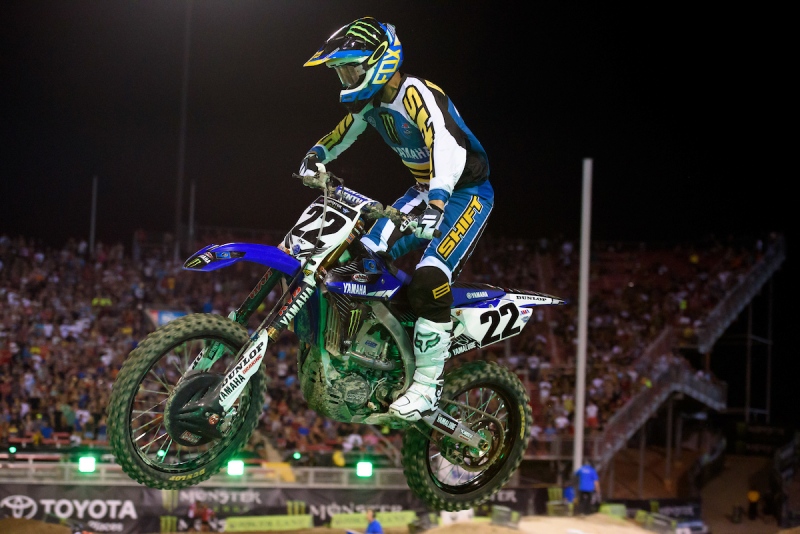 Reed's on the line next in Sydney in front of his home fans. Lissimore photo
I heard something today about maybe there being a third guy on Factory Yamaha? You hear anything?
I haven't. I would be really surprised, because I know a lot of behind-the-scenes stuff and I know as far as parts and everything like that. I would be really surprised.
How can those guys go into supercross and outdoors with two guys in supercross, out of 20, and one guy out of 10 outdoors?
I think for the most part Monster is okay with it. That's what they sold.
Roger Decoster or Chad or somebody like this needs to write a book.
My book's done, actually. I wasn't totally stoked on how my book reads. It was a good six months of doing my book and worked with a good guy down in Australia. When I read it and edit it, I think that the phase of the life I was going through at that point didn't come across the way I wanted it.
Still you can take part of that and write a new one. Just something that would give everybody in the industry dealing with all the factories – like you and Roger starting your own teams and this and that.
The hard thing is, in my opinion when you write a book you should be honest, and I think it's really difficult to be honest in this day and age.
When you retire, so that way you don't have to deal with it.
When I retire and I have a secure five-year job or something then maybe I'll go and put a book out there.
You're not James Stewart. You're not in his head, but what would you think he should do in his situation since you've been there and gone through that?
If I was James… Knowing what I know now would I do the whole TwoTwo thing? I probably would. I had a blast. I got to go racing. I got to have a lot of fun. For the most part I broke even for three years and then lost my ass on a couple other years. But from a business standpoint I would tell James, take your Seven and throw it in the lake, and then throw the idea of running your own race team and throw it in the lake, and retire right now. You've made your money. But life is a cycle – I get it. But don't collect all the money and then go put it back into the same pot that you just took it from. I think he's fine. We lived very much the same era. I know the dollar figures that we all made in those days and things like that. We've had a pretty comparable salary through the years and win bonuses and championships and things like that. So I have a pretty good idea of his net worth and stuff like that.
But running Seven, running the farm, the mom and dad, it's just a lot. He has a young boy now. From a business standpoint I would tell him he's crazy if he goes to try to run a team. But then who am I to say that when I loved it? One of the best, cool things I've ever done. It depends on what he wants to do as far as racing. If he looks in the mirror and he says, "Man, I really want to race. I believe that I can still do what I once was able to do," then my opinion would be that he should go and spend his own money and go and do that, and go out on your terms. That's how I always wanted to go out. I never wanted to go out on "I didn't have a job." I always wanted to go out on my own terms.
We talked about how brutal it would be if he doesn't line up.
You look at the career the guy's had, he's been so successful and he's had a rough run the last kind of four years. I didn't sit out a year like he did, but I haven't had an ending of my career either. So I have the same feeling. I get it. I'm sure he's pretty tore up right now. Actually as competitive as the two of us are, I think it's sad that somebody with his ability and his talent doesn't have a job.
It's a tough time right now. We think Bogle and Tickle are doing RCH. Jake Weimer's got nothing. Kyle Chisholm's got nothing. Mookie, James. From your point of view of being a team owner at some point, it's not good right now.
It's not good. Losing teams and things like that, if TwoTwo was still around there would be a potential of two more positions, or one, if I'm still racing. So it is sad that we're losing teams. Look at RCH – without Suzuki right now, I don't know that there's an RCH. They don't have no sponsors. It's not like RCH has this massive plan behind closed doors that they're not letting us know. I can promise you that RCH is on the struggle bus, and they're trying to find budget. They're trying to find things to be able to go racing. They're essentially the Factory Suzuki race team and they got to nickel and dime on everything. It's tough out there right now. It's not going to get any easier. I think for our sport something massively needs to change and until that happens, I think what you see is what you get. It's sad. It was only six months ago that there were certain people on the team running and skipping around like, "We're the biggest, highest funded team in the industry." And then how quickly that can go away. I've seen that and I lived that with TwoTwo. One sponsor can change so much, and it's crazy that a million bucks here or 500 grand here, and suddenly you're in the green and then you can go racing the way you want to go.
As you know, it's a heavily stacked team without the riders. There's big salaries within the personnel on that team. I'm pretty sure that none of those guys are putting their hands up and being like, "Hey, I want to go racing. This is what I love. This team's awesome. I'll take less." They're standing there like, "We'll be fine. We'll just go racing with Tickle and Bogle and whatever." It's tough times, man. I think it's sad to see so many people hurting and struggling from team to riders.