You want the truth? You can't handle the truth!
You want the truth? You can't handle the truth!
Photos by Anton
Well, one week after we asked you what would you do to help Tomac if you're Kawasaki, he wins the heat and runs away in the main event. Was it the football-stadium track? The dirt? The extra practice? How do you explain the turnaround from the #3?
There are a few reasons Eli performed better on Saturday and won his first race of the season. First of all, I believe the track suited him way more. Same goes for Reed but I'll talk about that later. The openness of the track as well as the technicality of the obstacles were in favor of Eli. I also thought he rode way more patiently than the first 3 rounds. He wasn't trying to charge so hard. He looked way smoother with less stop and go in his turns. He looked more like he did on the Geico Honda a couple years ago. There was only one tight section on the track, the 270-degree sand turn. Also, not all of the riders jumped the same thing in the rhythm sections. Eli jumped the triple-quad with consistency and also the 3-3-3 after the finish line where other guys kept going inside doing roll, double, triple, triple. You can also add the whoops in there. Big long whoops with a big run before where the riders had to not be scared to get in there fast.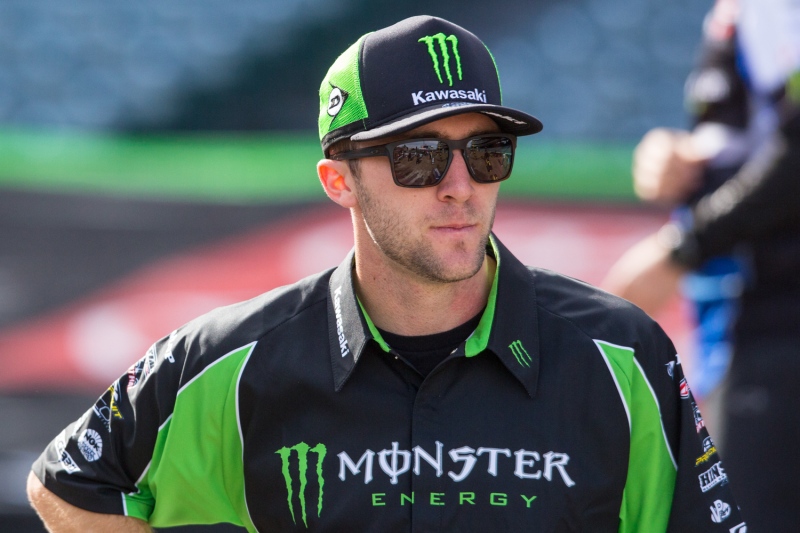 Tomac made it happen in Glendale with an amazing ride.
On this track, when you were jumping the biggest combos possible, going fast in the whoops and rolling your turns, you were fast. It was almost like a late 90's or early 2000's track. Back then, it was the same, we were jumping more things than others, going faster in the whoops and automatically we were faster. But I like the fact he rode way smoother and didn't burn himself by over riding his bike. Being in front right away with a clear track was also an advantage to focus on his riding and jumping the obstacles the right way. Lastly, Glendale was the smoothest track and most open track of the year and, in my opinion, the bike itself wasn't as much as a factor as the other 3 races. When the track is tight, rough and rutted, not having a great set up can affect your riding and results. If you're behind the 8 ball with your bike like I thought Eli was in the first 3 races as well as the Yamaha guys, Glendale was a good track for you.
Reed shined in getting a second. What did you see there and Reed himself mentioned how he's riding better than ever and he's bummed that he didn't win. Is this what you have to do if you're Reed because if you admit you're happy after a night like this, you're doomed to accept so-so results?
Just like for Eli, the track was great for Reedy. He's a great jumper and great in the whoops. I've listened to the post race podcast you did with him after the race but I'm not buying 100% the fact the bike was better this weekend. Maybe it was but Chad's performance goes often with the way he feels and his state of mind. Reed is Reed, a great rider and one of the best the sports ever seen but the way he feels, his state of mind and emotional state affect his results a lot. We've seen it in the past. It's one of the reasons his results are not as consistent as others, like Dungey for example. More on that later.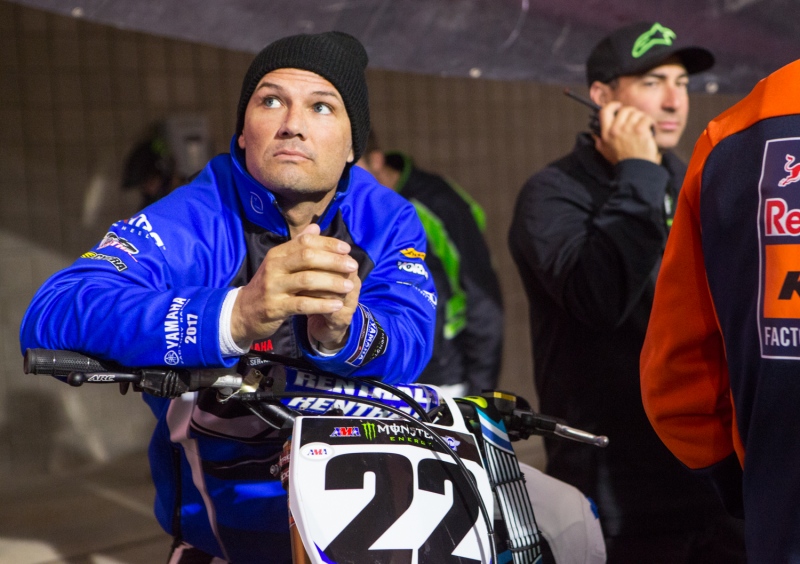 Reed shined through with his best ride of the series so far. How did he do it?
Having a track like this weekend helped Chad's confidence a lot. He saw big whoops and big rhythm section that guys in front of him in the standings weren't doing as good as him. That was the confidence boost he needed to perform. And man, he did just that. That was a great race and I was so excited and screaming on the couch. We also have to talk about Seely who indirectly became Reed's ally during the race. By riding over aggressively, Cole made himself and Dungey lose a lot of time. Chad capitalized a lot on this and passed those two guys at the same time. It shows you that riders should have better strategy during a race. The way Seely raced Dungey could be good when it's just them but not when a Tomac is alone in front and when you have guys behind you.
Ryan Dungey didn't look comfortable all day long and can't be stoked on his ride. What did you see?
Despite what people thing, I think it was good race for Dungey in Glendale. He didn't ride as well as he could have and didn't get the results he wanted. But, he showed up in Arizona with a 7 point lead and went home with a 15-point lead. How is this not a good day? This is a point system championship and it's very important to grow your lead race after race when you hold the red place. RD did just that. On the riding part, yes, he looked not as confortable as we know he can be but he ended on the podium. I thought there were some positive things to take from that race. He made some aggressive passes. Forgot who he passed in the turn after the long straight away but it was great. Seely, by riding not too smart, cost Ryan 2nd place in that race in my opinion. So, he could've dealt with Cole a bit better. He was a little naive on the action as Seely let him go by on the finish line jump. Ryan should've gone inside in the following turn instead he opened the door wide and Seely went for a un-Seely-like move in the next turn. That ended up in Reed passing both of them. Ryan struggled in the whoops, didn't triple quad (not enough anyways) and looked like he was fighting it. But, he ended up on the podium while Musquin struggled to a 9th. Eli struggled in A2 and finished 8th and Chad 7th. That's the difference between Dungey and the rest of the field. When he doesn't feel/look good, he is still on the box. Not being 100% doesn't affect him as much as the rest of the field. We have to recognize his ability and his resource to adapt to score big points. This is why his worst finish is a 3rd while the best worst result of any guys in the top 10 is a 6th for Seely…
The track was great. You're a fan of football stadiums and especially when they use the whole thing and be innovative with the sand. Did you like it?
I've been saying that for a decade. Tracks need long lanes, long whoops, long rhythm sections, long start and 180-degree turns. When you try to reinvent track layouts, it sucks. This is what works. History tells us that every time we have a Glendale-like track. I thought the track was great. I like that great riders weren't able to jump the triple-quad consistently. I like to see factory riders struggle in the whoops. I like to see a track that challenges the riders technically. When you have tracks where the 450 winner jumps the same stuff as a 250 rider who doesn't make the main, it's not very interesting. Track was great. Not as great as the one I designed in Detroit 2008 though!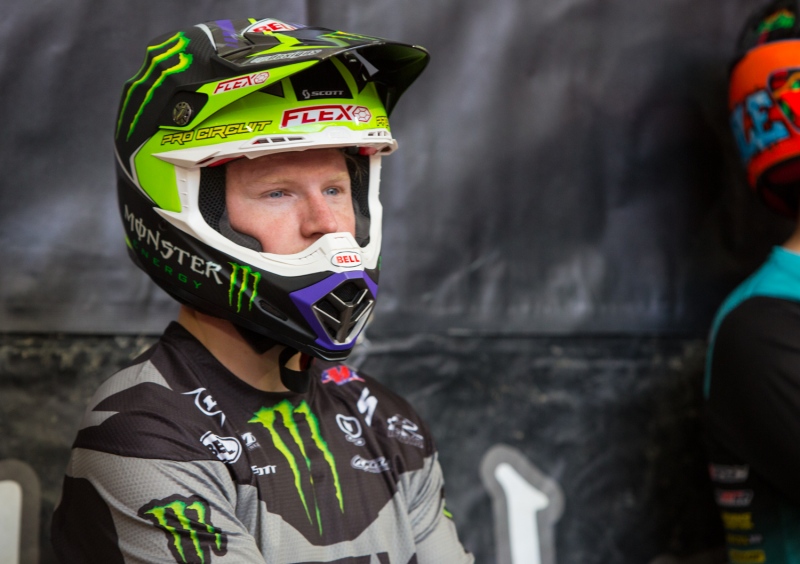 Justin Hill's got two wins in a row and closing on points leader Shane McElrath.
Hill won again, did he pick it up and catch McElrath or did Shane have legit beef with the lapper hurting him?
Hill has been on a mission since San Diego. He's clearly the best guy right now even if he doesn't hold the red plate. McElrath is trying his best and holding on to the lead but his "package" isn't as good as Hill's. I don't buy lappers, track, bike or other riders' excuses from guys who get beat. Justin was better and won straight up. Shane will have to improve his technique a bit and focus on riding well technically which automatically will improve his speed. Seems like his starts are great and he impressed me with his start in the main. Not easy to start good when you have to go to the LCQ and have a bad gate pick. Once again, having a long start helps tremendously in that department. If it was A2, Shane, with that bad gate pick, would've been screwed. Let's not forget about Plessinger in the 250 class. He's only 10 points back. The kid is always fast in the mains but can't get a start to save his life. They showed a slo-mo of the start and his body position is like he's starting on concrete 10 years ago in the Nationals. Here's some advice dude, chest down, chin on bar pad, twist it wide open (it's a 250) and dump the freaking clutch. On the start, he's as aggressive as a grandma driving her Prius to the grocery store…
Ok, story time! When you were in your prime, did anyone ever intimidate you out on the track? Did you ever see MC, Pastrana or whomever jump things or do rhythms that worried you?
So we're talking early 2000s here… We can't talk about being intimidated but like being scared at every Friday practice. Tracks weren't as thought out back then. They built obstacles without really knowing what we were going to jump. And when you have McGrath, Windham, Lusk, Pastrana and, later on, Reed in the field, you knew those idiots were gonna jump some stupid stuff. This is what Friday practices were all about. Who could jump the highest, the longest and the most jumps at a time. It got out of hand a few times. Cost Windham a femur in Atlanta doing a quad in ;02. I've seen Travis case huge jumps without getting hurt. In Minneapolis '02, there was an on-off, quad. That quad was like in Glendale, table top, single and ski jump. But think about the era, it's 2002, it's Minneapolis in February or March and then, they built tracks with a dozer only. Bobcats weren't even in the picture yet. Dirt was soft, dozers don't pack dirt at all and the shapes of the jumps were all uneven.
Ruts everywhere but Travis and KW opened up but doing the jump so we had to do it. I was so scared but I had to jump it. I don't miss those days AT ALL. It was like that at every race at every Friday practice. When I hear riders complain about the jumps being uneven in 2017, it makes me laugh and shake my head. Those kids have no idea what their predecessors went thru in Supercross before. I'd love to see a track like Seattle or Atlanta in the '90's with 2000 Anaheim 2 whoops. Kids would strike and march in the streets threatening not to ride!
What would you tell a rider if you were team manager and he had social media scandal break out on him?
I think it's a delicate subject to deal with when personal actions affect the professional side of things. On the particular incident you're referring to, I'd tell him he's basically an idiot and there's no way anything good would've came out of it. Then, he'll have to deal with the consequences like a big boy. Most of rider's social media content isn't very professional. Some even cross the line of stupidity way too often. We live in an era where followers and likes are more important, in riders' eyes, than actual results. I don't give a shit what they eat, if they went to the beach or if they bought a "sick" car. What I care about is riding technique, dedication, being a badass mofo on a dirt bike, winning races, making money and building a retirement instead of blowing dough to impress people.
As far as social media, it should be used as a marketing tool and free advertising to promote your sponsors. It's cheaper than buy ads in RacerX or Transworld. It's not the case at all. Athletes social media accounts should be ran by people with marketing degrees to promote the riders' sponsors not to promote Chipotle, Starbucks or the company that gives you free shoes or socks by high school drop outs. Social media posts should be pro-rated with the amount of money/support you get from companies. Nowadays in the MX world, bicycle companies get more exposure on riders' social media accounts than the companies that write their biggest checks… I'm always amazed when I see that but I don't see anything changing anytime soon…