Here's what an AMA SX, MX and GP winner thought of Oakland
Here's what an AMA SX, MX and GP winner thought of Oakland
Sloppy, shitty SX track from the rain and soft track. It made the best riders in the world look like, at times, C riders. How do you ride a track like that in the ruts?
It looks like it took some time for the riders to get used to the ruts on Saturday. We saw some of them being pretty sketchy. Seems like they got better as the night went on though. I always liked a dry track or a complete mud fest. The in-between conditions like Oakland is very difficult. Because you have to still jump all the obstacles and put everything together. In a total mud race like A1 2005 for example, you just have to survive and stay on 2 wheels. On a track like Oakland, you have to make sure you jump everything correctly and not case anything. When you come up short, the bike rebounds too much into the next rutted face and it messes up your rhythm. What we witnessed in Oakland too is that you had to "open" up the jumps during the race, like Eli did in the semi with the triple-quad. The track evolves a lot and you have to adapt. In the main they were also able to race those two dragonback's a little more. Too many riders kept riding with their base lines set up in practice while others evolved with the track and adapted more. The ruts in the turns are a big key too. You can't race them too hard but instead, it's better to roll them smoothly to keep your balance and not fight them. Lastly, you have to move around in the ruts and not get stuck in the same one all main event long. The ruts you take on the first lap of the main will most likely not be good for 20 minutes.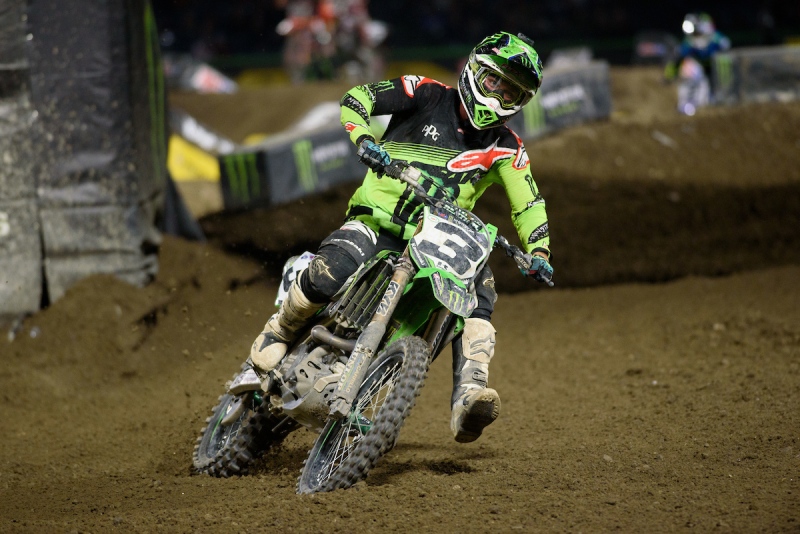 ET put on a riding clinic in Oakland for the second week in a row. Lissimore photo
Wow- what a ride by Eli Tomac to come from tenth or so to pass Ryan Dungey and win his second straight main event. He was triple/quadding and that helped but it didn't tell the whole story. What happened there?
Oakland was only the 5th race of the season and you have to realize Eli was already 20 points behind Dungey in the standing. Eli can't afford to lose more points on Dungey if he wants to stay in the hunt and have a chance for the championship. That being said, on a sketchy rutted track, he will have to take more risks to go fast and gain points. On the other end, Ryan, with a 20 point lead, he doesn't want to blow his lead in one race. The triple-quad was one of the reasons Eli caught RD. But, we could see he was charging pretty hard to come back while Dungey was riding smoothly to avoid mistakes. Eli saw he was catching Ryan as soon as he got to second. He knew the triple quad was a necessity to catch him. He was also faster in the whoops and in the dragonbacks. It was a case of hunter and hunted and the hunted had more to lose on a very difficult track. Eli's strategy paid off because even with taking more chances and jumping big rhythms in the ruts, he didn't make any big mistakes. He had a close call in the semi on the quad though but rode it off.
I also thought Tomac used the semi more efficiently than Dungey. He went out there to transfer to the main but also to improve on the track. Ryan didn't really try new things. It's surprising because Eli rode the first semi and Ryan was in the second one so he had to have seen Eli do the triple quad but decided not to do it. I'm sue the KTM boys and him saw it too. Since Ryan was a bit off since practice maybe he also wanted to get done with this race by scoring the most points with taking many risks. In a way, it's a smart strategy in the long run but not for that particular race.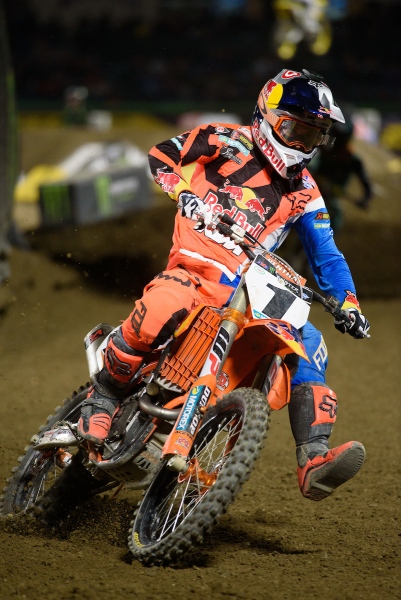 Dungey had to got to the semi for the third straight race but took home a second. Lissimore photo
Should Ryan Dungey and KTM be worried yet? Eli seems "fixed" now.
I don't think Dungey and KTM should be worried. He just had two so-so races but ended up 3rd and 2nd in those. In those last two races, Dungey's championship point lead has grown from 7 points on Marvin after A2 to 15 on Marvin after Glendale to 17 after Oakland on Tomac. Mathematically, it's really not a bad operation for him. If Ryan was riding at his best and couldn't hang with Tomac, maybe they'd be more worried. But it's not the case right now. He didn't ride very good in Arizona and rode cautiously in Oakland. With the physiognomy of Saturday race, Ryan could've won by trying a bit more or taking more chances. He got passed with 5 laps to go. I don't think he wanted to risk crashing and Eli capitalized on it Saturday.
Like I said above, it's not a bad strategy at this stage of the championship. We still have 12 races to go. It's a long series and he decided that this 6 point swing (difference between him winning Oakland or getting 2nd) wasn't worth the risk. On the other end, Eli had to try because this 6 point swing would've put him close to race back in the standing. To answer your question, we will have to wait to see both riders riding at their potential in the same main event and see the outcome. But, as far as today, there's nothing to worry about for Dungey. What he has to do is start riding at his potential again like in San Diego or in the first half of the race in A2…
Hill had everyone covered yet again in the 250SX class even after falling! What did you think about that race?
Like I said last week, I believe Hill is the best west rider right now. His 3 wins in a row are the proof. Technically, he rides a bit better than everyone else right now. But Saturday, he got a big break from his teammate's Austin Forkner crash in the first rhythm section. (Aaron) Plessinger, who finally got a start, was in third but got stuck in the pile-up. Justin went around it safely and moved to second behind Davalos. This kind of track was made for Aaron and he could've given Hill a run for his money Saturday. We'll never know but Justin was 7th in the rhythm section before Forkner crash. Lap times show us that Hill was way faster than anyone else but the development of the race might have been a bit different without the first lap pile up. This aside, Justin has been riding very well since his heroic San Diego main event. He's the man to beat in this west coast series. The top four in the standings are within 11 points which is kind of a blessing for the three riders trailing Hill. They've got Dallas coming up and they'll have to try to stay in reach of Justin before the long East Coast break. Then, it will be time to go back to work to tweak a few things, go to work and show up ready early April in Seattle.
Well, your buddy Chad Reed, after being so good last week wasn't good at all this weekend. What happened?
My opinion on the subject was given in last week's column. It's still the same. You guys can go back to it and read it again HERE.
You worked with Alex Ray this week and it paid off with a main event performance! What did you see from him, what did you help him with?
I never really saw him ride before actually. I remember him crashing while giving a high five to another rider at the end of a LCQ somewhere but that's it. I only met him in A2. I didn't even know what he looked like before that! So we went to Elsinore last Tuesday. I let him ride for a bit to warm up and see how he rode. I really didn't know what to expect. I was surprised of his abilities. He's actually a pretty good rider. We worked on speed doing single hot lap. I gave him a few pointers in the entrance of the turns to improve momentum and not seat bouncing when it's not needed. We worked on jumping in the whoops and then skimming. He did that well pretty quickly. Same thing on the other set of whoops where it was faster to jump into them. I made him move on the track a foot here and there to improve his momentum and avoid breaking bumps and we also worked on staying low in the long rhythm section.
The track got crappy and dry so the lap times were slower at the end of the day. So we worked on 6 laps intervals to try to put everything together and be consistent. When the track was good, he improved his lap time by a second and a half from what he did on his own. Overall it was a good day and he was very receptive with what I was saying. He's also a pretty cool guy to be around. I told him I could give him a few pointers when I'll be attending the East Coast rounds with Christian if he wanted. Sometimes he doesn't take much to improve the speed of a rider like Alex at the races.
What do you think of the SX TV show? What do you like, what would you change?
Oakland was better because they actually showed all the races, 250 LCQ included. When I watch sports on TV, I wanna learn something new. When you watch baseball, basketball or football, it seems we get more data on the sport than in SX/MX. I know I won't learn a lot watching SX or MX but I like to learn stats or if some riders are riding with injuries or other things. I like when Ralph did his research and teached me something, even if it's not super important. In Oakland, I found out Davalos has won 24 heat races in his career for example. I need stuff like that but I also understand more and more that they have to explain SX to people who don't know as much as us too.
Hearing blue Yamaha and red Honda bothered me in the past but not too much anymore. We know who they're talking about but neophytes might not. I get that. Overall the TV coverage isn't bad at all. We're lucky to watch the races live. When I was winning races, my neighbor in Corona had to record them on VHS tape the following friday night on ESPN2. Basically we were watching the last week races at dinner the night before the next SX races at TGI Fridays or Applebee's. It's good to have them live in HD on DVR. We might complain about a few things on TV, commercials, bikes in living rooms, Ralph and Fro (and Jim Holley & Bowyer online) using repetitive vocabulary but at the end of the day, I'm glad it's live on TV. The coverage has come a long way since I moved here and started racing the AMA series…
Let's talk about Indianapolis '02 SX…Pastrana leads you and RC early…RC hits TP and knocks him down. You chase RC down and make a late race pass for the lead. What do you remember about that race? Talk us through that main event and what went on?
It's funny you talk about this race this week on Thursday, the 9th, it will be the 15 year anniversary of that race and also 15 years since a French rider won a premier class SX race. I'm gonna post a photo of the plaque on the trophy for my Thursday, #TBT. Indy '02 was a difficult track, lot of ruts, a big groove in the middle of the whoops, a super fast dragonback and an over/under/chicane bridge. It was Travis Pastrana, RC and I after a few laps. I might have led early on but got passed. I didn't like to lead back in '02 with RC behind. My strategy was to be in the hunt in the last part of the race. I did that in Dallas too but it didn't pan out as good as Indy. At the end of the long rhythm section, TP was leading but made a mistake. His rear wheel went over the rut before the finish line and he came to a stop. His bike was 90 degrees compare to the rut. RC was already committed to take the rut and had nowhere to go and knocked him down. I remember the crowd booing RC so bad because TP was always the fan favorite. I always thought it was not RC's fault. He just couldn't miss him. After that incident, it was only RC and I in front. I felt good even if RC was tripling in the middle of the big rhythm section. I was taking inside before it and rolling the first jump so I didn't have to do that triple in the ruts. I didn't lose too much time. In fact, I was catching him when I was doing that inside prior to that section. I was showing myself every time I could. I was also better in the whoops. He kept going in the groove and was swapping a lot. I was going a foot out of the groove where the whoops were newer. I was a bit more consistent there and I saw his side panels a few times from behind.
(You can watch this race on YouTube right HERE)
But the key spot of that race was the landing of the finish line bridge. The landing was really steep and it was difficult to downside it well and it was followed by a 270 degree right hand turn that went under the bridge. I was good at downsiding the finish line jump and could take the very inside under the bridge. RC kept clipping it or over jumping it and went wide often. I saw I could pass him there if I was close enough. The thing is that I'm racing RC who will go on to become the Goat. I didn't want to pass him too early because I knew there was a chance he had the intelligence to pick up on what I was doing better than him. To be honest, I didn't want to have RC on my tail for 5,6 or 7 laps so I gambled big time and decided to do it on the last chance I had, on the last lap. I pretty much Aaron Rogers hail mary-ed it in the last opportunity I had. For the record, I tried to do the same in Dallas later that year. I was in position to pass RC halfway thru the race but waited. RC got better and I couldn't get close enough to do the same later on. Sometimes strategies don't work as planned!
Good thing my mechanic Craig Monty didn't mess up his lap count on the pit board. In the second to last lap, I did the best I could to be as close to him on the finish line jump where the white flag was gonna fly. I focused on downsiding the finish line perfectly, RC went a bit wide, I dove in the inside and made the pass. You can't describe with words what you feel at this particular moment. That's why we race, to feel like that or like I did when kind of did the same thing to MC in Phoenix 2000. When I passed RC, I told myself, get out of here! I charged hard the next few sections and got out of any blockpass reach. It was definitely one of my best memories but those didn't happen enough in my career… It happened more than some but not as much as others. I'm glad it happened though. Look, if it didn't I wouldn't be here 15 years later talking about it!