You want the truth? You can't handle the truth!
You want the truth? You can't handle the truth!
The dirt in St Louis was again pretty epic and the track was interesting with a triple as a finish line. And of course the over/under bridge was sweet. What did you think about it?
St Louis is probably the best dirt on the SX circuit for most riders. I was different, I liked the very hard packed tracks being from France and based in southern California all my career. I know you like the over/under bridge. To tell you the truth, they don't really excite me that much. They aren't utilized well most of the time. I wasn't a fan of the track. I don't like when they make a "tourniquet" (Word we use in the French language to describe a tight track with a lot of turns) on a football size floor. I've said it a million times by now, Football stadium are great to make a big and open track with room to pass. Lanes were once again very short and it was tough for the riders to get side by side to make a pass unless the guy in front makes a mistake. I didn't like the switch back before the finish. Riders made some passes but it's mainly one line and if you wanted to make a pass in it, you have to take the rider in front of you out. They put four 90-degree turns in the track where you can easily get away with only 2. I sound like a broken record but they need to stop re-inventing the wheel in terms of track layouts.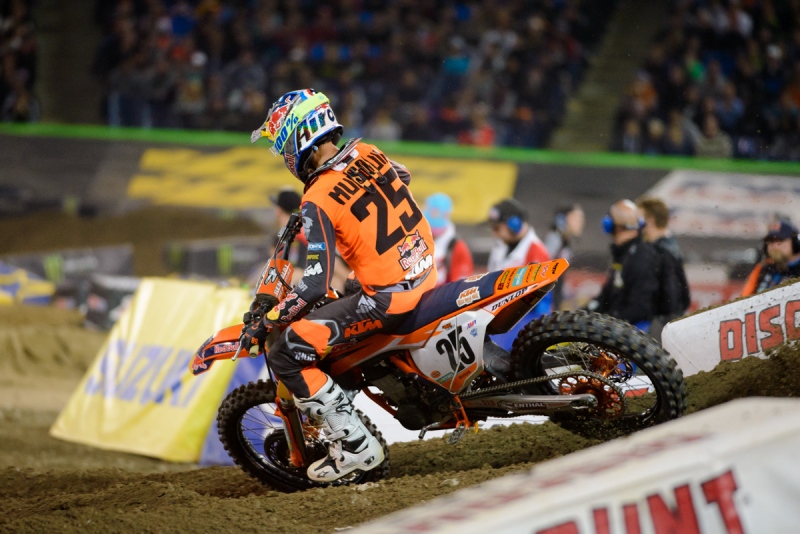 Marv collected another podium in St Louis.
They need to come up with different obstacles. What's up with the back-to-back dragon backs this season? I know it's cool but it's like wearing the same pair of shoes all week long with different outfits. At one point, it doesn't work anymore. I'm sure we came come up with different obstacles other than triples, whoops, 3 footers, 5 footers, tables and dragon backs. At least, they didn't bring sand in this time… I liked the whoops on Saturday though. I understand 250's jumping them at the end of the night but not 450's if you're gonna go 3-3 all the way down. To make it work and be fast jumping, you gotta jump them more than by 3's. On Saturday, skimming them a couple feet off the main grove in the middle was faster. When top factory 450 guys jump whoops by 2 or 3 at the most, it bothers me. If you can't launch in 4 or 5 deep and out the same way, jump click to 4th and just pin it on either side of the rut that the slow guys made.
Eli Tomac did it again but Ryan Dungey put up a fight and caught Tomac from a ways back. Why was Dungey able to slice into ET's lead before, well, you know…
Eli didn't look as radical and comfortable as other weekends on Saturday. It was maybe due to the tightness of the track. You are going to say, but he was the fastest in practice and he won the main and you are right. But he had a tough time clocking that fast lap in the second practice. His second best time was 1.5 second slower and a second slower than Marvin's second best time. In the heat race, he got the last main event spot in 4th and spent 5 laps behind Josh Grant without looking like he was able to pass him. It's why I was thinking it might be a good time for Dungey to gain some points. Ryan won his heat after a fierce battle with Reed. In the main, Dungey's "diesel" mode in the first few turns wasn't enough to keep an explosive Tomac behind. Eli gets going very quickly hence him passing Dunge in the first lap. Just like in Minneapolis or even Indianapolis, RD1 kept Tomac honest at the beginning of the race but this time he didn't lose time towards the end of the race on his own. He had help. More on that later.
Dungey was catching Tomac in the main event before being held up by the 22.
Ryan was actually catching Eli from lap 8 to lap 15. The biggest gap before the Reed incident was on lap 8 at 3.5 seconds. On lap 13, it was 1.6 second. Lap 14, 1.8. Lap 15, 1.7. Dungey was right there on lap 15 of 25. In Minny and Indy, he already had let go of the Tomcat at this stage of the main but not Saturday in St Louis. I would've been curious to see the 20th lap between a not-as-comfortable-as-past-weekends Eli and a better Dungey than we've seen in weeks past. It's a bummer Chad got in the way for whatever reason…
Chad Reed was unhappy with Dungey on the start last week where he crashed and this week he raced Dungey hard in the heat and Ryan expressed his displeasure on the podium afterwards. So Reed appeared to make life very hard for Dungey as he was lapping him…what's you take on everything and Reed holding RD up?
First of all, I heard what Dungey said on the podium after the heat race. I'm pretty sure he wasn't talking about the same action they replayed on TV. They showed the clip of the switchback where Chad held his line and squeezed on the inside. Ryan got bumped a little bit and went off the main line. I didn't think it was that bad actually. What I thought was a worse move is when Chad moved to the right in the whoops when he passed Dungey in the opening lap of the heat race. I can give the benefit of the doubt to Chad a little bit on this one because he might have thought he was more in front than he was when he moved right and almost took Dungey's front wheel away. That was scarier and RD could've ended his night if he didn't let off a bit. It was very close and I'm pretty sure Chad's rear wheel actually touched Ryan's front. But you have to understand, factory riders fight for heat race win because they can make a quick $8-10k from their factory contracts. Some factory (supported) 250 guys make $5k for a heat race win… Don't get fooled, they don't race that hard because they want the first (or second) gate pick that bad or because it's that important to get the first 2 gate picks. There's "moolah" involved…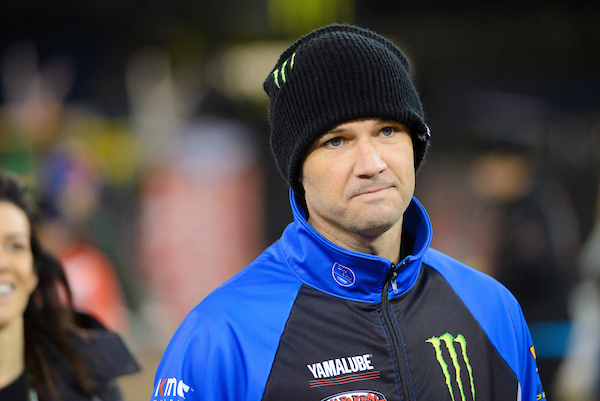 Chad Reed factored into the St Louis results although not the way he probably wanted to.
As far as the main event goes, I don't agree on what Chad did. It was unprofessional and uncalled for. I'm not aware of last week's start incident but why would Chad "F" with Dungey like that at a very important stage of the season just because Dungey called him immature on FS1 or because they tangled on a start at a prior race? Chad knows better. He's close to have raced the most main events of any rider in history of Supercross and he was a victim of an incident with a lapper when he was racing for a title before. He obviously doesn't really hold a grudge about it because the rider that tried to t-bone him while getting lapped is one of his training buddies now.
As far as Dungey goes, he has to think the whole world is after him. His own teammate "stole" 4 points from him. His team manager didn't give team orders yet to help him out a bit. I would've if I was "The Man" to tell you the truth. And then, the future Hall of Famer, Chad Reed, all the sudden becomes the worst lapper in the history. What did Ryan Dungey do to deserve this? It has to be such a bummer for him. He looked good Saturday and the last 10 laps would've been very interesting without the "Lapper Gate" story. Am I saying Dungey would've beaten Tomac? Not at all but it looked like he had a chance to. This incident could well be a 6 points turn around in the championship between those 2 guys. Then add Marvin's 4 points he got form passing Dungey late in the race. We would be at 14 points instead of 4. That's a totally different ball game… But as we say in French, with "ifs" we would put Paris in a bottle…
Marvin was right there early on but after a practice crash said that he was happy to just get third. What did you think of his ride?
I thought the track would suit Marvin very well. I thought he rode good in practice as well as during the night. He lost contact with Eli and Ryan early in the main even if we thought he could've had something for Dunge. Now, we have some conspirator theories. Was Marvin not good enough Saturday to stay with the two best guys in the series or did he finally get some team orders to stay behind Dungey in the main events? Would he lie saying he rode tight and was happy with 3rd? I really doubt it but it's very possible. We might never know but the 2 guys in front were riding a great pace and Dungey really stepped up on Saturday. And don't forget, he had a good crash in practice. To be honest, if I was in Marvin's shoes I would stay away from the title battle right now. No need to be involved in it even if he has the abilities to pass Dungey and win a race. Winning a race would actually help Dungey because if Tomac is inbetween the two KTM riders, Dungey would lose one less point. Anyhow, Marvin looked like the 3rd best guy on Saturday and he finished there. Did he give his all? That, we will never know or maybe in a few years…
Joey Savatgy again had the lead but went off the track allowing Jordon Smith to get by and win his second straight race. What did you see in the main event for those two as well as Zach Osborne who came up to get third?
Joey blew that race all on his own. His mistake in the first dragon's back looked very weird. He highsided not with the rear wheel but with the front. That doesn't happen a lot. Actually, those two dragon's backs were tough on the PC guys Saturday. Adam Cianciarulo endoed pretty bad in the second one and almost did the same thing a couple laps later. Joey salvaged a second place in the main but the gap with second in the championship is shrinking. That's also a 6 points turn around for him. His point lead could well be 12 today but it's only 6. I like the way Joey pre-jumped the first big whoop of the whoops section with the little "skimming set up ramp". He stayed low and went forward where the other guys basically rolled the set up ramp and jump the first 3 whops going to high. That was a technical move and I appreciated the creativity and efficiency. Versace also charged until the end making us think he was going to be able to pass Smith in the last 2 laps. We gotta give him credit on his effort. He tried to make us forget about his weird mistake all the way to the checkered flag.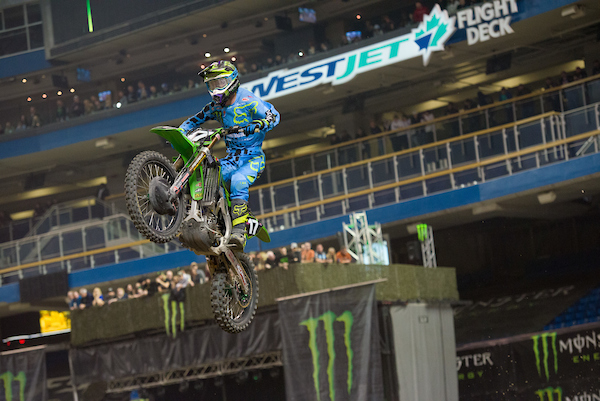 Savatgy had the lead and made small mistake to give it up, just like he did last week.
Even if I didn't do that often enough, I really enjoy watching riders give everything they have until the end. Smith is the best opportunist of the season and like Savatgy, he puts everything he has on the line. In the 250 class, it's important and efficient to do that. In the 450 class, you can be more calculated and get away with it. In the 250 class where the bikes have their peak power over 12k rpm, you gotta to twist the rubber on the ride side all the way until it doesn't twist anymore. I think I talked about it in a previous column but I'm very impressed in Jordon's riding. His riding style improved tremendously from previous seasons. I like to see that because too often riders just don't seem to be able to change for the better. Jo Smith did.
As far as Osborne, with being sick, crashing in practice, missing a session and getting a podium sport at the end of the night was good. It's a bummer to be 12 points behind the leader in the championship with 2 races to go when you've been dominating most of the season though. That Detroit first turn pile up is a heart breaker for Zacho! He only has one strategy now, win the last 2 races and see what happens with Savatgy and Smith. His destiny isn't in his hands anymore, he will have to indirectly get help from the first 2 guys in the points…
There's a break now in the 250SX east series, who do you like to take this title?
Who I like and who I want for the title might be different. I think Zach might deserve it more than the others but like I said just above, his destiny isn't in his hands anymore. Jordon "the opportunist" Smith is very impressive and the closest competition in the points for Haute Couture Joey. But, in those cases and with the points where they're at, I always like the guys who has the points lead. The points leader with two races to go has always a slight advantage, not much but still an advantage. He can still get two thirds behind Zacho and Jordan and still win. That's what I call an advantage.
Lot's of rumors about SX changing up format again next year…what would you do?
What I would do is very Utopian. I would try multiple different formats during the same season to see how they work even if it will confuse the fans and the TV audience. I'd keep our actual format for a few races. I would do a few races with the Monster Cup 3 moto format (without the joker lane) with a different point system. You can't give out 75 points a night. It's not fair to the guy who tweak his ankle during practice and not able to perform at 100%. I would try to do races with a rolling start like Nascar when all the top guys should be in front. We don't see enough the 3-4 big guys together on the first lap… And lastly, I would try a format like today with an one lap Nascar like (again) caution flag in the middle of the main event to get everyone back together for the second half of the race. SX is an entertainment. We have to make it even more an entertainment to find a better format. This actual format is getting old and a bit boring not for single races because they're most of the time interesting but for championship points. We have to have more than 2 guys in the hunt for the championship after 10 rounds…