You want the truth? You can't handle the truth!
You want the truth? You can't handle the truth!
Photos by Boris
Thoughts on the Lakewood track when you raced it what you thought of it yesterday?
The Lakewood track is always challenging and gets a ton of long ruts. Back we started racing there in 2005, it was softer because they added a lot of sand and wood chips on top of the natural Colorado soil. It seems like they went away from adding soil and they're working with the natural dirt nowadays. It has obviously more clay in it now which helps the formation of those long ruts. I really like when tracks use their natural dirt and I don't like when moto "clubs" want their tracks to look like Red Bud or Millville. It's important to have different tracks every weekend rather than having cookie cutter layouts, dirt and jumps. It challenges the riders and the teams to actually work on their set up more. I never liked racing Washougal but at least they kept the DNA of the track.
Look at Red Bud for example. It might be most of the rider's favorite track but it changed so much in the last 20 years. Back in the MC/Emig days in the mid 90s, Red Bud was as hard packed as Carlsbad in California and now it's basically a sand track. The changes were for the better obviously but we don't need 12 Red Buds in the series. Lakewood is a fun track if you can approach it the right way. You have to be patient roll your turns so much to keep your balance and momentum. I'm a big advocate of finishing your braking around the apex of the turns and opening the throttle at the exit (when your bike is in the direction of the exit) but it doesn't work on a track like Lakewood. You have you finish your braking pretty early, use a third/half throttle at the beginnings of the big long ruts and all the way until the last part of the ruts. Then, it's ok to pin it. It's a different style of riding, a little bit like riding a slick track.
Do you think there's anything to the elevation producing less power helping out the 250F racing yesterday and in the past as well?
The elevation might be leveling the field but it shouldn't. Most of the teams have a lot of data for this race and they know what to do. Add compression; play with ignition to ignite later, lean out the fuel map. I remember starting in 1st gear on a 60hp+ (at sea level) factory YZF450. That track uses a lot of power with the elevation, big uphills and often, deep dirt. Some factory teams might not be comfortable adding that much compression or leaning out what it should be. But, if some bikes are faster than other in Glen Helen, they should also be faster in Colorado. I don't see "second tier" teams having better tricks to make their bikes work better than top teams. Whatever made the class so interesting this weekend, I don't really know nor care what it is but I hope we'll see races like the ones we saw Saturday again. That was fun and I didn't regret spending (wasting?) my Saturday afternoon kids-free for nothing…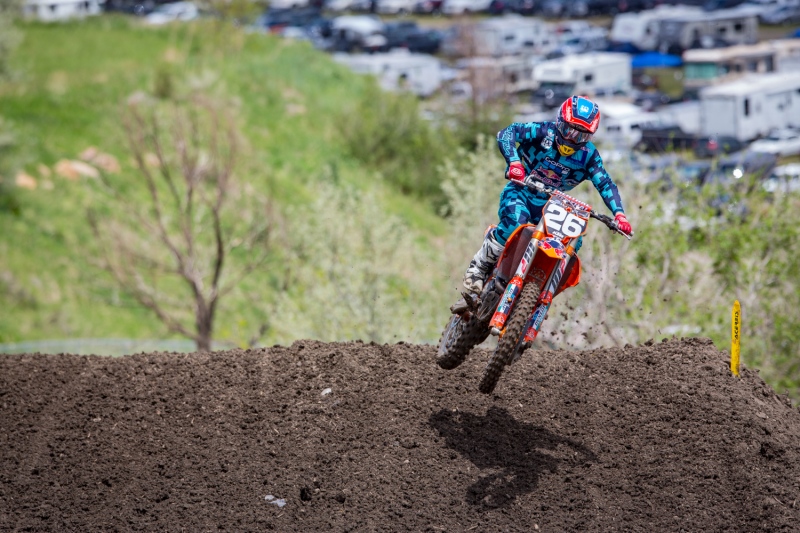 Alex Martin pulled up to within nine points of leader Zach Osborne
Can Alex Martin really win this championship?
I don't know if he can win the championship but Alex is showing me bits and pieces of brilliance. I've talked about it in SX as well as after Hangtown. Alex is very impressive in long ruts. His corner speed is great but also his balance. Whatever I talked about how to approach the long ruts in Lakewood, he's doing it very well. It's not like he's charging hard, he's just keeping his momentum and his flow while most of the other riders do too many stop and go's in the ruts and lose their balance/speed. As far as the championship goes, he's 9 points back but only scored 1 moto podium in 6 motos, which was his moto win Saturday. He's consistent and it's working well right now but I'm afraid that his consistency isn't high enough.
We have to take in consideration JMart, Savatgy and Forkner have all had a DNF and/or multiple issues already. Zach just scored an unfamiliar 8-5 in Lakewood after winning the first 2 overalls. A-Mart is doing great but he will have to gain 1 or 2 spots in his consistency to be a contender at the end of the year. The 250 class is very homogenous right now. We thought Zach was going to run with it but so many guys can win a moto. We've had 6 motos and 5 different moto winners already. It's anybody's championship right now even if Zach has a 9-point lead right now. It's nothing with 18 motos to go.
What else did you see in those 250 motos…from Savatgy winning to J Mart to anything else?
Savatgy rebounded well after a tough Hangtown and a DNF while in 7th in moto in Glen Helen. I don't think he would've gotten way better than 7th in that moto at GH though. If you give him 14 extra points, he'll be at 107, 12 behind Osborne instead of 26. Joey didn't look as impressive as Baggett in the 450 class but got the job done in Colorado. It will help his confidence. I hope PC figured out what went wrong with their bikes in their backyard 10 days ago.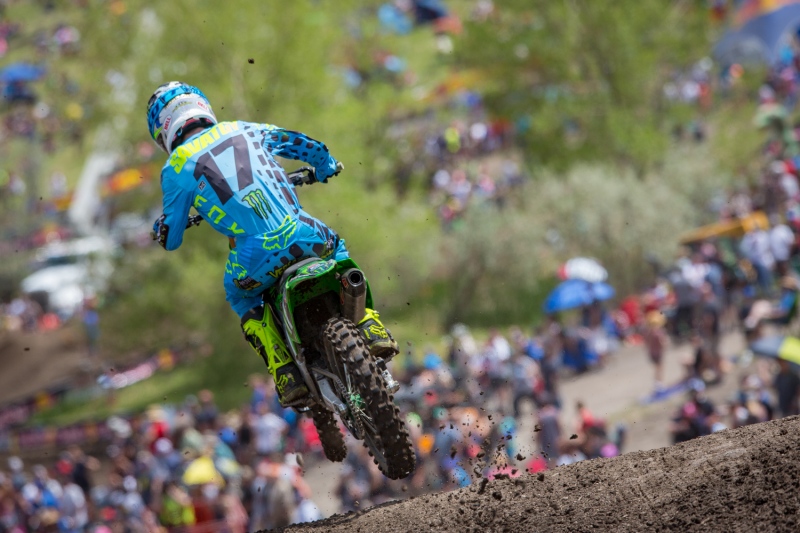 Savatgy strikes back with his first national win on the year.
I'm not super impressed with J Mart in this MX season yet. He's been looking really tight and off, speed-wise. He was more than a second off in both motos in Lakewood. With his starts and the way the motos went, he should and had to go 1-1 in Lakewood. He was 2nd in the first lap and got 3rd in moto 1. In moto 2, he got to second at halfway and couldn't pass Savatgy who was only 2 seconds in front of him at halfway. A two-time champion on one of the best bikes should do better than that in my opinion. I also wanna see better scores from Plessinger. He was the fastest in both motos but only got 7th in moto 1 and, yes, the flaggers screwed his moto up in the second… You're not allowed to be the fastest by a full second, catch up to 4th before halfway and end up 7th.
A few words on Ferrandis. He hit the gate in moto 1 and came back 9th with the 3rd fastest time. In second moto while 4th, Izzy crashed into him when getting lapped and they both crashed. He got 6th but with the 2nd fastest time. 9-6 isn't a great score but the potential is there and his Glen Helen moto win wasn't pure luck. He's learning the hard way but he'll be up there soon again.
Can Blake Baggett really win this championship?
If he rides like Saturday at every race, Tomac and Musquin should be worried. He was on a mission in Colorado. His first moto was more than impressive. In the first turn pile up, 26th on the first lap and caught up to 3rd with the fastest time. It looked like he was on a different track than most of the other riders. He opted for a lot of outsides which worked very well. Like I said above, momentum and keeping the flow around a very treacherous track was key. Way too many guys kept their inside lines for too long. That was the key on that track. His drive to win was insane this weekend. I haven't seen that from him since his 250 days.
In 2011, when I was managing MotoConcepts, we were at Competitive Edge to do some testing. Blake was then working with Aldon and was RV's training partner. They were just training and motoing. They started what it looked like a 40-minute moto. RV was ahead and Blake started 15-20 seconds behind. Baggett was absolutely flying like I've rarely seen anyone rode like that. Blake caught RV, passed him and pulled away. I was supposed to work but I took a break to watch that moto. It was one of the best things I've witnessed in our sport. Brent Myron, Chiz's mechanic then, and I started cheering Blake on the side of the track. It was great. From my couch Saturday, his ride reminded me of that day 6 years ago. We knew he had the potential to do what he did Saturday but he didn't show it since then. Now, he's realized he can beat the best 2 guys on paper, Eli and Marvin, straight up. It has to feel good and should build his confidence. Now, he won't surprised anyone anymore and confirming is always more difficult. We'll see in the next few weeks what he's going to do. But if he confirms this level of riding, he might start shaking up the 2 title contenders more than they'd like to be shaken up…
What's up with Tomac from what you can tell? Should we hit the panic button?
It's way too soon for the panic button. He showed in the first 3 motos that he was the fastest/best guy out there. Then, Front-Brake-Gate happened again in Glen Helen. Lakewood might be his home track but we have to remember that 2 years ago he broke both of his shoulders there. It has to be on his mind still. Last year, he went 5-2 for 3rd overall. In the first moto, when he got to 3rd after a few laps, I thought, and I'm sure most of "us" did also, he was going to win the moto with Bogle leading and Anderson second. Then, he crashed. His inside foot caught a rut and did a nac-nac in the middle of a turn. That's never good. I'm not sure if he got hurt in the process but he never looked the same after. In second moto, he led almost until halfway but he had nothing for Baggett. He lost 12 seconds in 9 laps.
That's very unlike Eli and I'm wondering if something was wrong with him. In this second moto, we saw him riding standing up a lot in left hand turns and I'm wondering if he didn't hurt his left leg/ankle/knee in the first moto crash. Him riding standing up where he wasn't supposed to and not charging like he normally does was a bit awkward to watch. It's why I'm guessing there was some kind of an issue somewhere. Just like for Baggett, we're going to have to wait until High Point, and the weekend off in between, to see where those guys stand. That's only their third weekend off since A1, they need and deserve it.
Marv's first moto charge was amazing and his second moto not too bad either. What did you think?
I'm a bit worried with Marvin since the beginning of the outdoor season. He looks way too mellow and way too Dungey-like for my liking. It seems to me like he's more a mathematician these days than a MX rider. Let's repeat what I said about him quickly since the beginning of the MX series. His Hangtown was too mellow and it seems like he only wanted to go 2-2. He could've easily won the second moto. First moto in GH, he had the opportunity to win and he did but didn't really force his talent. Seely, not an outdoor specialist, stayed way too close to him for 20 minutes. Second moto, he was fourth until Craig "gave" him the podium spot. Tickle stayed within 3 seconds of Marvin for 35 minutes. Then comes Lakewood. First moto, first turn pile up and comes back 4th. On paper again, pretty good. Baggett was 7 positions behind Marvin in the first lap but ended up 10 seconds in front of him at the end of the moto. What I want to demonstrate is that Marvin could've done better. When we see Baggett finishing 3rd, 3 seconds behind Anderson, and Marvin being 7 spots higher in the standing on lap 1 than Baggett, we can speculate and say Marvin could've gotten 2nd.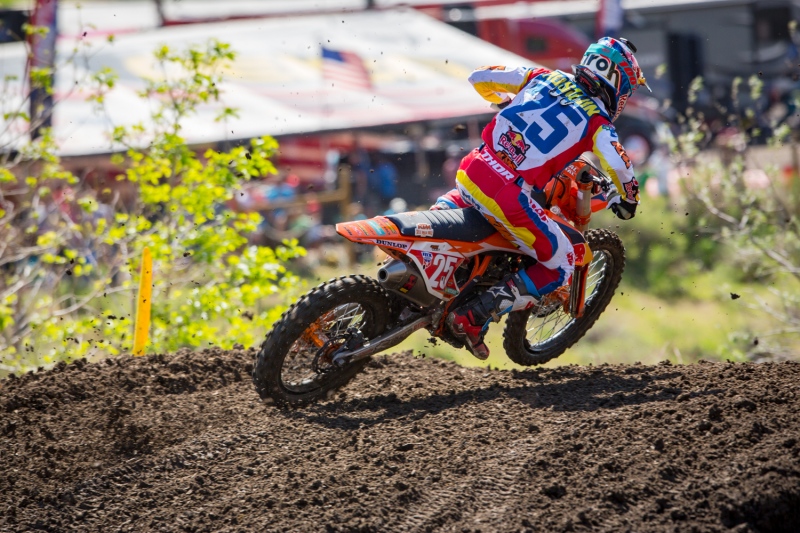 Vuillemin wants more from his buddy Marv
In the second moto, Baggett and Tomac were half a second faster than Marvin on the fastest lap. It's not much on a 135 seconds lap time. Baggett finished 30 seconds in front of Marvin and Eli, 18. Once again, on paper, everything looks great for the escargot eater. I'm very happy for him that he has the red plate and extended his points lead by 2 points. I know what it's like to do what he does as an "immigrant" far from home, I've been there before. I respect his dedication, work ethic, his cool personality and I might ask for too much but I need to see more… Mathematically, it's going great for Musquin. The manner is just not there for me yet. I want to see more fight in him, more drive and more heart and less points calculation… They have time to calculate points and ride not to make mistakes. It's too soon for that. As we say in French, "it's at the end of the ball that we pay the musicians"… The ball is far to be over. Come on Marv', just freaking pin it once in a while and show us the famous Marv'Attack!