You're probably just coming out of your Redbud hangover, so I'll keep it easy on the eyes.
You're probably just coming out of your Redbud hangover, so I'll keep it easy on the eyes.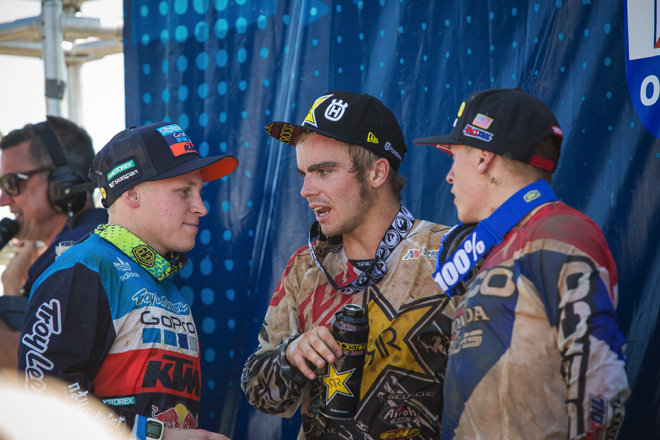 Look! It's a ClubMX class reunion on the podium.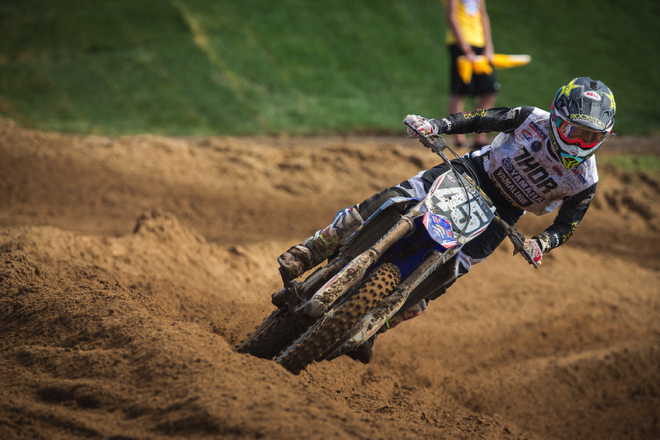 Harrison blew everyone's wig back at Redbud. Home track or not, that was an IMPRESSIVE display. He was not going down without a fight and even when you expected him to fall inline, he pressured the leaders!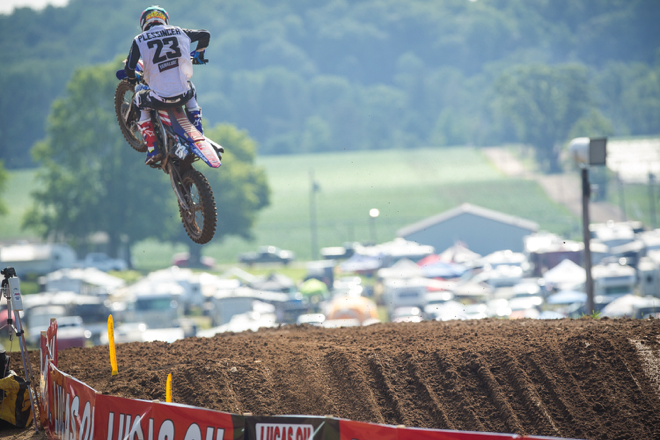 Plessinger brought a totally respectable mullet and 'stache to Redbud, unfortunately it didn't get the podium attention it was worthy of.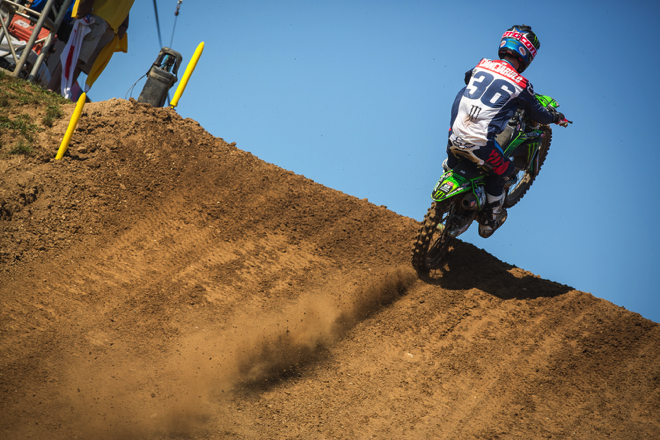 AC had an utterly forgettable Redbud. When the gate drops and you're in neutral, it's like that nightmare when you show up to an event naked. Well, that's normal at Redbud, so imagine anywere other than Redbud.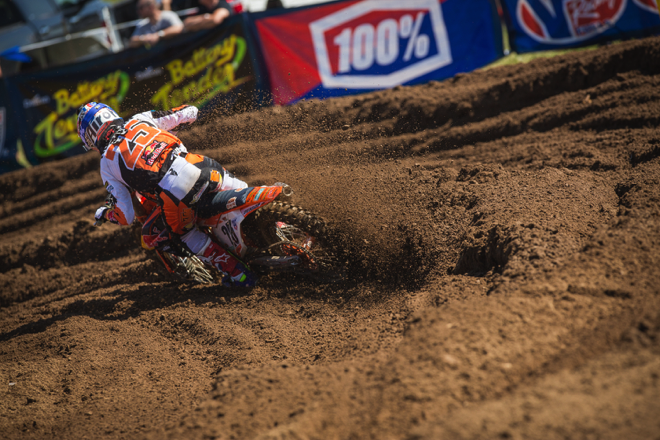 Marvin can finally turn left again. His knee is no longer bothering him like it was so he'll be back on the banks of Darlington any day now.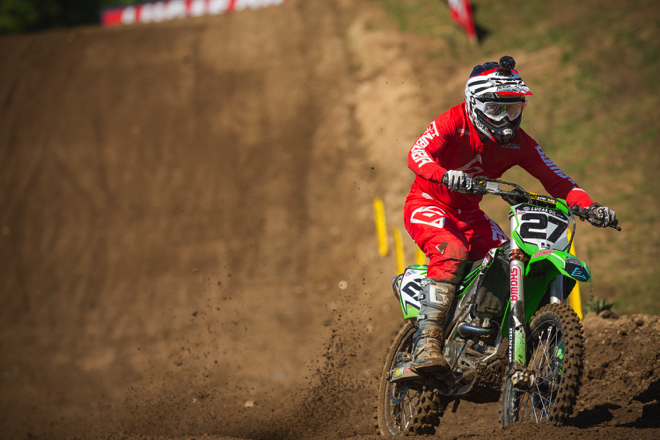 The Mentor. Giving the fans what they want–no, what they NEED.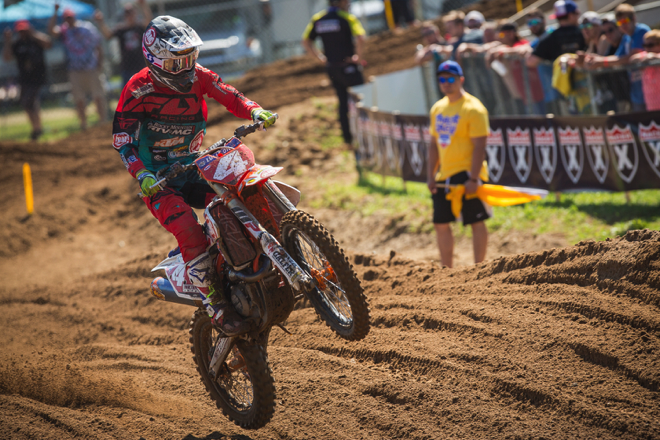 Baggett's Redbud saw his red plate snatched away, due in part to the #21 putting a touch of stank on an early moto 2 "rut-sharing" event. That's a cheeky way of putting it.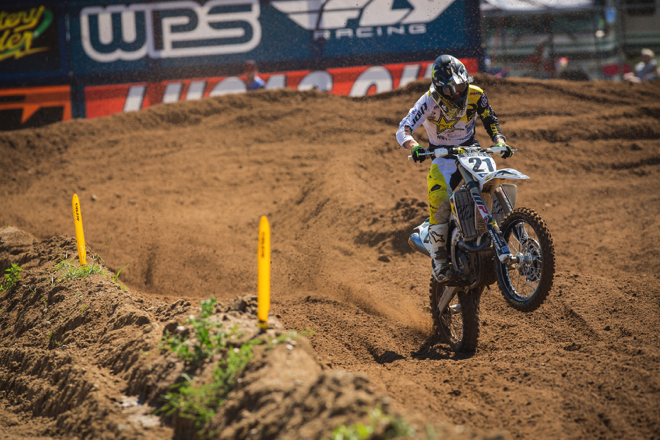 Anderson's move on Baggett was absolutely intended, not dirty but a meeting of circumstance and just enough intention to do the deed. Like adding just the right amount of butter to your popcorn. I don't disagree with it, shoot; Anderson has just as much a shot at this title as Baggett does. Anything goes at the midpoint of the season.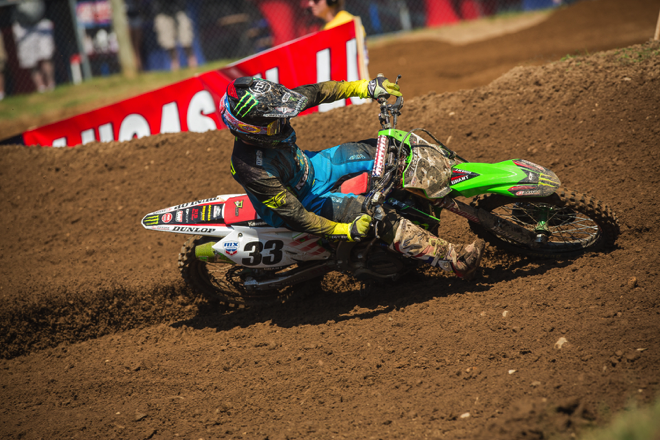 Grant loves him some Redbud so I was stoked to see he was lining up afterall following the Kawi PR that he would miss it. It wasn't lights out great, but it was worth the trip.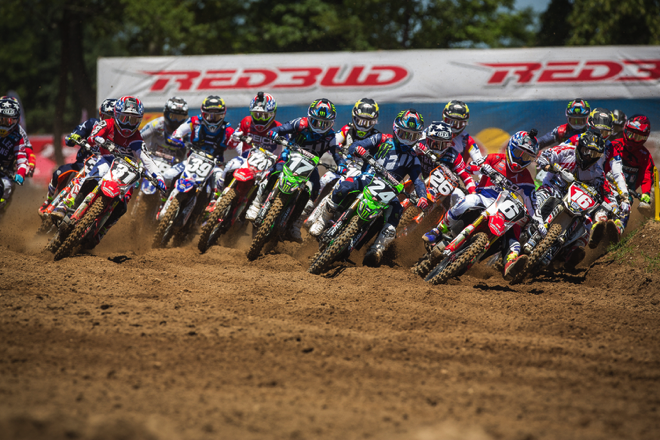 The #6 of Jeremy Martin pulled two holeshots, it's just unfrotunate that the second one ended about 3 feet beyond the stripe and he was forced to mount another J-Mart-Charge.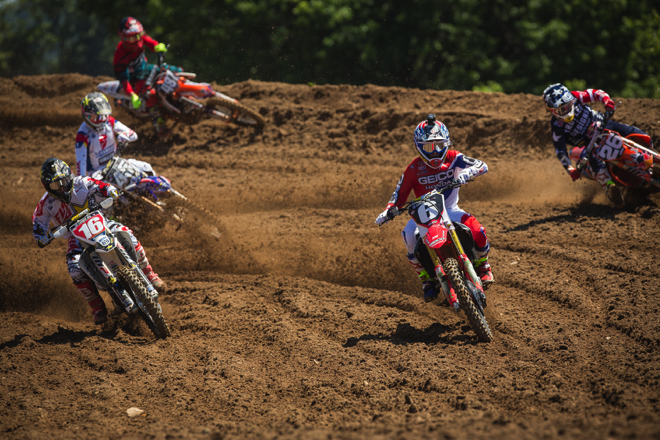 The top 3 in moto-one, runnin' and gunnin'. This was a master-class in pressure and resistance.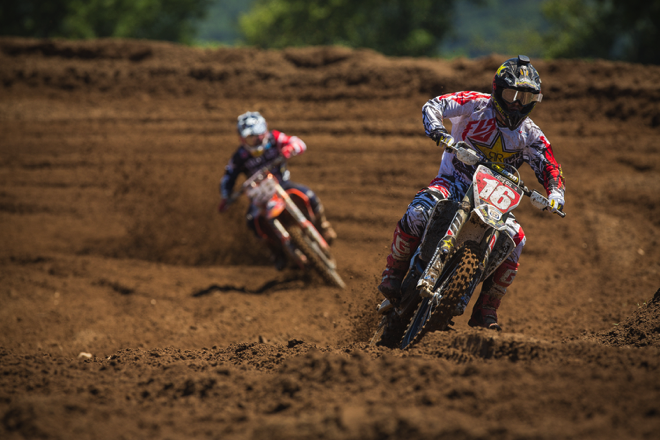 I thought this was a young man's class? Respect your elders, bitches.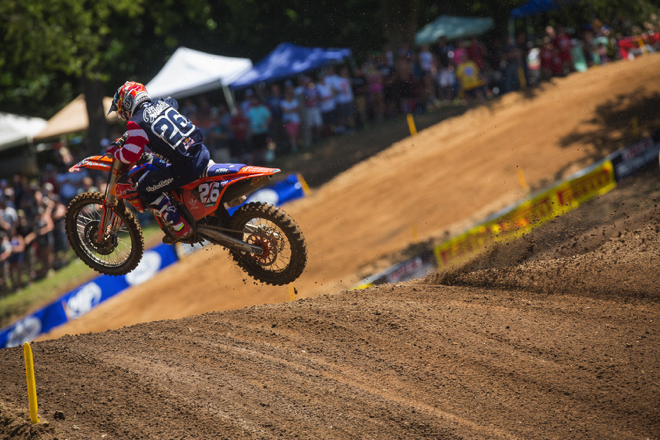 I am continually bewildered by Alex Martin. We NEVER see this type of rise to the top of the class after so many years of struggle. It's such an impressive story. One of the best in the history of the sport in my opinion.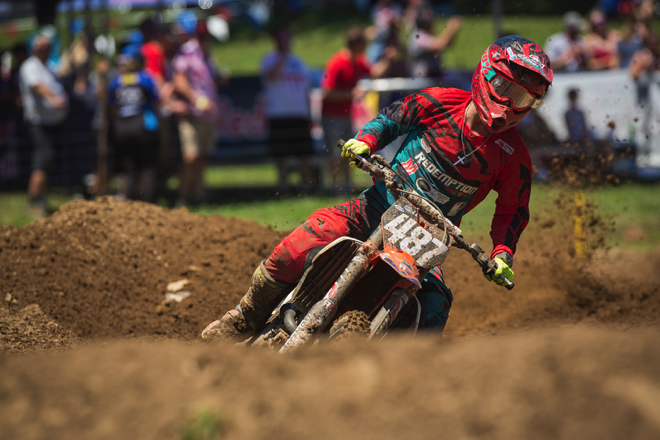 Josh Osby crossed the border from his Canadian series to run em at Redbud. We're multi-national bro's!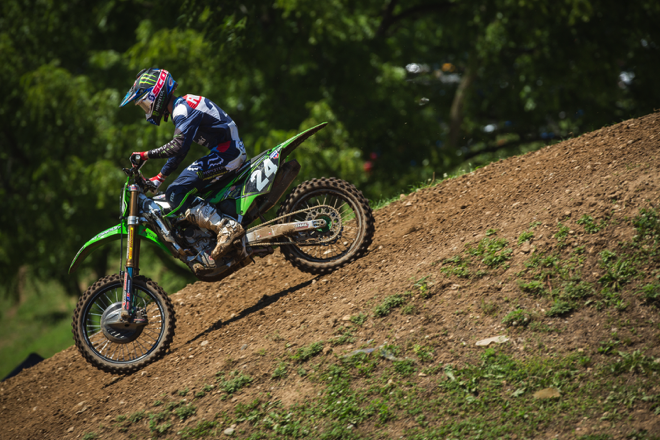 How many of you would have thought Austin Forkner's rookie debut MX series would be the high water mark of his progress thus far? I expected him to have multiple race wins in SX and MX at this point.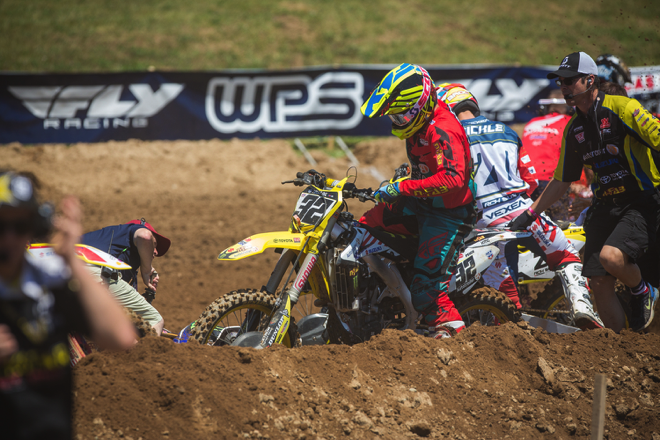 The last time these guys got together, Broc landed on Weston and BROC WAS THE ONE INJURED. Don't mess with the bull.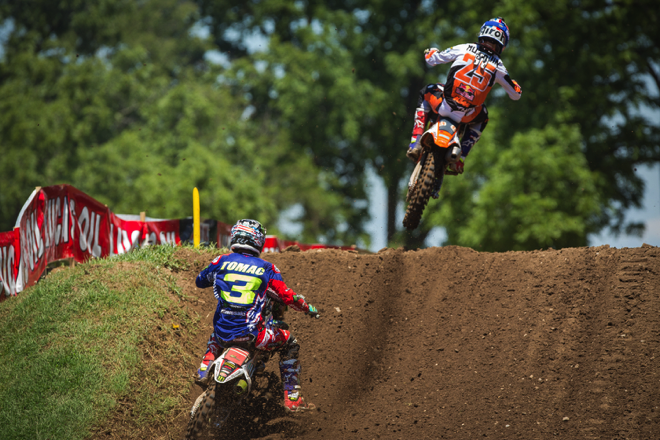 Tomac about to make hay while the sun was indeed blazing.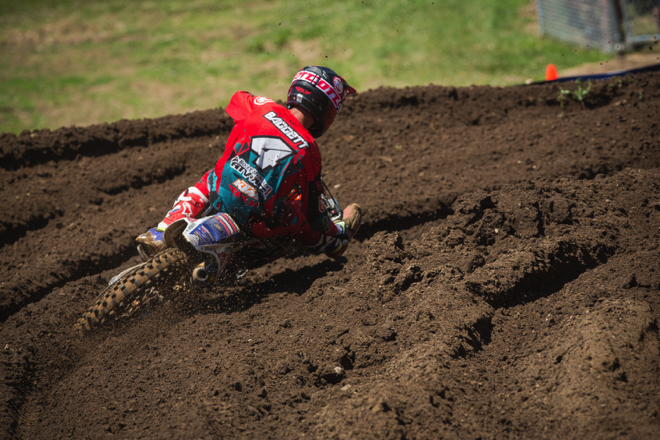 Blake trying to salvage the second moto.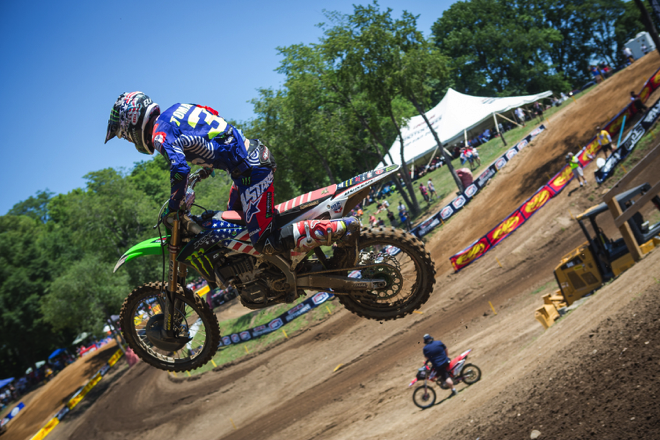 The RED, WHITE and BLUE. Salute another ET3 1- on the day. Moto 1 still leaves us all believing this title is far from over.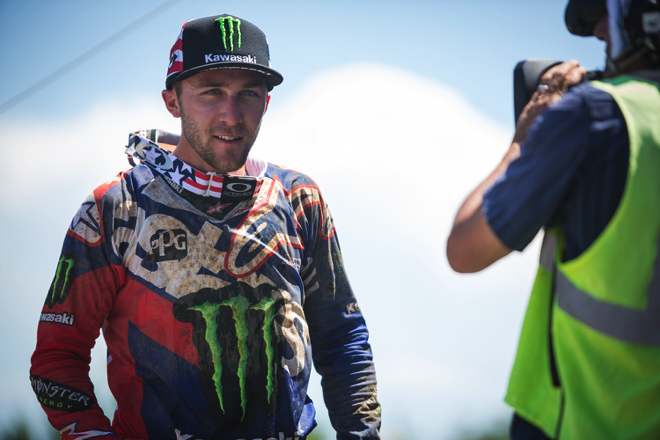 Eli peering in to see if El Chupacabra is still talking…