For this edition of Moto Gear History, we are going to look back at Fox Racing in the decade of the nineties.
For this edition of Moto Gear History, we are going to look back at Fox Racing in the decade of the nineties.
Joining me in this look down memory lane will be two of the men who were instrumental in Fox's meteoric growth during this decade: John and Greg Fox. These two, along with their brother Pete and sister Anna, formed the nucleus of the Fox brand in the nineties. As their father Geoff moved away from running the day-to-day business, all the Fox children moved into more prominent roles at the company.
John would helm Fox's new video division, while Greg would focus on sales and distribution. Pete continued his role as head designer and Anna headed the call center and quality control departments. Together, these four Fox children would shepherd the company into the new millennium.
At the start of 1990s, Fox was on a major hot streak. During the latter part of the previous decade, they had made major strides toward supplanting JT Racing as motocross' "it" brand. The charisma of Ricky Johnson, combined with the inspired designs of Pete Fox, had turned the once staid company into a motocross trendsetter. Innovative designs, exotic prints, and ground-breaking ad strategies had all combined to put Fox at the forefront of motocross mindshare.
By 1990, Ricky Johnson had moved on, but Fox remained in the limelight with a stable full of young up-and-coming talent. Damon Bradshaw, Jeff Matiasevich, Ronnie Tichenor and Larry Ward (a mid-season addition) headed up a youth movement that looked to be supplanting the old guard of motocross. These wild young kids rode aggressively on the track and proved a perfect match to Fox's avant-garde gear designs. Zebras, spiders, bones and barbed-wire would all make an appearance in the early nineties, and who better to market it than this youth gone wild?
While Fox would begin the decade in a great position, the nineties would not be without their challenges. Increased competition from brands like AXO Sport would mean a massive escalation in rider salaries and the departure of some of their most-celebrated riders. As always, however, competition improves the breed, and Fox would bounce back from these minor setbacks to do some of their best work in the nineties.
Overall, the decade would be a great era for motocross and great time for Fox. The popularity of home video, mainstream TV coverage, and the emergence of stars like Jeremy McGrath would all help thrust motocross and Fox into the mainstream. The iconic Fox head logo, once a secret code to other motocross enthusiasts, would eventually become a common sighting at malls across America. While some "core" fans would lament this expansion into the civilian population, there can be little doubt it was a great move for Fox.
Today, you can find the Fox logo on everything from Star Wars merchandise to Wheaties boxes. To many outside the motocross bubble, Fox Racing is more than a gear company; it is a lifestyle brand that appeals both to its core audience and a new generation – a generation that knows Fox more for their stylish tank-tops than their kidney belts. To them, the Fox head logo means more than motocross; it means cool, and that is something every one of us who grew up worshiping Ricky Johnson, Mark Barnett or Ricky Carmichael can relate to.
Here is Fox Racing in the 1990s, viewed through the ads and products that helped shape the decade. If you missed part five, where we covered Fox Racing in the seventies and eighties, you can read it HERE.
If you would like to read more about Answer Racing, you can check out our look back at them HERE and HERE
If JT Racing is more your speed, you can read all about their rise and fall HERE and HERE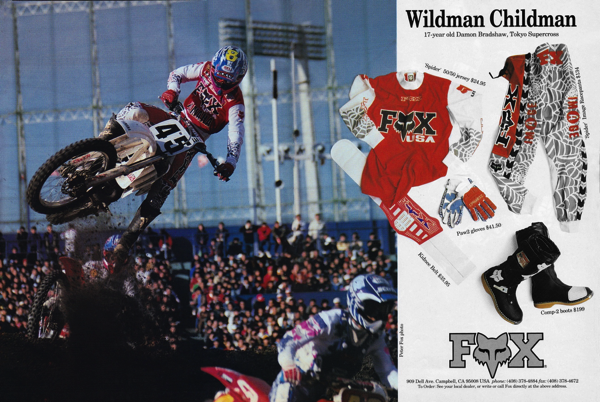 Blaze: Fox's gear for 1990 was largely a carryover from 1989, but the spider-webs, zebra-stripes, dots and squares still looked as fresh and innovative as they had the year before. This picture of Damon Bradshaw from the 1989 Tokyo Supercross (shot by Pete Fox) pretty much encapsulates the style and aggression that made the Beast from the East such a coveted motocross prospect.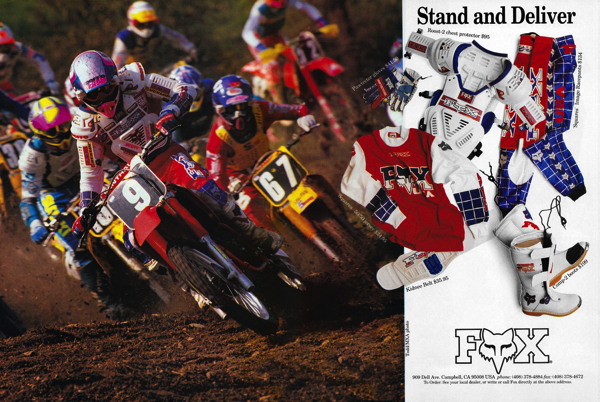 Blaze: In 1989, Donny Schmit took his Pro Circuit-backed privateer Honda to fourth overall in the 125 National Motocross standings. While doing so, he certainly looked good in this red/blue Squares colorway. It is interesting to note, however, that by the time this ad appeared in the magazines, Donny was already halfway around the world riding a Factory RM125 for Bieffe Suzuki.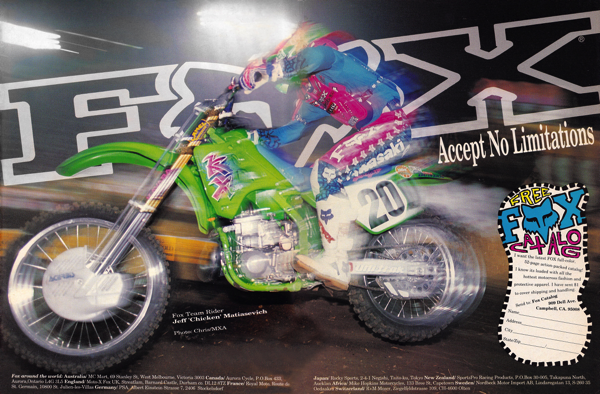 Blaze: As much as I loved the Zebra gear Bradshaw made famous, I may actually have preferred this pink/blue Spider-Web combo Jeff Matiasevich loved to run. Chicken looked sooooo good in 1990 in this stuff.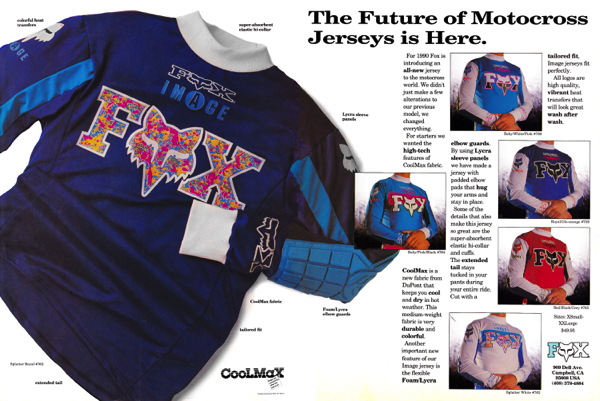 Blaze: High-tech new fabrics started to make their appearance into motocross in the early nineties. The new CoolMax jersey used a DuPont-designed fabric to offer increased airflow and better moisture wicking than a traditional cotton jersey.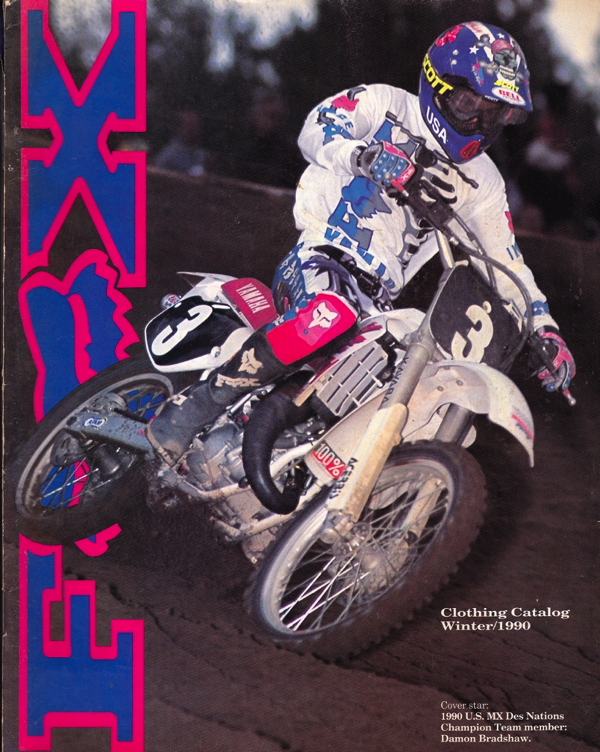 Blaze: At the end of the 1990 season, Damon Bradshaw made a rather surprising jump to Jim Hale's AXO Sport. According to reports at the time, Hale offered Bradshaw triple his Fox salary to make the switch. This offer turned out to be too good to pass up, and Damon left the brand that had sponsored him since his mini-cycle days. This sad departure was quickly followed by the defection of Fox's other big gun, Jeff Matiasevich to RS-Taichi in a similar cash grab.
Greg: For the 1991 season AXO paid Bradshaw seven times what Fox was paying Damon. The same was true with RS Taichi buying Matiasevich away the same year (although Taichi ended up not fulfilling their salary commitment and Chicken returned to Fox 2 years later)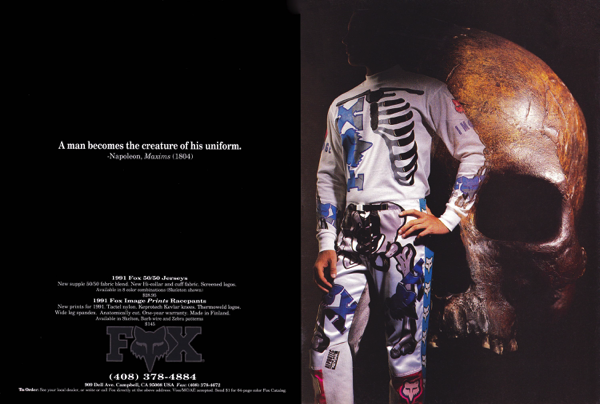 Blaze: Losing their top riders was not the only bummer deal Fox had going in 1991. The runaway success of Pete Fox's Zebra gear led them to experiment with a couple of my least-favorite Fox designs. This Skeleton look was just weird and a bit of a questionable choice in a sport notorious for broken bones.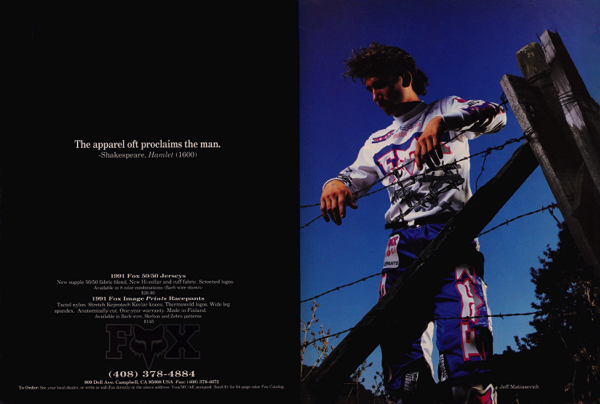 Blaze: One of the last ads Jeff Matiasevich appeared in before his switch to RS Taichi was this one for the new Barb wire colorway. Much like the Skeleton, this one left me scratching my head a bit in 1991.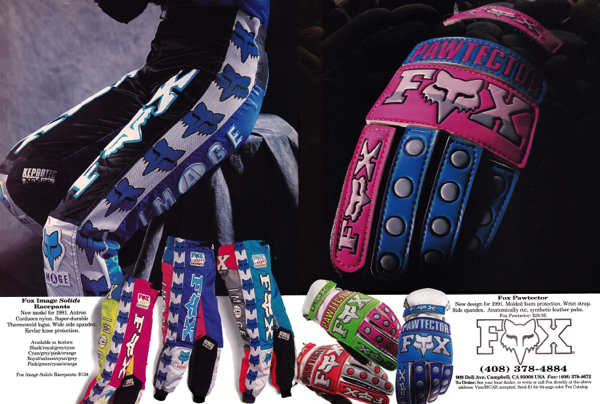 Blaze: While I did not care for the Barb wire and Skeleton look, the Pink/Cyan/Green Image pants were pretty sweet in 1991. The Pawtector was also still going strong, with a new look and an innovative "ClearShield" coating that promised to keep that flo-pink glowing longer.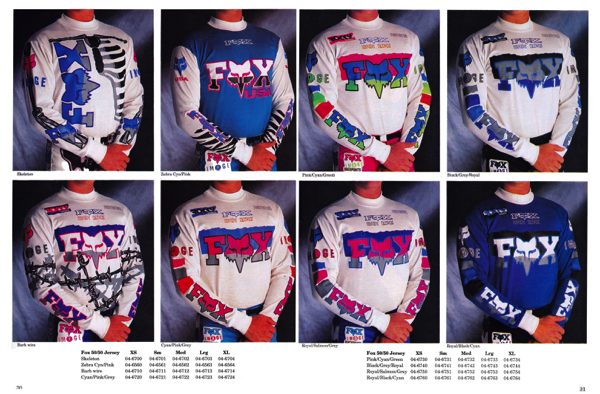 Blaze: Honestly, I didn't really love the look of the new 50/50 jerseys for 1991. They were certainly not ugly, but neither were they particularly eye-catching. The only ones that stood out to me were the Pink/Cyan/Green and the original Zebra, which continued to truck on like The Little Engine That Could.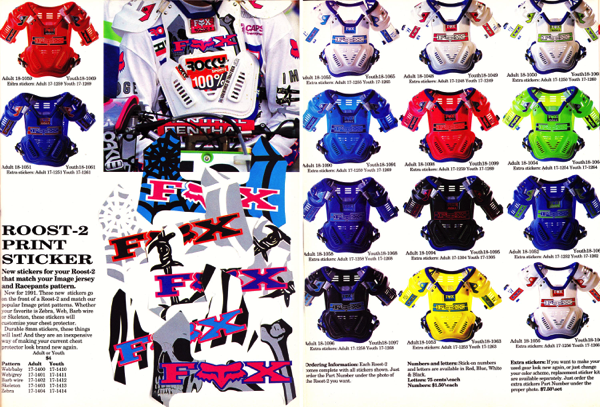 Blaze: The lovely Roost-2 was back for 1991, with new stickers designed to match the patterns on the Image gear. Personally, I did not think this was an improvement.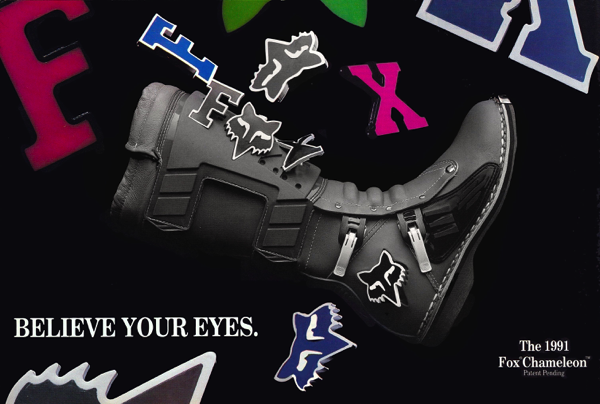 Blaze: in 1991, Fox retired its iconic Alpinestars-built Comp-2 boot in favor of an all-new design. Dubbed the Chameleon, it retailed for $269.95 and offered an interchangeable logo and buckle system that could be used to customize the boot to nearly any color combination. While innovative, the Chameleon proved far less popular than the boot it replaced. The switch-o-change-o logos popped off, and most people turned out to be pretty indifferent to swapping out their buckles.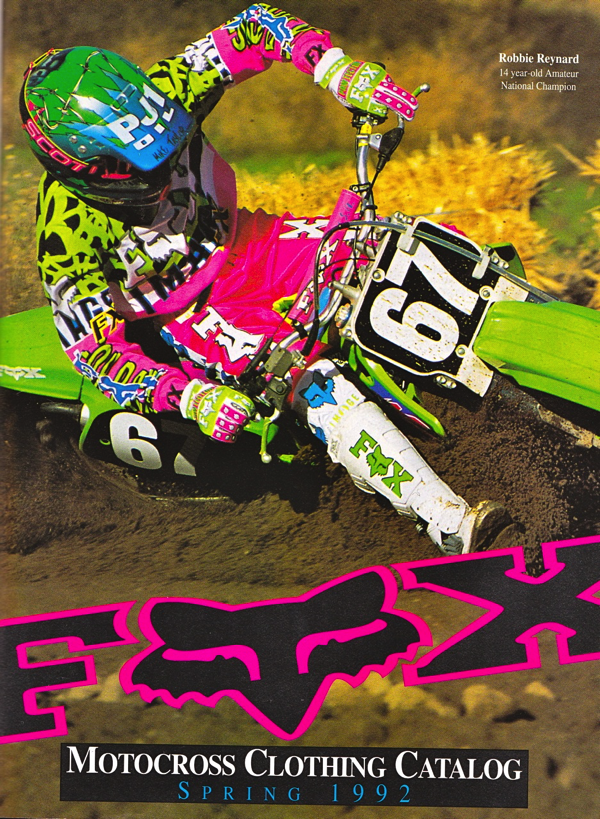 Blaze: After the departure of Bradshaw and Matiasevich, Fox's highest-profile athlete was probably amateur phenom Robbie Reynard. The Oklahoma native was pegged by many to be "the next big thing" and graced the cover of the 1992 Spring catalog.
Greg: By 1992, Fox's Top Professional rider was National #27 Ray Sommo. All the better riders had been bought away.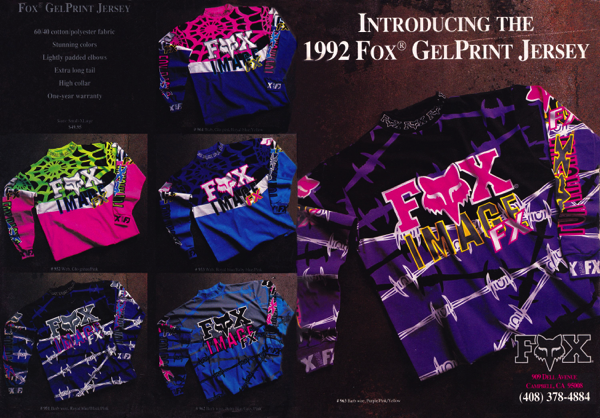 Blaze: The introduction of gel printing to the motocross industry meant an explosion of bright and vibrant colors in the early nineties. While undeniably eye-catching, these jerseys breathed about as well as Saran Wrap and literally baked you to death as you rode.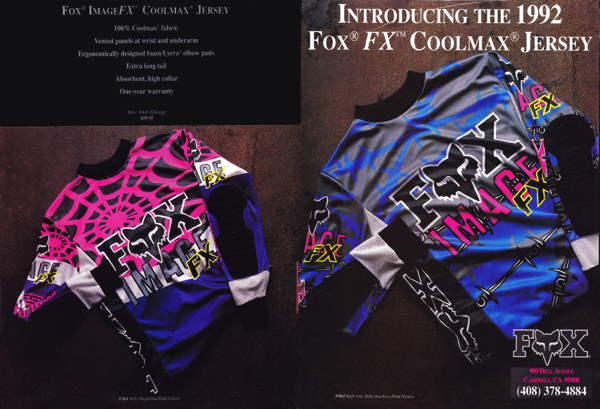 Blaze: If you liked your Spider Man and Pamela Anderson jerseys (that's a Barb Wire reference, ask your dad) sans sweat box, you could opt for both in a sano Coolmax version in 1992.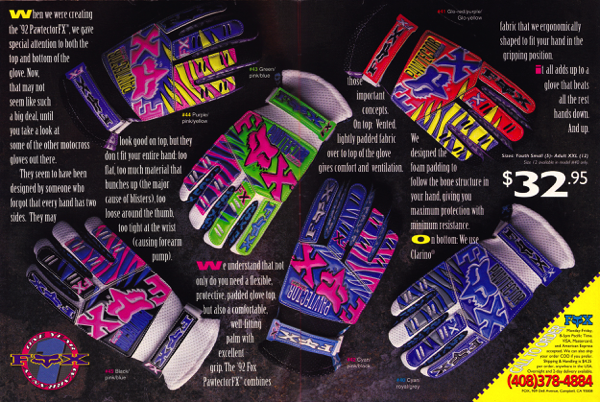 Blaze: If you thought the 1992 ImageFX jerseys were crazy, they had nothing on the new PawtectorFX gloves. These bad boys looked like Pete Fox took every print design from the last four years and stuck them in a blender.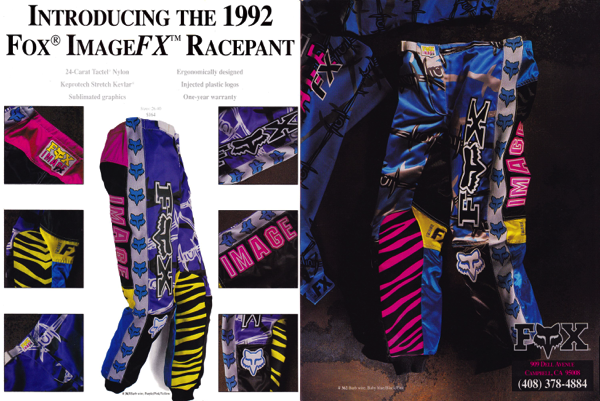 Blaze: The 1992 ImageFX pants were likewise a conglomeration of Fox's greatest hits from the previous four years. It was at this point that I came to the conclusion that zebra had officially jumped the shark.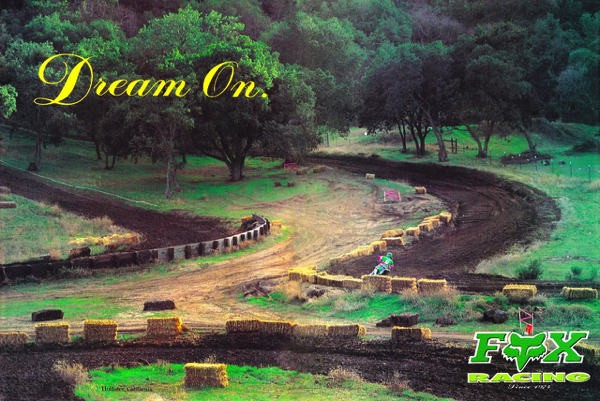 Blaze: At the end of 1992, Fox released the first of what would become a series of ads, featuring their sponsored athletes riding and resting in beatific outdoor settings ranging from rolling hills to desert dunes. Tagged "Dream On," these pieces of motocross art perfectly captured the off-road enthusiast's unending quest for the perfect ride. This first one, shot at Hollister in California, came about during the cover shoot for the 1992 Spring catalog seen above. While walking the track looking for an advantageous shooting location, Pete Fox turned to see Robbie Reynard out burning some solitary warmup laps on the loamy track. Struck by the image, Pete pulled out his camera and captured what would become one of the most iconic images of nineties motocross. Dream on…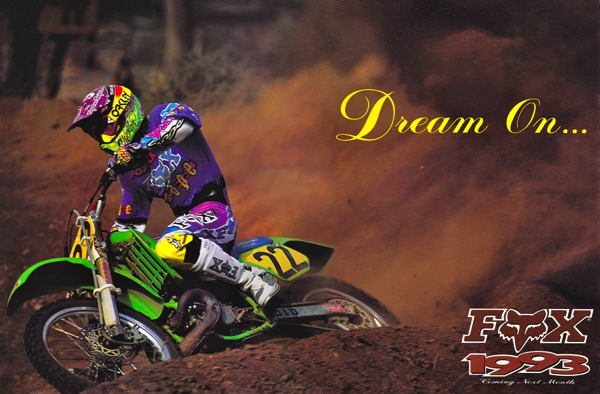 Blaze: If 1992 was the epitome of outrageous graphical excess (in gear and motorcycle appearance), then 1993 was just the return to sanity motocross was looking for. The bright colors of '92 remained, but the graphics and overall designs were much classier and more understated. Even better, Chicken was back in the fold at Fox after his deal with RS-Taichi went south.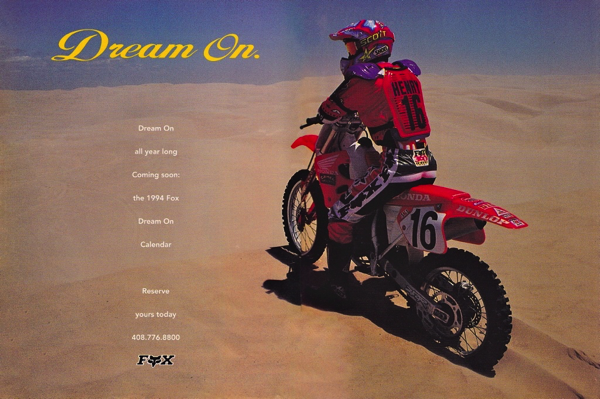 Blaze: Joining Matiasevich on Team Fox for 1993 would be Honda's newest hire, Doug Henry. At the end of the season, Henry would bring Fox its first National title since Ricky Johnson in 1988.
Greg: Doug Henry started wearing Fox in 1989 while a privateer racing out of the back of his van. In 1991, he was offered a two-year support ride with DGY which required Doug to wear Answer gear. With Fox's blessing, Doug took the DGY ride and two years later when he landed a Honda Factory Ride for the 1993 season, he rejoined the Fox team.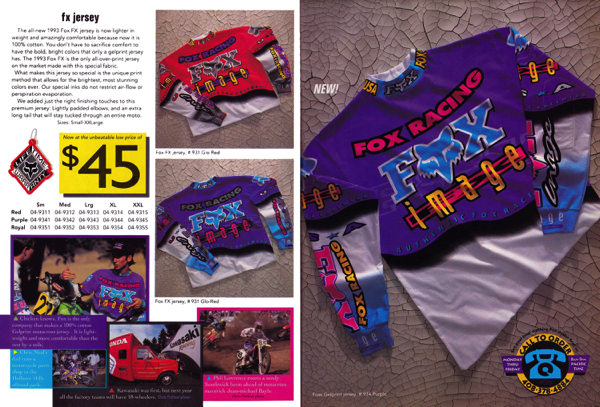 Blaze: I really loved Fox's new ImageFX jerseys for '93. They offered the bright colors of the gel prints, but with a better-breathing 100% cotton construction.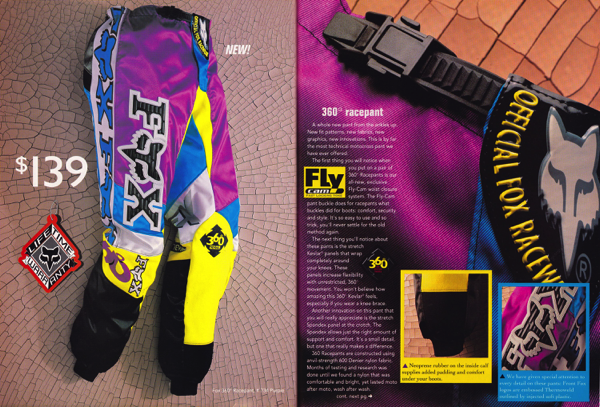 Blaze: The matching 360° racepants for 1993 were just as clean and classy looking as the jerseys. In the mid-nineties, purple became the hottest color in motocross for some odd reason and Fox was ready with a full arsenal of purple pants and jerseys.
Greg: The 1993 Fox 360° Pant was the first racepant to feature the "Flycam" waist buckle system.
John: Greg's comment is spot on. In addition, this was the first racepant to have 360° stretch material around the knee area of the pant (thus the name 360°). Back then, many riders wore knee braces and all of the pants during that time frame were too tight in the knees for knee braces. This racepant design took that into consideration. It is also the very first Fox 360° Racepant – a racepant that has gone on to become the symbol of the Fox racepant line for almost 25 years.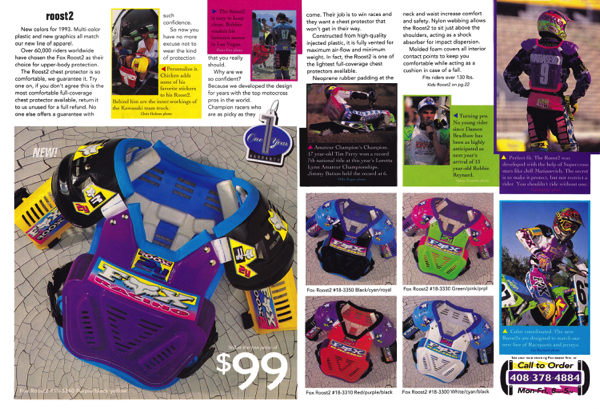 Blaze: For 1993, the Roost-2 was back with some new color choices (purple people… PURPLE!!!) and freshened graphics.
Greg: The best-selling colorway in 1993? Purple by a mile!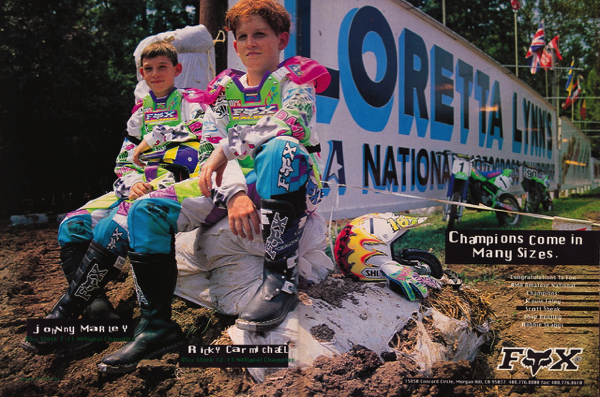 Blaze: In 1993, Fox Racing had an incredible stable of young talent in the pipeline. Ricky Carmichael, Johnny Marley (both pictured above), Robbie Reynard, Travis Pastrana and James Stewart were all under the Fox umbrella.
John: We had shifted our focus to the up and coming generation, and we had learned our lessons losing our top riders in years past to big salary promises. This time around, we were going to build the relationship early, and hold on to our talent as they climbed the pro ranks.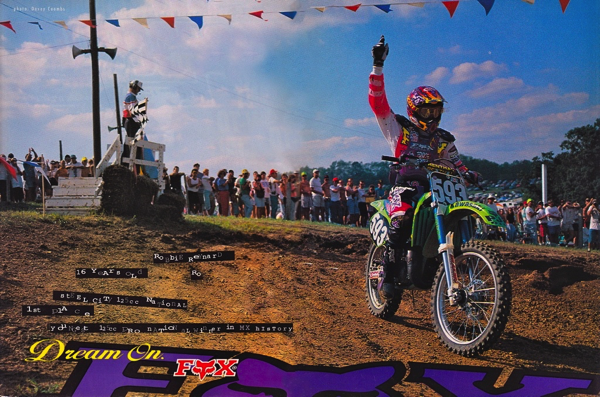 Blaze: In September of 1993, Robbie Reynard became the youngest rider ever to win a 125 pro National at Steel City in PA. At this point, the future could not have looked brighter for Fox and their young phenom.
John: Robbie Reynard won the steel City national with a 7-1 moto finish, the lowest points total for an OA up to that point.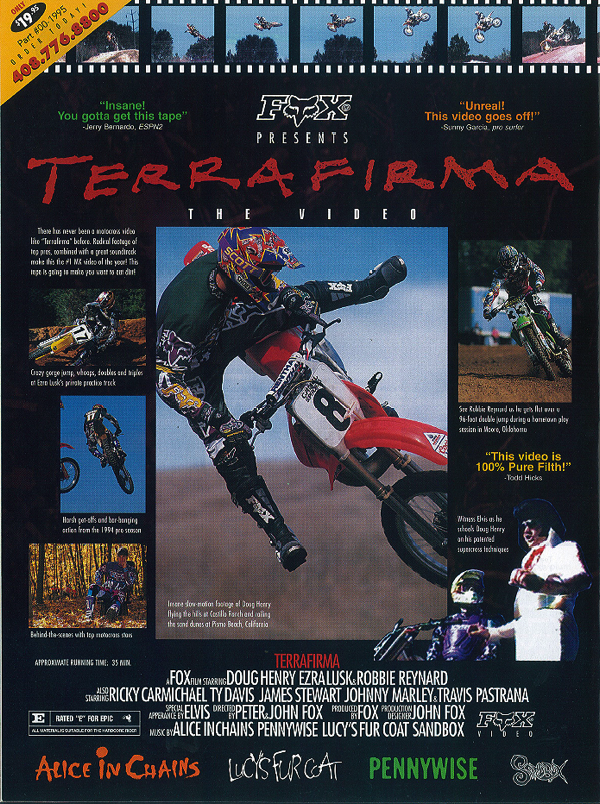 Blaze: In 1994, Fox Racing introduced the racing community to an all-new type of moto video. Produced by the youngest Fox brother John (who directed, edited and picked the music for the film), Terrafirma showed the stars we loved, away from the track, playing in the dunes and doing tricks in the hills. Although there had been many riding and training videos before, and even a proto-freeriding video by Gary Bailey in the late eighties (Pros at Practice and Play), none of them had pulled together action, music and humor like Terrafirma. For me, the highlight of this groundbreaking video has to be the segment with a very young Travis Pastrana, Ricky Carmichael and James Stewart, where the three future champions discuss women, crashing, and their favorite flavor of ice cream. Personally, I could have done without Elvis, but even with the King (of rock and roll, not Supercross), Terrafirma was a groundbreaking classic.
John: I grew up racing moto with my brother Greg and my dad and was a diehard moto fan, but I also branched out into skateboarding at a young age thanks to my brother Greg (he got into skating and surfing while I was young). As I got heavily into skateboarding and surfing I began watching Powell Peralta "Bones Brigade" videos, and Billabong surf videos. To put it mildly, I loved watching videos and learning styles and tricks.
When it came time to produce a video, my brothers knew I was the right kid for the job and believed in me 100%. All three of us Fox brothers knew that the moto world would love a video like this. That is how Terrafirma came to be.
When we originally produced Terrafirma, we were very conservative with our production estimate. Our original run was only 5000 units. We sold through those in about 10 days. All told, Terrafirma sold about 65,000 copies.
I'm also almost positive Greg came up with the Terrafirma name. Terra firma is Latin for "solid ground" and he deserves credit for this big time. He was always very creative with nicknames and slogans, and absolutely nailed this title name.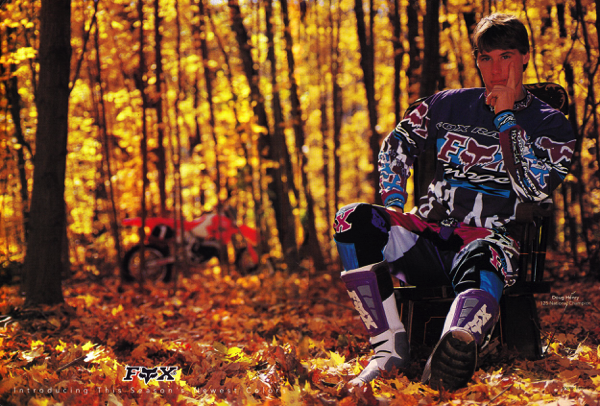 Blaze: In 1994, Fox introduced a new line of Image racewear in earth-tone colorways like Rust Red (pictured above on Doug Henry) and Forest Green. These understated hues were a welcome change after eight years of neon overload.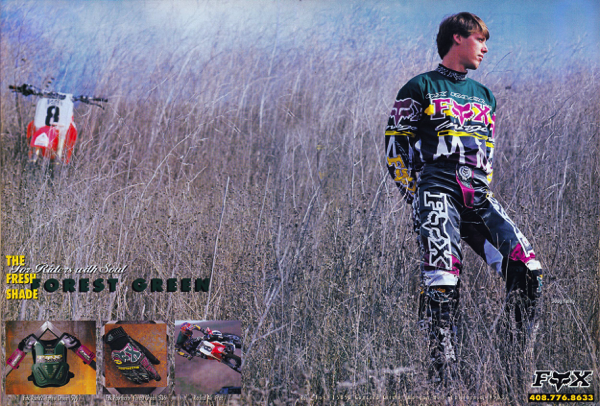 Blaze: I absolutely loved this Forest Green colorway, particularly with the matching Roost-2 chest protector.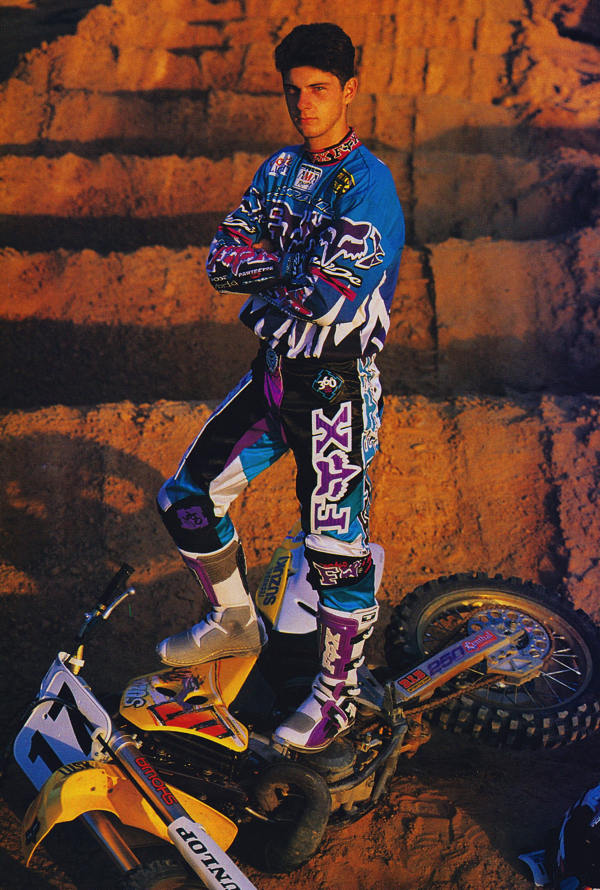 Blaze: In 1994, Ezra Lusk joined the Fox family.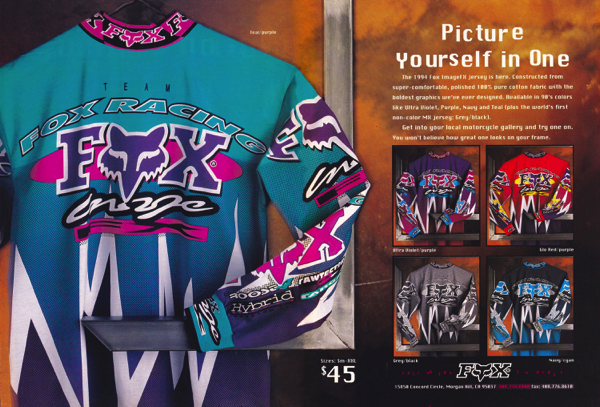 Blaze: If you were not a fan of earth tones, you could still get Fox's lovely new ImageFX gear in a more nineties-appropriate Glo-Red and Ultra-Violet. If you were really weird, you could also go for "the world's first non-color MX jersey" and get the Charlie Chaplin approved Grey/Black.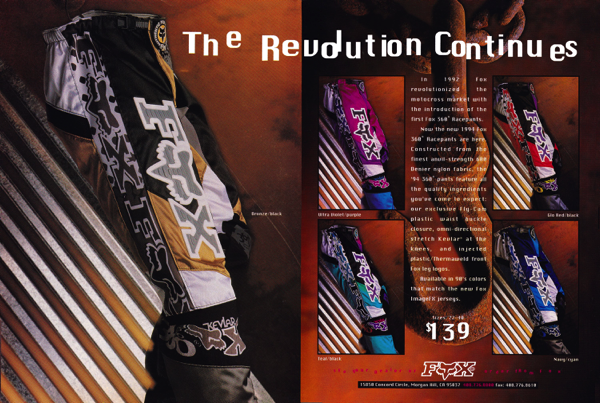 Blaze: That Bronze/Black colorway was sweeeeeet.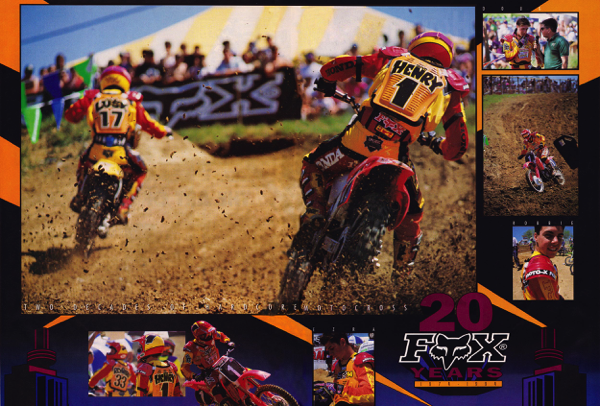 Blaze: At High Point in 1994, Fox Racing celebrated its 20th anniversary with some cool retro gear that harkened back to their original MX team in 1977.
John: At this point in time, Fox took care of their riders far beyond what any other company was doing. I hand cut every custom butt patch and Roost-2 name & number for each rider. The Fox design team and rider support employees were full of young blood and wanted to be the best. I believe we began setting the standard for the motocross clothing companies to follow. The team riders loved the level of support, the custom designs and the commitment.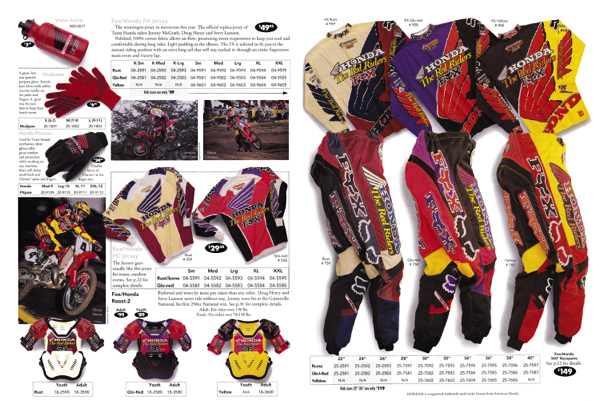 Blaze: In 1995, Factory Honda decided they wanted to adopt a "team" look and reached out to Fox to provide the gear for the Red Riders. Jeremy McGrath, Doug Henry and Steve Lamson looked so good in this stuff. I loved all three of these color combos and actually bought the Glo-Red (in hindsight, I wish I had gone for the Yellow colorway). Man, if only I could find a set of this now…
Blaze: After the clean look of the '93-'94 Image gear, I was less than pumped with the busier graphics on the '95 offerings. The colors were nice (the earth tones were back for '95), but that huge cartoony Fox head logo on the front was a bit too much for my liking.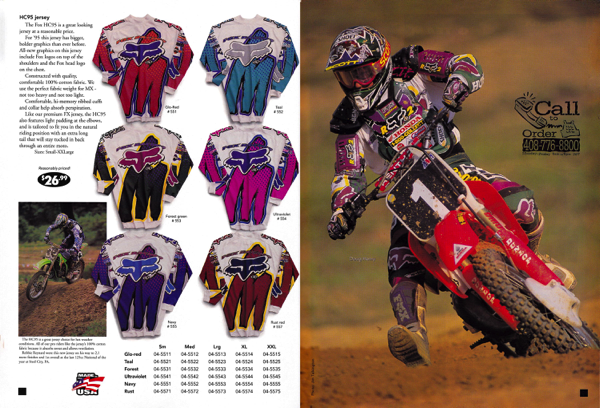 Blaze: The HC95 jersey was a bit better…but only a bit.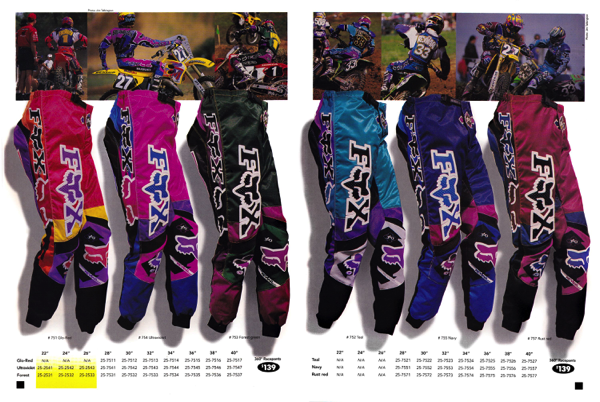 Blaze: While the new jerseys were not my cup of tea in '95, I did continue to admire Fox's handsome 360° racepants. The Glo-Red and Forest Green were particularly to my liking.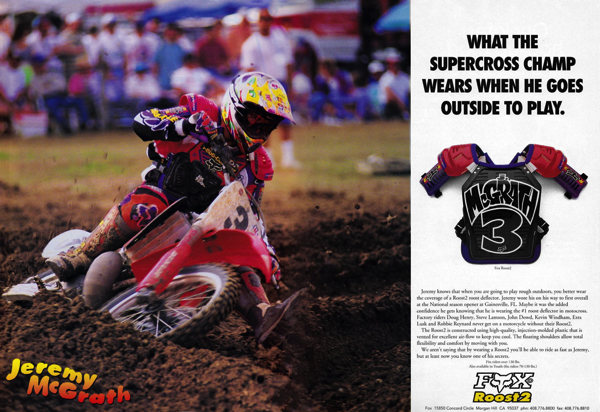 Blaze: In 1995, Jeremy McGrath actually wore a chest protector at a few rounds of the outdoor Nationals and Fox was quick to highlight this abnormal occurrence with a Roost-2 ad. That custom #3 and "j. McGrath" on the back of the King's Roost-2 was badass.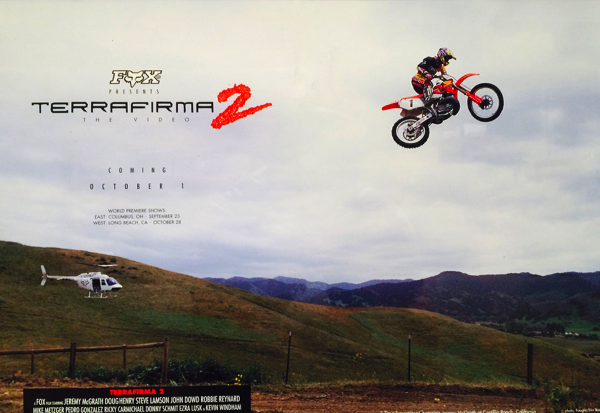 Blaze: In 1995, Fox released the second installment in their groundbreaking Terrafirma series. Part two was similar in structure to part one, but featured major improvements in nearly every category. I literally loved everything about this film. The soundtrack, cast, cinematography and locations all came together to produce a nearly perfect motocross video. Jeremy McGrath at Castillo Ranch, Donny Schmit busting ice berms in Minnesota, Robbie Reynard and John Dowd surfing the Southwick sand, all of this and more was in Terrafirma 2. Then, you throw in THE best goon riding segment of all time, and you have my favorite installment in the series. About my only beef with Terrafirma 2 was the inscrutable reappearance of Elvis, who seems determined to keep on eating donuts and screen time.
John: Terrafirma 2 ended up being the top selling video we ever produced. It might have had the biggest profit margin of any product we ever sold as well. We ended up selling around 85,000 units total. This video was my sophomore effort and I was only 21-years old at the time. T2 was by far one of the all-time classics. This soundtrack has influenced the moto world more than any video we have ever put together.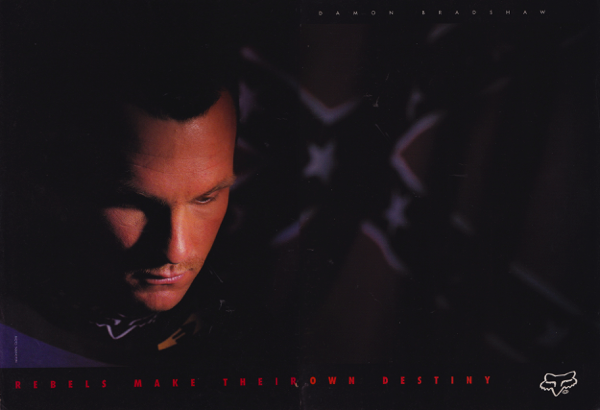 Blaze: In 1996, Team Yamaha joined Honda by enlisting Fox to provide the gear for its factory riders. This meant the return of Damon Bradshaw to the Fox fold after several years with AXO. While I certainly understand the feelings of people who find the Confederate flag offensive, it does sadden me that you would never see an ad like this used in today's hyper-sensitive social climate.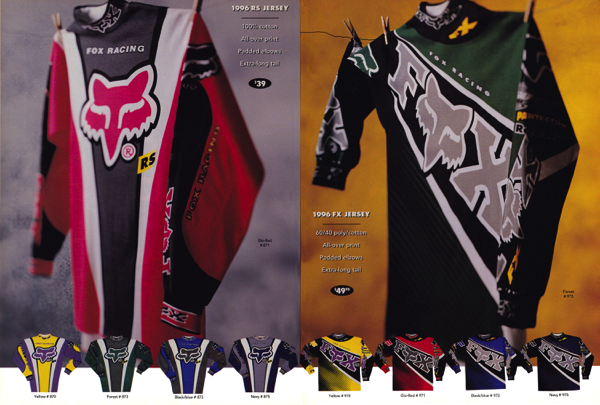 Blaze: I really liked the new RS Jerseys for 1996, particularly the Glo-Red and Yellow/Purple colorways. I was less of a fan of the new FX, however.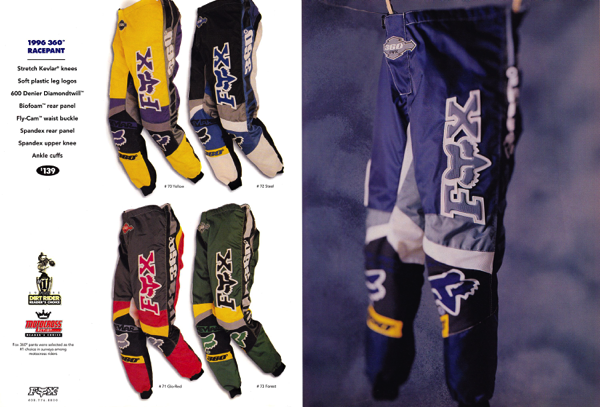 Blaze: With the exception of the new Yellow/Purple, I did not think any of the 1996 360° color combinations were as nice as 1995.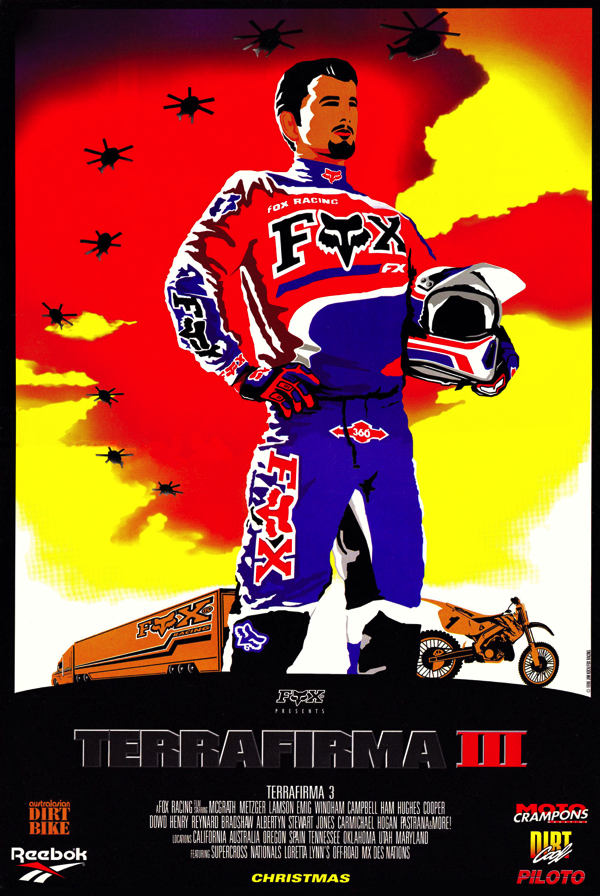 Blaze: While I did not like Terrafirma III quite as much as the second installment, it did feature some awesome segments. The coolest of which had to be the footage from the 1996 Motocross des Nations with McGrath, Emig and Lamson laying the smack down at Jerez in Spain.
John: Terrafirma III was the first video produced by Fox to be almost entirely filmed on 16mm film. Filmed by Chris Hunter, Matt Story and myself, it was also the first overdub video to come out, where riders actually tell their story mixed with music.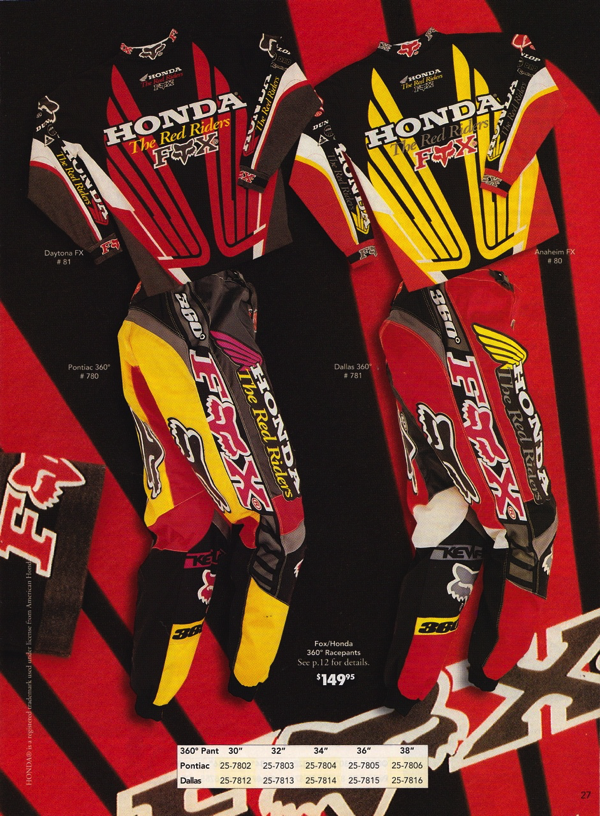 Blaze: The Team Honda gear was back for 1996 and bolder than ever. I'm actually torn as to whether I like this or the 1995 version better.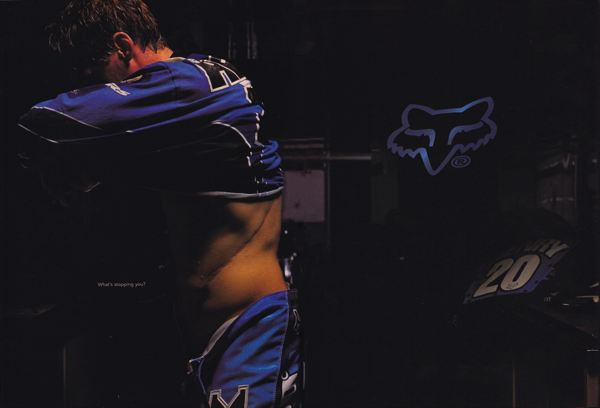 Blaze: In 1997, Pete Fox created what is, in my opinion, the greatest motocross ad of all time. This "What's stopping you" ad featuring Doug Henry (who had broken his back two years earlier) perfectly encapsulated both the danger of motocross, and the determination required to be a champion. Simple, powerful, and moving, it does not get any better than this.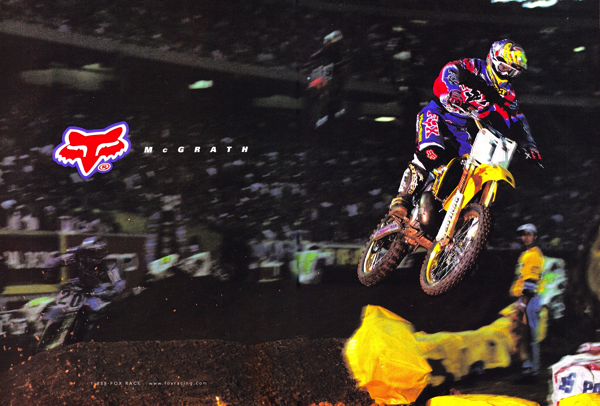 Blaze: In 1997, Jeremy McGrath made the shocking switch to Suzuki of Troy right before the start of the supercross season. Although his bike changed, his gear remained the same and he looked great in his blue and red Fox Patriot pants and jersey.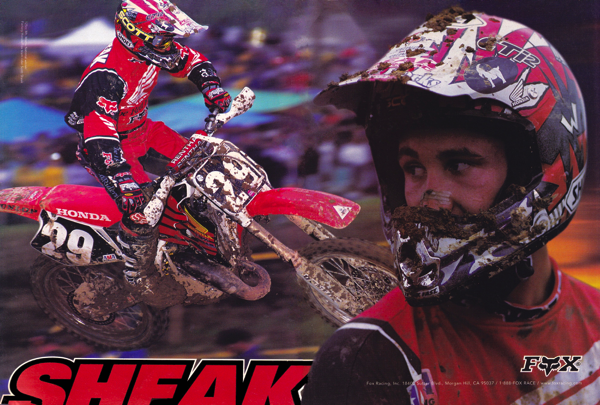 Blaze: Team Honda remained a Fox-backed squad in 1997 and had Scott Sheak and Steve Lamson in their new Red Riders gear.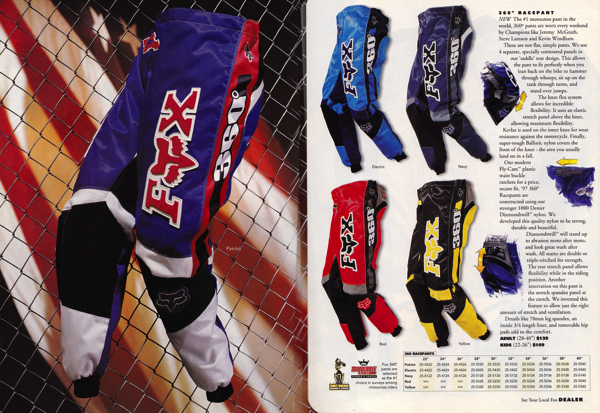 Blaze: The Patriot colorway on the left was a great look in 1997.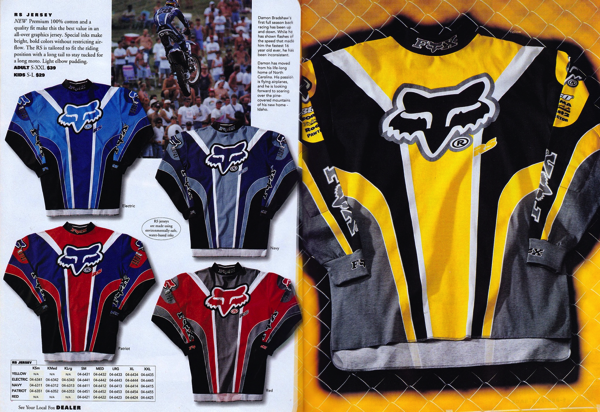 Blaze: The RS Jersey was back and still looking good for 1997.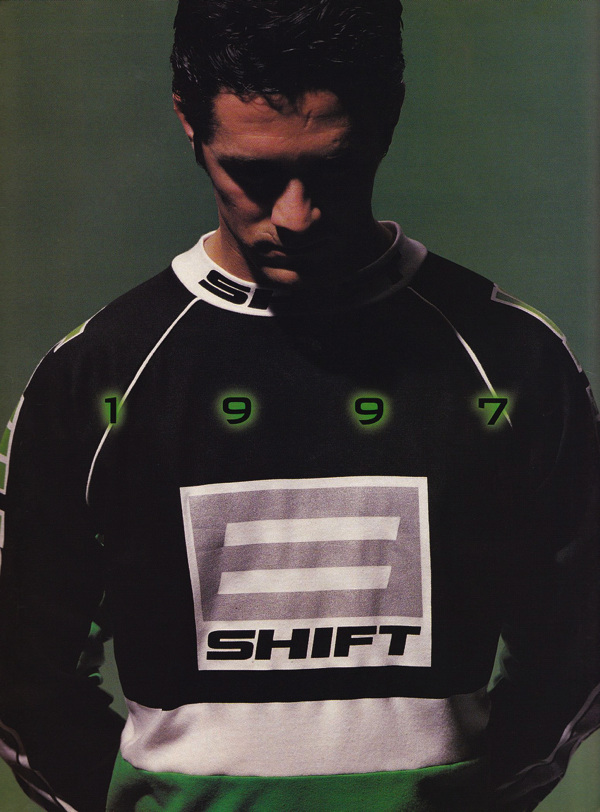 Blaze: In 1997, Fox Racing launched a new brand – Shift. Shift came out of disagreement between Pete Fox and his brother Greg. Seeing the rise in popularity of baggy gear, Greg believed that Fox should expand their line to include some of the freeride-friendly apparel, but Pete stood fast that Fox was a hardcore moto brand. The compromise the two ended up reaching turned out to be Shift.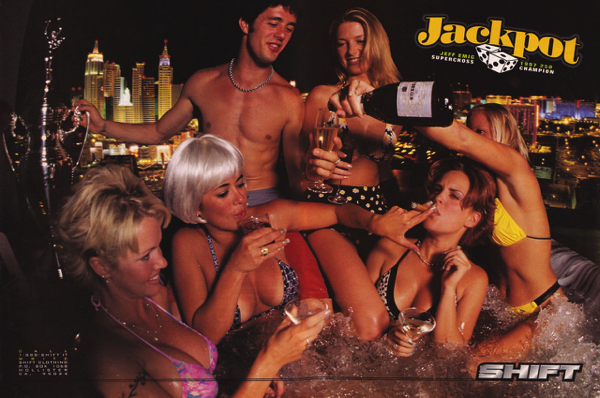 Blaze: With Jeff Emig as their premier MX athlete, Shift hit the ground running, winning the 1997 AMA 250 Motocross and Supercross titles. Ah, the nineties…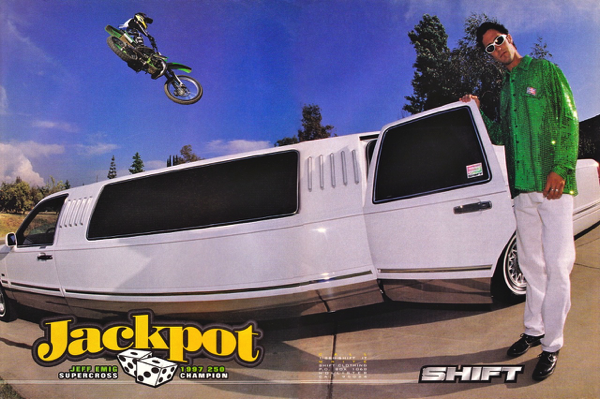 Blaze: One interesting side note to the previous Shift ad for Emig's Supercross title, is the fact that Motocross Action refused to run it due to the presence of a few bikini-clad women and a little champagne. As a result, Shift ended up producing this much tamer version for the orange-helmet set.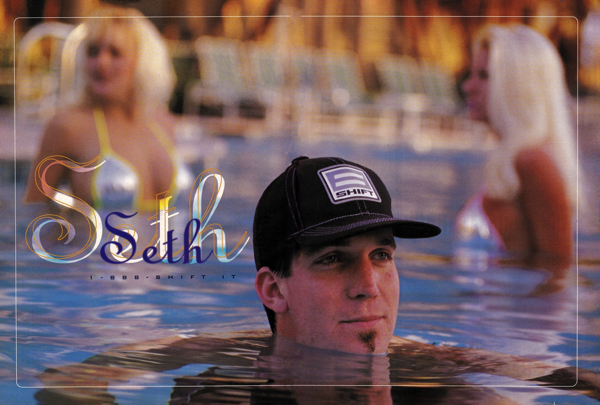 Blaze: Seth Enslow, who rose to fame in Fleshwood Films' groundbreaking Crusty Demons of Dirt, was also an important part of Shift's initial marketing push.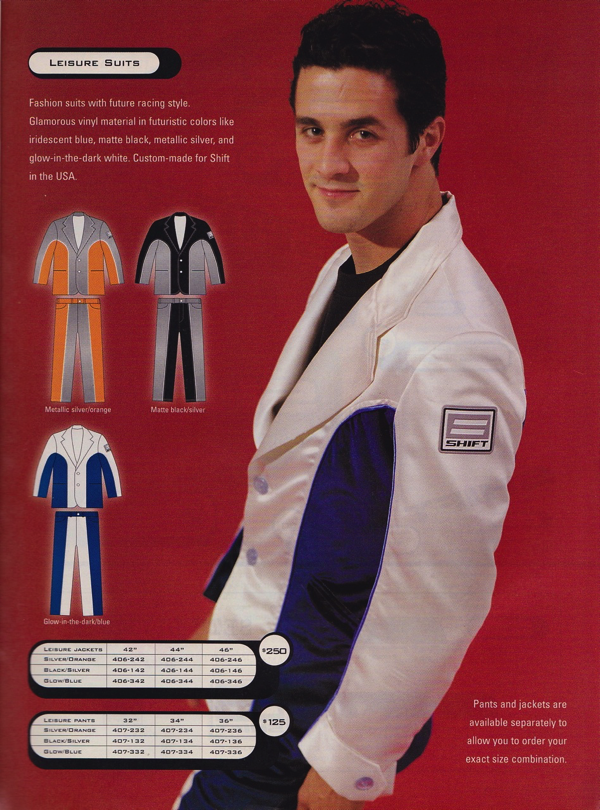 Blaze: You have to be a bad man to pull off a leisure suit my friends.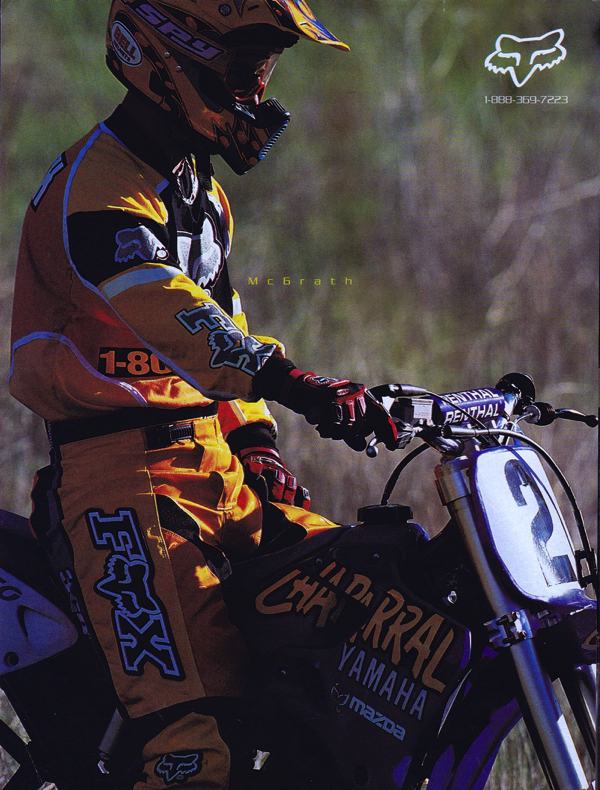 Blaze: After a disappointing 1997 on Suzuki, Jeremy was back for 1998 with a new Chaparral Yamaha contract and some great-looking Fox gear.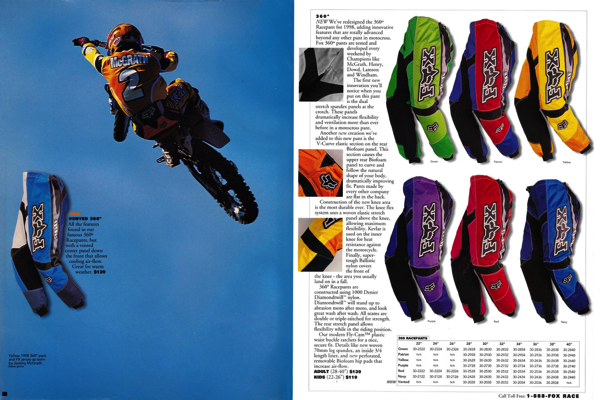 Blaze: I loved all of the Fox gear in 1998. They were really hitting on all cylinders this season and every colorway was fresh and vibrant.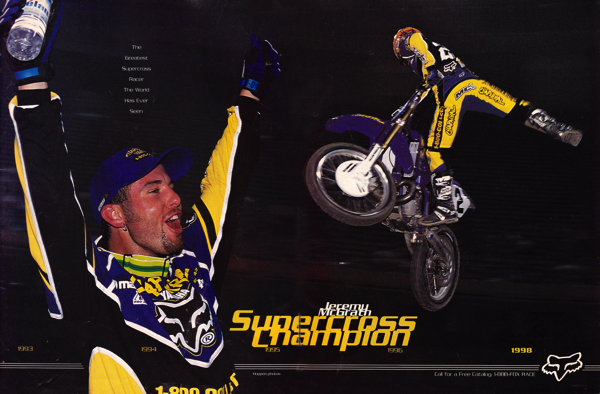 Blaze: The yellow and blue color combo McGrath wore on his way to the 1998 AMA Supercross title was a really great look. Like I said, Fox was on point in 1998.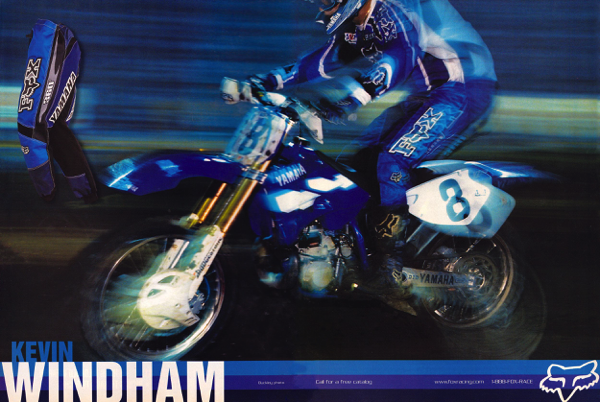 Blaze: Team Yamaha was back with Fox for 1998, with Kevin Windham, Doug Henry and John Dowd under the blue tent.
Blaze: Even before turning pro, Travis Pastrana was a pretty big deal and appeared in several Fox ads, including this one for my favorite of the 1998 colorways.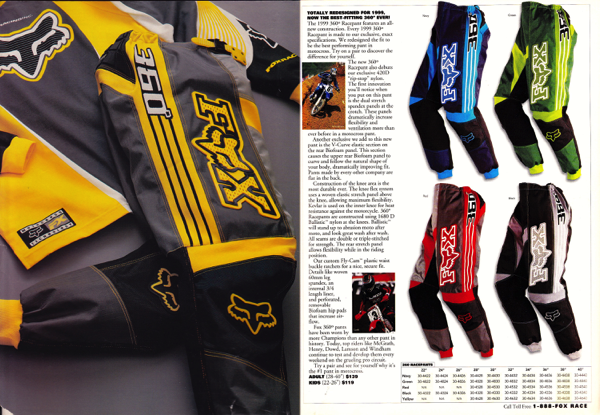 Blaze: I have never been a fan of gray gear, and this new Yellow colorway for '99 didn't do anything to sway that opinion. In truth, none of the 360° racepants for '99 were particularly to my liking. I still dug the classic Fox logo, but that pinstripe and giant 360° down the side did this design no favors in my humble opinion.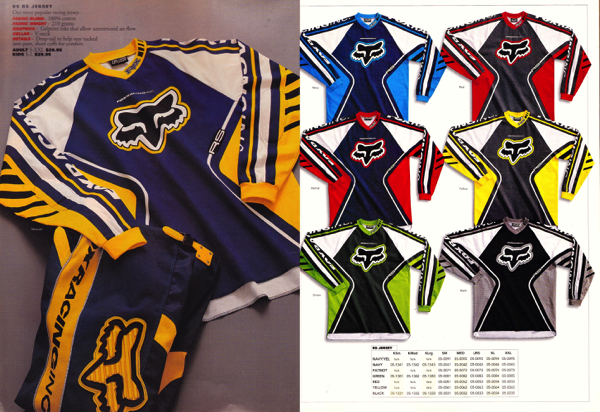 Blaze: The new RS jerseys for 1999 were clean, colorful and made of 100% cotton. Soon, the transition to better-breathing synthetics would mean the demise of this classic jersey material.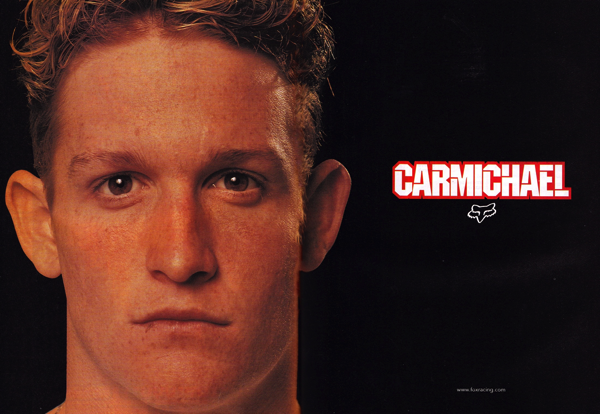 Blaze: In 1999, the defection of Jeremy McGrath and Kevin Windham to upstart No Fear left Fox without two of their premier riders. There to fill that void would be two-time 125 National Motocross Champion Ricky Carmichael, who had spent the two previous years with AXO due to Pro Circuit's team gear deal.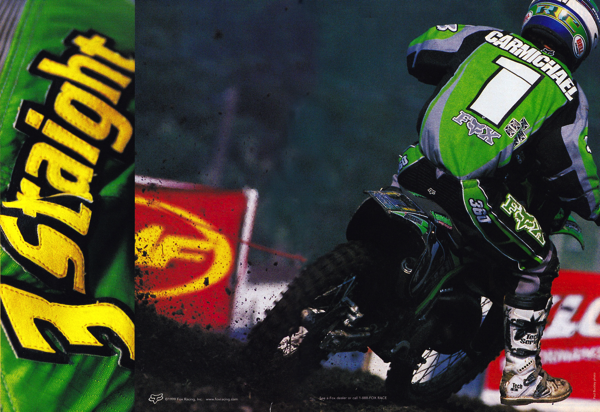 Blaze: In 1999, Carmichael actually started out the season on the Factory Kawasaki squad in the 250 (then the premier division) Supercross class. During the Nationals, RC stepped back down to the 125s and moved back to Mitch's PC squad. Even though the rest of the Pro Circuit team was in Thor for '99, Ricky kept his Fox contract, and became only the second rider (the other being JT's Mickaël Pichon) to keep his personal gear sponsor while a part of the PC team.
For your daily dose of old-school moto goodness, make sure to follow me on Twitter and Instagram -@TonyBlazier
For questions or comments, feel free to drop me a line anytime at TheMotocrossVault@Gmail.com