Here's what DV saw at The Wick
Here's what DV saw at The Wick
1- Southwick came back last year and it's still good to see it on the schedule. Reversing the track was a good move. Do you think having it on the schedule is a good thing, thoughts on the Wick and how do you ride sand DV?
Southwick is a very iconic MX National track and definitely should be on the schedule. As a teenager I was following both, the US SX and MX series. Southwick was always one of my favorites in the early 90's. The track has changed quite a bit since then. Little bit by little bit, the sand is going away. The layout is shorter now and faster. I used to love the frog pond section and its drop off but it's gone now. Having a one day format is also easier on the track and it doesn't get rough. I remember years where they didn't even fixe the track from the amateur race from the weekend before. It makes me laugh when I hear from riders today that the track was gnarly. It is not at all anymore. I wonder what they would say if they were racing the track like it was 15+ years ago. I wish it was as sandy as it once was. Nowadays, Southwick isn't much different than a track like Red Bud though.
As far as riding it, you obviously have to keep your momentum and not hit the berms too hard. You don't want to dig into the sand too much in the turns which makes you lose your speed. You have to be gentle hit those entrances of berms. Bike set up isn't as drastic as before but you can set your forks a little higher and maybe use a bit more sag on the shock to gain stability in the fast sections. We use to change the offset of the triple clamps as well but I'm not sure you need it now the way the track evolved.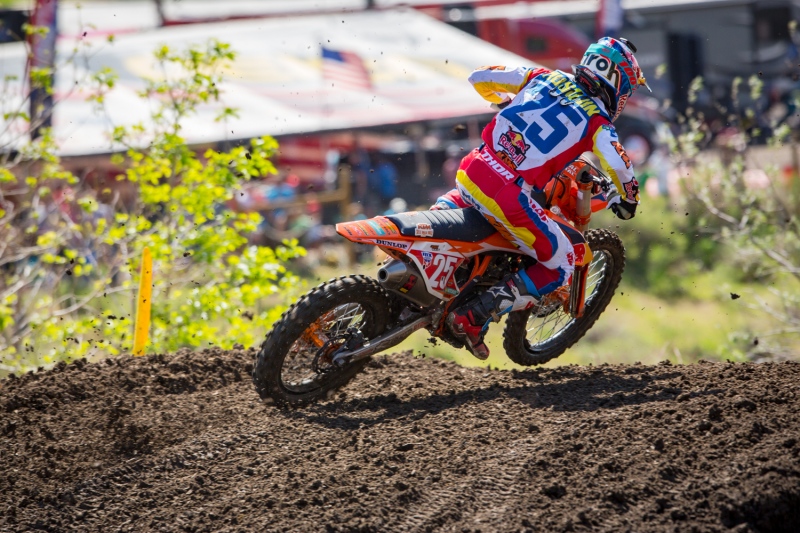 Marv was pushing it to stay with Tomac in the second moto and then crashed out.
2- Dylan Ferrandis and Marv were fast in the sand, thought the French riders were best at hard pack?
Historically, the French riders ride hard packed tracks better because that's pretty much all we have in France. But things have changed in the last 10+ years for them. In the GPs, there are quite a few sand tracks now and the teams all have a base in Belgium where it's the land of deep sand tracks. In the 80s/90s, Belgian and Dutch locals used to beat French guys (as well as Italians, English etc…) in GPs on sand tracks. It's not the case anymore because they ride and practice in Belgium and Holland a lot. The evolution we saw in the GPs helped the riders of hard packed nations to get better in sandy conditions. We saw Marvin, Paulin, Pourcel, Febvre win a GP in Lommel, Lierop, Valkenswaard or other sand tracks deeper than Southwick within the last 10 years.
There aren't too many French riders on top in major championships but the ones that are, are good on any types of tracks. I'm glad to see Dylan up there. He's having a great rookie season even if I'm sure he wants to do better. His first moto was great despite a crash. I think he could've done a bit better in the second moto as if would've rode with the intensity he had after his first moto crash. I thought falling over while leading in the first moto helped him a lot because he rode better after to catch and pass A Mart again.
3- Speaking of Musquin, he was really pushing it in moto two to try and race with Tomac. It was as out of control as I think you'll see Musquin. For a guy that says you like to see him get out of comfort zone, what did you think?
To tell you the truth, I don't think Marvin got out of his comfort zone too much in Southwick. He started being more aggressive when Tomac caught him in the second moto and a bit after Eli passed him. I don't think it was working for him though. Being more aggressive with the throttle and the clutch lever isn't how you beat or race Tomac on a track like Saturday. Even in the first moto, despite a great come-through-the-pack ride, I still thought he didn't ride technically very well. You don't beat Tomac by riding like Tomac. You don't beat RC by riding like RC. You don't beat the Golden States Warriors by wanting to beat them at the 3-point line. Marvin stayed in too many of the insides on that track and didn't keep his momentum enough. He didn't anticipate the track to put himself in position to keep his speed around the track enough. I also noticed in the first moto that he was locking his rear wheel up a lot at the entrance of the turns where he didn't have to. I actually texted him about it after the race.
In Southwick, your wheels have to be spinning at all times. When you lock your rear wheel, it's going to dig instead of going forward when you gonna get on the gas again. It's almost like locking your wheel on a hard packed track. When you'll get back on the gas, you're gonna spin not go forward. We saw Eli use a lot of outsides (sometimes he over did it though) and he never really slowed down and stopped. Keeping momentum is always to key in SX and any MX tracks and even more on drastic conditions, mud, dry or sand…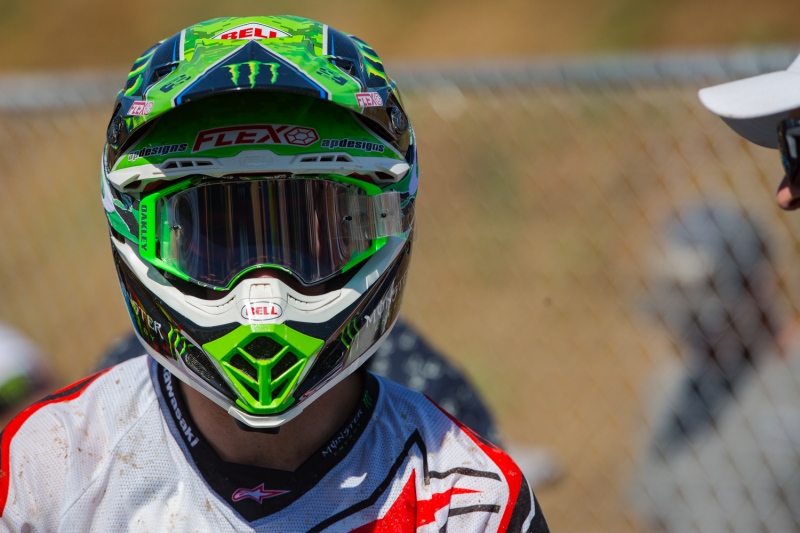 This man is on a roll right now
4- There was no stopping Eli Tomac though, he was on another level and grabbed some more points on Blake Baggett and another win. What did you see?
I think I covered it in the previous question. Tracks like Red Bud, Southwick and Millville suit his riding style very well. I think I talked about that in a previous column. He should gain more points at the next race too. Eli isn't scared to travel longer distance to keep his speed and it works great on those tracks. I thought he rode cautiously, patiently and very smart in Red Bud which I really liked but he was all business this weekend. He was an animal Saturday. He was at least 3 seconds faster than everyone in the first moto. Baggett and Marvin stepped it up in moto 2 but it wasn't nearly enough. Blake was within less than a second on the fastest lap which, in a way, is a great accomplishment. Eli might make mistakes at some points which will help the others a bit but at this point I have a tough time thinking anyone will challenge him straight up. Maybe in Washougal but he won there last year. That maybe is the track where he would be the most challenged in the last 5 races.
5- What are your thoughts on the 250MX races? Both were pretty good in the top three.
The 250 class is great entertainment this season. Osborne won again and he's taking off in the championship. He's not dominating on the track like Tomac is in the 450s but in the points standings, he is. He's 45 points ahead now, close to a full race lead. That's a great position to be in with 5 races to go. Knowing you could potentially clinch a title before the last race is great mentally. Osborne is always up there at every race and he has a different guy challenging him at every race. Since it's never the same guy, he's able to grow his point lead nicely. He's just a tad better than everyone else. The other guys can't seem to be consistent. Only A Mart is but he's not quite there yet to be challenging Osborne straight up. It was fun to see Dylan mixed it up this weekend though but for the interest of the series, we'd like to have the same guy challenging Osborne. I'm not sure what's going on with the before the season favorites, J Mart and Savatgy which went 4-6 & 7-5 this weekend. Adam was the fastest in practice and went 15-9. Plessinger was riding well for a bit but crashed pretty hard. Some of those guys need to get back to the drawing board and start changing things because it's obviously not working.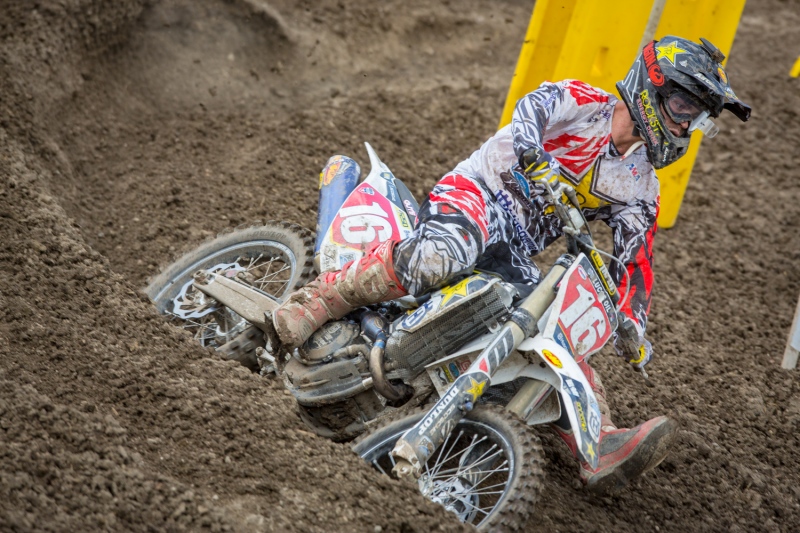 Zacho won again and extended his points lead in the 250MX class to almost two motos.
6- Great to see Dean get third overall, what a pick up by the Rockstar Husky team.
It's cool for Dean to get back on the podium. Great pick up by Husky as well. Seems like Dean worked very hard as a privateer this off-season. Sometimes, having your back against the wall is a great position to be in. I wish a lot of riders in official teams would put themselves in the position he was in at the end of last season. The comfort of a paycheck and a factory team is often a cancer for riders. I like this Dean story. Too often, riders think having a factory ride, a nice team shirt and a salary is an accomplishment. It is, in fact, not one… The accomplishment is to deliver the results you're expecting to get with the equipment, comfort and money you're getting… On the other hand, I'm here to analyze stuff. On paper, Dean went 6-3 for 3rd overall. It's great for a rider who replaced a demoted one. But remember, Anderson wasn't there. Marvin grenaded himself in moto 2 and Webb threw it away in moto 2 when he was virtually going to get his first overall podium of the season. There were a lot of favorable circumstances for Dean Saturday.
That being said, we have to congratulate him for this accomplishment but also take him as an example for a lot of riders out there. His journey from being a National Champ to injuries to a struggling factory 450 rider, who ended up with nothing, to a privateer who paid to race to a factory rider getting a podium and a nice bonus check in the Nationals should maybe be documented and analyzed. I'd love to know the why and the what of everything that happened since his National title. What did he do wrong? What wrong turn(s) did he take? What did he take to come back? What would he do differently? I think it's time to set up a few hours podcast, Matthes…
7- Got a Southwick story?
I think we can talk about the first time I was there. In 2000, I was a rookie in the 250 (2 stroke) class. I was actually leading the MX Nationals when we got to Southwick after a 3rd in Glen Helen and wins at Hangtown and High Point. We used to have a weekend off before Southwick every year and they had a big amateur race where a bunch of pro guys were doing as a preparation race. I didn't know any of the track so Yamaha thought it would be a good idea to go race that and stay the week. We tested a day in the sand somewhere and we went to race the amateur day. Dowd was obviously there. There were a ton of classes and races during the day. The track was way more sandy than what we saw Saturday. I was used to the sand with my GP experience but Southwick was a bit different. It was tough to start racing on a beat up track where you never rode.
I went 3-1 in the 250 pro class. I had a terrible start in the first moto. Behind the gate was polished asphalt back in the day. The strangest start ever. I had a tough time on concrete starts when I got here but this was even different. Got a better start in moto 2, passed Dowd towards the end and won the moto. They had to shorten the last moto because it was so dark. I could've used headlights in the last couple laps of that race. It was a good experience even if I didn't really want to be there to tell you the truth.
During the week, I didn't ride in the sand before for the Nationals. Instead, we decided to get some track time on tracks we'll be at later in the season. We went to Binghamton and Unadilla. Earlier in the season, I also went to Washougal to test actually but it was not during this trip. We did Binghamton and man, I hated that track. Then, Unadilla the next day. It was a bummer because I couldn't ride the pro track. We ended up riding the back amateur track. I remember the Yamaha of Troy guys being there, Fonseca, Buckelew and whoever was there then. My mom used to have a state of the art Tag Heuer computer for lap times. She took everyone and printed our lap times. We all rode against the clock, it was fun.
It was good to get a feel of tracks I didn't know before racing there. Yamaha was great at planning this stuff and helping me adapt and acquire experience here. As of the 2000 Southwick National, I got there as the points leader, blew my clutch in the first moto (not my fault) and DNF. Got 3rd in moto 2 with a 35+ gate pick. I wasn't leading the series when Southwick was over. A short red headed kid named Ricky was, I believe…