Age divisions have always been somewhat of a controversy in amateur racing, but this year it was the older guys getting the heat.
Age divisions have always been somewhat of a controversy in amateur racing, but this year it was the older guys getting the heat.
Lead Photo: Mike Vizer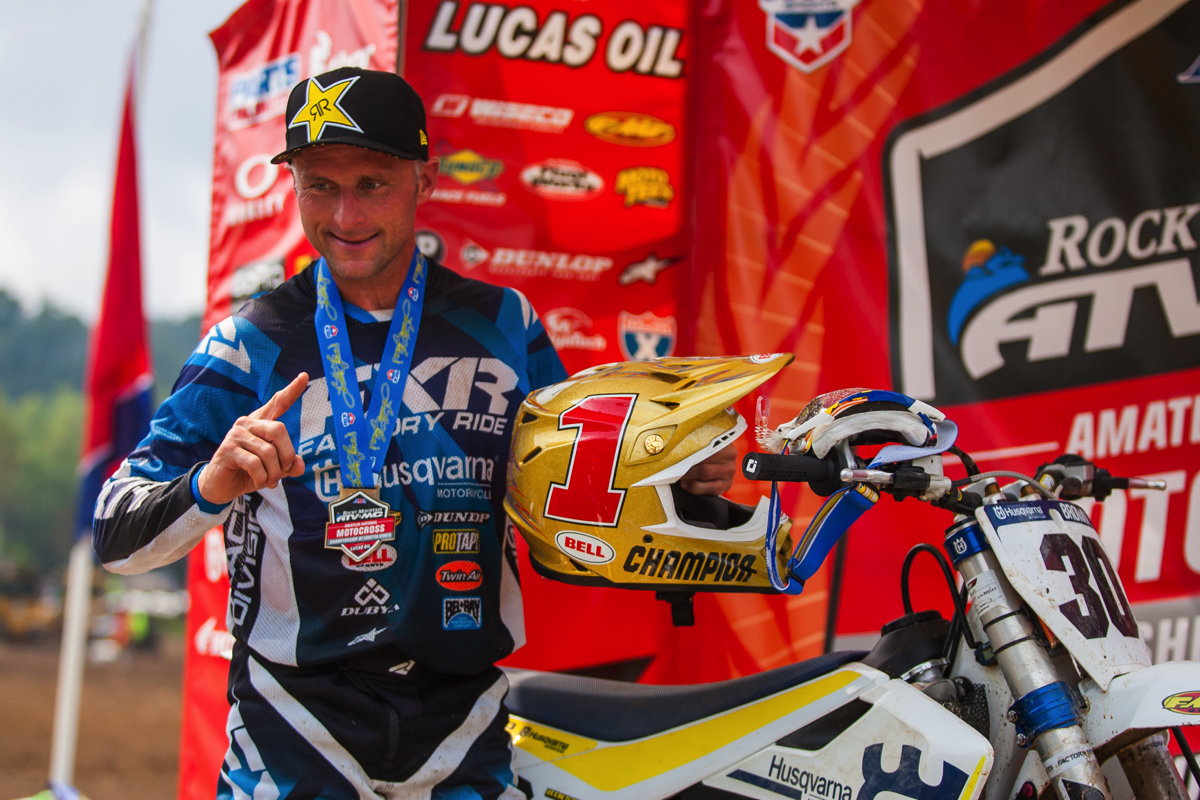 You can't expect a born winner to not want to WIN! Photo:Derek Garcia
At this year's Loretta Lynn's National Mike Brown was asked by Husqvarna to come race the age division classes for them. They do this for marketing purposes and for possible Husqvarna owners to see the bike underneath a great rider like Brownie. It wasn't like Mike obsessed about these classes all year and needed to take home these amateur titles to hang on his mantle. He raced within the rules he was given and won fair and square. This dude just loves to race anything on two wheels and gives it his all when he does. Like we all should! He even was quoted on the podium saying that "if anyone wants to race and get these titles they are here for the taking, come and get them". I and so many other younger guys got smoked by Brownie last week and we should now go back to work. Well you say what about the 9-5 guy who maybe looks forward to possibly getting a title (in his class) and these top pros show up and ruin it for them. Well to that I say you have the 30 and 45 classes that you can ride that Brownie and others can't. Aden got his ass kicked at the regional in his younger 9-12 age division class and it's up to me (the parent) to let him know he needs to go home, go back to work and not give up. It doesn't matter where or what class you ride as there will always be one or two guys that will be noticeably better than the others. It's always the "others" that will complain about those couple riders. Instead of learning and going back to work it is easier to bitch and complain about the situation.
What about creating a class for "past champions" to race in for a Loretta title of their own? I think that is a cool idea and maybe Davey Coombs could look into this. My fear however is that there wouldn't be a full gate for those racers to compete in. I don't think there is enough of a draw to fill a 40 man gate for these riders. Only a hand full of those type of guys get the drive to come back to Loretta's and race for a week. That is not the norm with top pros, trust me. Ricky Carmichael, Jeff Emig, Robbie Reynard among others all have been there at one time, but there has yet to be more than five to six riders at a time, at the ranch, per year. I feel like we as fans and riders should appreciate that these past "heroes" of our sport are there wanting to go race with all of us mere mortals. I think its bad ass that I can sit on the line and bullshit with Brownie, Ramsey and Antunez before we are about to go do battle. Let's all be thankful that we are able to go race, ride and have fun on our dirt bikes. Because when I see this bitching and complaining it's hard not to think about guys like Jessy Nelson (among others) who would love to be able to ride/race their dirt bikes again. It's dirt bikes! It's fun! That is why we started doing this stuff right? I think we get caught up in the Loretta hype so much that we somehow lose focus on the big picture. Having a good time, twisting the throttle, spending time with friends/ family and being able to enjoy the adrenaline rush of coming into the first corner with 39 other riders.
I had a great time at Loretta Lynn's racing my dirt bike even though I got worked by a 45 year old red neck like Mike Brown. If you don't like the rules, you can always go back to your local track and be "The Man" again and save yourself some headache and money. Its your choice!