I wasn't able to test the 2018 Kawasaki KX250F at the time of its introduction back in July (as I had prior testing scheduled), so Tyler Bowers was cool enough to go for Keefer Inc.Testing.
I wasn't able to test the 2018 Kawasaki KX250F at the time of its introduction back in July (as I had prior testing scheduled), so Tyler Bowers was cool enough to go for Keefer Inc.Testing.
He gave his first impression over on my site, but I wanted to ride this little green screamer for myself to give all you Pulp MX readers some added insight. Before I left for Loretta Lynn's I had time to ride the new green machine at a couple tracks and came way impressed on the changes Kawasaki made. It looks like 2018 250 Shootouts will be a little later this year (due to Honda releasing their 250 late), but I feel like Kawasaki might move up in the rankings on most shootout score cards.
The Kawasaki engineers worked hard on the engine to try and keep pace with the KTM and Yamaha powerplants, making changes to give the KX250F's single-cylinder, DOHC, water-cooled, fuel-injected, 249cc engine more torque and increased power without reinventing the whole engine. The KX250F's bore and stroke are the same as before, 77.0 x 53.6mm, but Kawasaki changed the compression ratio by lowering it from 13.7:1 to 13.4:1—less compression can make it easier for an engine to rev higher. Added compression can give you more torque, but make it rev not quite as far. Kawasaki also worked on the KX250F's Keihin fuel-injection system. A new, higher-flow intake boot is fitted on the machine and a new 43mm throttle body places the dual injectors straighter at the intake by rotating them down to a 30-degree angle instead of the 45-degree angle like on last year's model. Additionally, Kawasaki added a new fuel pump that is claimed to increase fuel pressure by 17 percent.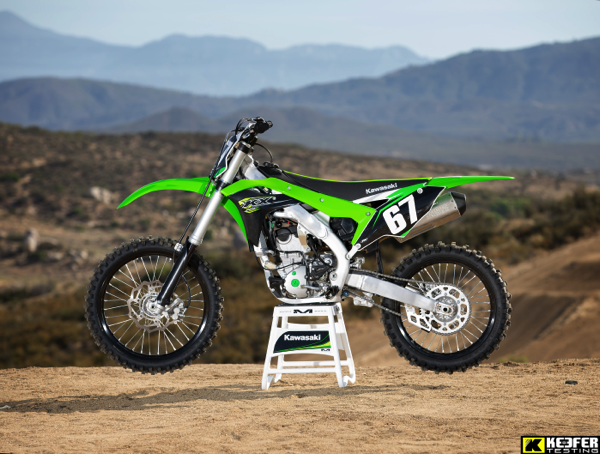 The Kawasaki KX250F has several changes to the engine and suspension for 2018.
The intake has also been revised to be less restrictive, starting with a 20mm shorter intake funnel that leads into a new cylinder head design with a smaller divider in the intake ports. To try and gain a little more torque, Kawasaki also added a new intake cam with advanced timing to help the KX250F breathe better. The ECU has also been revised to help improve top-end power while trying keeping the overall power delivery smooth. On the exhaust side, Kawasaki engineers added a 3mm wider and 30mm longer headpipe to improve the over-rev while also trying to increase low-end grunt.
When making horsepower getting that horsepower stuck to the ground is very important (even on 250F's), so Kawasaki has made some changes to the 2018 KX250F's 48mm Showa SFF fork and Uni-Trak rear suspension in order to help it absorb bumps and also improve its performance on corner entry. The SFF fork, which places the spring in one leg and the damping cartridge in the other leg, already features a 40-way spring preload adjuster along with the 22-position compression and 20-position rebound damping adjusters. The 2018 Kawasaki also replaces the 2017's 9.8 Newton/mm spring with a softer, 9.4 Newton/mm spring. The valving has also been changed with some new compression and rebound shims intended to make the fork more compliant over low-speed bumps while new BCV shims are used for better resistance to high-speed bumps. Out back, the shock on the KX250F's fully adjustable shock receives new compression and rebound valving along with a new plug-bolt adjuster.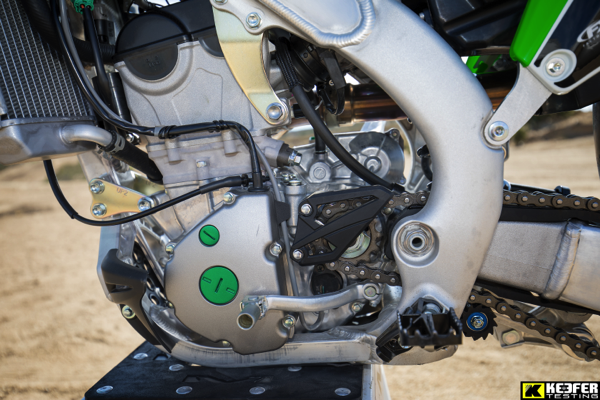 The engine on the new Kawasaki has more mid-range and top end pulling power.
Reading all these changes makes you think it might be a completely different machine. However, on the track it still feels like a Kawasaki 250F, but with improved pulling power. Last year's Kawasaki was snappy (throttle response), but revved out very quickly and felt somewhat empty on top end. The 2018 KX250F still has great throttle response, but now has a newfound "meaty" mid-top end power. I say meaty because I can feel the bike wanting to move forward (in a quick manner) even when the track is tilled up deep. Second and third gears pull longer and I do not have to use the clutch as much coming out corners, like I did with the 2017. The 2018 KX250F feels more like a Yamaha YZ250F through the mid-range now (which is a good thing) and to me pulls longer up on top end similar to the 2017 Yamaha YZ250F. Now I didn't have a Yamaha to compare, but going off of memory it feels like the Kawasaki has some top end game this year in the 250 class. The one thing I think it still lacks a little is bottom end torque.
That meaty feeling I get in the mid-range is not quite as apparent down on very low RPM. It's kind of deceiving because the Kawasaki has this exciting throttle response, but its recovery time is still not quite as good as a blue bike. The KTM 250 SX-F is another bike with a great recovery time and while the KX250F is much closer this year I still would like a little more grunt down lo for my 170 pound lazy vet rider style. I didn't try all the couplers yet, but plan on doing this in the coming weeks to see if maybe going to a leaner coupler helps bottom end.
I have never been a fan of the Showa SFF fork design and while this year Kawasaki found a little more comfort on the track, it does feel soft on de-cel bumps. Under heavy braking or coming into braking bumps the front end dives too much for me. I went stiffer on compression and preload on the spring, which helped balance out the KX250F much better. When I did do this some comfort was sacrificed, but I could charge harder down hills and get more on the front end around the track. The rear of the bike has more comfort and performance than the front end. The KX250F shock soaks up acceleration bumps and square edge very well and doesn't deflect or have very much side to side movement under throttle. I ran the sag at 104mm to get some more front end bite through corners, but you can go as low as 106mm if need be.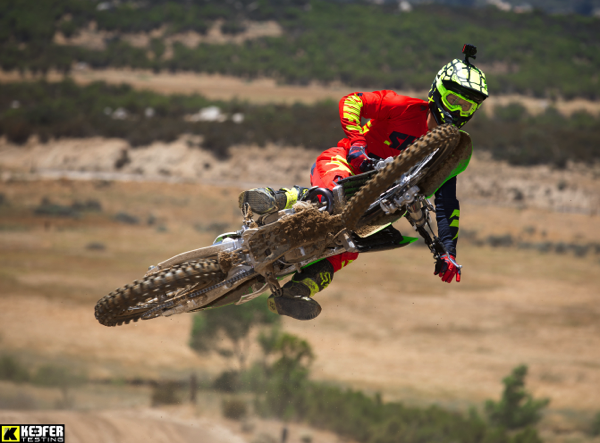 Stretching it out!
The chassis feels light and you can throw the 2018 KX250F around the track with ease. Usually I have a hard time steering with the front end on all Kawasaki's, but the 2018 KX250F had more of a front end biased sensation than it ever has on flat corners (when I ran the sag 104mm). Bump absorption of the frame was superb and rigidity balance was impressive on hard pack tracks. I felt the frame had a lot of flex (which I liked) and settled well on or off throttle. Vibration of the machine was low and I felt like the 2018 had less vibration (to my hands and feet) than the 2017 did.
The ergonomics of the bike are comfortable and I am glad Kawasaki still runs a 7/8 handlebar. I really like a 7/8 bar, but I wish the bend was a little lower for my liking. I don't need an oversize bar and when you go back and forth between the two you really notice less rigidity to your hands when you ride with a 7/8 handlebar. It's cool that I can change peg and handlebar positions, but to be honest I felt comfortable with the stock placement that the Kawasaki comes with. The brakes are decent, but you will have to apply more pressure to the front brake lever to get the KX250F stopped. I like my brake to hit hard and close to my grip so it took me a while to get used to this. The muffler noise is still kind of annoying and loud to my ear.
Overall Kawasaki improved on the 2018 KX250F and I really enjoyed the couple days that I put on it so far. The 2018 is out in deals now and will set you back $7,749.00. I am looking forward to getting the Kawasaki and all the other bikes together to see where it really stacks up. Stay tuned for a full "Keefer Tested" podcast coming soon on this improved Kawasaki KX250F.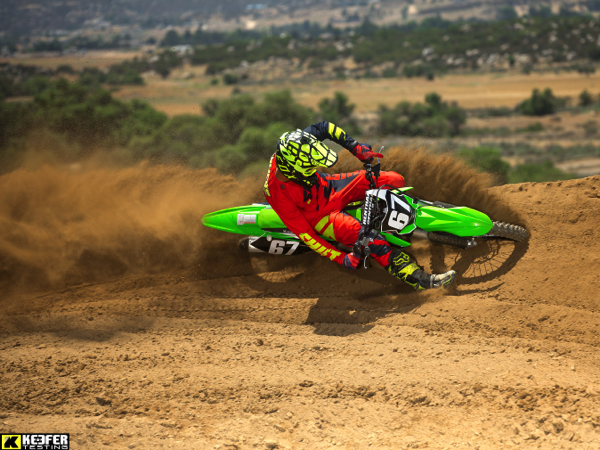 Chassis feeling is light and flicking it into berms isn't an issue.