The 2018 Kawasaki KX450F is exactly the same as the 2017 (besides the shade of the KX450F graphic on the shroud).
The 2018 Kawasaki KX450F is exactly the same as the 2017 (besides the shade of the KX450F graphic on the shroud).
1. Kawasaki focused its energy and R&D money on the KX250F in 2018, but Kawasaki lovers don't be sad because the green people will have a brand new KX450F in 2019.
2. The KX450F's engine is not the most explosive power delivery you will find out of a 450 for 2018. However, this is why I like this engine so much. It comes on smooth down low and gives me great traction, but then pulls harder through the middle to upper part of the power. I do notice that if there is a sizable jump out of a corner (when the track is deep) it will take more work to clear than a Yamaha YZ450F or KTM 450 SX-F. Top end isn't as long as a KTM, but the KX450F has more than enough power to get you around the track in a quick manner. I wanted a little more bottom end so I changed the stock coupler out for the lean white coupler. Doing this gave the Kawasaki a different engine character with added low-mid range pulling power. Be mindful that on very hot days that you might here some detonation from the engine when you do go to the lean coupler. If you do hear this immediately go back to the stock coupler and it should remedy this problem. I only had detonation on one very hot day, at a sand track, but had no problems any other day I tested. The clutch fades on heavy abuse, but is not as bad as the Honda CRF450R. The action of the clutch and engagement is fine and the pull is very easy, it just goes away if you fan it too much. Going to the lean coupler helps bottom end pulling power, which kept me off of the clutch on longer motos, but you might want to invest in a Hinson or Rekluse.
3. The fork is the only thing that holds the KX450F back for me. The Showa SFF-AIR TAC fork is finicky and doesn't really feel the same throughout the day. The initial part of the stroke is stiff and deflects, but the end part of the stroke feels empty, which is weird for an air fork. The mid stroke has a decent amount of comfort coming into braking bumps, but it's tough to find front wheel traction when pushing hard into a corner. The rear of the bike stays straight under acceleration and has an adequate enough damping feeling at jumpier tracks. The big problem for me was the front end. I played around with a ton of settings and got it to where it was decent, but I was still hoping for more comfort when the track was hard pack and square edgy.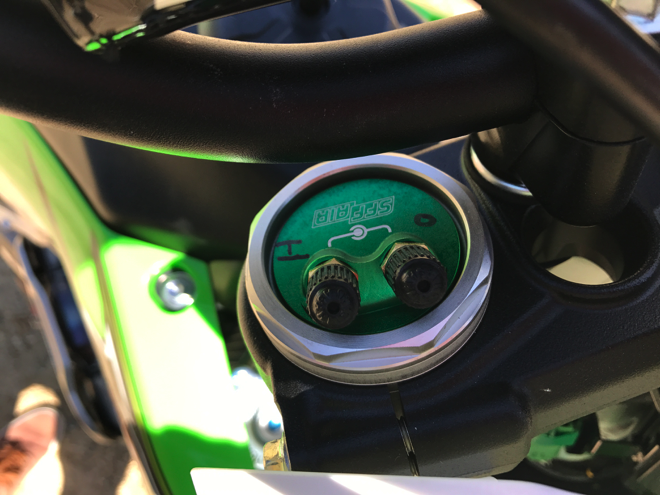 The Showa SFF AIR TAC fork is finicky and takes some patience to get set up.
4. Here is my best fork setting: Compression 4 out, Rebound, 10 out, Inner Chamber 154 psi, Outer Chamber 15.2-15.4 psi, Balance Chamber 175 psi.
5. Here is my best shock setting: Low Speed Compression 10 out, High Speed Compression 1.5 out, Rebound 11 out, Sag 105-106mm
6. The 2018 KX450F chassis feeling doesn't feel as long or big like the 2015 version did. The rear end steering biased machine of old is more neutral than ever before. It still feels longer than a Honda and KTM (especially mid corner), but can corner as good as a 2018 Yamaha. The tricky part to making that happen is getting a fork setting that allows the chassis to shine, which is tough to do, but possible with the settings provided. The Kawasaki will lean over in corners nicely and at tip the chassis feels light. The strength of the Kawasaki is its straight line stability and frame absorption. It's a very stable machine at high speeds and Kawasaki seems to have found that superb rigidity balance they once had back in 2012. When you hit square edge at a good clip the frame feel is forgiving and not as rigid as a Honda. Most other manufacturer R&D teams will tell you that the KX450F frame has been a benchmark for them to aim for with their own models. If only this 2018 bike had spring forks! Sigh…
7. Ergonomics are more friendlier to wider group of riders thanks to Kawasaki's adjustable bar position and peg positions. You can choose from four handlebar positions and two peg heights (standard and -5mm). I am almost 6'0 and preferred the stock position on both the handlebar and footpegs.
8. Say what you want about 7/8 handlebars, but I still feel like there is a place for them on production bikes. Some magazines give negative remarks about manufacturers using 7/8 handlebars because they are cheap and flimsy. What they are missing is that using 7/8 handlebars can correlate to less rigidity on a machine. This is important, especially with today's stiffer aluminum frames. I am sure the Kawasaki R&D department has tested oversize bars, but have decided to use 7/8 not only for cost, but for rigidity feeling on the motorcycle. So let's not assume we know more than the Japanese engineers ok people!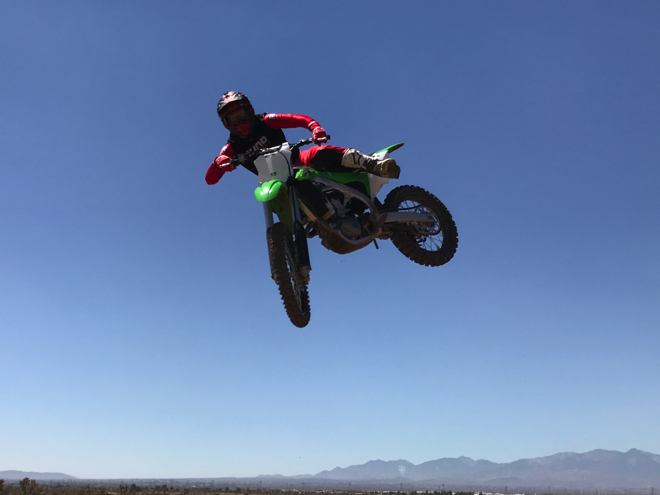 The Kawasaki feels light and flickable in the air.
9. The chain slider and chain guide is still not very good on the 2018 Kawasaki KX450F. You might want to invest in several OEM pieces or you can go to TM Designworks and order their set up. However, be aware that the TM Designworks sliders and chain guides are loud and not as quiet as the stock pieces.
10. Durability on the Kawasaki KX450F has got a bad rap in the past few years. Although I don't have much time on this particular bike, I have had tons of time on previous year models without much fuss. Some of the fasteners are not as good as the other brands, but engine failures have not been an issue for me on the green machine. I haven't put a 100 hours on one yet, but I plan to in 2018 to see how durable this machine can be.