Former factory rider David Vuillemin offers up his take on Budds Creek MX
Former factory rider David Vuillemin offers up his take on Budds Creek MX
Photos by Roogs
First up, what in the heck were you doing at Budds Creek?
I came to be with Dylan Ferrandis for the weekend. He asked me to come. I've been helping him since after Millville with his bike set up, mainly chassis. We talked a lot so I could figure out where he needed help with his bike. I gave him some advice on what I would do and change. I had to figure out what he was using so I could tell him what to try and see if it helped. At Washougal, his front end was way different and he liked it better. Results were better but the main focus was to get him more comfortable on the bike. There's so much I could have him change and try between races. He went back to North Carolina after Washougal and I gave him some options for the rear end then.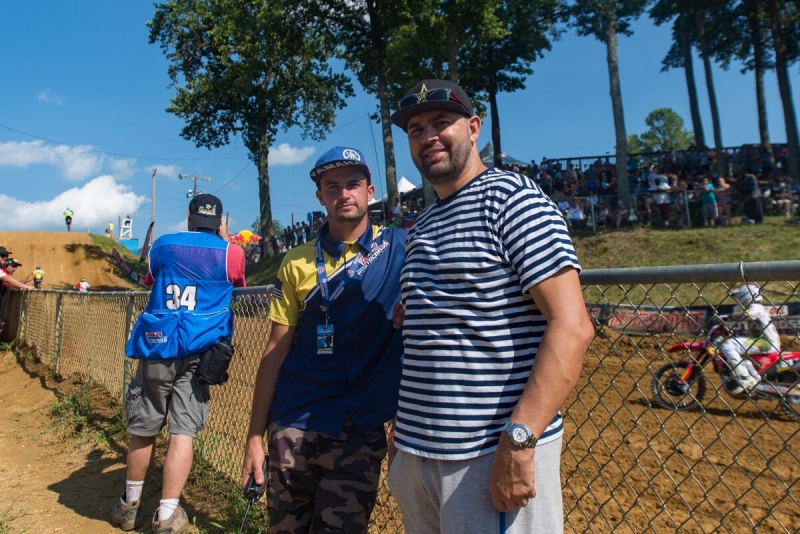 Look who showed up at a national!
In Budds Creek, his rear end was also very different and after second practice he told me he felt the best on the bike since the beginning of the season. The bike is quite a bit different from what he started the season with. After a 7-8 score in Millville, he was a bit lost and needed help. I gave him my free (yes, I do some volunteering sometimes) opinion in an unofficial way to get him more comfortable. It seems like we succeeded but he crashed in the first turn of the first moto in Budds Creek and hurt his wrist. He only rode a lap in moto 2 and couldn't hang on. We won't be able to see if the improvements in feel will transfer into better results which is a bummer.
Second of all, what did you think of the race, the track and just being there?
I was excited to go. I got to do some sight seeing in DC on Friday which I haven't done in almost 20 years. I love spectating the Nationals, maybe more so than Supercross, but it's often a pain to go to them. I thought the race was fun to watch with some unexpected events throughout the day. Buddy Creek is one of the best places to go see a National. You can see pretty much the whole track and they always do a great job preparing it. I got to give props to the track crew who prepped the track well on Friday for the big storm that was coming. They made sure the track wasn't too deep and they made great evacuations for the water. Conditions on Saturday were great. The weather was brutal though. It's been a while since I was at a race in 90+ degree temperatures and 90+% humidity. With the one day format and when you're helping someone at a National, you have no time to see the people you'd like to see nor watch all the motos. I didn't even see the second motos. I had to catch them up on NBC Gold which is pretty great by the way. I wish it was a 2 day format so it could be mellower with more practices to set up a bike and learn the track for newcomers but I also understand the people who love the one day format. But, it makes for a crazy day for everyone. It goes by so quick with the 4 motos back to back. Overall, I was bummed Dylan got hurt but it was fun to go to the races again. I prefer being there as a spectator than a rider or even a team manager like I once was.
Tomac got buried after a mistake off the start in the first moto then just rode so-so the rest of the way. Second moto he was amazing and crushed everyone…how does that work, what goes on in a riders head? What did you think of the race?
Eli had another Dr Jekyll and Mr Hyde type of ride again. He really didn't look good in the first moto. Despite his mediocre start, he wasn't going anywhere and looked out of sync. It seems like he was racing the first moto without riding practice. So weird-I don't like to see that. What I like to see is riders ride at their best and at their full potential at all times and see who wins at the end. Marvin gained 8 points but could've gained 11 if he didn't ride the first half of the moto asleep. The first 15 minutes for the Frenchy weren't great. He played cat and mouse with Baggett and made mistakes. It's only when he got to 4th, several seconds behind Seely, where he started riding better and dropping his times. He clocked the best time of the moto around halfway. If he would've woken up earlier, I'm confident he would've won that first moto.
Meanwhile, Eli weren't able to find the right pace. He only passed 5 guys in 35 minutes. That's an average of 1 pass every 7 minutes which is around 1 pass every 3.5 laps. That stat shows you that Eli wasn't really Tomac in that first moto. After the first moto, the gap between Eli and Marvin in the championship was 23 points, less than a moto. That's not the situation you want to be in with 3 motos to go. What came later was actually impressive when we saw what happened in the first moto. Eli ended the first lap in 5th, looked like himself again, clocked the best lap of the moto on lap 5, took the lead on lap 7 and never looked back to win the moto by 7 seconds. That's more like a real Eli Tomac performance. After a very smart 2-2 score in Washougal where Marvin was great, two horrible motos in Unadilla and 1 in Budds Creek, it's good to see the lethal Eli we all know… unless you're a Musquin fan obviously.
I like to see Marvin dominate because he's a friend but I'm not a fan of any riders really unless your nickname is 'The Beast of The East". I like to witness great performances. Marvin showed us several in the last few weeks but I like to see Eli in Red Bud, Southwick and in Budds Creek in the second moto just as much. Eli had his back against the wall before that second moto and it takes a strong rider to do what he did in the second moto after 3 very difficult motos for him. That was impressive.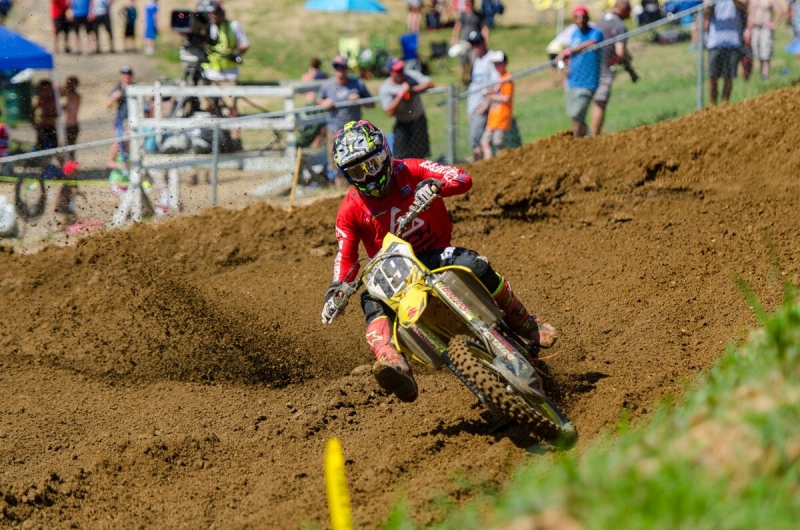 What a great day for Justin Bogle as he took the overall win for the first time at a national.
Explain Justin Bogle's day
Justin had a great day in Budds Creek. I was obviously surprised to see him ride that well. His first moto was very strong. He passed (Martin) Davalos back and pulled away a bit. He stayed strong and composed when Marvin caught back up at the end of the moto. He confirmed his form in moto 2 even if he didn't have anything for Bagget nor Tomac but he didn't have to. A third was good enough for the overall. But, what we have to think about is not only what happened on Saturday but what happened to him to get him to win an overall. You win races on Saturdays but, in fact, not really. Bogle joined the Carmichael camp to change his program which wasn't really giving him great results. It shows that only one thing counts in this sport. It's not talent, it's not luck, it's not having a factory ride, it's not starts, it's not the type of bicycle you can get for free. It's hard work, dedication and wanting to want it. When you go ride at the goat farm, you gotta pull your fingers out of your ass, work hard, ride hard or you get an ear full. This should be an example for a lot of riders having shitty training/riding programs, having too many distractions and underperforming that only one thing prevails, working hard and be 100% dedicated to racing. So, I have to give props to Justin for this well deserved win and for the work he's accomplished since he got on the Goat farm program. I like this story a lot…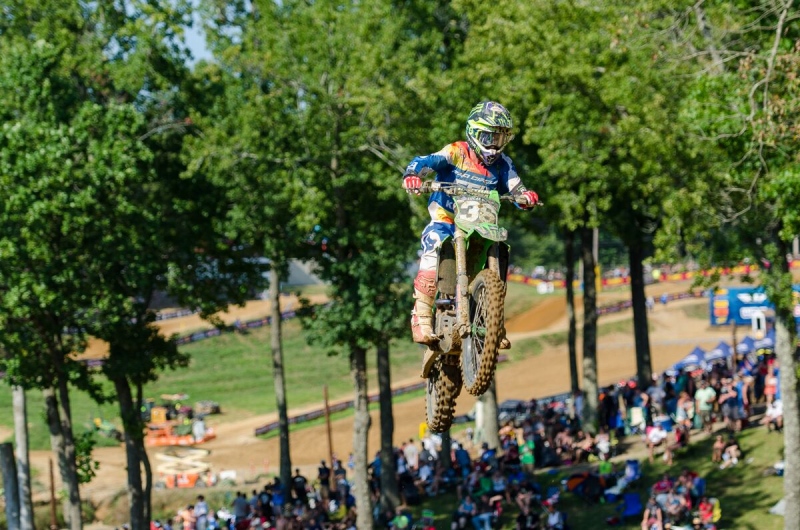 Cianciarulo won his first overall in 250MX at Budds.
After the day Adam Cianciarulo explained that his late race fades at Washougal and first moto at Unadilla were all mental and he has a point, it was hot and humid at Budds and he held on for two great motos. What do you think?
I believe in mental just as much as I believe in talent and astrology… He didn't blow an overall in Washougal because his head wasn't in the right place. He blew Washougal because he wasn't ready enough, didn't ride good enough and didn't want it bad enough. It has nothing to do with the mental. In Budds Creek, he rode good enough, he was ready enough to charge 2 full motos and he wanted it bad enough not to blow it at the end of moto 2… The way I see it, he showed more "cojones" in Budds Creek than he did in Washougal, that's for sure. Those are not in your head, there are between your legs… Adam is another guy I have to give props to after Saturday and welcome to the club of National race winners…
Zach Osborne did it. He's the 2017 250SX and 250MX National champion with a couple of great rides. Amazing to think about considering he had to go to Europe at one point. What a season!
What a season but also what a roller coaster of a career too. Going from one of the next big things to a struggling KTM factory rider to going to Europe to race GP's, to race a few SX West Coast rounds to remind the US industry he was still alive, to a Geico ride without huge success to Factory Husky and investing on himself to join the Baker factory to two titles in one season… If he rides a book, I'll be one of the first ones to buy it. I think it's important to struggle in a career to realize where you come from, what works, what doesn't and maybe most importantly to make you want it more than most. Zach had an amazing season and showed us he was the best 250 rider this year.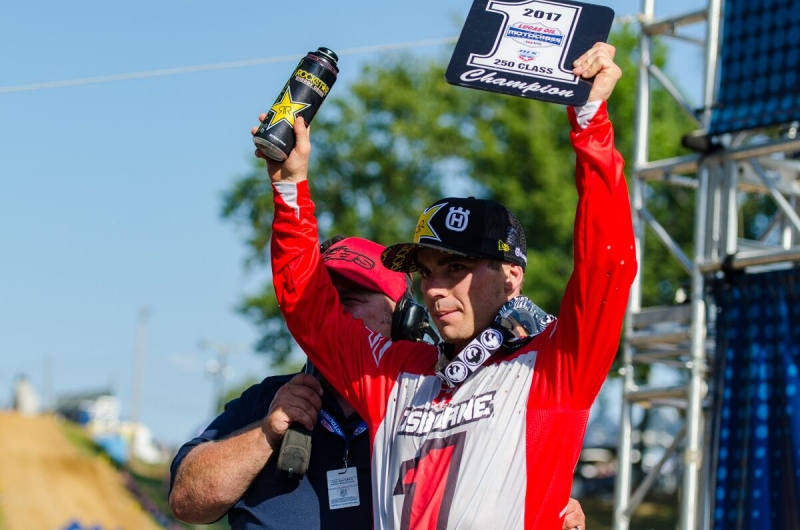 Zacho did it!
As I was saying for Bogle, it came become there was a drastic change in his program. There are not many things I hate the most in our sport than riders doing the same things, same programs, telling us it's working for them but under performing year after year. Zach invested in himself financially (Aldon isn't cheap) and physically (Aldon's program, even if I don't agree in everything they do, isn't easy) to make a change. Wishing to have better results with doing to same things every week, month, year, off season is just absurd. Zach understood that. To improve, you have to change. Whatever McGrath was doing to become the King of Supercross will most likely not work today to become SX Champion. Change is the first cause of improvement and evolution. Without change there is no evolution.
Aldon, for most of you, is the key of Zach's success but like I said for Boggle it's more than that. I've been saying it for many years, you gotta eat moto, eat moto, shit moto is you want to succeed. If moto isn't what you think about and do 24/7, you won't be able to win championships. The more distractions you have the less likely you are to become a champion and Zach understood that concept just like the other champions in our sport did before him and lately they've pretty much all worked with Aldon.
So Justin Hill is going to JGR Suzuki for a 2018 250SX and 250MX deal and a 2019 450SX and MX deal…thoughts on this?
I don't have the inside scoop on why he's going to end up there. It's surprising to see him leave PC after winning a title with them this season. Maybe his MX season wasn't good enough for PC or the JGR check was too big for PC to match and for Justin to turn down. PC couldn't guarantee a 450 ride either I'm guessing. On paper, that deal sounds good. the unknown is the RMZ250. We know the 450 is a good bike but the 250 hasn't had a top guy on it and didn't prove it could compete with the other factory supported bikes. Justin was great in SX. He was the best west rider this season and his title was well deserved. He was also on one of the best bikes and the most successful 125/250 team in history.
This side of the deal is the unknown but it seems like the JGR guys might be able to give him the equipment to compete at that level. It's going to be challenging for both parties. Hill will have to adjust to the bike and the team will have to be able to give the right equipment for this caliber of 250 rider. The last couple weeks, Cunningham got some good results and he's not on Hill's level. It's encouraging in a way for Hill. I'll be curious to see how this relationship will work out but today, we can only speculate on it. We'll just have to wait and see what happens in 2018…