Rollerball and Too Trick talk about coming back to the sand
Rollerball and Too Trick talk about coming back to the sand
Photos and story by Lawrence Hamm
Growing up in Manitoba there was a track called Austin that was nothing but beach sand. It was an equivalent to the legendary Lommel in Belgium and one of the toughest tracks in North America. Serious, I've asked Jeff Surwall and Ross Pederson this question and both of them confirmed that Austin was insane. Partly because the owner, Alfred Nunn, never ever groomed it. Massive sand whoop after massive sand whoop await us riders and it really tested you. It was somewhere I spent many summer weekends from 1982 until 1995 when I left for the USA. Somewhere around this time Alfred closed up shop on the track and turned it into a golf course. That's where the story should've ended but not quite.
Recently Nunn, who's still kicking at 92 years young, had enough of the golf course business and with the help of an old racer named Justyn McCabe, opened Austin up for one last ride for the Manitoba riders. McCabe called up Canadian moto legends like Pederson and Al Dyck (one of the only riders to ever straight up beat Pederson for a title) out to kick out the cobwebs that was Austin and set some knobbies on it once again.
Using the old start and much of the old track that had been sodded for golf, a great time was had by all as they golfed on Saturday and raced on Sunday. The turnout seemed great, the Facebook photos of the event were amazing and it seemed like a good time was had by all. Ross told me he loved it and was treated like a king by the locals. Yamaha's Shane Drew (who lived in Manitoba and raced Austin for years) and I both talked about it for a while at the USGP and we'll try to make it to next year's event. Yes, it sounded like there will be a second year of this.
So with all that in mind, my buddy Lawrence Hamm sat down with Pederson and Dyck to talk about coming back and thoughts on the track itself- Matthes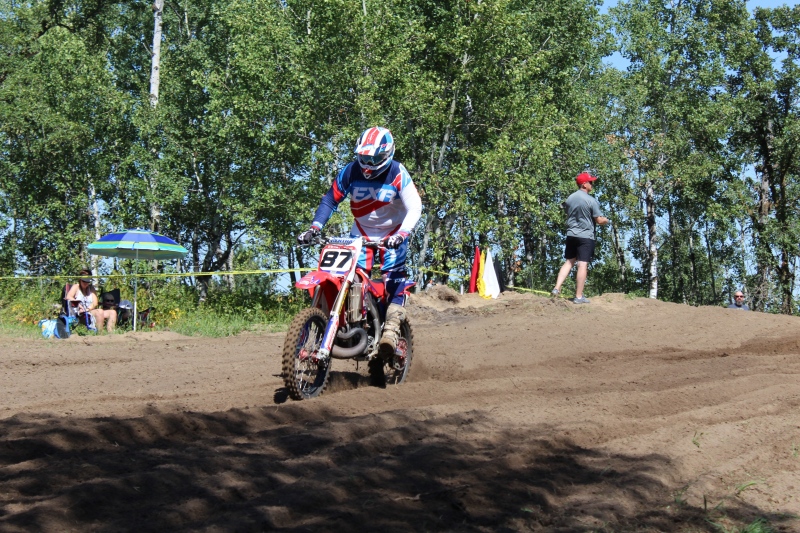 The author of this story, Lawrence Hamm, ripping around on his aluminum framed CR500.
Hamm: Hello, everyone. It's Lawrence Ham here, the Pulp MX Northern Consultant at the famed Austin Raceways. I have a couple of Canadian motocross icons here with me. Ross Pederson, the multiple, multiple, multiple-time Canadian National Motocross champion, and "Too Trick" Al Dyck, five-time Canadian Pro Motocross champion. Thank you so much, Ross and Allan, for offering to spend a few moments here talking about motocross here at Austin. When we talk about the track at Austin, what are some of your thoughts? What are some of your memories, Ross?
Pederson: Well, I've got good and tough memories here, we'll call them. I've always rode well here. It was a tough track to ride, especially when we were riding four, 45-minute motos here. It separated the men from the boys for sure. It was definitely when they say sand, I'm talking… I've ridden all over Florida and I've seen sand down there, but not sand as fine as this. It's like beach sand. So, it gets rougher than any track I've ever been in in North America or anywhere in the world, for that matter. I've won some races here and lost some championships here. Actually matter of fact now that you bring that up, there was a year here back in 1988 in the 125 class. It came down to the last round here at Austin, and Al was on fire that year riding great. It came down to the last race here in Austin. I knew it was going to be tough right from the get-go because Al was no slouch in the sand. He was incredibly fast. Especially that year, he seemed to really gel. So, that was a little bit of a heartbreak. He won both motos that day and took the championship. So, that's one memory.
I can name another couple. 1982 on the 500 class I ran out of fuel here. That was back when they were 40-minute motos plus two laps. Back then the RM400 didn't have a big enough fuel tank to run wide open for 45 minutes. So the next few years we had a factory tank that held a few more liters of fuel. That corrected that problem. That was 1982. Then '83 I had a problem with the crank seal here. I thought it was actually a smart move. We blew a crank seal so it was sucking some of the transmission oil into the motor and it wasn't running. It was just barely running. So, I pulled into the mechanics area and we drained the transmission oil. My mechanic was kind of looking at me with a question mark. I said, just do it. We'll finish this moto. Threw the motor in the garbage after that. There are some tough memories there, but it was definitely a tough track. I think Allan can testify to that.
Hamm: Absolutely. So, Al, what are some of your memories of this track here at Austin?
Dyck: Mine would be major pain. It was my first championship so it was a big glory for me. From one end to the other end of the spectrum. It was unreal. There was no resting ever. You were just… the wheel was up in the air, hitting the top of the next bump. You're trying to square up a corner to get a better start at the next straightaway. Can you imagine going down a straightaway by the train tracks there and you're standing at one end – there's nothing. But then all of a sudden out comes like a 500 and they're going really fast and jumping double, double, double. A 250 and a 125 couldn't make it because it was not enough power. That's how the whole track was. Can you imagine this? You come in the morning and it's like a skating rink. You go, oh, piece of cake. No, not so much later on!
Hamm: Awesome. I do consider it a privilege to ride on the same track as you two, and I do see you two as motocross legends here in Canada, some of the best that Canada ever produced. You were some of the guys that actually didn't just race here in Canada, but you went down to the United States as well. Why did you take time to go down to the US and race, Ross?
Pederson: Well, that was where the best riders in the world were, so to go down and have the privilege of racing against those guys was only going to do one thing for you, and that make you a better rider. Had a lot of great times down there. Learned a lot from the American riders and really enjoyed the competition. It made me a better rider. I wished I could have rode a whole series down there, in my prime back in the early and mid '80s, but with my contracts with Suzuki and Yamaha, that didn't allow for that. Race down there and get in shape in the winter, either the Florida winter series or the California Golden State series it was called back in those days. We had a lot of fun, but once the races started up here in May and June, our national series started, so we had our Canadian commitments that we'd have to come tack to. Sure wish they could have raced a little more down there. Sure enjoyed it. The boys taught me a lot down there.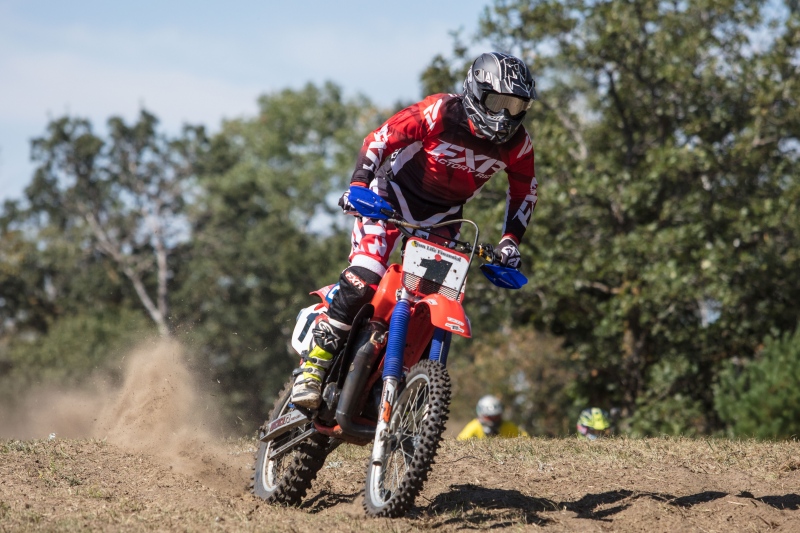 Ross Pederson ripping around on an old CR500.
Hamm: Awesome, thanks. So, Al why did you venture down to the US when a lot of guys chose to stay home? And where did you go?
Dyck: I mainly went to California. One season I did do the first few supercrosses. I went to Daytona and Houston, I think it was, Anaheim. Mine obviously is to get ready for the season here. For me, I wish I could have done more, but it was always a risk for me. I had to pay everything myself. I didn't want to get hurt for the races that counted, which were these. I wish I could have done more. I talked to Ross yesterday and was saying, man, I can't believe one time at Hangtown he was second behind Glover. He had to correct me. He was third behind Johnson and Glover. It's just unbelievable. For me, I got to ride against the top guys in the world all the time, and that was Ross. So, it was good.
Hamm: So, looking at the event here today, I know I can speak for the people that were here at this wonderful event that it was a thrill to see both of you out here and back on the bike. It was very evident that your skills are still there. We're all a little bit older than we used to be, but the skills are still there. What was something that you really enjoyed, and why did you come to Manitoba? What did you enjoy about this weekend?
Pederson: Well, first of all, Justin McCabe contacted me about the event and mentioned some of the guys that were going to be here. It was kind of a fun race with some of the old guys, the Manitoba stars, the Donny Formo, the Kim Houde, Earl Reimer, all the great guys that were around back in our day. And I'd be able to race them, yourself Lawrence. It was a privilege just to see. Often times, it's been 25 years, 30 years since we've been here – it's taken some of the old days and times, it comes across your thought process. You wonder, what are these guys doing? So, it was a great chance to come out and see the guys.
My old buddy Allan Dyck, my old nemesis. We used to battle. We hardly talked at all, and now we had a great weekend golfing together and wanted to try out Alfred's golf course that Austin became. I thought, what a great way to spend the weekend! Come down, see the guys, hang out, talk to all the… pass the stories back and forth, play some golf on a golf course, and then race on it the next day. Hey, things don't get any better. How many guys can say they played golf on a Saturday and raced on the golf course on Sunday? Not too many, I don't think.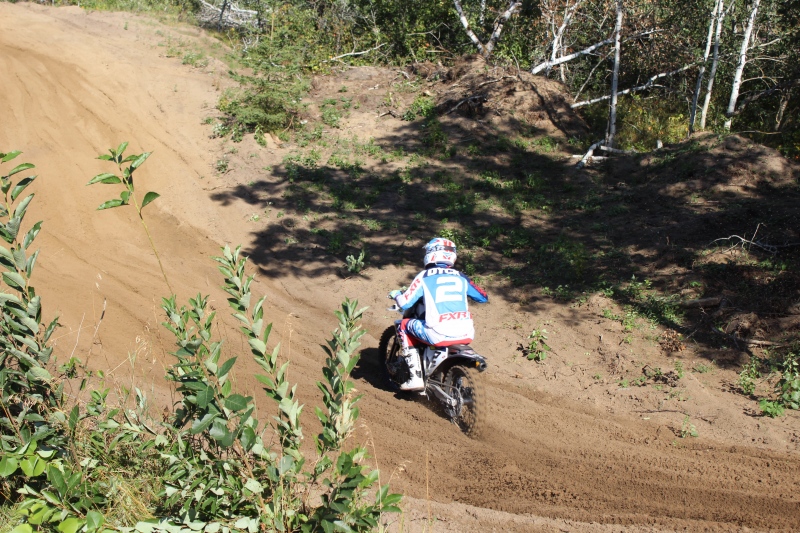 Dyck ripping around the old sand track on a Husky
Hamm: That's awesome. So, Allan, what drew you here?
Dyck: For me, it was the people. When I came in '86 and '88, that's always been a highlight of my career. I always talk about the people in Manitoba. That was it.
Hamm: You mean when you came to take our provincial championships from us, Al!
Dyck: Well, that was just icing. I hated being away from home, but I just always talk about how the greatest people in Canada are from Manitoba, and that's no lie.
Hamm: Al, I joke about that, but you made us all better by coming here to Manitoba and racing with us and pushed us to places that we didn't have to go without someone of your caliber being around. We'll just switch gears here for a moment and just talk a little bit about what are some of the things that you're doing in life? Do you think you'll come back when we have a second annual one of these next year?
Dyck: I'll definitely come back for sure. As far as what I'm doing now, Joe Skid and I won our first championship here and that's when we started doing suspension. Joe does his SSS stuff in the east, and I do it in the west. So, I've gotten back into that and I really enjoy it.
Hamm: Awesome. So, if people are looking for a high-end suspension setup, how do they get a hold of you?
Dyck: Just look on the internet. TooTrickRacing.com.
Hamm: Excellent. And we will see you back next year if we have this again?
Dyck: Oh, for sure. I want to thank Justin for taking us in, getting us out here, and FXR – they were so awesome. This gear was so cool out there. I can throw my old gear away now. And the bike they gave me… I just really appreciate them. Thank you so much. And they're Canadian. What more can you ask for?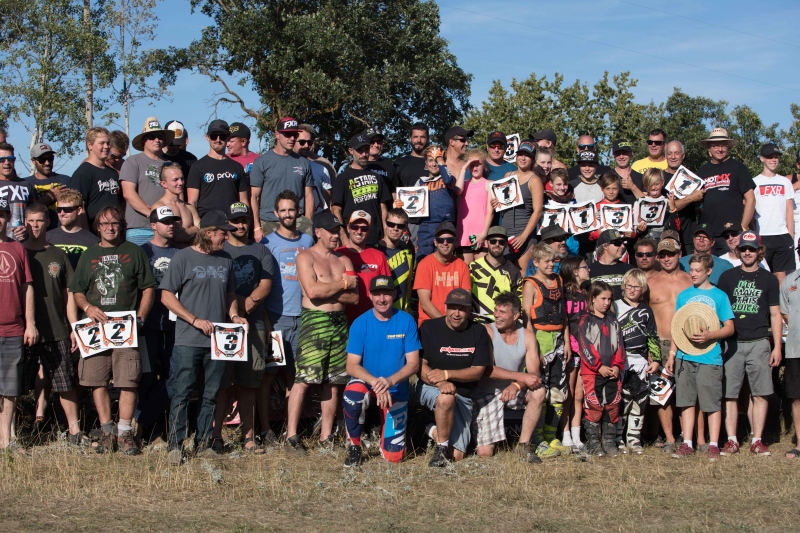 A great time was had by all, even my brother who didn't ride!
Hamm: That's fantastic. Ross, if there's a second annual, which it looks like there will be, will you come back? And will you guys throw a challenge out to some of the other legends of the sport to come out? And what are you up to these days?
Pederson: You can count on it. I'll always be back here. To race on a national, incredible track like Austin is, half golf course, half motocross track… I'll be back. The guys were great. I couldn't ask for better support from Justin McCabe and his family. They put on a great race. And of course, Alfred to allow us to race on his golf course. I'll be back for sure. there's never a better race than when you can golf on Saturday with the guys and have a few wobbly pops and then race each other on Sunday, and all for the fun of it. Back in the day when you had your race face on and you didn't talk to anybody, it's a different atmosphere. I wouldn't miss it for the world.
Hamm: So, what are you up to these days? I know you were working in the oil fields, and I think you're still doing that and you're still enjoying that. Now that you've been out on a bike here, will we get you on a bike a little more often?
Pederson: Well, I sure had a lot of fun today. I know I got to practice a little more. I haven't rode really since I guess around 2014. I got out a half dozen times and had fun. But as far as what I'm doing, my work kind of takes me away from it. You're right, Lawrence, I am in the oil patch. I work for Calfrac Well Services. We're a fracturing company. I'm on the drill and tubing side. I run a tubing rig for Calfrac. That keeps me busy, away from home quite a bit. It's kind of like racing motocross. Never home, always on the road. When I do get my days off, it's nice to spend them with some downtime at home. But I'll make time for next year and certainly be here at this event for sure.
Hamm: Awesome. Well, you know what? Thank you, "Too Trick" Al Dyck and Ross Pederson. It was great to see the number 1 and the number 2 back out here on the track today. I know I even found myself just kind of watching at times and reminiscing about the good old days here. It was a great event. It was great to see both of you back here, and it's very evident that even though Father Time while it's taken my hair it hasn't taken yours, Ross. But even though Father Time has come, you never lose that skill that you have. It still remains there and you never lose that drive. I saw that as you went blowing by me in the first turn of the first 500 moto there. That big number 1 came into the first turn. I'm like, whoa! Look out! But it was great to see you guys here. I hope to see you guys back again. Thanks for taking a few moments to sit down with us.
Dyck: Thanks for having us.
Pederson: Thanks for having us, Lawrence.