It's a throwback to how the Pulpy's were born.

It's a throwback to how the Pulpy's were born.
1. The "Quick, get me a puke-pail" Award
—Ken Roczen's IG in the weeks following his Horrific A2 crash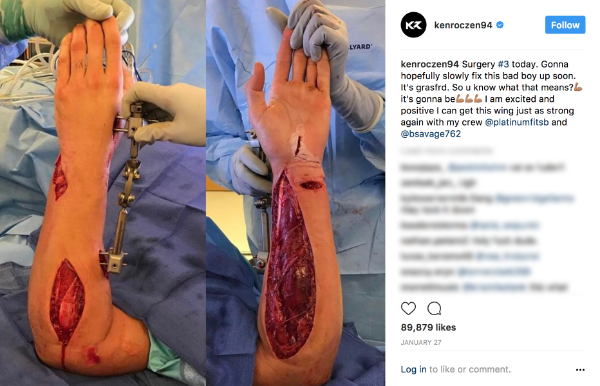 Aplogies for the throwback pic to when the gore-fest began from Ken's Instagram following his A2 crash. Seeing this first of many of Ken's gnarly pics from this period, has seriously scarred me for life. It's one of those situations where I remember where I was when I loaded this pic for the first time. Scarred I say!
2. The "Jekyll and Hyde" Award
—Eli Tomac's SX series, dominant at times, floundering at others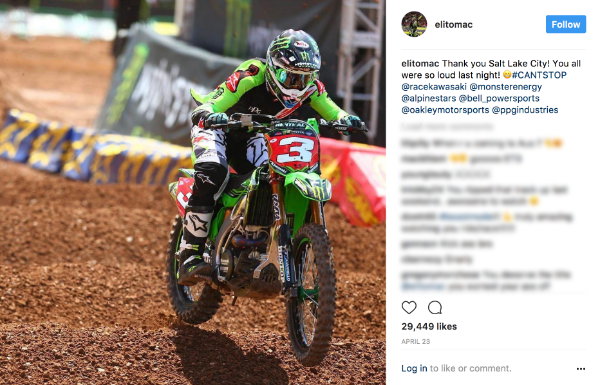 Eli started off Supercross looking like he brought an MX setup to A1, just lost. When Ken exited he began to look better, then he reeled off multiple wins… then he got the red plate and turned into Mr.Hyde. We'll see who shows up at A1 in 2018.
3. The "Worse acting than a Daytime Soap Opera" Award
—Marvin Musquin's "bobble" at East Rutherford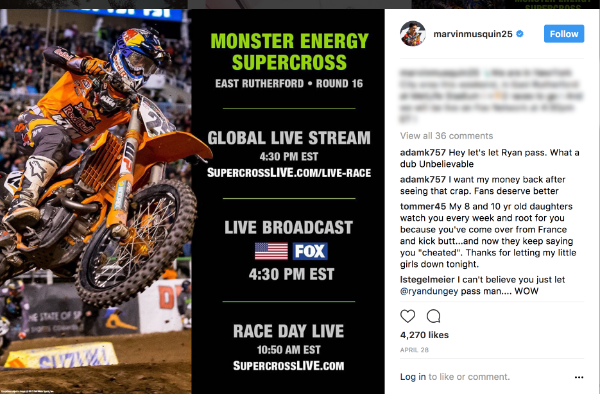 The comments on Marvin's Instagram photo here give you a great insight into how bad his "bobble" was in East Rutherford. I especially got a kick out of the father of two daughters comments. He put a lot of pressure on Marvin there!
4. The "Wake me when this Nightmare is Over" Award
— Cooper Webb's Supercross season as a whole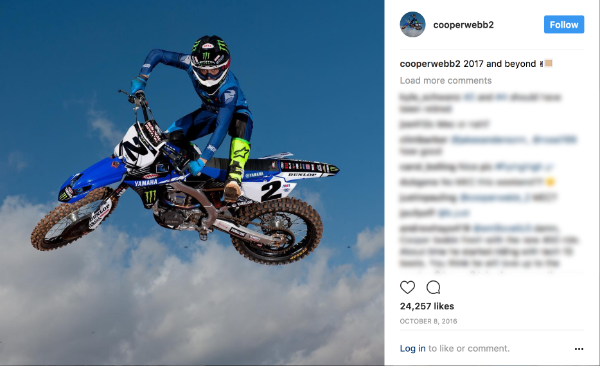 There really is no explanation needed here. Coopers 2018 debut on the YZ450 was abysmal when contrasted from how he looked and performed in his last year aboard the YZ250. They say "look good, ride good" but Cooper just couldn't figure out that second part this year. Predictability is an incredibly important factor in a bike and the big blue just aint got it.
5. The "I'm riding as fast as a bumper car so I'm gonna slam dudes like a demolition derby!" Award
— Justin Barcia's Supercross season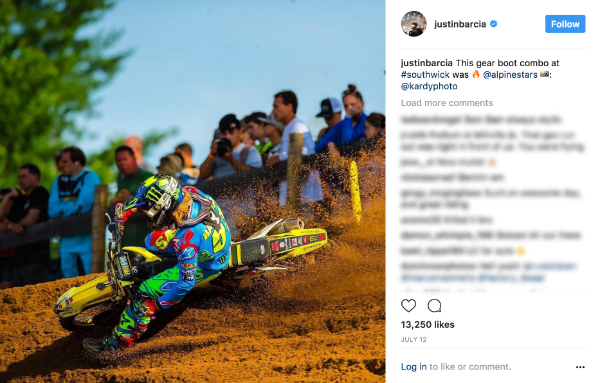 Barcia's year was a lot like Coopers except he started with injuries and it just never panned out. When Justin came back he brought the Bam Bam with a fury. He's debuting a privateer Honda this weekend at the MEC which he has won before so we're all quite interested to see if he brings good ole speed or more physicality.
6. The "No ones buying this shit, not even me but I'm running it anyway!" Award
— Chad Reed on his "inadvertent" blocking Dungey in St. Louis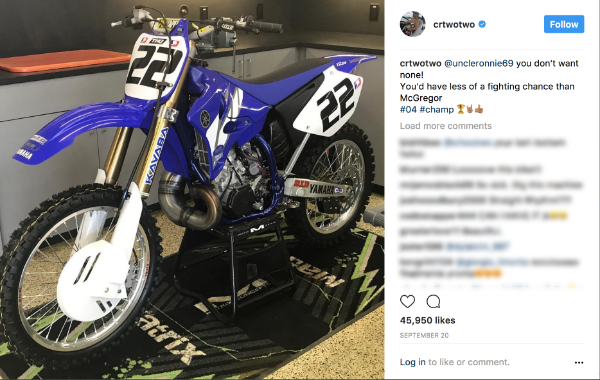 If you recall the week or so surrounding this night in St. Louis, Chad stayed away from Social Media so there was nothing to pull from IG to relate to the blocking… in lieu of that, I present you with his 2004 SX title winning YZ250 rebuild. Two strokes always win so here you go.
7. The "Watch me blow everyone's minds with this strategy!" Award
— Eli Tomac's "bunching" strategy in Las Vegas
Eli Tomac's "bunching" strategy to try and dictate the race pace from the front was a creative strategy that left many fans looking like this…
8. The "Shit! I coulda had that!" Award
— Ryan Dungey's ill-timed retirement missing out on an MX title he almost certainly would have won in retrospect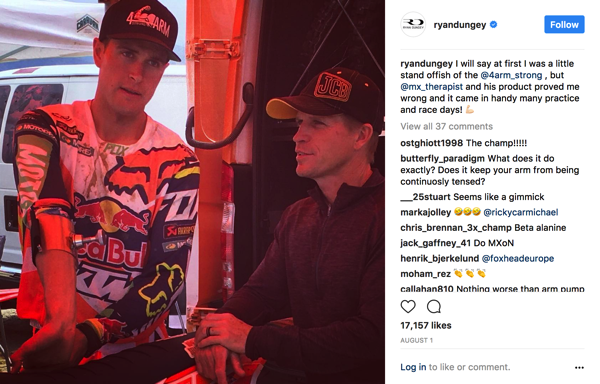 "Hey Ryan, you sure you don't wanna finish the year? I mean, we've seen Eli have issues with "finishing"…
The one that got away…
9. The "BOOM! How ya like me know?!" Award
— Zach Osborne's last corner move on Savatgy for the SX title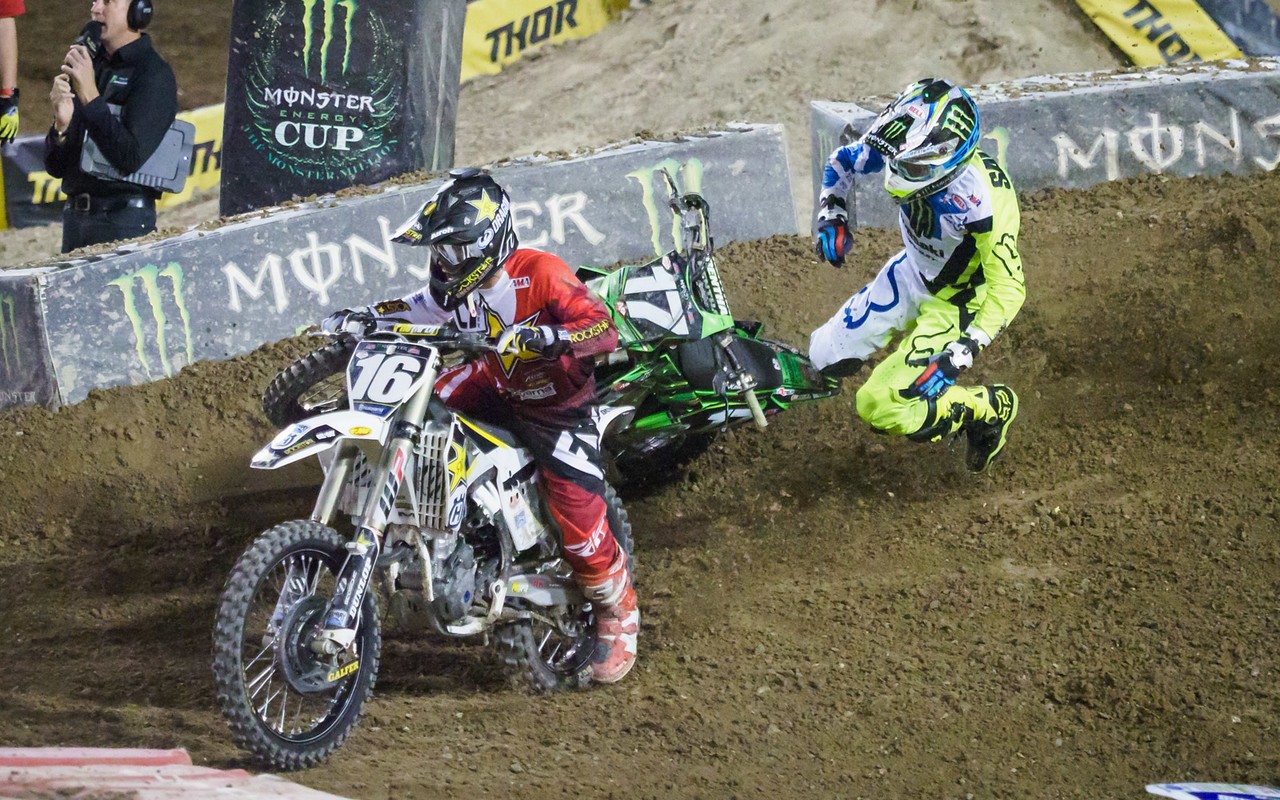 Apparently Joey didn't have a clue as to how serious Zach was about winning this title. It's EVERY LAP of EVERY RACE. Period. You can bet your ass no one will ever be at peace knowing Zach is somewhere behind them, moving forward.
10. The "A Regional SX Title means I get the rest of the year off… paid… right?"
— Justin Hill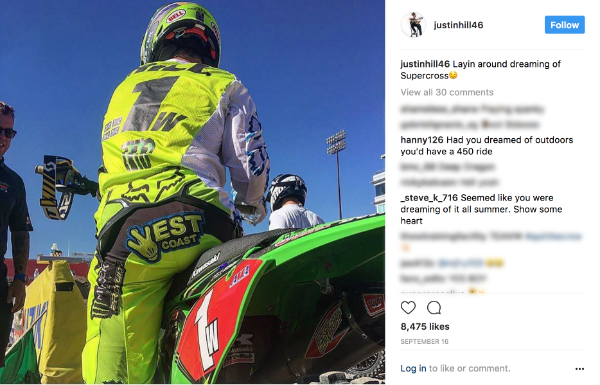 I mean, he says so himself here and those comments below express what anyone paying attention has thought all summer. Not exactly an award one would aspire to secure.