Welcome back baby! Daytona 2018 was a welcome warm breeze of not necessarily the golden years of the "outdoor Supercross" but certainly a big step toward that glorious reputation.
RC has received a lot of criticism in recent years for the design and layout of the Daytona track. It was odd mish-mashes of confusing layouts and bad obstacle placement and really wore the luster off the reputation it had built over so many years. Much of the criticisms were defended with the many rules, stipulations and reservations the Daytona infield management placed in front of RC before he could even pick up a pen… or is it an iPad these days?
The pit lane had been widened, the sprinklers had been re-routed, a new breed of sod had been laid, the Punxatawny Phil had seen his shadow… whatever man, they were just people reaching for reasons why Daytona had been declining. Having watched 2018 Daytona and hearing from riders across the board singing it's praises, perhaps the GOAT had just blown it the last handful of years and he just needed to have the heat turned up to really TRY to design a great track. You'd think the Greatest of All Time would be able to throw darts with a blindfold on and make great race track but clearly, even the #4 needs to really try hard. You see people, criticism really can be constructive still despite the garbage you read on the internet these days (current reading content aside, of course). Instead of reading criticism and instantly crying bullshit or hater, consider it for a moment and maybe, just maybe, you'll devise a path to bettering yourself. Maybe not, but it's certainly worth it. Just ask Daytona or better yet, the racers who navigated the 2018 track.
After 10 rounds of 2018 Supercross, we are STILL dealing with weekly injuries which pull racers from the starting line and the pits, yet the racing remains incredible. It's a truly conflicting set of circumstance to see a bevy of injury, yet compelling racing and storylines from one week to the next, even as the field thins. It was brutal to see RJ Hampshire go down in his heat race in similar fashion to his Red Bull Straight Rhythm pummeling. It doesn't sound like a concussion was involved this time so, while the injuries are no doubt serious, the brain is something you can't keep delivering blows to. We're barely on the precipice of understanding the a to b of concussions in the long term but it's about as basic a thought as it gets that when you shock the organ that controls literally every physical and mental aspect of your being, it's not good. So anyway, glad RJ's head was ok and hoping he can bounce back again.
Lights around his neck don't rattle Marvin as much as a tear-off stuck on his hand.
There was plenty of crazy, compelling racing in both classes from Marvin going completely bonkers over an apparent tear-off stuck on his hand?! I mean, REALLY? That is utterly silly but yet it happened. Something as goofy as a tear-off stuck to his hand to result in those types of crashes. It's almost like a tear-off being stuck to his hand is his biggest fear and when it happened mid race, it just totally blew his mind with fear like a parasite he was trying to get away from. WFO, looping out off the jump face, just bonkers man. Marvin isn't quite on the level of Eli for the swings in finishes when things go awry but he's also clearly NOT Ryan Dungey's successor. Nobody has approached that mantle yet.
Eli once again made some ill-advised decisions as well as just riding errors and he STILL nearly won in the main. He really is the closest incarnation to James Stewart we have seen in recent years. He doesn't go as far into the "Crazyballs" zone as we used to see JS7 do regularly but he really does have the all out speed advantage, crash propensity and willingness to suck the big stuff that all added up to Stew being one of the biggest fan favorites ever. So why does Tomac not have such the fan draw that Stew did? I'm not prepared to answer that yet, I haven't considered it enough to tackle it yet. Stay tuned.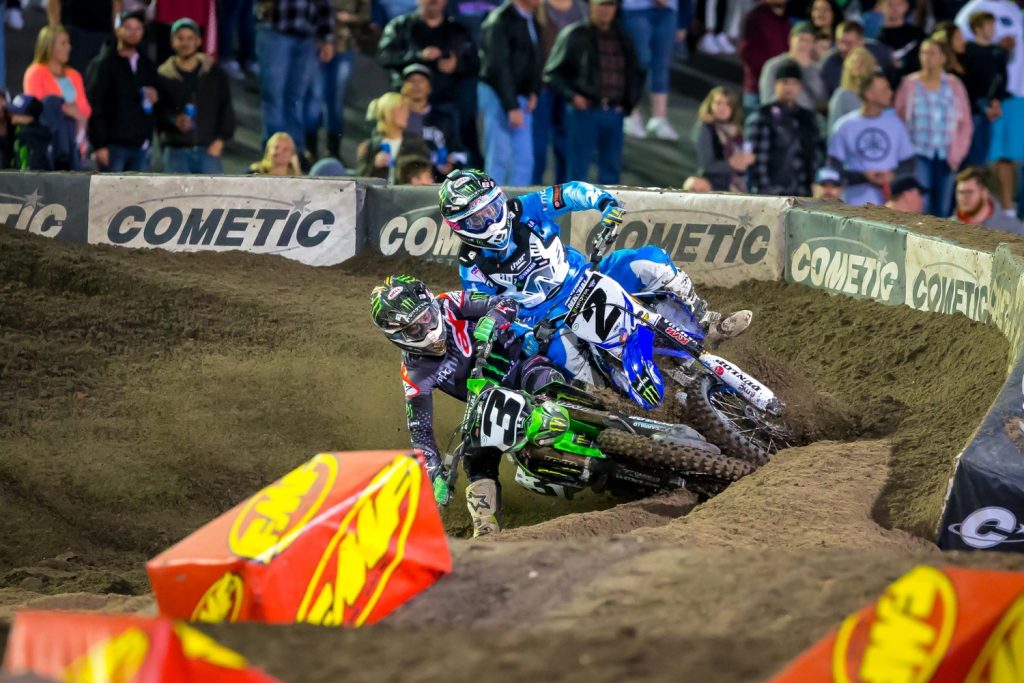 Eli had simply had enough of Cooper's antics in the Heat race.
All this talk this year of Chad Reed eclipsing the All-Time Starts record which was previously held by The Rock, Mike Larocco and then talk transition to Chad really wanting the title of oldest to ever win a Supercross (no it's not Marty, BTW… in the 250's no less); who out there would have ever predicted that following Daytona 2018, Chad would be chasing down a Justin Brayton record?! Such a cool story. I'm slightly baffled by a lot of the talk of Brayton's good rides this year, have people forgotten that in 2012 he was regularly battling RV for a few rounds and nearly beat him straight up at a race? I thought JB had actually been underperforming in the years since that season. Almost like he reached the pinnacle of what he thought he was capable of and then just let up on the accelerator for a while. Now this year, he's again tapping into what we saw in that 2012 season and it's paid off with some injuries, departures and his own great rides. So last week's one single race win during the Triple Crown round by Brayton REALLY is allowed to not be considered a win because meow he has an ACTUAL Supercross win. Funny how that works. At any rate, it was a great ride by Justin and pretty much the best way to commemorate Daytona's return as a great race track with such a cool story of an underdog win. Step aside Rick Ryan… just kidding.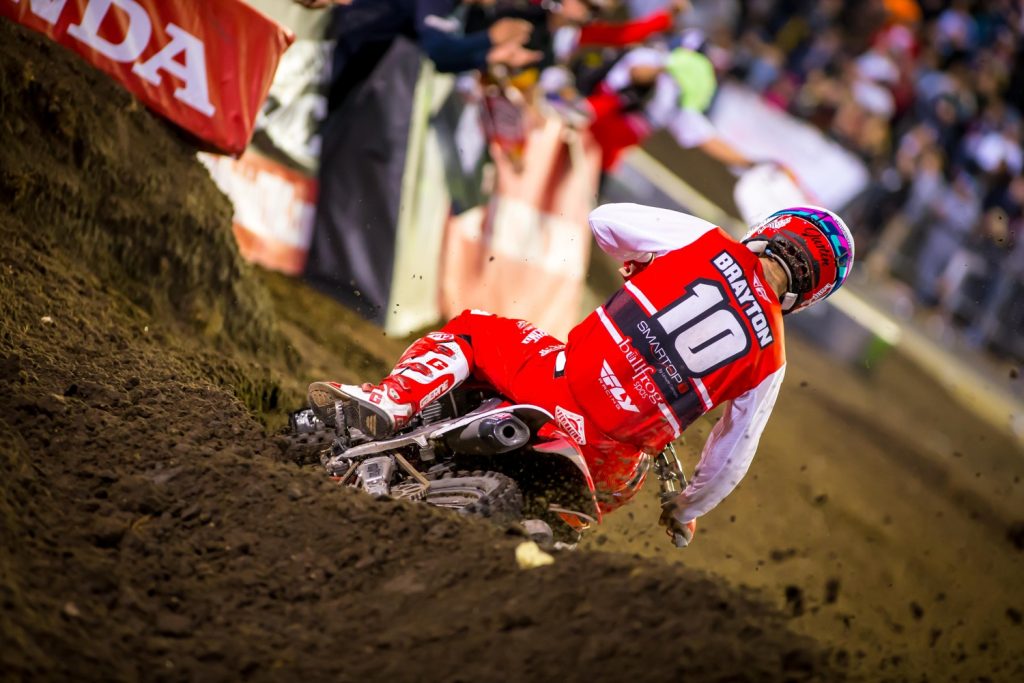 The view JB10 left everyone for 18 Laps in Daytona.
Who knows, with the way this season has been going, Justin Brayton, who is now 3rd place in points, could put a real dent in this title-fight with another win or two.