What a great feeling getting to watch the race from the confines of the good ol living room this weekend! Daytona has always been one of my favorite races to watch as the unique track design and speeds really seem to cause riders some grief. Imagine doing lap after lap on a small supercross track during the week and then having to adjust to the higher speeds of Daytona within a few days. I know that some factory guys usually have a Daytona style practice track at their facilities, but what about all of the other riders that don't have that luxury? That can be hard to adjust to when it comes to showing up Saturday and laying down some fast laps. This year's Daytona track was much better than the past few that RC had designed and it provided great racing all night for the racers and fans. Long lanes, lots of jumps and minimal s-turn type corners let racers creativity come out. The bad news about Daytona is that we lost a couple more riders due to injury from the series to the demanding Daytona track. RJ Hampshire, Jimmy DeCotis and Cole Martinez all will be looking to heal their bodies for the AMA outdoor nationals this summer. Below are a few riders and some key things that stood out to me from Daytona, or Daytoner as Chad Reed would say.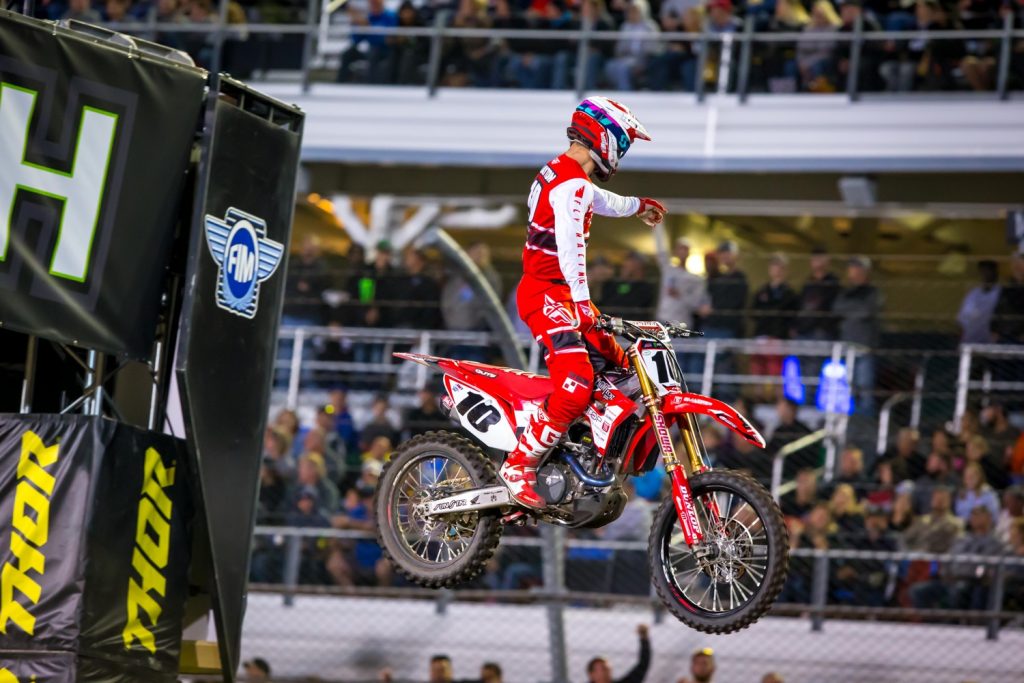 Justin Brayton: Holy crap!!!!! JB10 wins Daytona!!! I think everyone that was watching from home was screaming at the TV for Justin just like my wife and I were the whole Main Event! I will have to say that if Marvin doesn't crash, Justin would most likely be getting second, but Marvin almost looped out and JB10 rode an amazing race. Even with Eli coming all race he held it together mentally and is now the oldest rider in history to win a 450 Main Event. I don't think one person would of said "Brayton wins Daytona", before the event, hell I don't think Justin even says this before the race. The fact that this year's Daytona was technical and had longer rhythm lanes really shows how good of a rider Brayton is. Some people thought Atalanta was a fluke, but if you remember in my interview with Brayton last week, I mentioned a soft, jumpier style track is tailor made for Brayton and his MotoConcepts/Bullfrog Spas Honda. When you see a rider like Brayton win a race and the raw emotion that you get to witness on the podium, it makes you fall in love with this sport all over again. We need more genuine riders like Brayton in this series.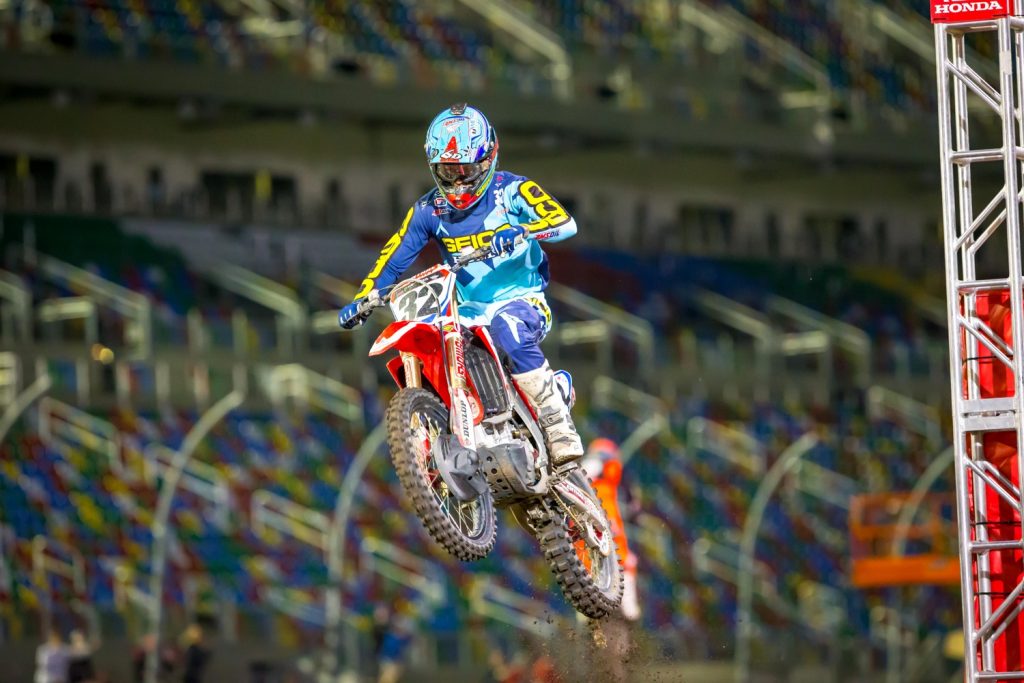 Christian Craig: Is CC32 the new Mike Alessi of starts? The dude gets great starts on the 450 and puts himself in great positions come Main Event time. At one time Christian was catching Brayton early in the Main Event, but I think he may have tightened up towards the end of the race. Some people think that he isn't deserving of a full time factory 450 ride, but I disagree. The kid is one of the smoothest riders in the game right now and that lends itself to a big bike. He gets great starts like I mentioned and never really rides out of control, which puts him into the top five on a consistent basis. I think with a little more strength and seasoning in the big bike class he can be contesting for wins in Supercross. When it comes to Outdoors though, come on, that is not even a question! This dude is even better outdoors on a 450. It will be interesting to see not IF anyone signs him for a big bike come 2019, it's WHO will do it first. Just stay on a 450 Christian, that is where you need to be.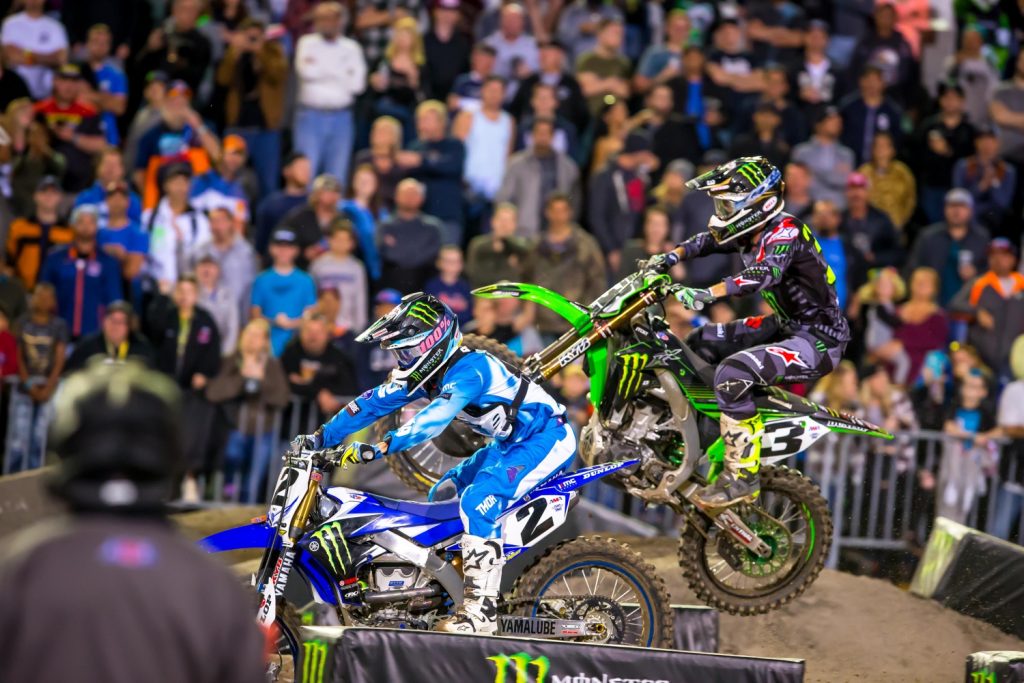 Eli Tomac: Sometimes I think Tomac just rides better after he crashes. He had a completely mangled clutch lever during the whole Main Event and rode like a man possessed the whole 20 plus one. If the Main Event was like last year's traditional style we may be talking about Eli coming back from 22nd to win Daytona! He was knocking almost 2 seconds a lap off Brayton's lead, but ended up making a couple mistakes in the sand section the last two laps. To me though Tomac is puzzling as I just don't know which one I am going to get week to week. Am I getting the top five starting Tomac, that passes each guy like a hot knife through butter and wins or do I get the crashing/weird mistake Tomac that catches back up to the top five? The move he put on Webb is questionable in the heat race even though I understand Tomac's frustration about Webb cross jumping. Some of the decision making needs to be cleaned up for Tomac to dominate like I know he can.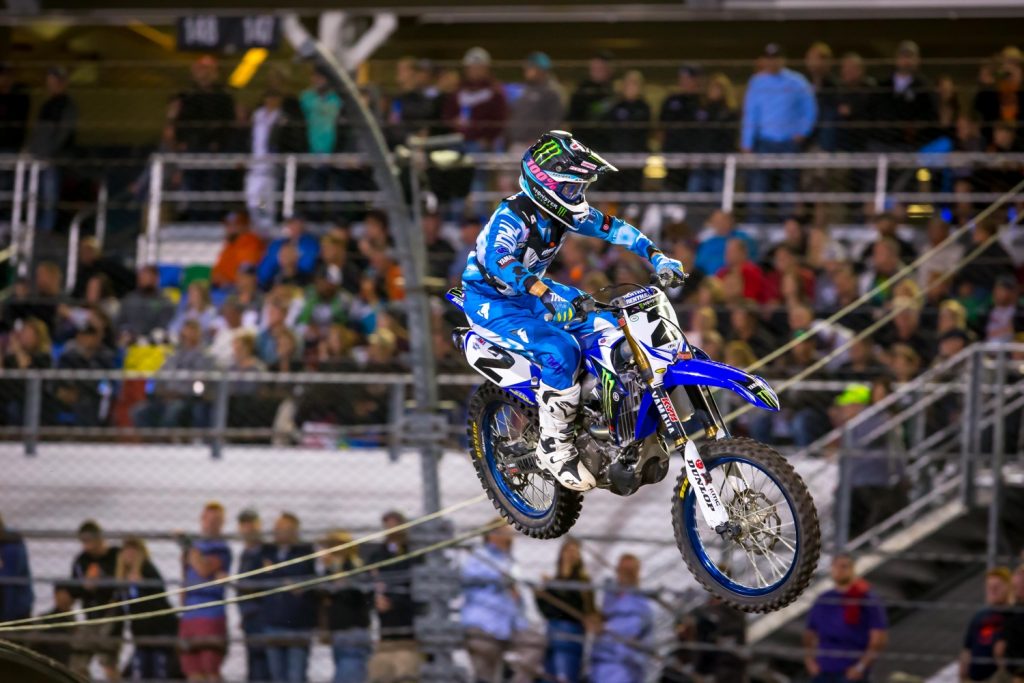 Cooper Webb: I hear people in the industry say that Cooper can't win on the Yamaha! What? Serious? Cooper has been getting better and better each week and is looking more at home up front than he did at the beginning of the year. When he gets a good start he stays close to the front and looks like he belongs there now. I know Yamaha made a few changes for him after the first few rounds and the changes that Yamaha made have been well received by Coop. No one needs to tell you guys how much I like the YZ450F and I think by the time we get to Vegas we will see Webb with a Main Event win under his belt.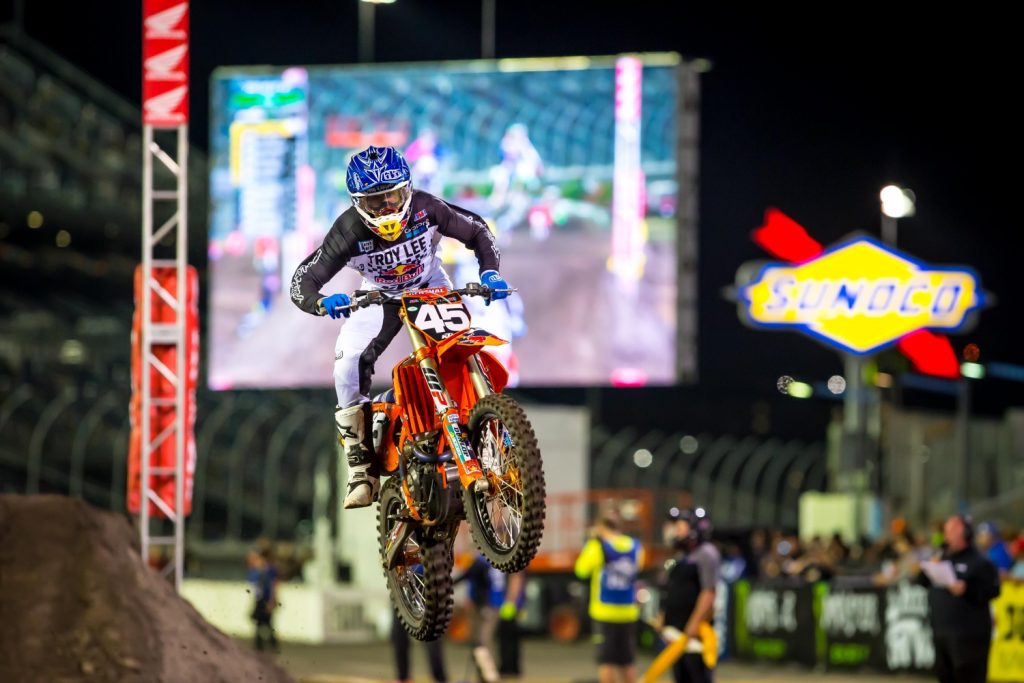 Jordan Smith: Jordan Smith is pretty underrated in my book. I know he wins races, but I feel like he doesn't get as much play or hype like the other big name guys in the 250 class. He just quietly rides smooth, wins Daytona and I feel like no one is really talking about this dude! Smith is in third place in the points chase and is only 7 points down from the Forkner/Osborne duo. Don't be surprised if this east coast points race goes all the way down to Vegas with these top three riders. I know Jordan would love to get last year's Vegas race back and what better way to redeem himself than to win the 2018 East Coast championship at Vegas this year.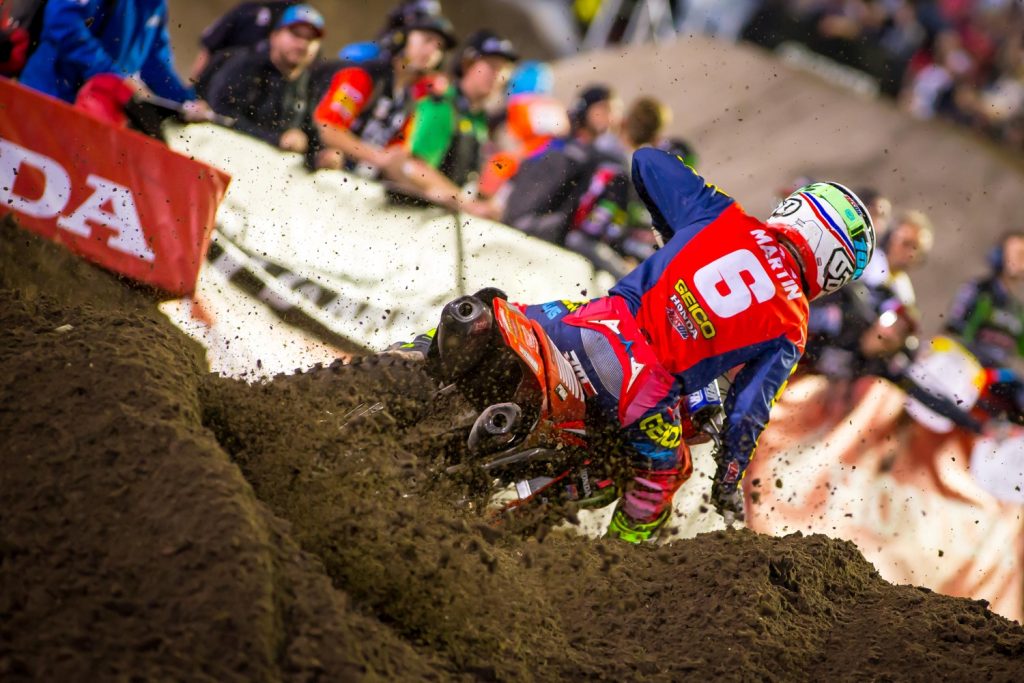 Jeremy Martin: We knew Jeremy Martin would be good in Daytona didn't we? I hear that he is back with his old trainer Dylon Turner and this might be the placebo effect that he needs to get his Supercross game on track. His Factory Connection Honda also looks to be getting better as the year goes on as well. Honda's new 2018 CRF250R is brand new, but lacked some torque numbers earlier in the year. Word on the street is that the Honda guys found some extra low end ponies for the riders the last couple weeks. The last two races have been great for J-Mart so lets see if he can make it three straight good showings in St. Louis.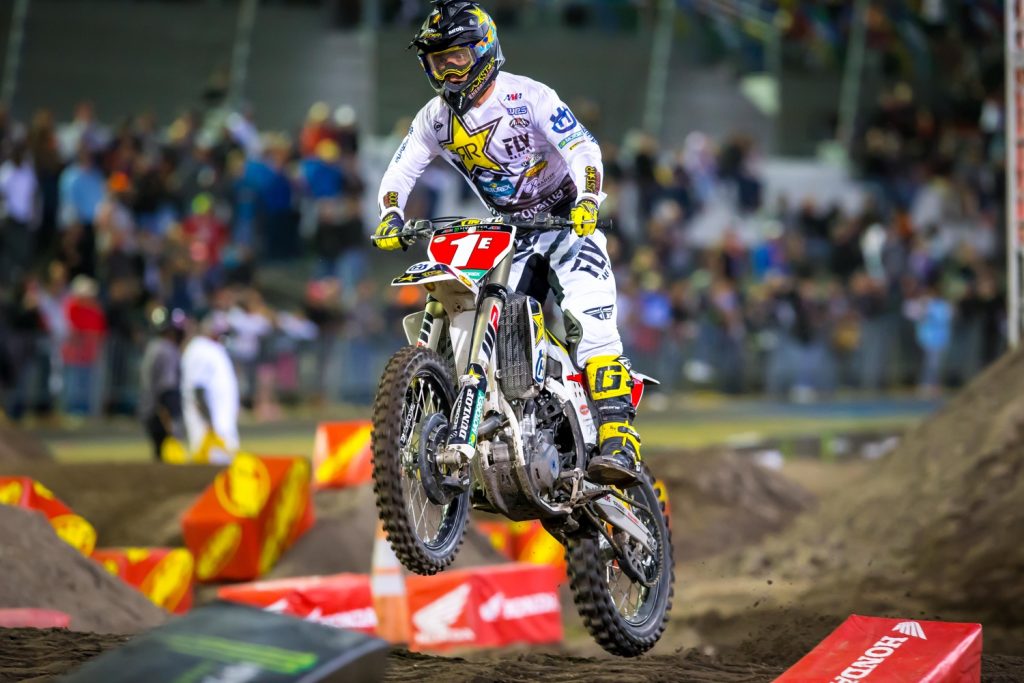 Zach Osborne: Zach put on a performance similar to Tomac in the 250 Main Event. Coming back from nearly a last place start and railing around the Daytona sand to get fourth is still very impressive. He almost had Forkner at the end, but ran out of time. if you go back and watch the race over again look at the lines Osborne is putting to use. I can't describe how difficult it is to ride that aggressive while taking a line that he may not know much about. The amount of balls it takes to hit a jump face in a different area than normal is something only people that ride can understand. One foot to the left or right, up the face of a jump, can be a total foreign feeling and that can make your bike react differently. Osborne hit the sandy based jumps differently almost every lap while he is chasing the leaders down. It is really cool to watch, but also really scary as you will see he gets bucked a couple times. Oh, did I mention that it takes tons of energy to ride that way too? I get tired just watching him ride!