Lots of interesting things going on with TV these days. How people are watching, well, everything is changing. Live sports is one spot that is must-see TV for sure and SX/MX both have better TV packages than they've ever had. We're still a small niche sport but the hope is that TV will continue to grow. Or will it? Certainly the MXGP and MotoGP guys have eschewed "normal" TV packages for subscription services you can watch live on many different devices. 
 We're getting a lot of "Highest TV ratings ever" PR's and I guess the cynic in me that has been in the pits for over twenty years is always wondering about these types of statements. But hey, I'm not a TV ratings expert but I do kind of know one! Rick Mogstad is a listener of ours and has been corresponding with me for a couple of years.
Here's his bio- "I have been working as a software engineer for 16 years, and working with TV ratings, specifically for live TV, for the last 7 years. I started racing when I was 7 at my local track outside of Eugene, OR and raced for several years. After taking an extended break once I had to start paying my own way, I got back into riding and following SX/MX right before my 30th birthday, and have been an avid fan since."
So since TV ratings are interesting to me (as an NHL fan, I always hope for it to make some gains in the USA but guess what? It's not) I asked Rick to look at this years and previous years SX and MX ratings using his information, answer a bunch of questions for us and educate us on how "we're" doing. Hope you guys enjoy it, I know I did and thanks Rick!- Matthes
We've all heard about TV Ratings.  They determine whether our favorite shows live another season, or are canceled after the huge cliffhanger season finale. But, what does it really mean?  Who cares?  Why do they care? Ultimately, it all comes down to money.
There are a two main groups who care about ratings.  The first group are the people that purchase ads (advertisers, advertising agencies, etc.).  Their goal is to reach as many people as possible with their ad.  The second group are the people selling ads (cable/satellite operators, networks, stations, etc.).  Their goal is to get as much money for their limited stock of ad time as they can.  The sellers use rating to prove that they gave the buyers what they promised when they sold them ad time.
TV ratings are determined by looking at the viewership of the program (how much time was spent watching) in comparison to the potential viewership of the program.  For example, a rating of 6.2, it means that 6.2% of people that could watch TV were watching your program.  The other 93.8% of people were either watching something else, or not watching anything. 
So, what does it mean for us MX/SX fans?  Let's take a look at the numbers.
Supercross 2016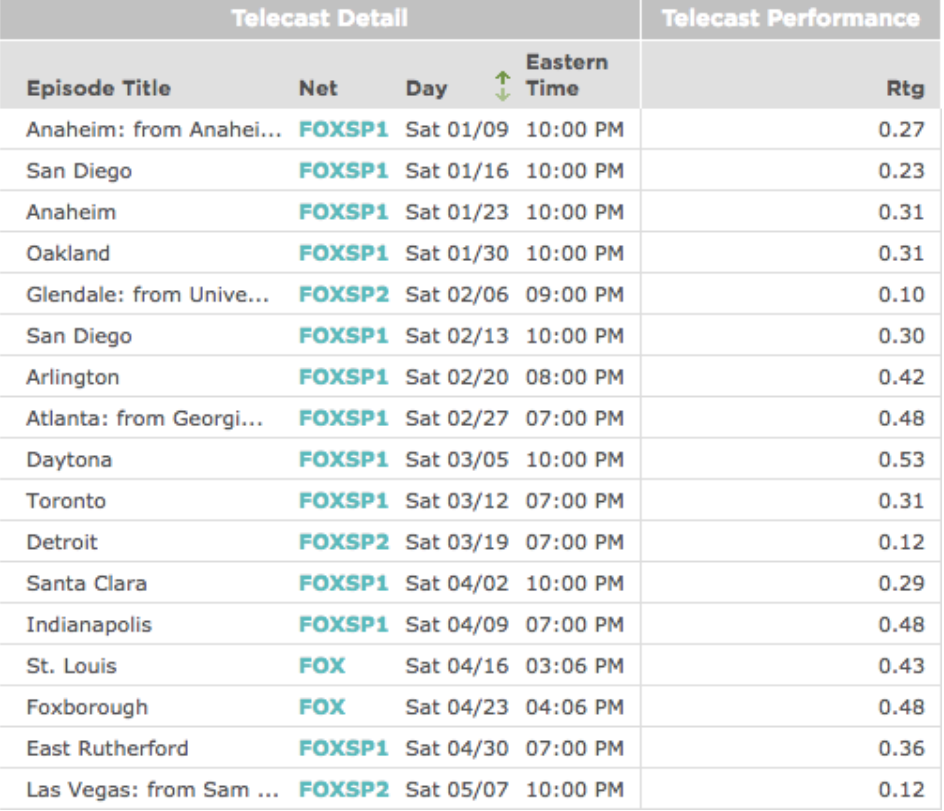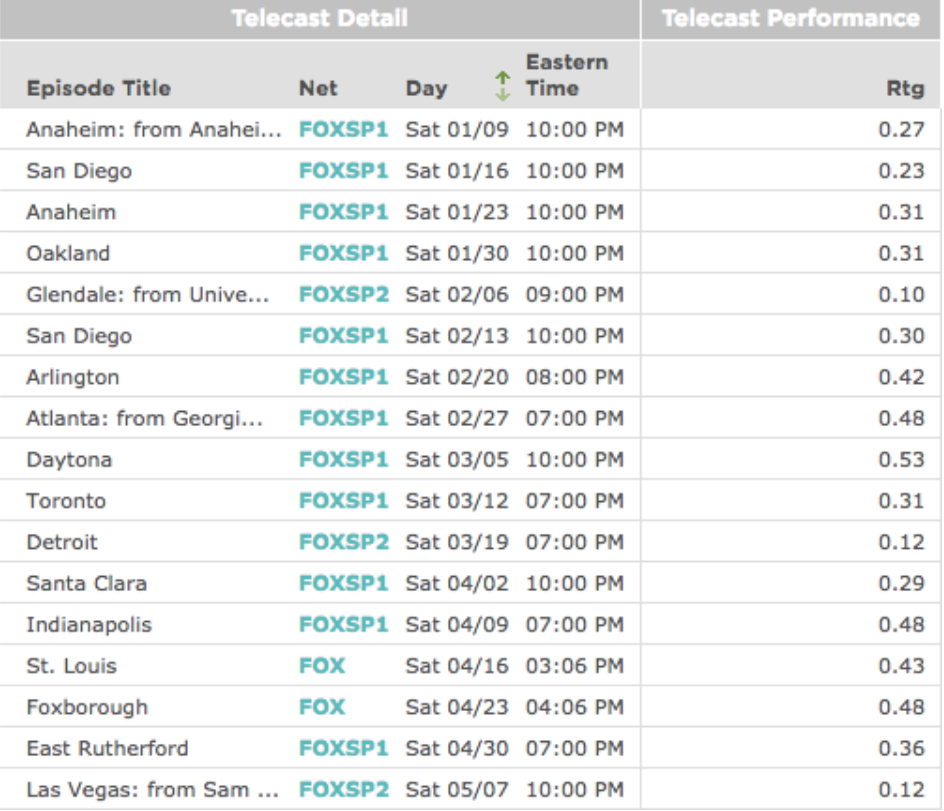 Supercross 2017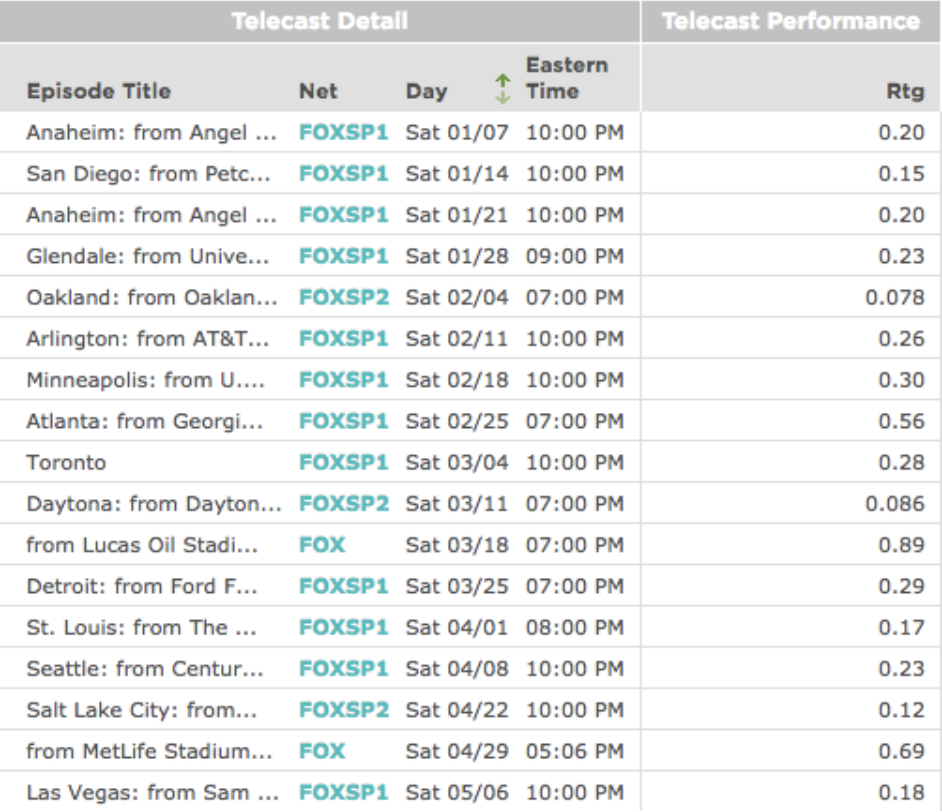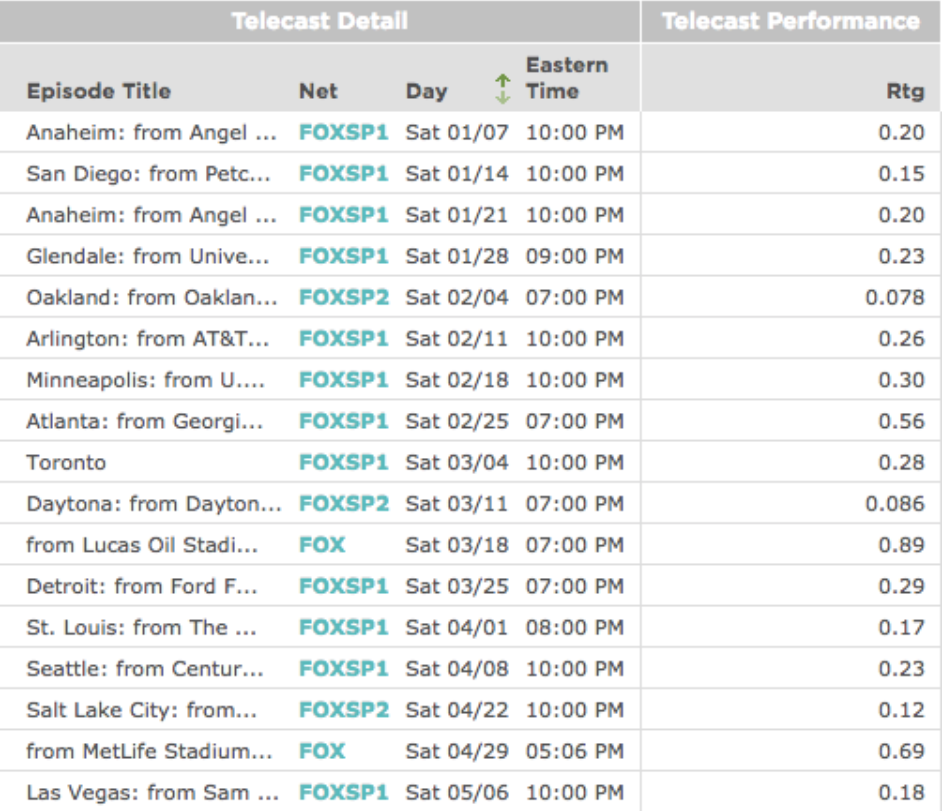 Supercross 2018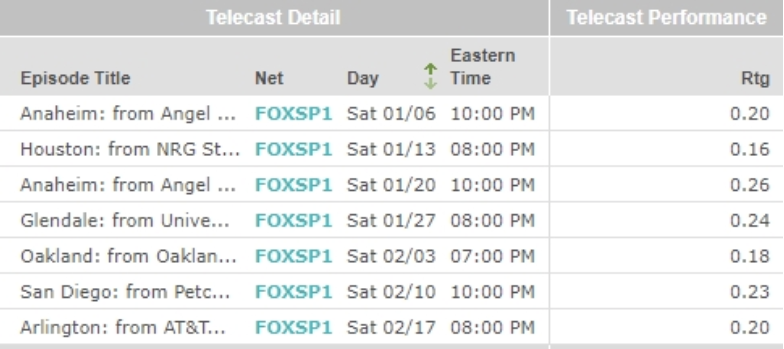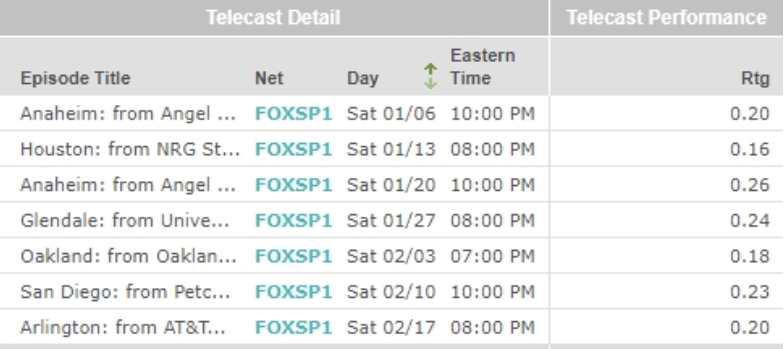 Motocross 2016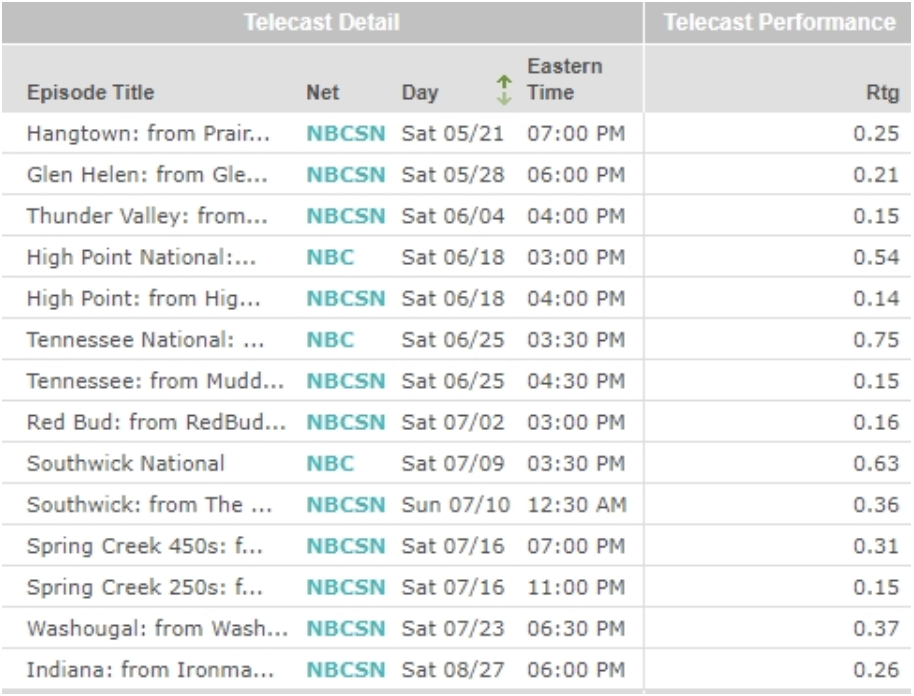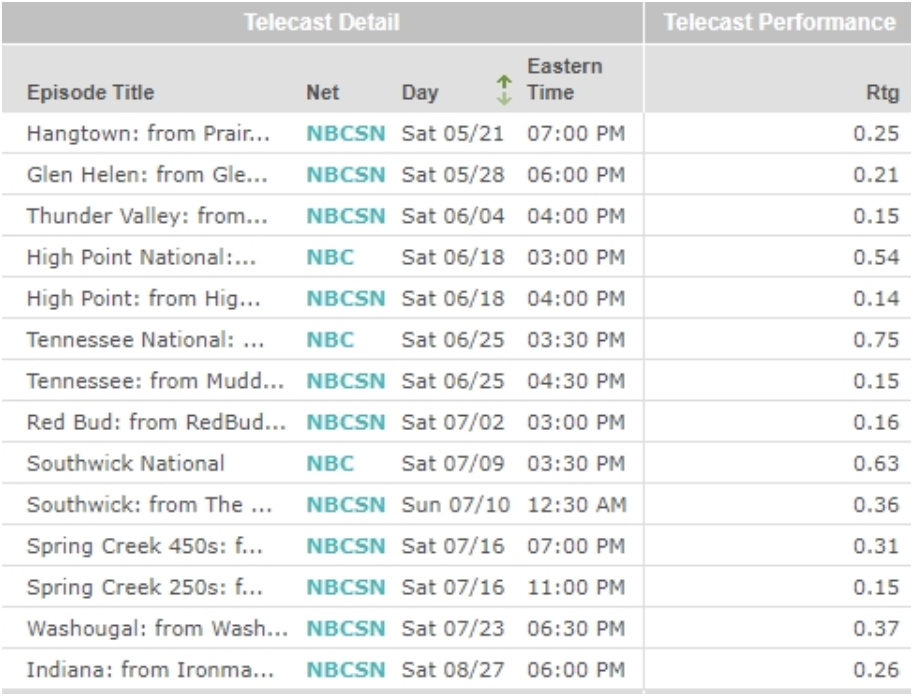 Motocross 2017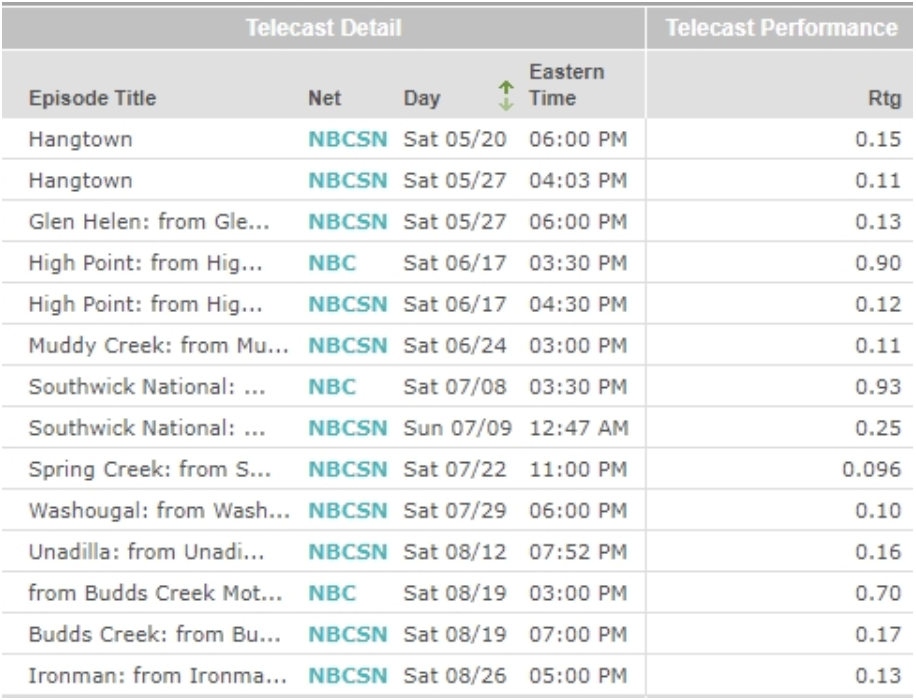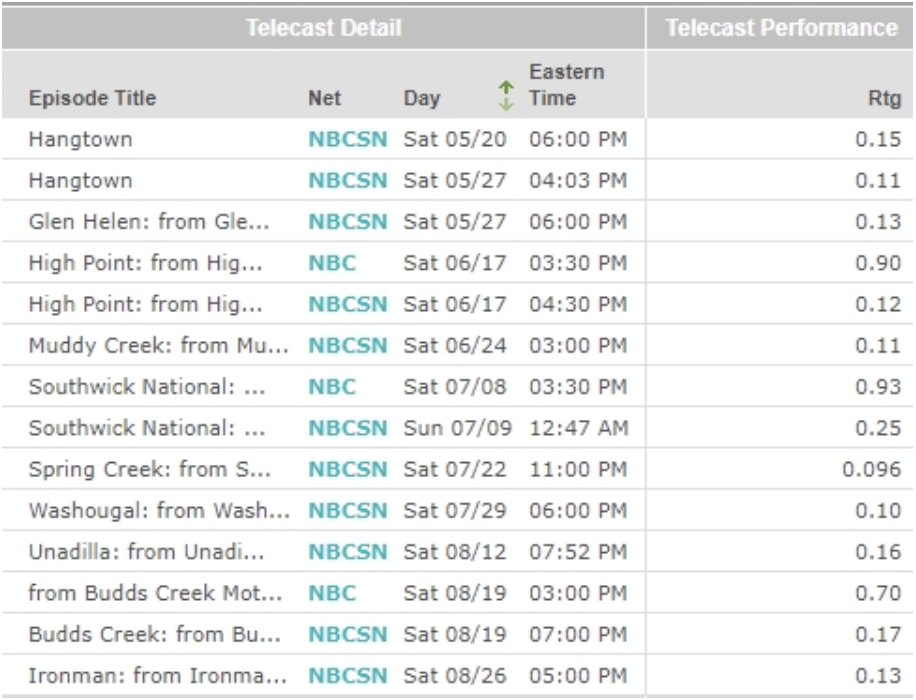 (Data provided by comScore, Inc. Opinions and analysis provided are my own, and do not represent an official analysis by comScore, Inc.)
Some quick analysis based on the data: 
Supercross is more popular than motocross

On average, about 0.1% to 0.3% (around 100k-300k households)

 

of people that could watch TV during supercross or motocross are watching.

   

Ratings tend to increase and peak around the mid season.

Putting a race on FS2 often results in less than half the viewership, while putting the race on the main FOX network often draws 2 to 4 times as many viewers.

Similarly, putting a race on the main NBC network brings in 4+ times as many viewers

Ratings have mostly decreased from 2016 to 2017, however the ratings on the main NBC/FOX networks increased significantly.

Ratings are similar or slightly higher so far in 2018!
This data only represents live viewership (including any pause/rewind).  When including DVR data for the first 3 days as well, the viewership nearly doubles in most cases.  This suggests that people often DVR the races and watch the same day or within a couple days of the broadcast.
You may have seen some articles that suggest that viewership has increased over the last couple of years.  I believe the main reason for that is that the networks are using a different set of data to calculate their viewership, and possibly a different methodology for predicting how that represents viewers nationwide.  Since there is no way to get a complete set of data from every single viewer, we have to use the data we have and "guess" how that represents all tv viewers. The dataset that I am using is much larger and includes a lot more households and I believe that allows us to predict nationwide viewership more accurately.
What does this mean for our sport going forward?  Honestly, despite the ratings being somewhat flat, and even trending a little bit downward, it is encouraging to see coverage on the main networks, and to see strong viewership when those races are aired.  Hopefully going forward more races will be broadcast on NBC/FOX, further increasing exposure.  It is clear that the best way to increase viewership is to broadcast on networks that more people have access to, and where people are more likely to be watching.
There are many ways to measure TV audiences, why use rating?
Rating is the standard used by the entire industry.  Since it is based on hours viewed, it is a fairly accurate indication of how much viewership you had, especially when compared with other programs.  Other measurements (for example unique households) are often used for analysis, but rating is king when it comes to purchasing and selling advertising.
How important is the lead-in for SX or MX? Does that make a difference at all?

Since the race telecasts are fairly long, the lead-in has less of an effect on the rating.  If someone watches the first 10 minutes of a race, they will have minimal impact on the rating.  It's always possible that someone watching the program before becomes a new fan though!
Would a big network like FOX or NBC see these numbers and be pleased with them and therefore maybe put the sport on more?
When the races are on the big networks, the ratings are on the low side, but fairly comparable to the same time slot during other weeks.  We can also see that the ratings for the big networks do seem to be increasing, so that would make airing them more appealing. 
In your opinion, are the networks used for SX and MX ones that are "right" for us? Would you go back to ESPN and tape delayed if they wanted it or is live everything "we" need to do?

If you want high viewership, live is the way to go.  There are too many ways to access information about the race in real time.  Some fans would still be dedicated to watch a 3 hour program after they already know the results, but I think it would be a pretty large drop in viewership.
You mentioned "Supercross is more popular than motocross" and "Ratings tend to increase and peak around the mid season".  Any idea why that might be?
First, I think that supercross is much more accessible than motocross for a "casual" fan.  For many of us there is nothing like being out at a motocross track, but having a track inside a stadium means that all the racing is visible all the time.  It is much easier to see the action, even on TV, in supercross.  Additionally big jumps and flashy presentation are an easy sell.
I have given a lot of thought to the trend in ratings to peak around mid-season.  I would expect them to tail off toward the end of the season as the racing gets more "boring", or there is a clear series winner, but I'm not sure why people watch more mid-season than early in the season.  Perhaps people that are more casual fans are not aware of when the season starts and don't start watching until a few races in, or maybe people are more likely to watch the mid-season races live or within the first couple days than the early races.  It's tough to tell just from numbers.