What? A Roczen replica? Well not completely, but it sure does look like his bike! Honda revealed their 2019 CRF Collective line up today and one bike in particular really caught my attention. The 2019 Honda CRF450R "Works Edition" is for all intended purposes Honda's answer to KTM and Husqvarna's Factory Edition/Rockstar Edition. Honda is the first Japanese manufacturer to do any kind of special edition type of motocross machine and this goes to prove how much influence KTM and Husqvarna has on the off-road market. Would Honda even have the CRF450RWE available if KTM and Husqvarna do not have their Factory Edition/Rockstar Edition motorcycles? I don't think so…With KTM and Husqvarna being so successful with their mid-year releases, it was only fitting that someone else would catch on and come out with a special, limited release, race inspired motocross machine. The 2019 CRF450RWE is not a mid-year motorcycle, but just another option for the rider/racer who not only wants to look like Kenny, but also have some added performance to their ride.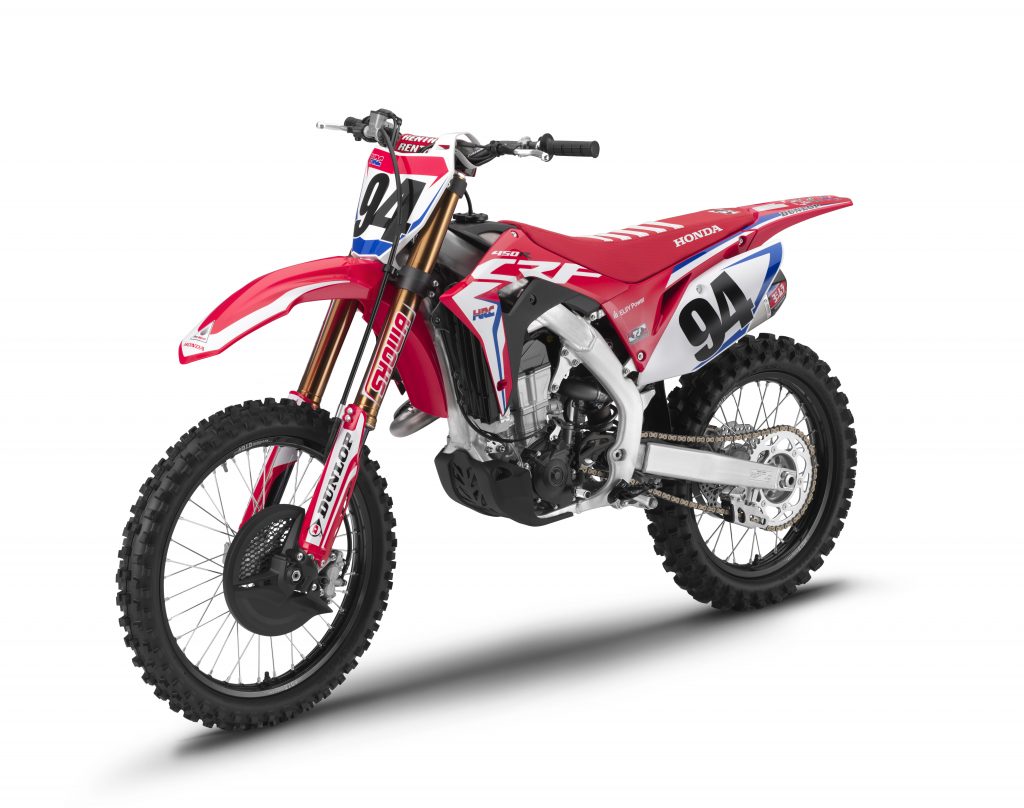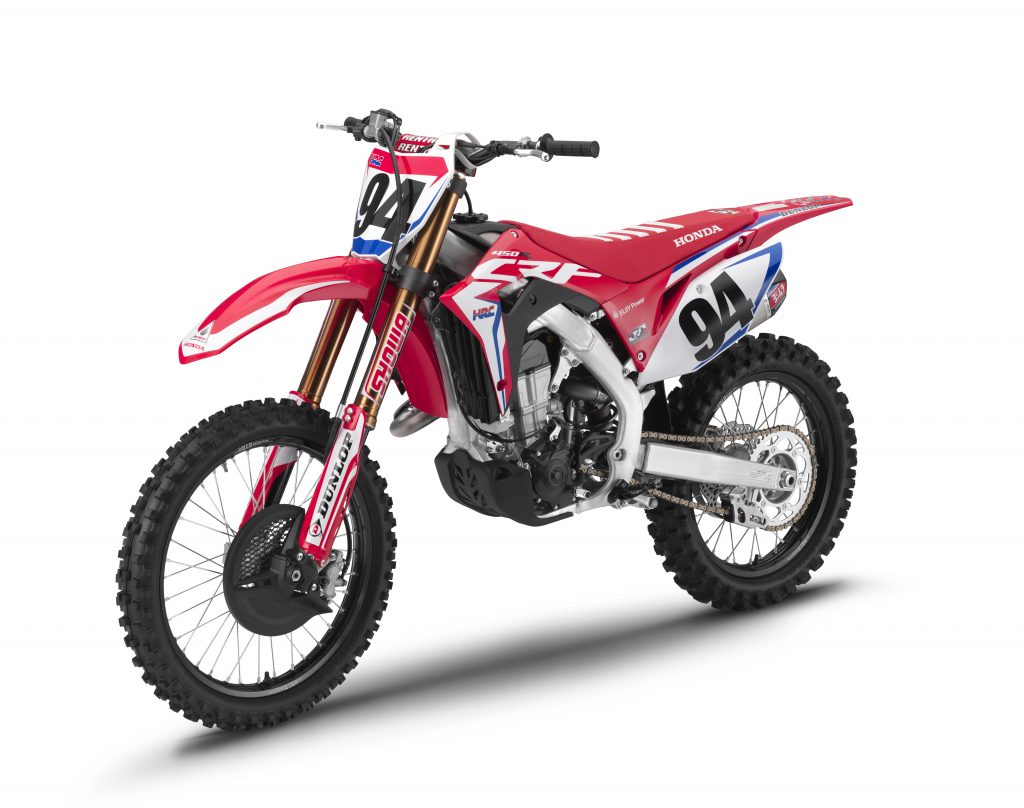 I may or may not have had a small part in helping develop the 2019 Honda CRF450R and when I got word that the "Roczen Edition" would be coming out with the 2019 line CRF Collective line up I was actually somewhat blown away. The thought of having a "Works Edition" CRF450R has been in the "works" for some time now, but for Honda Japan to give the green light and actually come out with more than just a special "grips and graphics" machine is really unique. It's not easy for Honda Japan to say "yes" to certain projects, because Honda's standards are so high (and rightfully so) that a lot of moving parts within the company have to make sense. I am sure this is the same for most other Japanese manufacturers as well, but to me more options for the consumer can only mean great things for our sport. Yes, it will cost $11,499, which is more than the KTM and Husqvarna Factory Edition/Rockstar Edition models, but you are getting some "special" pieces that you can't get on the current 2019 model CRF450R. Here are a few things that differ from the standard 2019 CRF450R:
A unique cylinder head with factory hand-polished ports improves torque feeling slightly from low- o midrange, around 5,000 to 6,000 rpm. That's right a very smart Japanese engineer grinded on that cylinder head for you. A guy way smarter than you and I! I don't know if you need more power from the Honda CRF450R, but with this hand ported head you get just that!
A Yoshimura slip-on muffler with titanium body and pipes, carbon fiber end caps that are exclusively designed for the CRF450RWE. The Yoshimura full system is not even completed yet (for the standard 2019 CRF450R) so this in itself is unique.
ECU settings that are developed around the Yoshimura exhaust and cylinder-head.
HRC launch control with special settings influenced by Ken Roczen.
For all you bling monkeys out there! Kashima fork-tube coating reduces friction and improves handling performance. This technology is developed by Miyaki Company of Japan. Kashima coating is a special treatment for hard-anodized finishes that fills the micro-pores on the surface of hard- anodized aluminum for better lubrication and reduced stiction.
Attention bling monkeys!!! Titanium nitride coating on fork legs! That drops seconds off your lap time right there doesn't it?
Shock shaft processed with Super Finisher and coated with titanium nitride.
Stronger D.I.D LT-X black rims with special laser-engraved logo.
RK gold chain
Throttle Jockey factory Team Honda HRC graphics and seat cover for that factory HRC look. Basically it looks like Lars prepped your steed!
Top and bottom triple clamps come in black.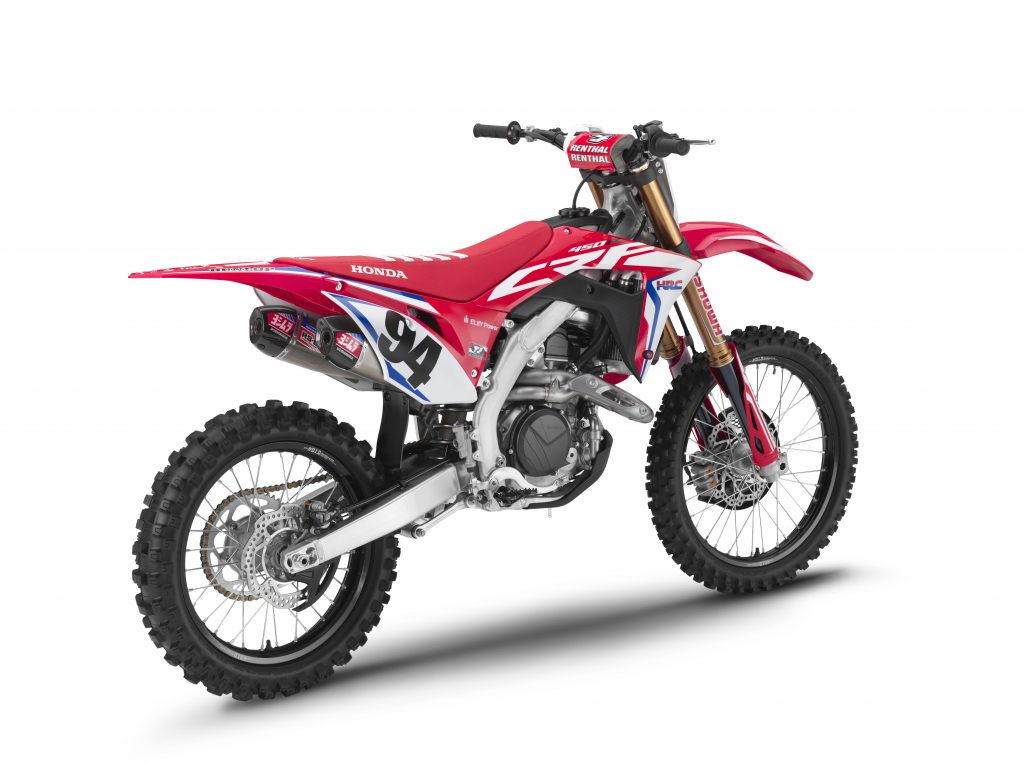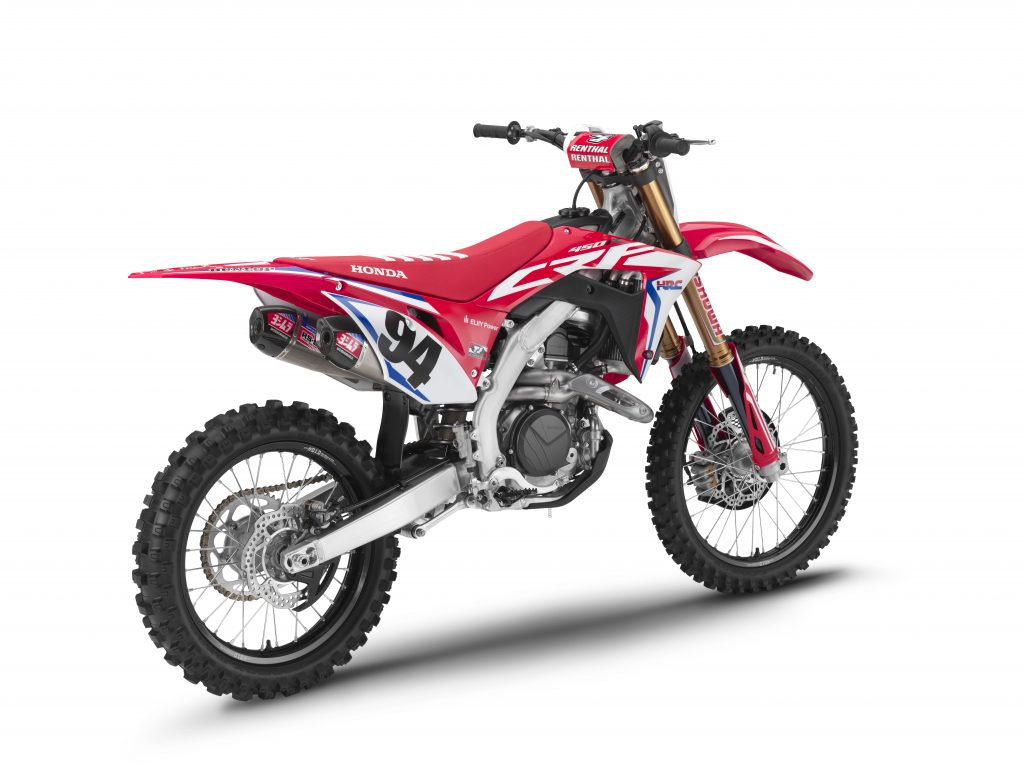 Only 500 of these 2019 CRF450RWE's are coming to dealerships and will arrive in August. I am looking forward to giving you some more on-track differences between the 2019 CRF450R and 2019 CRF450RWE. People always ask if A-Kit is truly better and this seems to be the perfect time to answer that question with these two models. Kudos to Honda for being the first Japanese manufacturer to have an answer to KTM and Husqvarna's Factory Edisssssssh niche.