Ten Things About the 2019 KTM 350 SX-F
KTM invited us out to Chaney Ranch in Warner Springs, California yesterday to test out the 2019 KTM 350 SX-F. KTM made a ton of changes to the 2019 350 SX-F and some of those changes include a new engine, new frame, new swingarm, a Pankl transmission and new bodywork. What I find interesting is that KTM's R&D department is willing to scrap any prototype bike or part that doesn't meet their expectations or standards.
If KTM happens to be in phase two of their prototype stage, they aren't scared to replace certain parts on the machine if others work/perfrom better. This is a rare move from a manufacturer and I speak about this more in depth over on my 2019 KTM 350 SX-F Keefer Tested Podcast. Listen in! I wanted to give you all "Ten Things" that I noticed on my first day testing the new 350cc sized orange machine.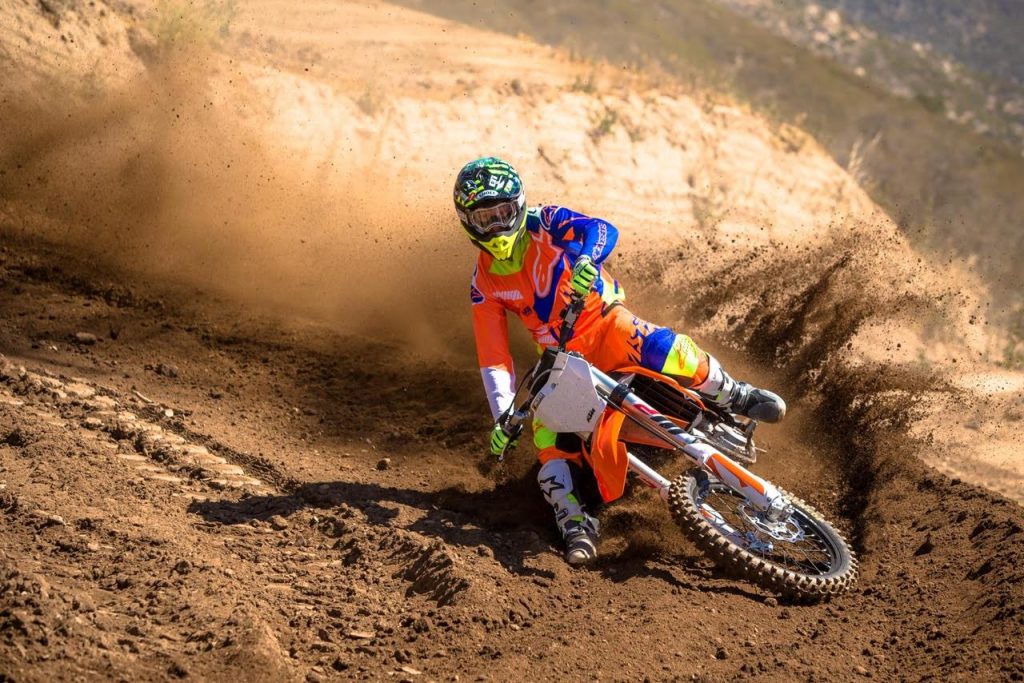 Engine Recovery Time: What in the hell is "Engine Recovery Time" Keefer? This is the action in which an engine recovers from a human error while riding. If you are in too high of a gear and need to get into the meat of the power again quickly that would be considered "recovery time". The 2018 KTM 350 SX-F's recovery time was NOT that immediate and took more clutch work by the rider, but the 2019 version is much peppier than last year's version. A simple flick of the clutch gets the engine RPM's back up in a hurry and you're down the track in a hurry. This is the first thing that was noticeable compared to the 2018 350 SX-F.
Free Engine Feel: The 2019 KTM 350 SX-F's engine feel is very free feeling and spools up very quickly, but what is impressive about this is that it idles down slower, which in turn makes it a very free feeling engine character. Having an engine RPM that comes down quickly and heavy makes engine braking. That means chassis pitching on de-cel! EWWWWW, we don't want this! Do you know what that means on the track? It means it makes the whole bike feel very light and exciting too ride. Yes, please!
Torque Feel: Does it have the torque of a 450? No, it doesn't! It is still is pretty mellow off the bottom end and has a smoother roll on power delivery. Is this a bad thing? No, it isn't. It just means you're getting a 350cc engine, not a 450. If you want massive amounts of torque, buy a 450.
Mid-Range Power: The 2019 has more mid-range pulling power than the 2018, which is noticeable as soon as you roll the throttle on. I recently rode a 2018 KTM 350 SX-F for a re-fresher course before I rode the 19 version and could tell immediately that there is more "meat" in the mid range.5-Weight Feeing (Chassis): The 2019 KTM 250 SX-F weighs in at 218 pounds and 350 SX-F weighs 219 pounds dry. That is only one pound! The 350 feels lighter in corners than it does in the air, which is very odd to me. The good news is that you are able to cut down from blown out berms or ruts very easily. You react, the 350 SX-F reacts. I like that you are able to open up the track more with your riding technique because the 350 SX-F is so light. Finding smooth lines is made easier!
Straight Line Stability: As light as this chassis feels on the 2019 KTM 350 SX-F, it stays pretty damn straight (on-throttle). When accelerating out of long sweepers the rear end stays more connected to the ground than last year's model. The stiffer frame helps this contact (I feel) and is very noticeable under heavy load.
Pankl Transmission: The transmission is buttery smooth on the 2018.5 Husqvarna Rockstar Edition, the 2018.5 KTM Factory Edition and the 2019 KTM 350 SX-F. What do they all have in common? Pankl. A simple upward or downward motion with your boot, to the shifter, does what it's supposed to do (very easily). False neutrals are a thing of the past.
Orange Frame: It's gone bro! Why? KTM told me they only make orange frames production when they don't make a whole lot of changes to next year's machine. When there is a lot of changes (like the 2019 bike) they stick with black. Why? I don't know, but that is what they told me. Maybe look for orange back in 2020!
Vibration: I do notice some more vibration through the Neken handlebars and through the footpegs in 2019. I didn't notice it that much last year, but to me it is noticeable for 2019. I am going to try and swap out the Neken's for Pro Taper's ASAP. I will see if this helps. The Neken bars feel super stiff to me.10- Suspension: I would love to sit here and tell you I tested on a rough track, but if any other media outlets talks about the 2019 KTM 350 SX-F's suspension in their "First Impression", they are simply blowing smoke up your ass. The Chaney track although fun, wasn't that rough to get you a direct suspension impression. You were able to get some chassis feeling/sensation, but the Chaney track was simply not a suspension testing type of track on this day. It was good for g-outs, some chassis loading feeling and high speed compression type stuff. I set the shock sag at 105mm, ran the fork around 10.7-10.8 bars and the KTM 350 SX-F felt pretty balanced. It does feel a little firmer than last year's, but that could be because the the suspension is not broken in yet. It takes 5-6 engine hours to fully break in this WP stuff.