It was no Hangtown 1991 but it was a very respectable mudder nonetheless.
Do yourself a favor if you haven't ever or not recently caught sight of the Hangtown 1992 quagmire. Not only was it infinitely sloppier than Unadilla this year, it was the days of 2 strokes and they were negotiating actual rivers flowing. The lightning-shortened Budds Creek of 2010 may have given the '92 Hangtown track a run for its money in terms of water flow but that Hangtown race still remains unassailable in terms of shear wow factor. The Pro Circuit team looked pretty damn good that day in 1992 as well, something that crazily seems few and far between in the last two years.
There are plenty of people who are not fans of the mudders. Clearly the racers are at the top of that list… scratch that, the Goggle-guys are at the top of that list. Their underwear are bunched so far up their asses when a mudder is inevitable that they would be better off going commando in the mud. There is no goggle company that hasn't been mother-eff'd in exponential numbers once the gate drops. It's an unachievable target to strive for. With the unpredictability of both rainfall, splashing, rocks, fog, roost and even the racers own front fender flapping about and hindering the racers vision; really the best car scenario would be more understanding racers. There are a few of those but when it costs them positions and points even the most understanding racer can become a quick prima-donna. No wonder most goggle guys are often confused with could-be serial killers.. Sorry guys, it's science.
Back to my original point though, the racers hate the mud because it removes so much of the control they work so hard for year in and year out. These guys base their entire training schedules around perfecting consistent technique and controlling every aspect of their race craft from gate drop to checkers and when the skies open up, all bets are completely off. I don't want to disparage any riders but it's not secret that the lesser known racers look at judders as opportunity presenting itself because of the leveling of the elite prowess. Being from Michigan, I was always completely comfortable in the mud and many top pro's from Michigan know that same familiar feeling. Phil Nicoletti is not only used to the sloppy conditions, Unadilla being his home track was the perfect meeting of weather and geography for him to put in two really stellar rides to secure his first ever and completely earned podium finish in the Nationals.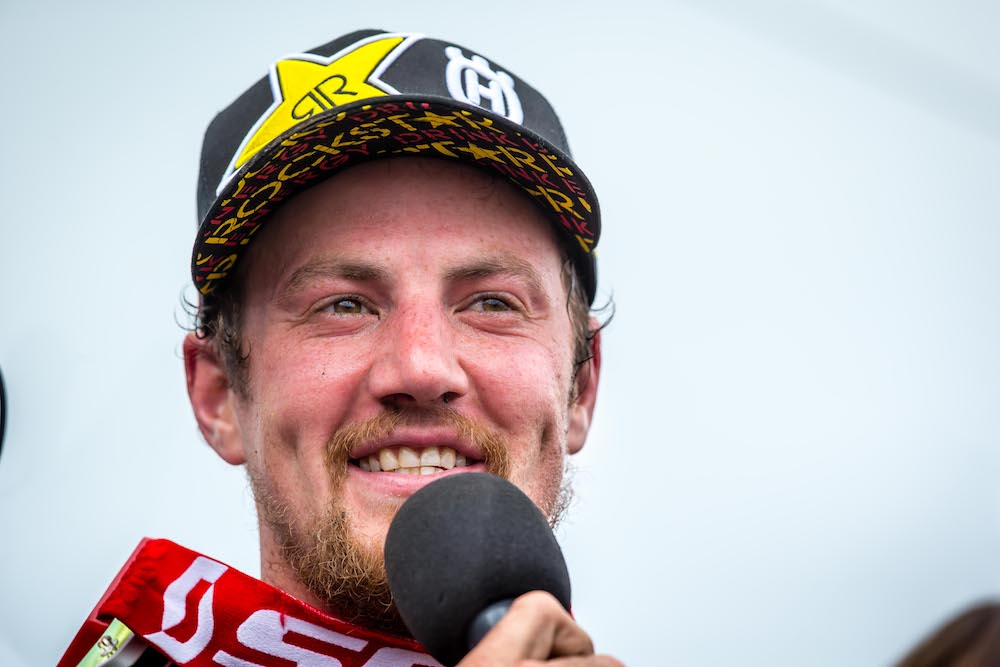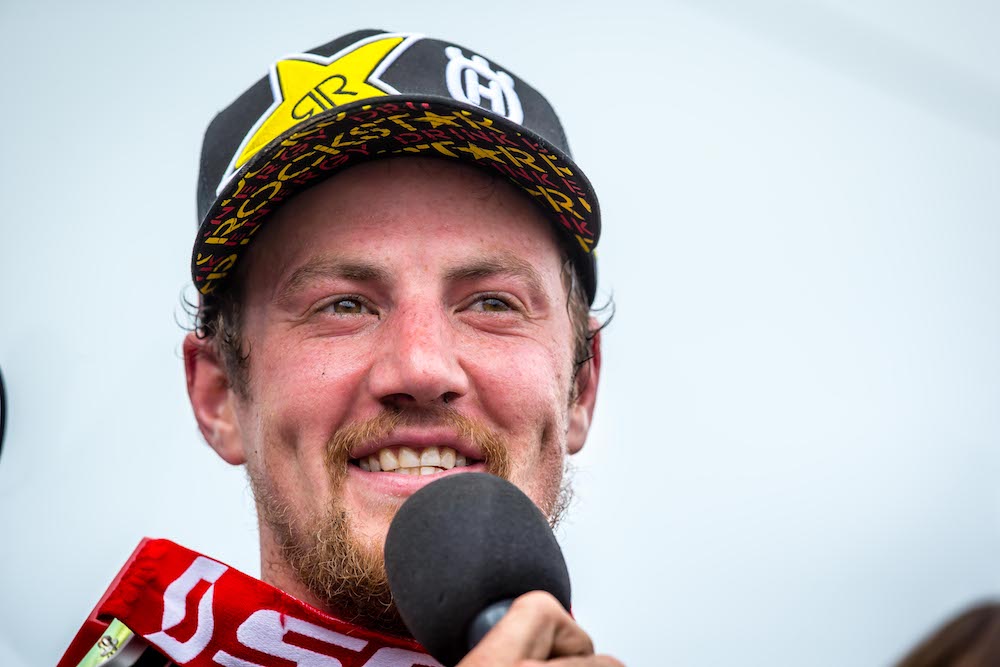 Honestly, who knew Filthy had DIMPLES?! Is this his first smile ever?
Unadilla also delivered on the announcement of the USA MXdN team selections for 2018 and I think you'd be hard pressed to find any voice of dissent on the selections unless you share a relation or receive a check from another would-be team representative. I'm still slightly skeptical on Eli's interest in the event though. Word in the pits early on was that Eli was not going to go if he were asked, again. I believe that buzz floating around was loud enough that in the post race press conference following one of the early Nationals this year, that Rob Buydos being the red blooded American he is, wanted to nip this situation in the bud and put Eli's ass to the fire. Taking advantage of the live interview setting, Rob asked all the riders who made up the podium in both classes if they would represent the USA this year if asked… all of them said yes, including Eli who answered, in my opinion, like a cornered animal who was merely wanting to survive unscathed. I have ZERO doubt regarding Eli's love of his country. This feeling is merely a scheduling and preparation issue not to mention the risk with so much to lose and only pride to enjoy.
There was of course the Puerto Rican team announcement made as well but I am refusing to comment on that because I still think this is not going to become a reality. It's just too bizarre and honestly wreaks of reality TV schtick; not the most respected race in the sports history.