I have been wearing the Gaerne SG-12's for a while now and they have quickly become one of my favorite boots to put on my feet when strapping up to hit the track. The SG-12's are Gaerne's top-of-the line motocross boot as it incorporates a hinged ankle design, large grip guards on the inner calf, a carbon fiber shank in the sole, and a dual durometer Vibram replaceable rubber sole. The boots weigh in at just over nine pounds, which is slightly lighter than a set of Alpinestars Tech 10's. However, the funny part about that weight is that it feels much lighter while riding than what the scales are telling me at home. When lifting my leg up high in corners the G's feel like they are more compact/narrower (without pinching) around my ankle than a set of Alpinestars Tech 10's and I don't feel they are as fat or heavy when doing long motos. The sizing runs a size big as I am normally a size 11, but I wear a size 10 in an SG-12 so be aware of the sizing or try some on before you purchase. The toe box area is also not as fat as a Tech 10, yet bigger than a Sidi Crossfire boot. The colors that Gaerne offers are some of the most eye popping and cleanest there is in the boot game.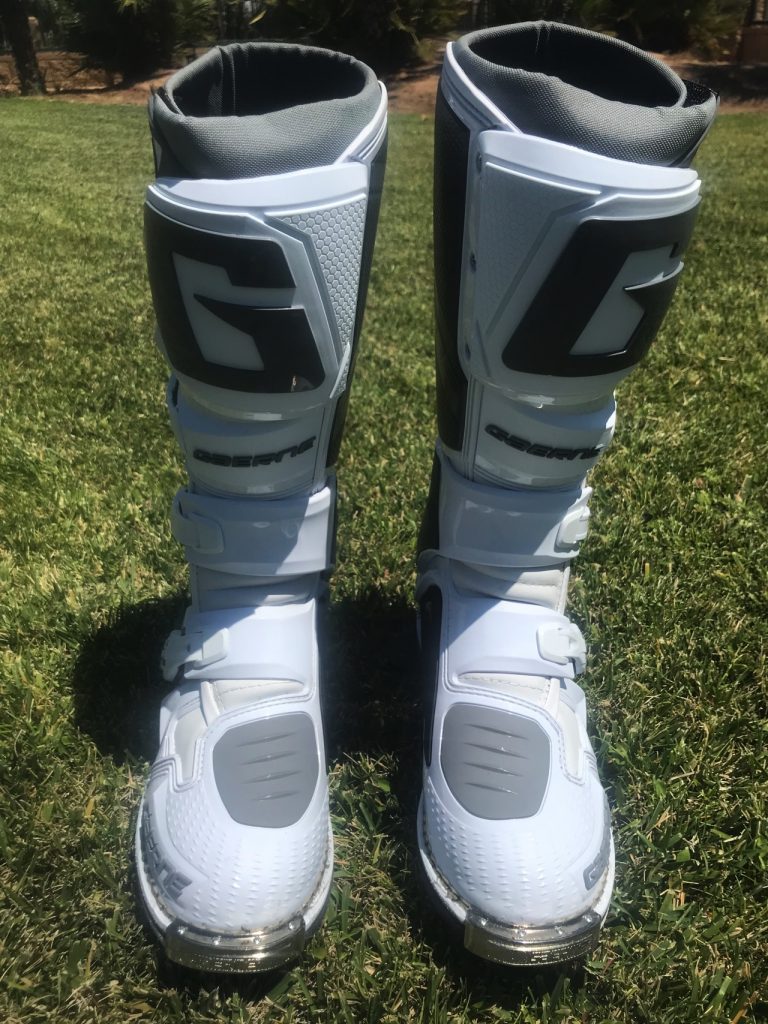 The SG-12 buckle system is excellent with easy moving buckle straps and three available shin plate settings. I am very picky about buckle systems, but the Gaerne rates at the top of my list with four secure, easy to use replaceable clasps. The only other boot that I have tried that has as good of straps as the SG-12 are the Sidi Crossfire's. The boots have held up very well and I have yet to see a ton of wear as they still clean up nicely with a soft brush/soap/water. The dual-composite, anti-shock sole provides good feel on the pegs and is holding up great against all of my test bikes sharp footpegs. Getting accustomed to the SG-12's took very little time and comfort of the non-bootie design is worthy of an all-day ride. Break in time didn't take that long and I was comfortable after my second ride on the track.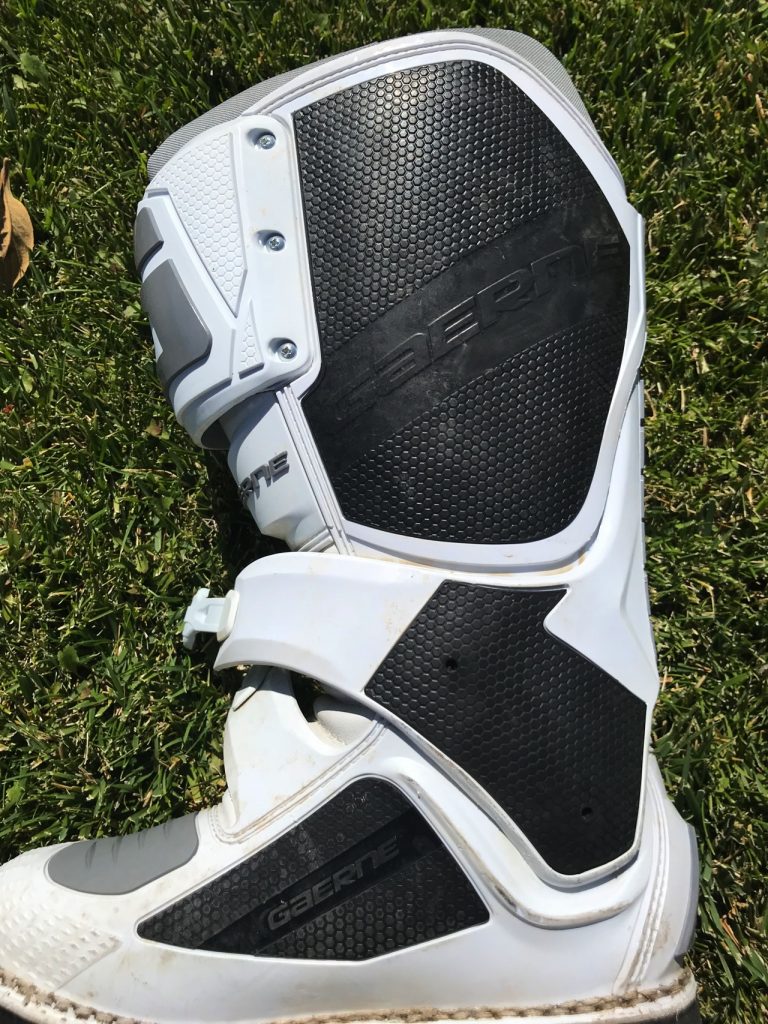 Gaerne has created a terrific boot with the SG-12. My favorite features by far are the easy to use (even when muddy) buckles and the rubber grip guard, which is the grippiest I have felt on a hinged boot. The flat, grippy inner profile makes squeezing the bike very simple yet is seamless enough not to catch anything on the side of the machine. I can feel a lot of the machine when squeezing with my legs, which makes locking myself in very easy when hitting a steep jump face. I was also impressed by the dual-composite, anti-shock sole, which felt great on my feet long test days where I am pounding lap after lap. Some non-bootie designed boots can hurt the bottom of my feet on a long day, but the SG-12 has enough cushion for my pushin. Yes, the Gaerne is not cheap (at $549.95), but when you're getting a quality boot that is comfortable and has so far held up very well I will gladly spend the money.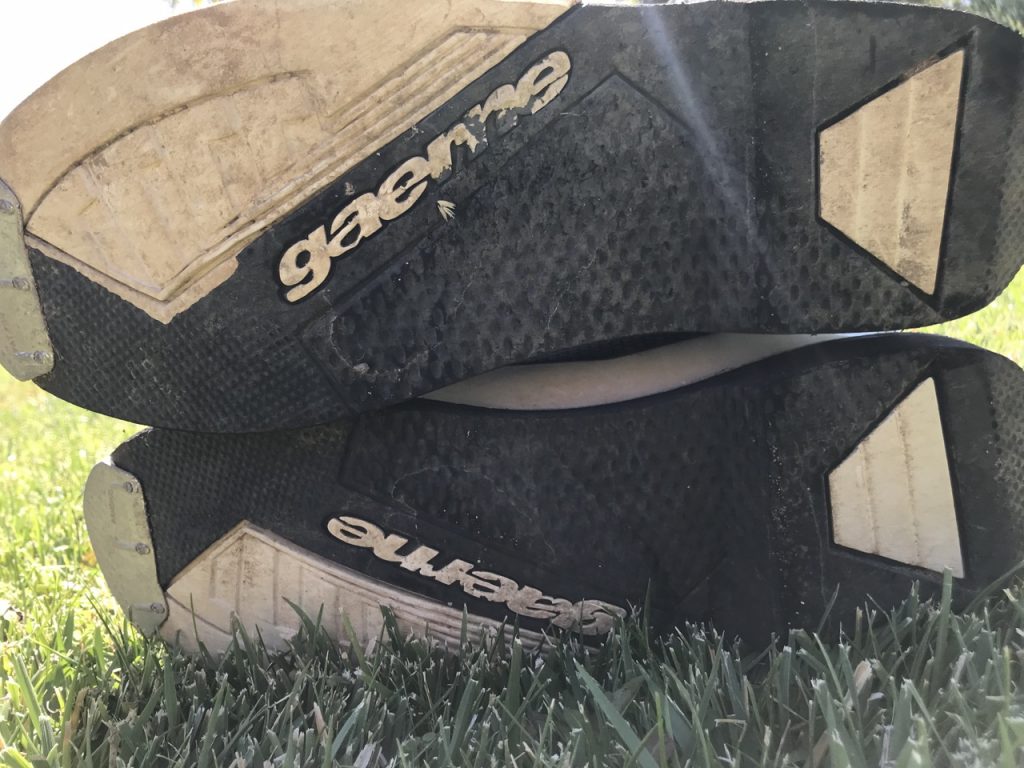 The Gaerne SG-12 is going to be continuing to be in my steady rotation of boots and hopefully I will be getting some 2019 colorways added to my collection soon. If you want to check out the SG-12's you can go to www.gaerneusa.com and see them for yourself.