Photos by Rich Sheppard
AIM Expo, Live Pulp MX Show and MEC Edition
The family and I packed up and headed to the "other" desert this weekend for the AIM Expo, Live Pulp MX Show, and the MEC. Heather, Aden, and I left Friday morning and in true "Daytime Program" fashion left after the MEC qualifiers Saturday evening, so that I could go enjoy some wet desert to ride in. In those 36 hours I did a hell of a lot, so sit back, relax, and go on a ride with me to Sin City will ya?
AIM Expo: I have been to the AIM Expo in Orlando, Indianapolis, and now Vegas. The thing that I like about coming to the AIM Expo is that almost anyone who is in the industry is there BS'ing. I get to see some new products that are making it's way down to the consumer and of course seeing things that I haven't seen before is always fun as well. This year seemed to be pretty mellow and there wasn't anything out of the ordinary that was extremely mind blowing. If you haven't been to one of these expo's, do yourself a favor and go check it out. Oh and a tip for you guys that may want to get your foot in the industry. This is the place to possibly get some face time with "key" people within our industry. Cough. Cough.
Live Pulp MX Show At "The Space": Matthes got his usual suspects of co-hosting degenerates to help him host a very cool live show Friday night before the MEC. The show was a huge success and if you weren't there, you really missed out. "The Space" was at capacity and we had Damon Freaking Bradshaw and Ryan Villopoto in the house hanging out. Getting to sit there and bullshit with Matthes, JT, Weege, Bradshaw, and Villo in front of hundreds of fans was pretty epic. Everyone seemed to enjoy themselves and we even had a meet and greet at "The Palms" after the show. I mean when my wife gets to bro down with Bradshaw and his wife, that is a kick ass night! Hopefully we will get to do more of these next year at a few Supercross events. Thanks to everyone that came out, it was a blast meeting you all!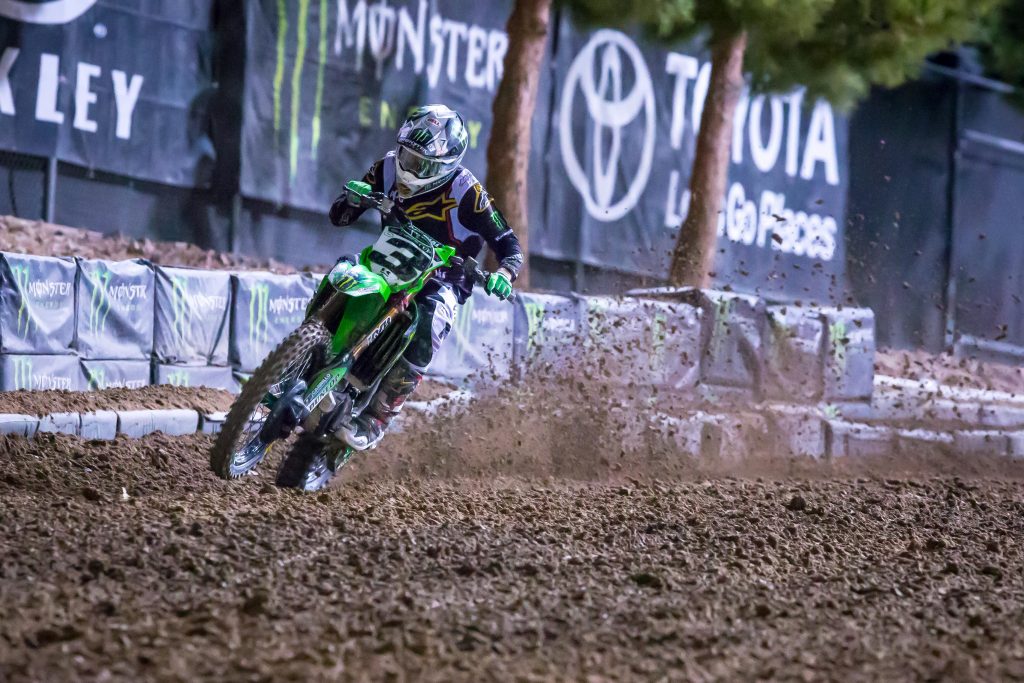 Eli Tomac: Where was this Eli last week at the MX Of Nations? The MEC Eli was a force to be reckoned with all day in Vegas Saturday! Holy crap! Eli looked cozy on his 2019 KX450, which was something he didn't have last week. He won the first two main events handily and was in the drivers seat to take the million home in the third race of the night, but this is where stuff started getting interesting. In the third race of the night his start wasn't as good as he got shuffled around the first couple corners. Eli went into "full send" mode and started chasing down leader Joey Savatgy. In the back, over the big single, Eli would land so hard that his head would snap down off of the crossbar, but he was making time up on Savatgy. When the white flag came out he caught up to the back of Savatgy and looked like he was going to throw it in there for one last ditch effort, but Savatgy waved him by to let him take the 1,000,000. My jaw dropped and I couldn't believe what I saw, but then it started to sink in. A rider actually let a another rider go in plain site! You know what was complete bullshit though? No one interviewed or really brought up the fact that Savatgy gave him the win. He GAAAAAAAAAAVE the win to Tomac. I mean why didn't anyone on the broadcast ask what he thought about as to why his teammate GAAAAAAAAAAAVE him the win! He GAAAAAAAAAAAAAAAAAAAAVE you the million bro!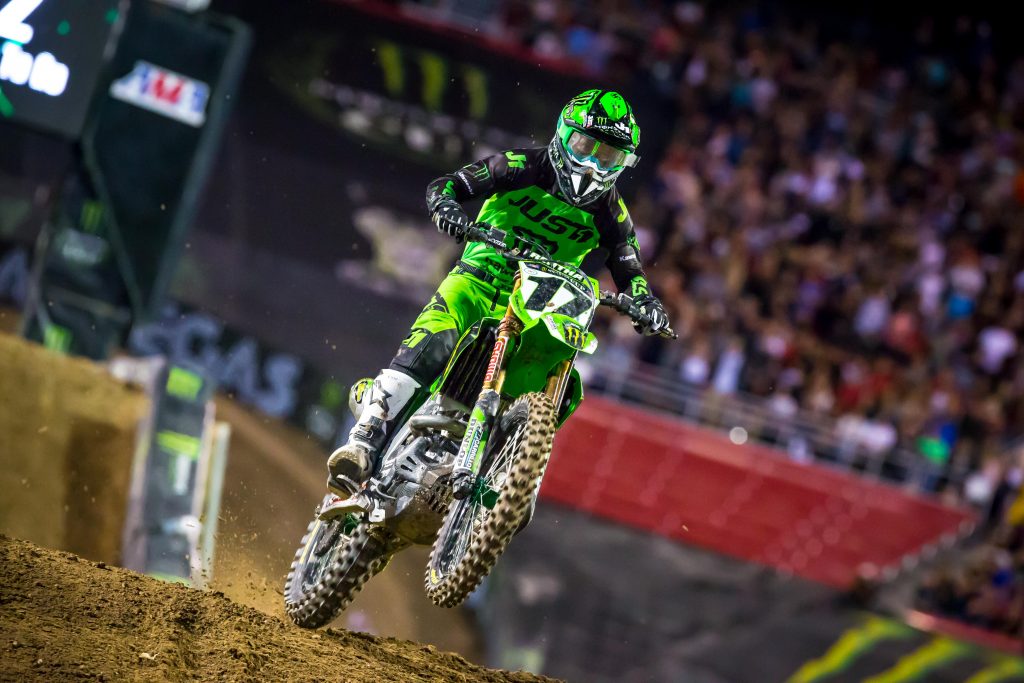 Joey Savatgy: Ok, everyone just chill down here! I think what Savatgy did was absolutely bad ass! No one and I mean no one is going to remember if Joey wins the last moto at the MEC. NO ONE BRO!!! Not even Joey! I can almost guarantee that there was no team tactics before the last race and it was just Joey thinking about his teammate and how he could win a million bucks! Not to mention a fan as well! That move by Joey let me know that there is a person inside there and he's not just a robot that is going through the motions of racing dirt bikes. He actually has a heart and a thought process as a human being! If it was my teammate behind me and I was going to get third overall anyway, why the hell not give it to my guy! Shit, maybe Tomac will kick him down a cool $25,000 right? I am sure Eili has no problem with hooking him up after that move! Matthes said that Joey needed a PR makeover and he just gave Steve what he wanted! There you go Steve! Hi my name is Joey Savatgy and I am a selfless person, that can ride a 450 better than a 250, and I just melted down Vital's forum. Have a great night! Mic drop.
Jesse Hebert: Who? Ummmmmmm. Yeah that's the dude that won a million dollars because Tomac won all three mains! I am stoked for the guy and pissed off all at the same time! I am stoked the kid won a million, but I am pissed that as hard as I bust my ass I am never going to see a million dollar deposit in my bank account (yes, I know there are taxes taken out)! The look on Jesse's face was priceless as they showed him on TV. The look of "holy shit balls, I am going to have to beat off these Monster chics off with a bat"! I really hope the dude takes that money and doesn't blow it by next year's MEC. Hey RACER X! Let's do a "Where Are They Now" next year on this dude ok?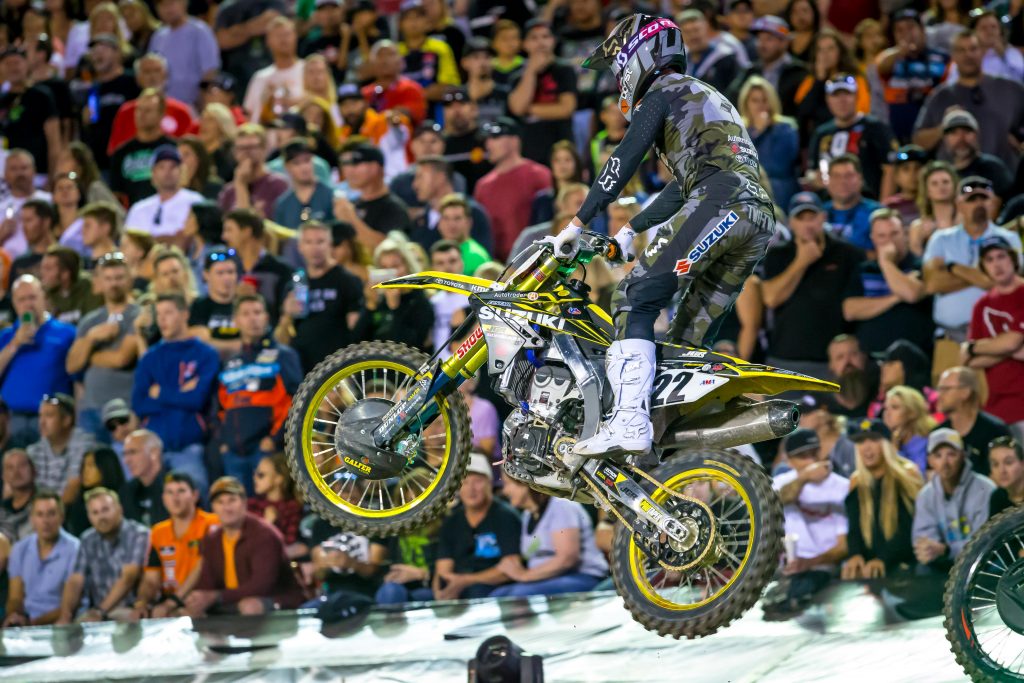 Chad Reed: Chad didn't ride as bad as it shows on the results sheet. His crash/stall under the over/under really screwed his overall. I will have to say that he rode better as the night wore on. If you are a fan of CR22 and know his style you can see that he looks way more comfortable on the JGR Suzuki than he did on the Husqvarna last year. I really hope JGR sticks with Chad in 2019 and gives him a chance. I can see some of that spark in his riding and the dude puts butts in the seats at the races.
Ellie Reed: Now I am going to tell you that I have never spoke with ElIie in my life, but I spoke with her for ten minutes at the JGR truck and I was like a teenage schoolboy. She is so smoking hot and her accent just does it for me. I almost felt like an asshole while she was speaking to me as I couldn't look her in the eyes because I thought she would be able to read my mind. I was stuttering and was very fidgety with my hands. I was a complete mess. She was very approachable and super intelligent to talk to, which just makes her that much more attractive! Hey Chad, good for you! Nice pull brother!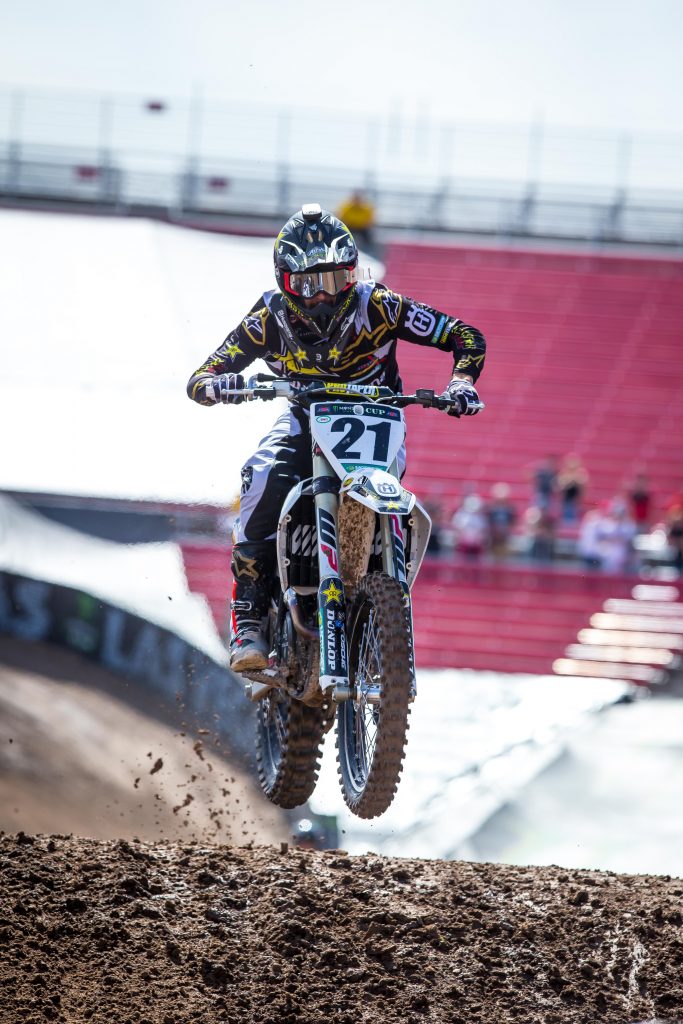 Jason Anderson: The reigning Supercross Champion looked pretty damn good for just getting back on the bike. You could tell he wasn't in race shape yet, but he looked frisky and loose on his Rockstar Husqvarna. Having Jason Anderson answer fan questions on press day to me was not his highlight of the weekend. I also I loved the gear he was wearing! More on that later!
Marvin Musquin: Marv was fast in practice/qualifying. He was one of only two riders hitting the dragons back in fourth gear after the finish. You could see Musquin and Savatgy downshift twice once they went off of the dragons back. I did notice that Marv would only downshift one time when the track dried out (later in the day) and you could tell his bike sounded different going out of the left hand corner. He started rolling that left handed bowl turn (after dragons back) in third gear to get less wheelspin in order to get the rhythm down correctly (it was a 2-3-1). If you watch Marv close enough you will learn a lot as a rider.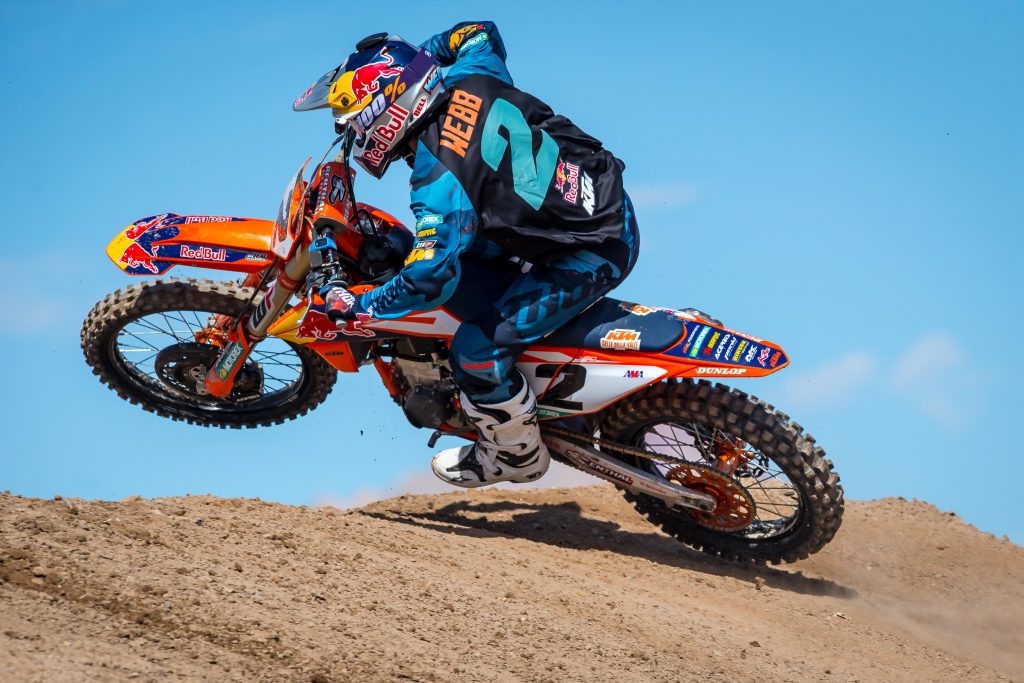 Cooper Webb: CW2 looked good on the KTM, but I thought he would be better. He has been riding really good at the test facility and to me fits the KTM better than his Yamaha. I also heard from a reliable source (from inside KTM) that Cooper buried the hatchet with Marvin. From what I was told he spoke with Marvin and told him that what happened in the past is gone and he just wants to race his dirt bike. Learning from Marvin would be in Cooper's best interest, so if I was him I would be soaking in all that I can.
RV2: 12-11-13 isn't what Villo probably wanted, but who cares I think it's bad ass the guy even raced! His Pulp Show appearance was amazing and this newfound "who gives a shit attitude" is awesome!
Joe Shimoda: I see this kid ride a lot at local tracks around Southern California. Shimoda is one of the smoothest amateur riders there are out there. His technique is insane and he carries a lot of momentum through corners. He is always a gear high and doesn't have that normal "Japanese" type of style. His style is more of a European and it worked for him on the slippery Vegas surface.
Max Vohland: Max is a ripper and comes from some fast blood! Tallon "Lone Wolf" Vohland has groomed Max the correct way and never really goes all mini dad on his kid. Max was probably the the third or fourth fastest of everyone through the dragons back during day qualifying! Yes, third fastest out of everyone, including "The Cup" class! I think I jinxed him though as I told a fellow colleague that he can't do that every lap and expect to get a way with it. Sure thing, the next qualifying round he missed a whoop and cartwheels off of the end. It was ugly, but the kid is tough and knows how to tuck and roll well! Max used his aggression and taller stature to kill everyone in the night program. Watch out for Lone Wolf Jr. in the coming years!
Best Dressed: Jason Anderson and Alpinestars take the cake at MEC. The LE Battle Born Tech 10 boots and gear set was just so clean on the white Rockstar Husqvarna. I am usually not a fan of darker color ways, but it had enough white involved that it stood out on the track. I am also a fan of the fit of the Alpinestars gear and how it's athletic, but not too tight that it looks like spandex. Kudos to Alpinestars for making a very attractive "GEAR SET". That's right! G-E-A-R