You ever wonder why Pirelli isn't as popular in the United States as it is in Europe? After I tested these MX 32 Mid-Soft tires I am wondering the same thing! I have been testing the Pirelli Scorpion MX32 Mid-Soft tires for a few months now and have come away shocked that these tires aren't more prevalent on bikes across Southern California at least. I have ridden plenty of So Cal. tracks along with some of the softest dirt you will see on some of my sand tracks in the dez. If you haven't listened to the Keefer Tested Podcast on "Tires 101" do yourself a favor and go listen. In the meantime while you're here you might as well read about what Pirelli's soft motocross tire offering is all about.
I found out quickly that one of the first things that impressed me the most was that the Pirelli Scorpion MX32 Mid Soft's carcass gives the rider a ton of comfort on choppy/square edge terrain. When the track gets rougher the rear tire (120/80-19) gives more cushion than any other tire that I have tested lately. This carcass acts like another piece of your bike's suspension and can really help a rigid feeling chassis become slightly more forgiving on choppy terrain. It impressed me so much that I tried it on a 2019 Honda CRF450R and it gave me slightly less of a harsh feeling that the chassis puts out on choppy/square edge tracks. Pirelli also offers a 120/90-19 size rear tire that I have tested, that was even better on square edge cushion feel. The 120/90-19 also puts more weight on the front end of the machine to help increase front-end steering if you want more front end bite through corners. If you do decide to go with the 120/90-19 and feel like your rear end is too high after installation, I do recommend lowering your fork in the clamp by 1-2mm to prevent a high feeling rear end (stink bug). The Pirelli MX32 Mid-Soft rear tire (120/80-19) offers great traction on soft/intermediate terrain through ruts and coming out of soft corners. The MX32 works well under lean angle and that lean angle traction is one of Pirelli's rear tire strong suits, as the rider is able to get on the throttle sooner (while leaning) without washing out. You are also able to start your lean sooner (compared to a Dunlop MX33) coming into a corner and the Scorpion remains planted to the ground. Braking predictability gives the rider confidence to pivot and throttle out of flat corners without much hesitation. If you're a predominately a front end steering rider, the Scorpion MX32 rear tire will provide you with less sliding ability and let you steer with the front tire more. If you're a rear end steering rider that likes to drift the back end around this tire may not suit you as much as a Bridgestone X20 or Dunlop MX33. When the track surface was on the harder side, I could feel the side of the tire carcass roll when accelerating from flat corners. This gives me a pushing or loose feeling rear end that caused me to be more ginger with my throttle hand. To combat some of this it's very important to run the correct air pressure (between 13-14 psi) for the Pirelli's soft carcass. I do notice that when the Pirelli tire really worn the performance also doesn't suffer as much as with a Dunlop MX33 rear tire.  Chunking wasn't an issue with the set of Pirelli's I had as I got well over 12 hours on a rear tire. You will also have to understand that Southern California conditions are much harder than east coast conditions so lifespan would dramatically go up in softer east coast based dirt. If there is one negative (that I couldn't fix with tire pressure) about the Pirelli MX32 it would be when the track gets some fresh water and is shiny. The Dunlop MX33 rear tire is more consistent in these conditions and hooks up better on lean angle.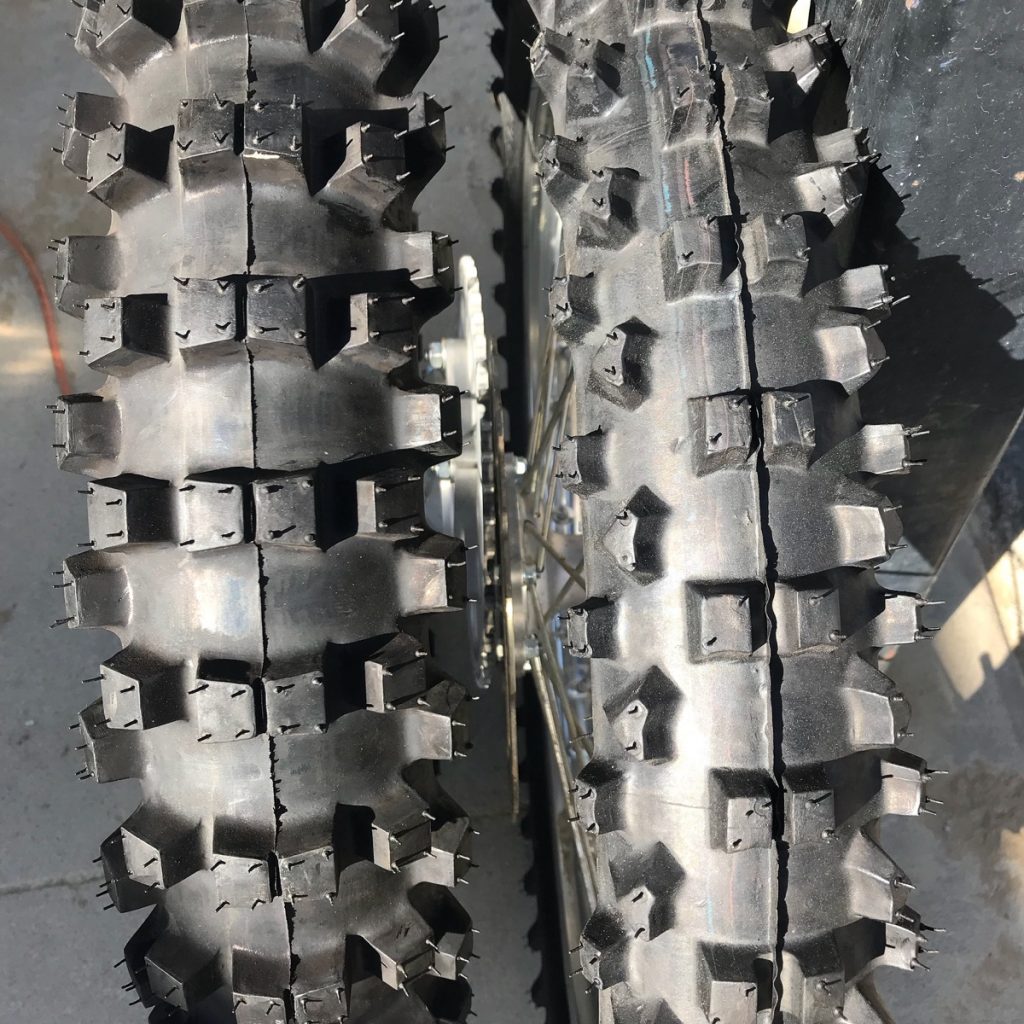 The Pirelli MX32 front tire is great for front-end feel and lean angle traction especially in heavy/deeply tilled dirt. The softer the dirt the more responsive this front tire is. However, it can at times be almost too grabby (oversteer), but for me, I prefer a tire that really digs into the dirt and lets you carve underneath blown out berms or ruts. The Scorpion MX32 Mid-Soft front tire actually makes the steering feel heavy at times because the tire is at maximum grip under initial lean in corners. Like I mentioned above, the MX32 is tailor made for a front wheel steering rider and can be leaned into corners earlier than you would come to expect. The only other front tire that has as much front end lean angle traction is a Michelin Starcross 5 Soft. This Pirelli front tire does suffer from predictability when the track is freshly watered and was broken in/slick on top. The MX32 would give the front end a vague feel (un-predictable) as the bike would have a tendency to push unexpectedly through flat corners. In these conditions I would go with a Pirelli MX32 Mid-Hard front. To me this is a pure soft natured front tire and if the conditions are soft/loamy this tire works great, but if the track gets hard pack, you will get some uncertainty when pushing the front tire's limits. The wear of the MX32 front tire is superb and unlike most soft terrain tires the Pirelli will NOT chunk. I typically get 10-12 hours on a MX32 front tire before I start to see some of the performance life start to dissipate. This is a performance based tire and should be purchased knowing this. 13.5 psi is a good baseline for this tire, but be sure to check the pressure after a couple motos. Tire pressure will rise with heat so make sure to have a good tire pressure gauge handy in the tool box.
The Pirelli Scorpion MX32 Mid Soft has quickly become one of my favorite sets of tires when I am going to a softer type of track. Just be forewarned that the MX32 front tire is more finicky in hard pack conditions than the rear, so I typically have a MX32 Mid-Hard front tire with me handy for late afternoon sessions. I have joked with the guys at Pirelli because they say that they race what they sell, but to me it's hard to believe that Cairoli and Herlings are using a production MX32 Mid Soft. Maybe I need to go to Europe and do a test on their "race" product to dissect more. Cough, Cough, Pirelli!