Some of you reading this may be thinking to yourself "yeah it rained, big freaking deal". To me it is much more than that. I have grown up in the desert all of my life and I was basically raised that when it rained in the dez, you went riding. Almost like a national holiday of sorts. That is just the way it was around these parts. When I was a little guy, my father used to take off work early on some rainy days just to take me riding, so I could experience what Mother Nature had done for us dirt bike riders. Once I got a taste of that at a young age, that feeling never left me. The smell of the creosote bushes when they're wet, the amazing traction that made you feel like a hero, and of course the fresh tracks you could make were endless where I come from.  
Fast forward to now at over 40 years old and my wife knows that when it rains she will not hear or see me all day long. I am gone! I have since passed on what my dad showed me, on that fateful rainy day, to my 12 year old son (who now knows what wet desert feels like). When it rains he always asks "what tracks are we going to dad"? Oh yeah, he's been bitten! When there is a "Storm Watch" in California my phone usually will blow up with text messages asking "hey Keefer where you going riding tomorrow"? No one wants any part of where I live until it rains and then everybody wants to come visit me!   
Last week we had an inch of rain, which isn't much to other folks, but is plenty enough for us dirt bike freaks, so I had around 15 riders planing on coming up to shred some fresh sand tracks with us. It's funny because the night before I ride after any big storm it's hard for me to sleep like a kid on Christmas Eve night, because I am so excited on what is about to ensue! I toss and turn all night thinking of the places I want to go, which usually leads to giving my wife a headache because I can't make up my mind. You see I have to hit all the good spots before it dries up, but the bad news is that there are tons of great spots, so I have to decide on my plan of attack. Poor Mrs. Keefer, I don't know how she does it. I am a big pain in the ass! 
Our lot next door to our house was full of vehicles the morning of the shredfest, with bikes strung out all over the place. We even had a truck drive by our house (with a couple bikes in the back) and ask if they could join us on our ride! Of course we obliged and as we left the property it looked like some sort of motorcycle parade (with a line of dirt bikes strung out a half mile long). On our ride we had our usual mix of trail riders, moto novices, current professional moto dudes, and even a couple younger kids that ditched school to come along (Yes, hello there, Aden Keefer is not feeling well today so he will be missing school). Cough. Cough. 
Our first stop was a fresh sand track we burned in about eight months ago and we even had Mrs. Keefer meet us out there to bring us some fuel and waters. Like I said, she knows what's up when it comes to precipitation in the dez. After we shredded that for a good 90 minutes or so we decided to make a fresh track, which literally took me about 15 minutes to lay out. 30 minutes after I laid it out, it was burned in with the most amazing ruts through each corner, which made you feel like you could go enter a AMA National! You could see the smiles on every riders face as they were just enjoying every second that they were on their bikes.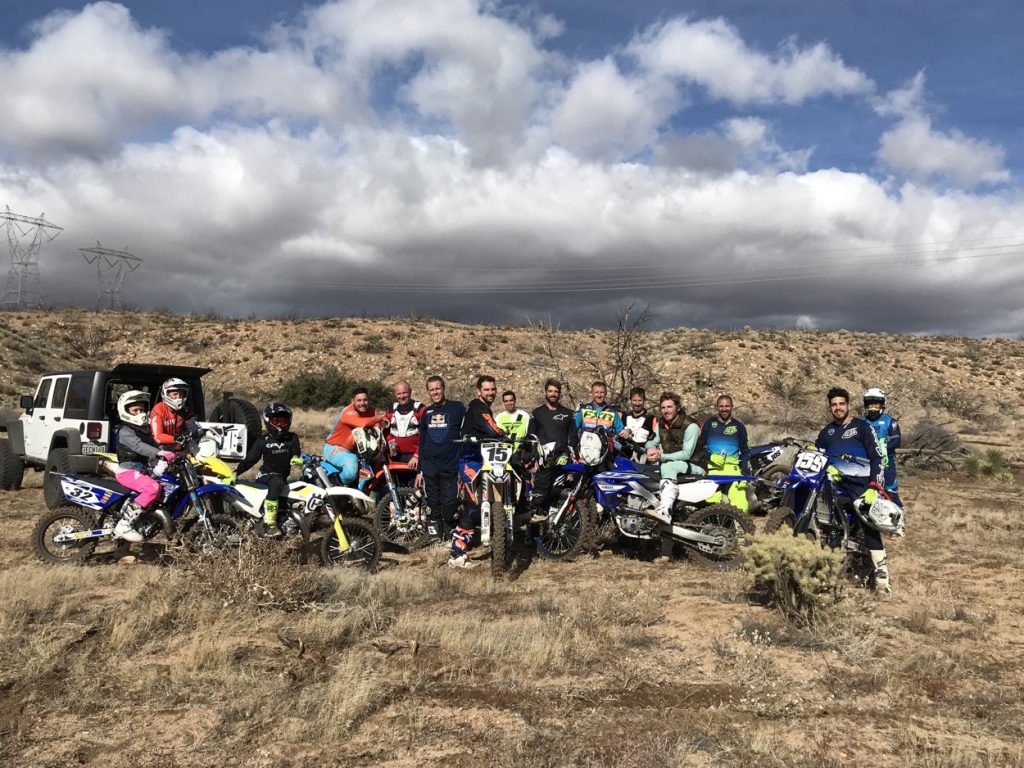 After our session at the freshly made turn track some riders had enough and went home, but some stuck around to hit a trail ride before the end of the day. Broc Tickle, Jake Weimer, Joe Oehlhof, Paul Perebijnos, Marshal Weltin, Big Air Tod, and my new buddy Jesse all ventured out for some single track. We hit some tight rocky stuff then to some more flowy trails, which lead us into a staircase hill climb that we ended up staying at for a good hour or so. The tricky part about this staircase was that there was no run up to it, so you had to really finesse the bike to get traction. Not to mention there was boulders the size of soccer balls rolling down as you were riding up. I tried to go up it first, but didn't quite make it past the second staircase. Tickle immediately got in on the action and tried his hand in which he failed the first couple times. On his third try however that son of a bitch made it up! Tickle had the bragging rights, but I was not about to let him take the king of the dez crown in my backyard. I tried again and ran out of talent! Damn it! Big Air Tod was on a 250F and finessed his little ass up the staircase second, which pissed me off even more so I whiskey throttled my way up finally to get on the podium! Well…..If there was a podium… We must of sat up there and watched the others try to make it up that thing for at least a good 40 minutes until we finally had enough and made our way back to my house. Did I mention that Weimer, Tickle, Weltin, and Perebijnos all have great dirt bike handling skills as moto guys. It was cool to sit back and watch moto dudes just "have fun" out in the middle of BFE. 
Once we got back to the house we sat and bullshitted for a while and benched race about our day in the prime conditions. Funny to think that just a little rain in Southern California can bring so many smiles and riders together for a day of fun. I sat back and took it all in and noticed my 12 year old son hanging out (like one of the boys) and I knew that this day would be one of those days he would remember long after I'm gone, just like when I went out with my dad. I was thankful that I lived in a place where I could enjoy my passion right from my door step and get to share that with other enthusiasts just like myself. Bring on more rain! 
#LongLiveDirtBikes #DirtBikesForever