Photos By: Thee James Lissimore
Ahhhh, do you smell that? Unfortunately it's not premix but it is the cracking open of (no not an ice cold Red Bull, Paul) the seal on a fresh season of Supercross! It feels so good to be back in the swing of all that we love in the world of two-wheels and dirt sculpted obstacles. This years opener had tons of unanswered questions which is par for the course when embarking on a new calendar year of racing but this year we got even luckier with moving on from the opener with even MORE questions than we had prior to the gate drops and bonus checks awarded. How is that, you ask? It's simple: Mother Nature always wins and when she flexes her muscles, we as race fans get a piece of her victory also.
Everyone thought Eli Tomac was the hammer and Jason Anderson was keen to at least put in a respectable fight toward defending his red backgrounded number one plate. Ken Roczen was coming in with only positives, all the rookies (sans Zach-O) had a point to prove and the perennial  solid guys like Justin Brayton and Cole Seely were ready to step up early and in a big way. Some of these things came to pass but due to the blessing of a treacherous, greasy, technical course NOTHING played out the way it should have and the best part for us is, there are no mulligans in Supercross and the results from that night are etched into the record books and we move onto round to in Glendale Arizona with the confidence levels of all these guys thrown into a tailspin! That is so great because we all know what confidence and steaks do to these guys over the course of a series. The best thing we can hope for week in and week out as fans is uneven footing for these guys on the track. Keep them unbalanced, confidence wavering in the alpha dogs and peaking in those who need events to break their way to help them believe in themselves.
Yup, Anaheim One showed us little that would serve to affirm most of the preconceptions we built before the gates dropped (barely to begin the night, oops) but for me, shit I'd rather be surprised than affirmed of my knowledge when it comes to racing. Every. Damn. Time.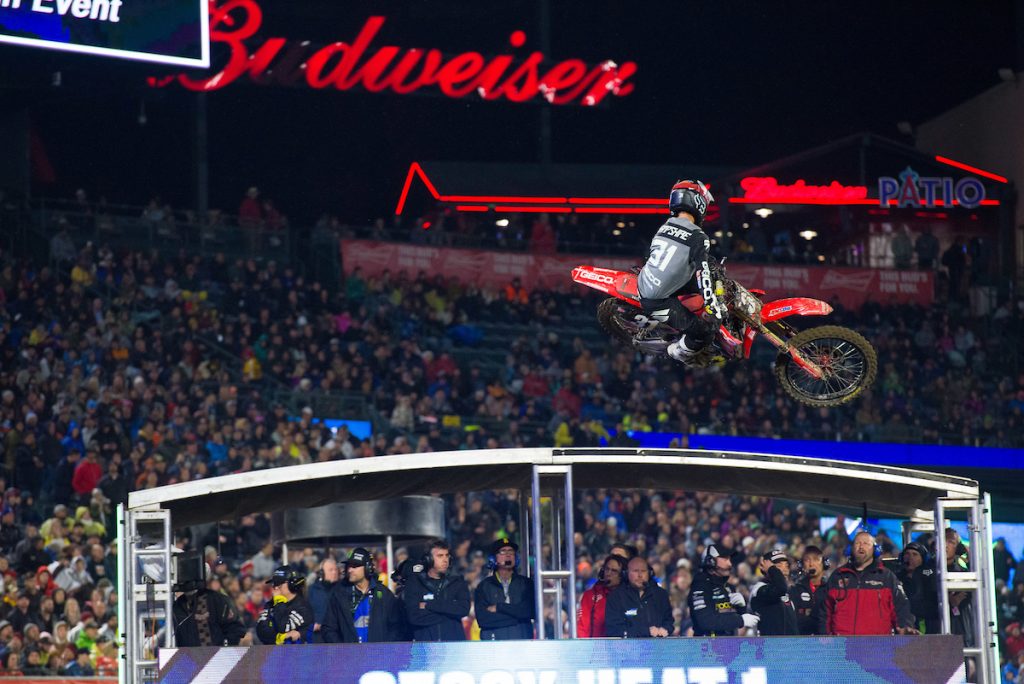 RJ Hampshire is quite a few years deep in his GEICO Honda relationship and he has really got a grasp on what he needs to do to show his appreciation forth sticking with him through a series of serious injuries. AC gave him a little business in the Main and RJ answered right back in a definitive way, proving exactly that he is not taking anything lightly in this series.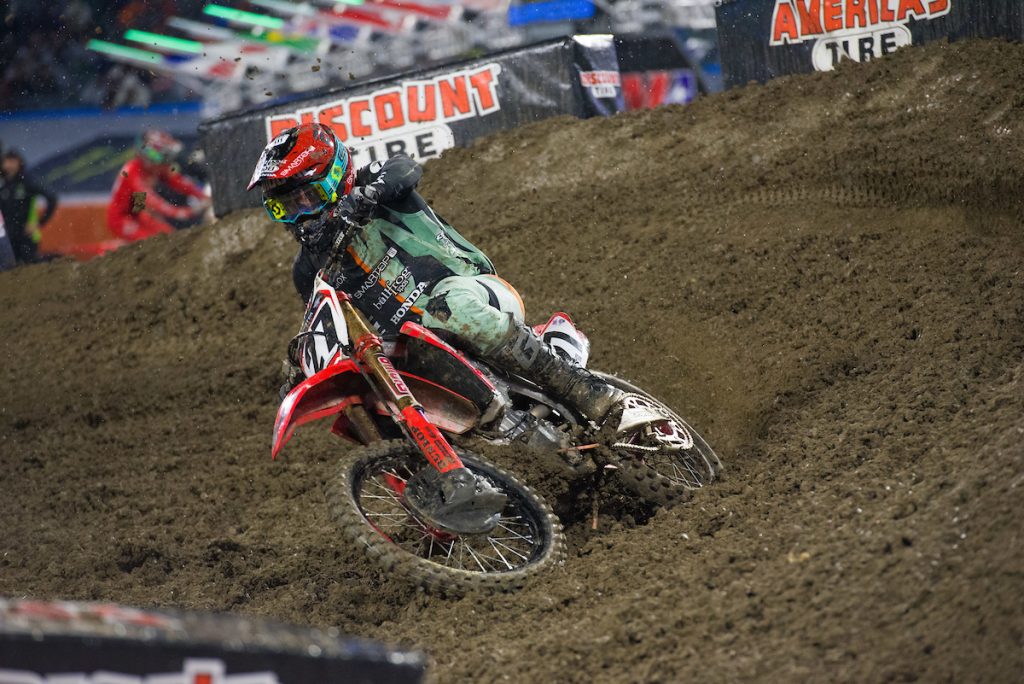 Mookie looked incredible for the majority of the Main and proved the this year, coming in with the most preparation he's ever had, great things are on deck. Other than that gear, that stuff needs to be burned with the Thor cat gear.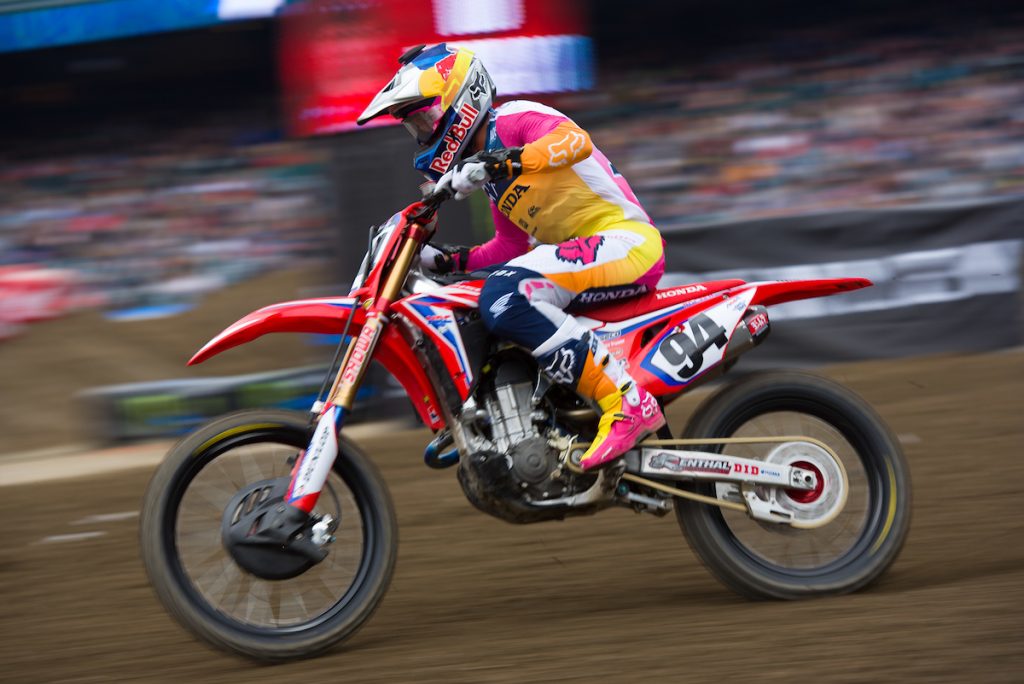 Honestly, Ken Roczen looked better than I expected, even considering the conditions and despite this being the best looking gear I've seen since about 1992, I am not referring to his threads. I'm not saying Ken is back to his 2017 A1 stature but if I were the other guys in the 450 class, I think I'd start worrying again, right about now.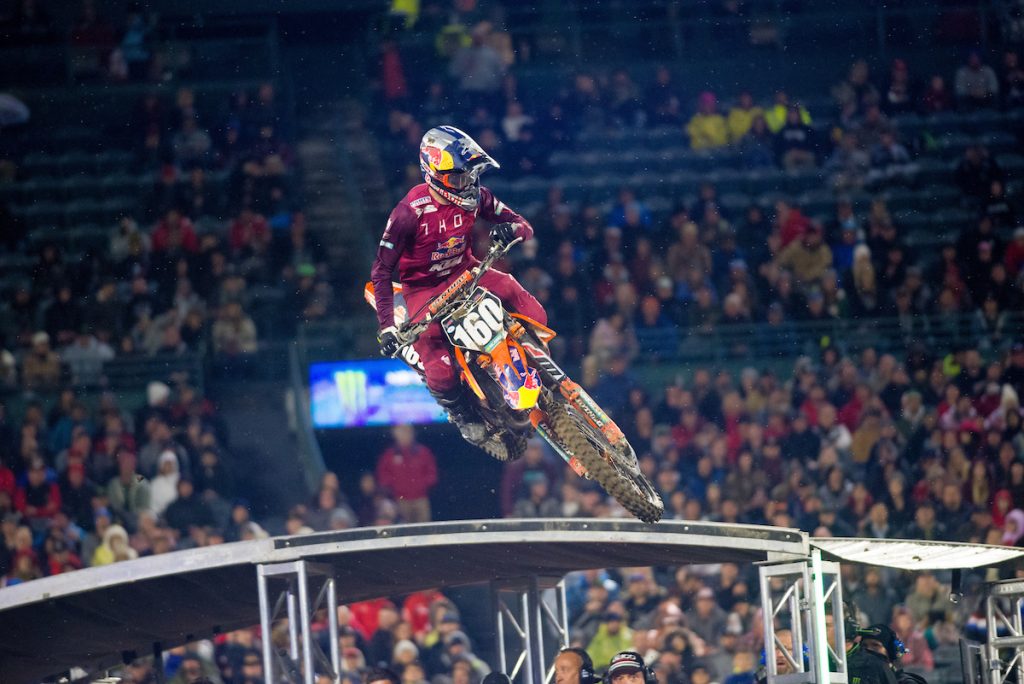 Jess Pettis. Where do I start? Last year I was burned literally every time I selected Jess. He was honestly my Jerry Robin in 2018. I was real tentative about putting him on my PulpMX Fantasy team one more time but I did, hoping he would have grown and learned from his failings last year and he did. Really respectable charge for Jess. Hope to see more of this.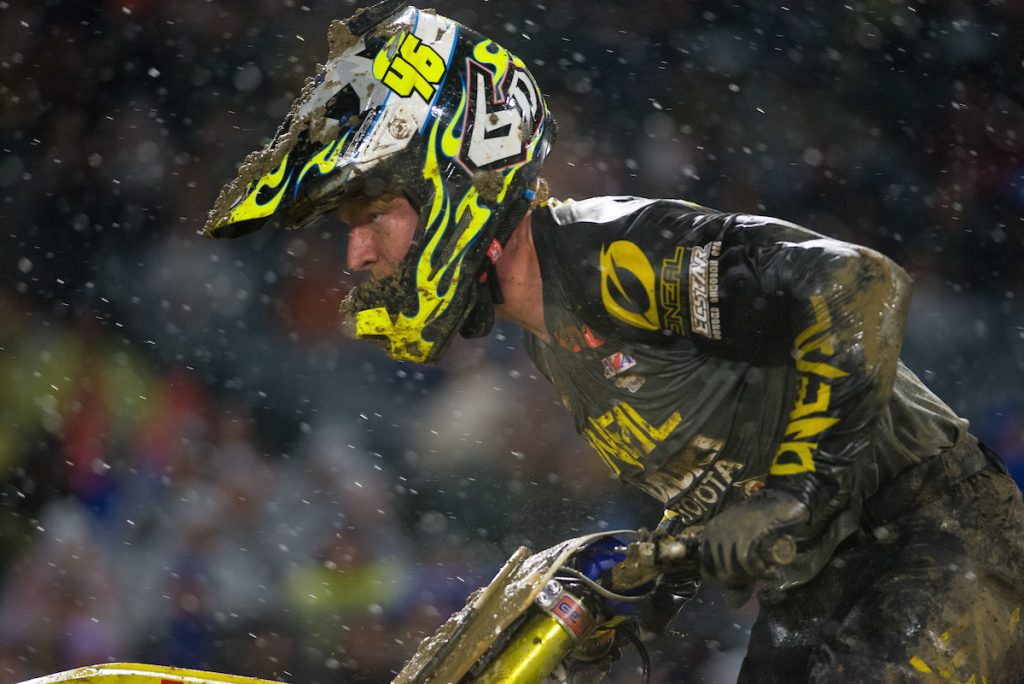 All this time Justin Hill has been wanting to wash that stink of the 250 off of him, oh and the 450 outdoor series which also didn't suit Justin especially well and finally the time comes for his rebirth and this happens. This look pretty much says it all.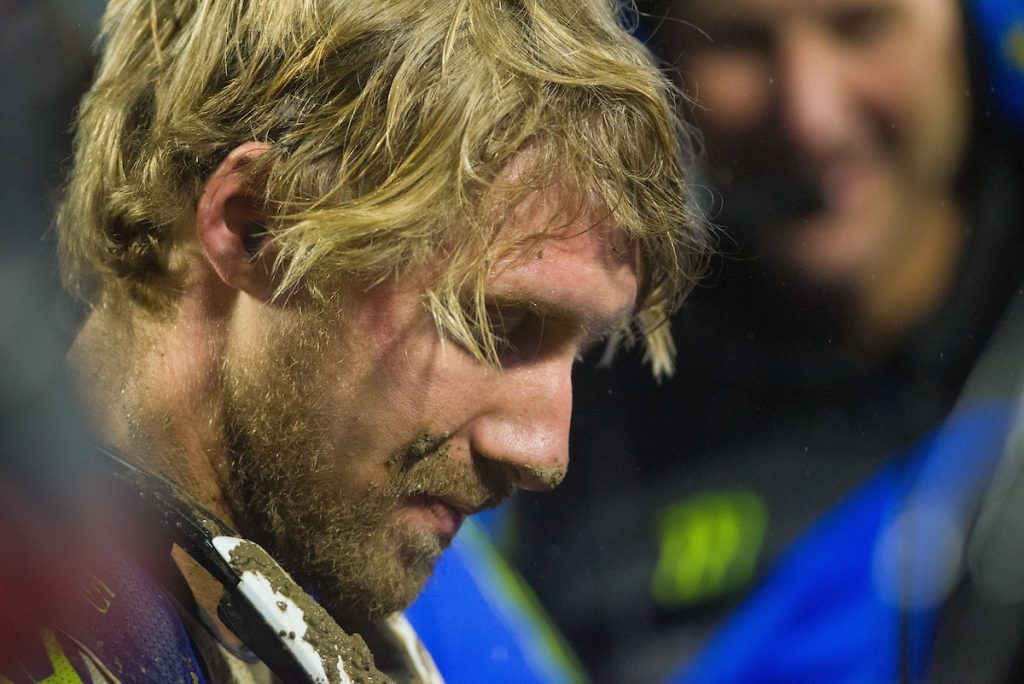 This is a great shot of Justin after his 450 main event win. Extremely transparent and a glimpse of self realization and recognition of his growth since his last win. It wasn't that long ago that Justin was still doing boneheaded things on the track and being an ass. We as fans couldn't make sense of it, obviously, I mean he couldn't even make sense of it. The obvious thing was that he was in a bad place and was not at all happy. He never stopped trying though and that thing about having a solid base at home really does count. This is a great story and I'm glad to see Justin not only find the winners box again but more importantly that the personal growth he's achieved is real. Well done JB.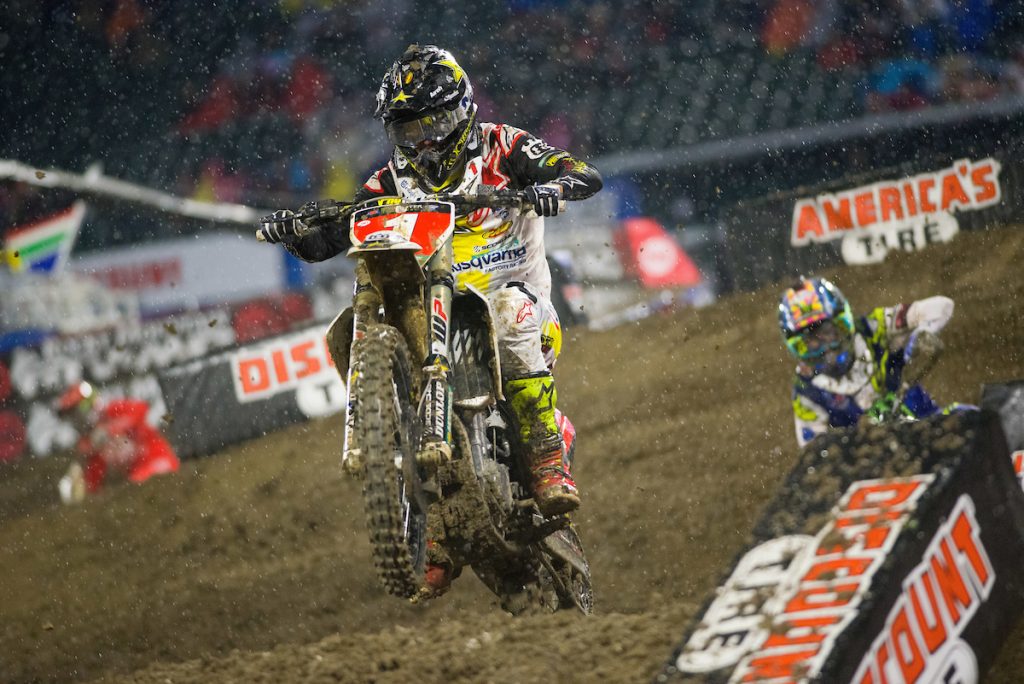 (THIS SPOT RESERVED FOR FUTURE COMMENT)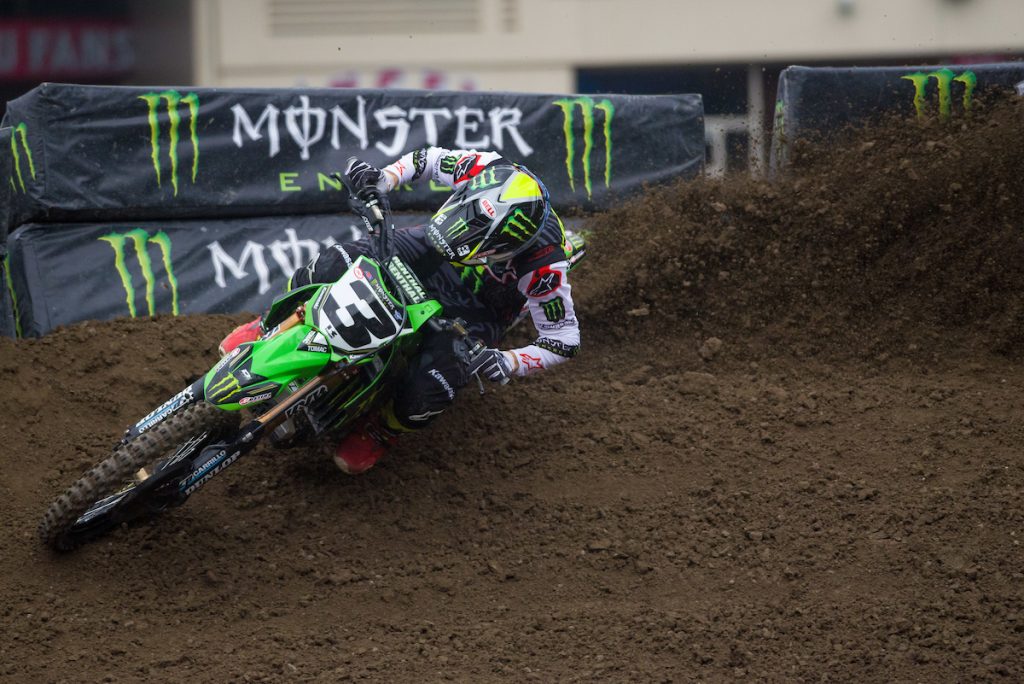 Eli made it out of Anaheim One on the podium and though he didn't start up front and didn't finish at the front, he's in a much better position than he has been in his other A1 departures. 2019 is looking pretty great from Eli's perspective. No worries here.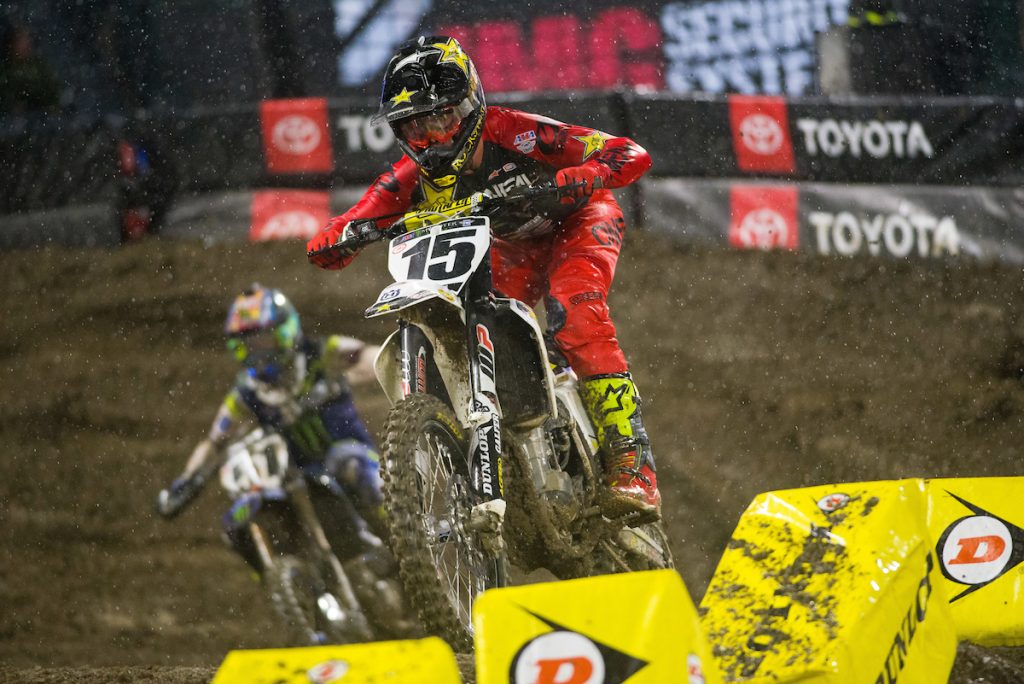 Can you imagine if Privateer Dean Wilson sponsored by one of the most controversial brands in the sports history had actually secured that win and gotten in front of the TV cameras to mention the sponsor that NBC made him cover up so as to not even see it on his bike or gear?!  It was almost a great finish but regardless, Dean-O came to play for real for 2019.
In short, Dean is sponsored by Ignite, a CBD company owned by Dan Bilzerian. I'll let you form your own definition of Bilzerian but NBC went full-on "2018 scared of the optics" and decided CBD was too edgy for our delicate sport and it's fans and made him cover up his investor's imagery.
Bilzerian, as he does, made his thoughts crystal clear on social media. See below.
(Right-click blurred image to view in new window)
[image-caption-hover id="1″]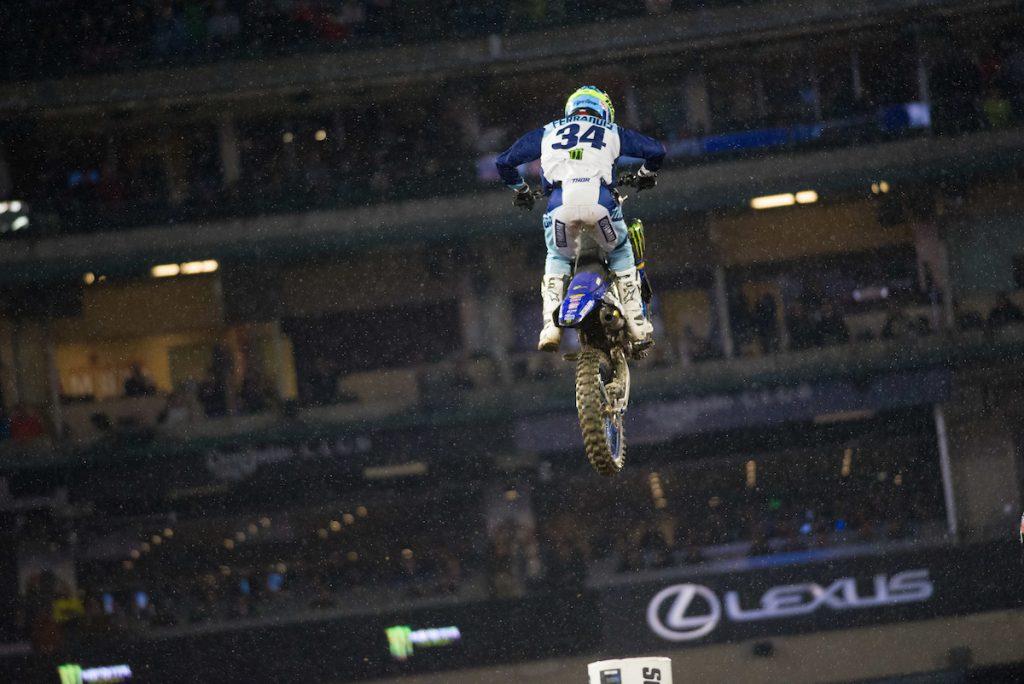 I thought Ferrandis was gonna walk away with this west coast title but in the slop it was  his Star Yamaha West Coast counterpart, Colt Nichols who sealed the deal. I've been watching Colt for years wondering why it never seems to work out for him because when I'm watching him, I'm just thinking, "damn this kid is flying and he doesn't make mistakes!" Well apparently he was making mistakes elsewhere that kept him always on the mend and riding himself back into shape. Sorry Dylan for focusing on Colt under your photo…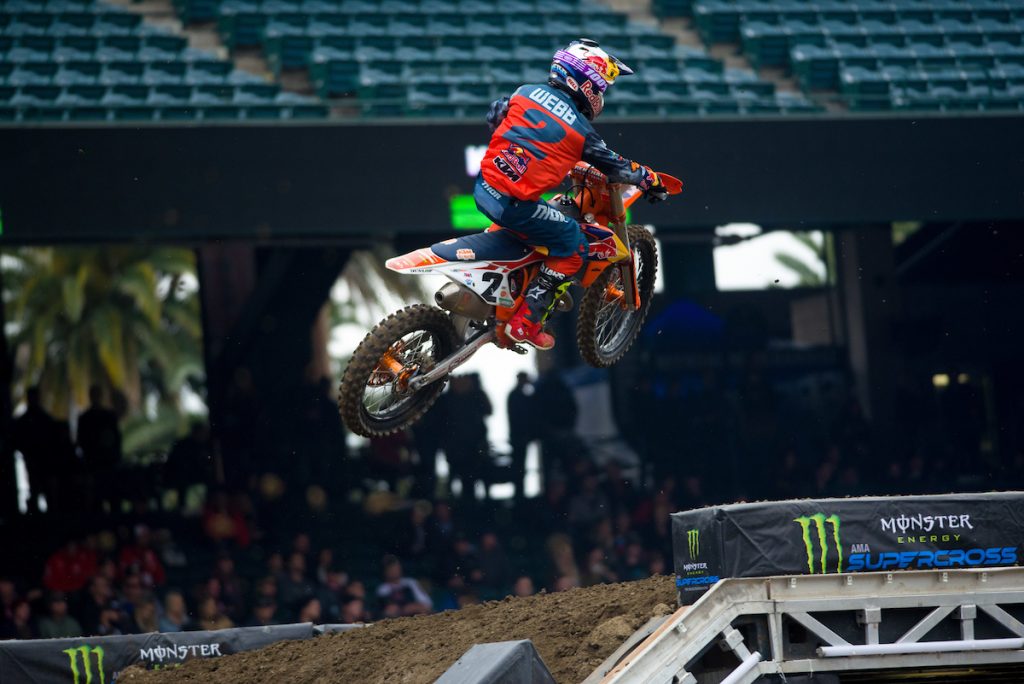 Webb was the unsung hero of the night in Anaheim. He started on the ground, put down the fastest lap ofd the main and finished 5th. I can't wait to see if this new orange Coop is the deal we've been waiting patiently for the last two years.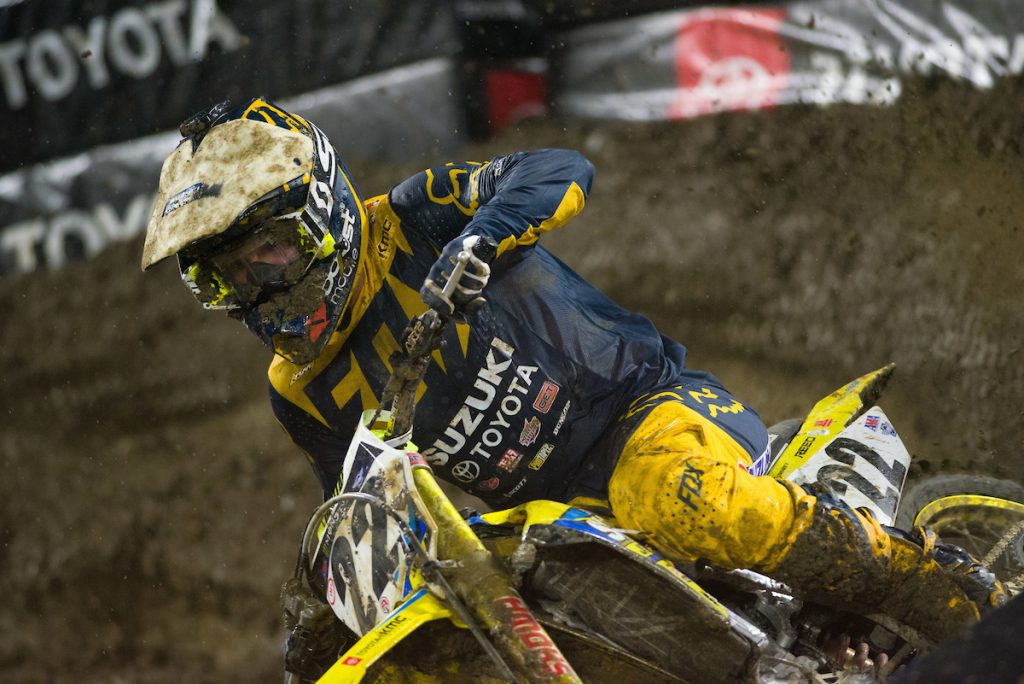 Chad Reeds opener went far less than ideally but all in all, a top 10 in the slop after transferring through the LCQ….I guess we'll take it.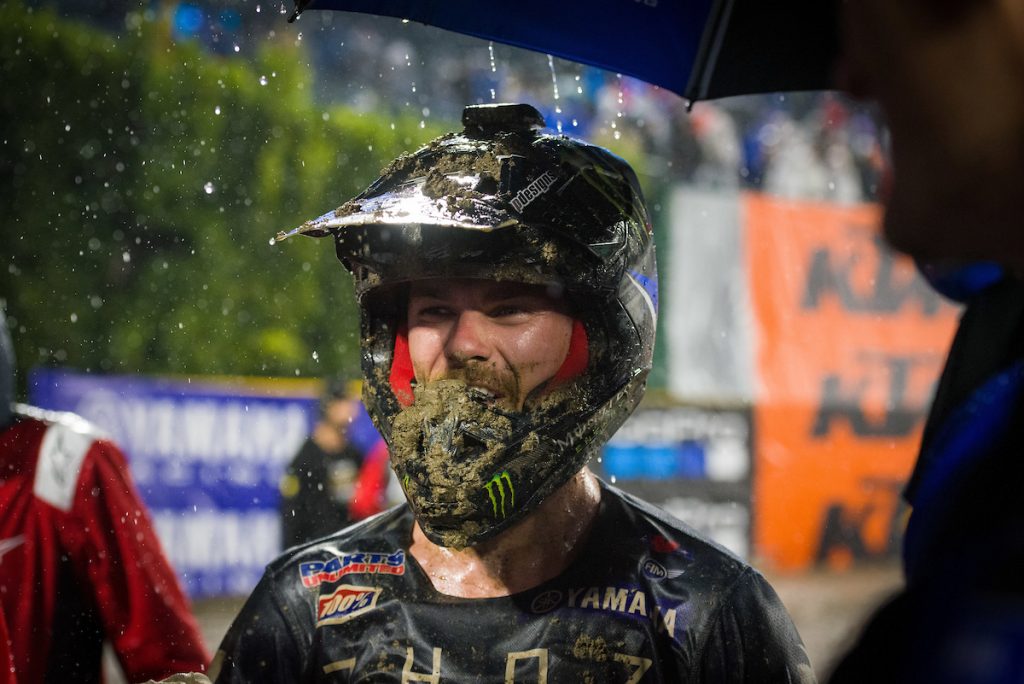 There's only one guy who could have a mouthful of mud after a muddy A1 450 debut and still be smiling. Yup, Aaron Plessinger. This is your breath of fresh air in the Pro pits people. Breathe it in. This kid will probably win a race this year. I am serious.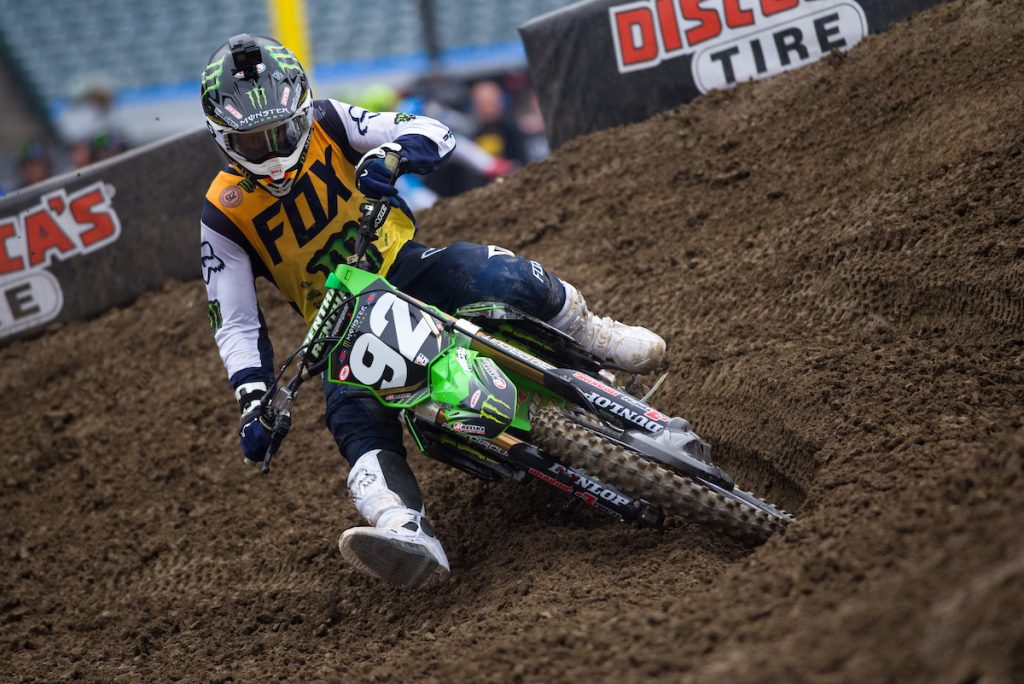 You may think I'm crazy but I think AC had an utterly acceptable night in Anaheim. I didn't expect him to look as good as he did, I thought Dylan would be noticeably faster but AC really shocked me. He has definitely taken a step up over 2018. Dare I say, he looks like he FINALLY grew into his body and is comfortable with it. Coming into A1, I wasn't expecting Adam to be a clearcut favorite in the class but now, I think only he can beat himself, which he has in the past; so hopefully he keeps within himself as the rounds roll on.